Situated in Queensland's tropical waters, the Whitsundays are one of the jewels in Australia's tourism crown.
An archipelago of 74 islands, scatted among the Great Barrier Reef, the Whitsundays are famous for their paradise-perfect white sands and azure waters.
Because of their visual splendour, these islands are also synonymous with luxury tourism and high-end resorts, with many visitors coming and paying big bucks to relax in paradise.
Fear not however, I've discovered how to see Australia's Whitsundays the cheap way and I've even tried and tested it myself so I can share all the details with you!
Most budget tourists seem to opt for one of the many sailing tours that cruise the Whitsunday waters.
Sure, if you want to be with other young and drunk backpackers this might appeal to you, however if you enjoy getting off the beaten track and exploring the beauty of nature in a more independent, peaceful and cheaper way, then listen up.
I have the perfect solution for you!
Grab Your Copy of How to Road Trip Australia on a Budget
My ultimate guide to road tripping Australia on a shoestring is now available, meaning you can finally get ALL my top tips for driving around all, or parts, of this amazing country in one handy eBook, including…
Full Planning & Preparation Guides
Day by Day Itineraries & Routes
Complete Packing & Gear Lists
Top Money-Saving Tips & Hacks
---
Related Posts
---
This page contains affiliate links meaning Big World Small Pockets may receive a small commission on any purchases at no extra cost to you.
---
Back to Nature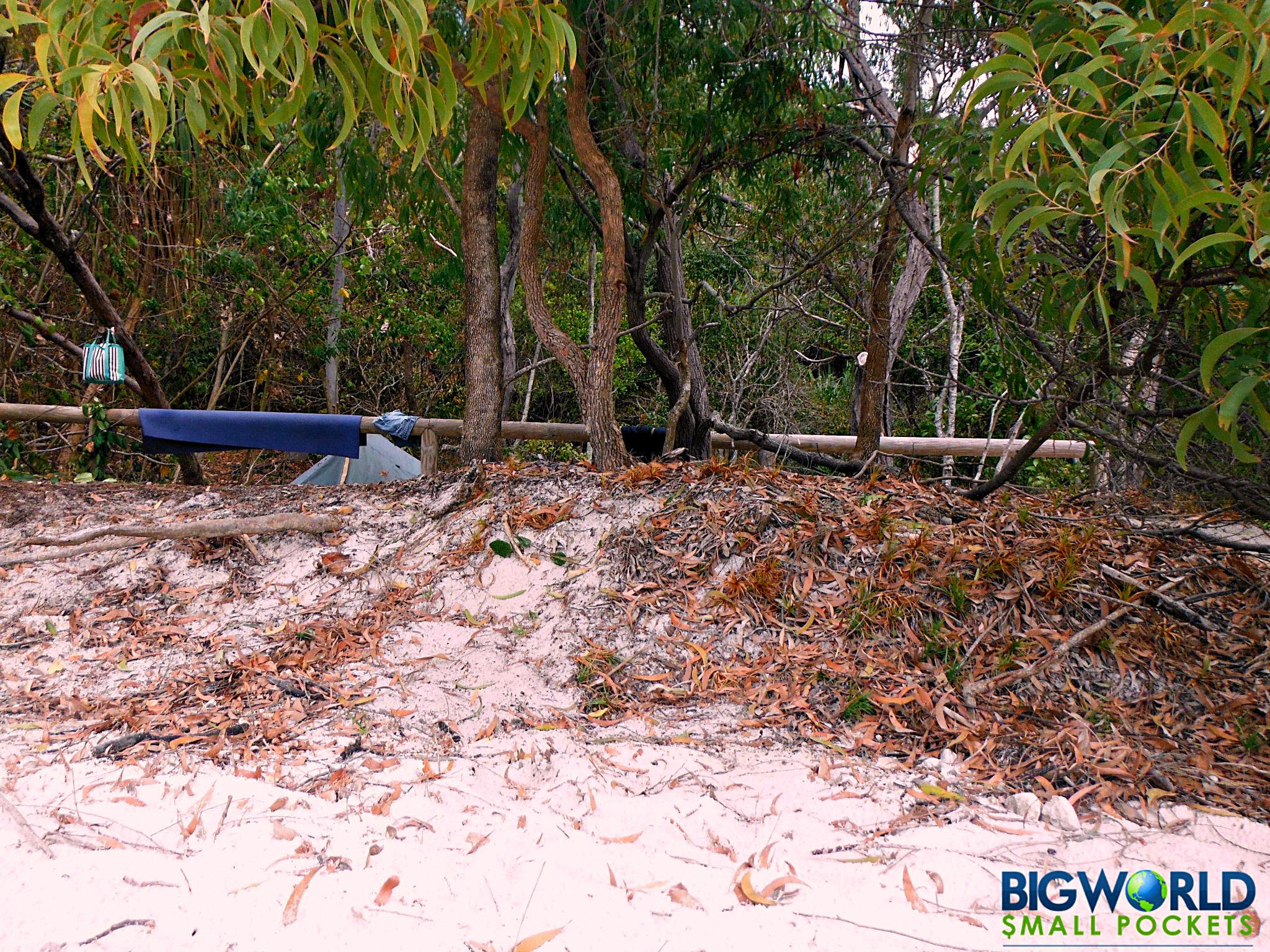 Not many people know that outside of the ubiquitous Whitsunday sailing tours, you can, in fact, go and independently camp on many of the islands away from the day tripper crowds.
A chance to enjoy the spectacular surroundings of the Whitsundays in a simple and basic way, camping there is also a means of exploring this offshore haven without the need to take an organised tour.
Camping on the Whitsundays is also much cheaper, making it the independent traveller's perfect solution to visiting this heavily touristic part of Australia.
Whitsunday Islands National Park
The Whitsunday islands are, you see, part of a registered National Marine Park here in Australia and, just like many of the other Australia's best National Parks (which are a budget traveller's dream), it has small designated areas where you can camp and enjoy the beautiful surrounds.
For just $6 AUD pppn, you can actually just set up your tent in the idyllic environment of the Whitsundays and enjoy its beauty – forget paying hundreds of dollars!
Camping independently in the Whitsundays allows you to enjoy many of the other free activities that the stunning nature of the tropical landscape provides.
Loads to Do in the Whitsundays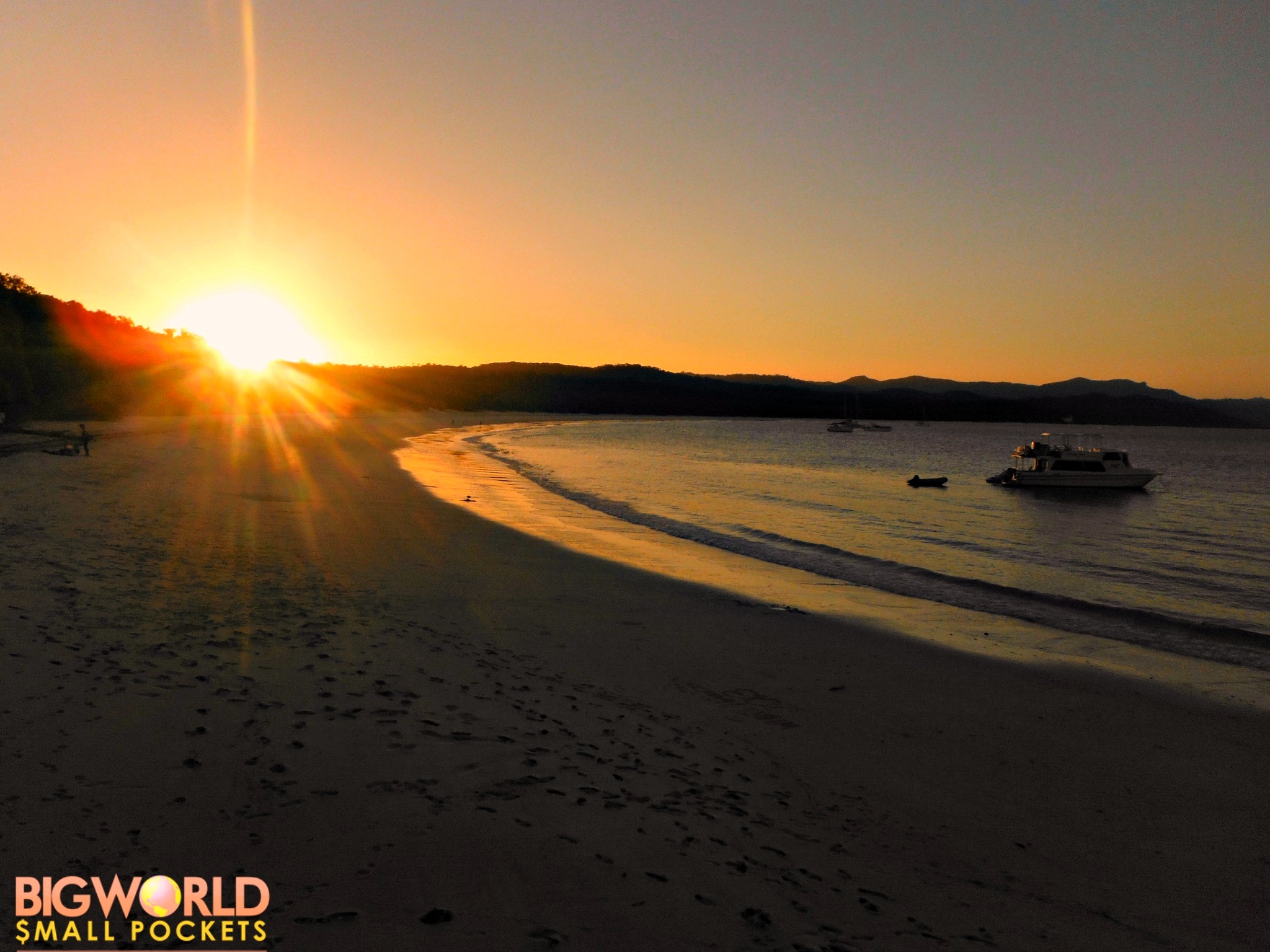 This includes snorkelling, normally you can spot tropical fish within just knee-deep water, as well as enjoy swimming, sunbaking, walking and wildlife spotting in and around the preserved wilderness of these gorgeous deserted islets.
Best of all, you can enjoy these pleasures on Whitehaven Beach, which is probably the Whitsunday's most famous destination and has been repeatedly voted one of the top beaches in the world.
This is the island I chose to camp on when I visited the Whitsundays, mostly because I couldn't resist enjoying this slice of renowned paradise for peanuts!
The best feeling was when all the organised boat trippers departed Whitehaven in the afternoon and I was left, totally alone, on this deserted tropical island to enjoy the stellar sunset for myself!
Bargain!
Practical Advice
Permits for camping on the Whitsundays can be booked through National Parks Queensland online or by calling 137468. Payment is processed immediately and you'll be giving a reference number you must keep and display on your tent. A small booking fee may apply.
Ideally, you'll need your own tent to camp on the Whitsundays, which I had in the form of my trusty Gelert Mongoose 2!
You can hire one at Airlie Beach or buy one cheaply almost anywhere in Australia.
You'll also need to carry all your own food, water and supplies with you to camp on the Whitsundays as there are no real facilities at the campgrounds beyond composting toilets.
I chose to go super basic and easy when I visited, so just lived off picnic food for 2 days as this didn't require lugging cooking equipment too! However, you are able to take portable gas stoves etc with you too if you want.
Word of Warning
You do need to be mindful of the hungry wildlife on the Whitsundays, including lizards and birds. Food should be kept outside your tent within secure and hard containers, like coolboxes, with lids that are weighed down.
I found this out the hard way when half my food was eaten within the first afternoon by crows that pecked through the plastic bags I had tied in the trees and goannas that then ate all the remaining scraps the crows had left on the ground.
Lesson learnt!
Getting to the Whitsundays
Getting to the National Park campgrounds is sadly the most difficult and expensive part if you're looking to explore the Whitsundays the cheap way.
Luckily a company called Scamper provide a water taxi service that can take you to, and return you from, many of the different designated camp spots (there's a good range of islands you can choose from).
I used Scamper when I camped on Whitehaven Beach and was so pleased to find a service that allowed me to do this. The staff were friendly, helpful and happy to arrange a return time that worked for me.
Scamper boats depart daily from Shute Harbour, which is a marina accessible by public bus from Airlie Beach.
The company can arrange your National Park camping permit too if you need and any of their water taxi services include the free provision of drinking water and snorkel gear hire, which is a great help.
For an additional cost, Scamper can also hire you camping equipment, as well as kayaks if you want to explore the marine life away from the shore.
This is easy, but might not be the cheapest option. As usual, budget-conscious me had all my own gear!
Scamper's Water Taxi services need to be booked in advance as sailing times vary depending on tidal movements and weather conditions.
You can contact them online, by phone 00 61 7 4946 6285 or through a travel / booking agent in Airlie Beach.
Their prices vary depending on which Whitsunday Island National Park camping spot you want to head to, and can be a bit pricey if you want to get to the more remote islands.
Transport Prices
To give you some idea, return taxi services with Scamper to some of the nearest islands start from $65 AUD.
It cost me over $100 AUD to get to Whitehaven with Scamper, which sounded like a lot to me too!
However, I'm now so glad I paid a little more to really see and experience the more distant Whitsunday Islands and to say I've stayed on the famous Whitehaven!
Even with the Scamper transfer, camping in the Whitsundays was still cheaper than taking an organised sailing tour to see them and I much preferred the off-beat and independent feel of it all.
So there you have it, the independent traveller's advice when it comes to seeing the Whitsundays the cheap way!
Getting to the Whitsundays Region Cheaply
Flying: You can fly to the Whitsundays domestically within Australia, landing at either Proserpine or Hamilton Island.
Proserpine will be the cheapest destination to fly to because it is situated on the mainland of the Whitsunday Coast. A few airlines fly here from many places around Australia, but budget airlines Jetstar or Tiger will probably give you the best deals.
Driving: If you have your own transport then you can, of course, drive to the Whitsunday Coast, which is located between Townsville and Rockhampton in North Queensland.
Hiring a car can be a cheap option especially if there are a number of you to share fuel costs. Consider getting a group of people together in a hostel or find rideshare partners by posting your route with on both gumtree, Couchsurfing and coseats.com
Bus: In terms of public transport, the Greyhound bus (the largest coach service in Australia) stops at Airlie Beach, which is the closest mainland departure point to the Whitsunday Islands.
Fares are expensive with Greyhound however, so I recommend checking out Premier Coaches, who offer fewer services daily, but are generally cheaper and have a 10% discount on tickets that are made as part of a return booking.
Staying Cheaply in Airlie Beach
Airlie Beach has lots of budget accommodation on offer.
Hostels there are priced at the standard Australian rates (usually around $30 AUD for a dorm bed) but there is the potential of staying there cheaper if you have a tent – which you'll need to camp on the Whitsundays anyway.
Camping at the back of the Nomad Hostel in Airlie Beach is by far the cheapest option. Here you can bag a powered site for $25 AUD a night, which includes full use of the hostel facilities such as their kitchen and swimming pool etc.
Otherwise, Whitsunday on the Beach with their free wifi and self-contained ensuites with kitchenettes make the perfect Airlie Beach treat!
5 Packing Essentials for the Whitsundays
#1 Good Camera – You will be pretty much snapping non-stop in Australia and will need a good camera to do this gorgeous country justice. I highly recommend the Sony A6000, which I use for all my travels and love, not least because it's light, compact and robust!
#2 Good Walking Shoes – There will be a lot of walking in Australia – from cities to national park! Make sure your feet are comfortable therefore with a pair of New Balance Trainers. Perfect for stylish strollling, I love mine
#3 Good Guidebook – I'm still a massive fan of the Lonely Planet Guidebooks and do think their Australia edition is well put together
#4 Good Water Bottle – Travelling in hot old Australia can be thirsty work, so make sure you have a metal water bottle that you can refill as you go, because tap water is drinkable… and free!
#5 Good Sun Hat – And there's no denying you'll need a good sun hat for protection in Australia too. In my opinion you can't go past this Hello Sunshine one, which is both gorgeous and ideal for keeping the rays off your face.
PIN IT FOR LATER!
So that's my guide on how to see Australia's Whitsundays the cheap way.
Why not check out my guide to the best free things to do in Airlie Beach while you're there too.
Have you been to the Whitsundays?
Do you have any budget-friendly tips?