Overlooking the Mediterranean Sea, the beautiful city of Nice is known for being one of France's most popular tourist destinations.
It is also renowned for being very elegant, exclusive and expensive – certainly not somewhere many people would initially conceive of as a budget travel destination!
Having visited this glorious European city however, I wanted to let more people know about how Nice can be enjoyed by even the most frugal adventurer.
So here's my list of the best budget-friendly things to do in Nice to help you explore this great city on a shoestring too…
---
Related Posts
---
This page contains affiliate links meaning Big World Small Pockets may receive a small commission on any purchases at no extra cost to you.
---
#1 Visit the Famous Cathedral of Notre Dame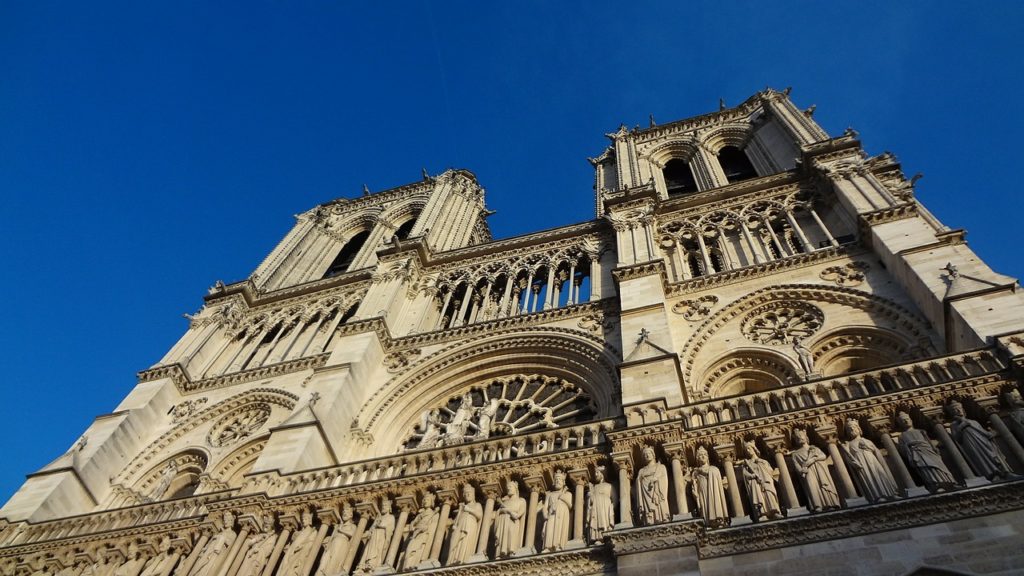 Notre Dame de Nice is one of the most important religious buildings in the whole city, if not the whole of France.
This Roman Catholic Church is located right in the city centre, along Avenue Jean Médecin, and a visit here is definitely one of the best things to do in Nice.
Notre Dame represents a majestic example of neo-Gothic architecture and is incredibly striking as the largest church in the city with its 2 square towers and rose window portraying scenes from the Assumption of Mary.
I love this place because of the historical grandeur you immediately feel on entering it.
Like any of the most famous European landmarks, it's certainly one to tick off the bucket list, especially as it's FREE!
Notre Dame can easily be reached on foot, as it is located right in the city centre. Alternatively, you can use the city's tram (line 1) and get off at Jean Médecin.
Opening hours: Monday to Friday from 8.30am-12pm and 2.30pm-7pm.
#2 People Watch at the Place Masséna
If you can't afford to indulge in any shopping along the popular Avenue Jean Médecin, then can I suggest you visit the nearby main square of Nice, Place Masséna, instead.
Sublimely lined with beautiful palms and pines, it's a great place to indulge in some serious people-watching or just to relax as you absorb the hustle and bustle of the city around you
During certain times of the year, the Place Masséna, becomes the main focal point of some of Nice's biggest events and takes on a whole life of its own.
Definitely try to visit it at these times if you can, you'll certainly understand then why this is one of my best budget-friendly things to do in Nice.
In February, during the Carnival period, the square is used for the parades.
In December, it hosts a lovely Christmas market, with lots of stalls, a Christmas tree and even a Ferris wheel.
On Bastille Day, July 14th (French National Day), commemorative military parades take place on the square.
#3 Stroll Along the Promenade des Anglais
This promenade is the elegant waterfront of Nice, which stretches for 7km along the Bay of Angels.
It's a place where both locals and tourists can take a rejuvenating stroll and delight in one of Nice's most inviting attractions– the beautiful Mediterranean Sea views.
After all, no trip to this city is complete without enjoying some sea air and the beautiful colours of the Côte d'Azur!
This definitely makes strolling the promenade one of the best things to do in Nice.
If walking isn't your thing, then you can always rest and enjoy the so-called chaises bleues (blue chairs). Great icons of this luxurious French city, they won't cost you a cent to sit on!
#4 Feel like you're in Moscow at the Russian Orthodox Cathedral
Inspired by the supreme Saint Basil's Cathedral in the Red Square in Moscow, this religious building is the largest Russian Orthodox cathedral in Western Europe and a trip there is certainly one of my favourite budget-friendly things to do in Nice.
This church has become the most visited attraction in Nice after the Promenade and I love it because it is so different from the rest of the city's architecture.
It's always good fun to take a photo of yourself outside the cathedral and then share it with your friends telling them you've been to Russia too!
A visit inside the cathedral costs only 3€.
However, if you do plan on visiting, make sure you are appropriately dressed – long skirts or trousers with covered shoulders and closed shoes are advised.
The Cathedral of St-Nicolas is located along Avenue Nicolas II (Blvd. Tzarevitch). As I said, please be mindful of the dress code – the security guards are strict.
Opening hours: Tuesday to Sunday from 9am-12pm and 2pm-6pm.
#5 Spend a Morning at the Musée du Message Biblique Marc-Chagall
If you are in Nice, you cannot miss a visit to the wonderful National Museum dedicated to Marc Chagall, one of greatest artists of the 20th century.
The museum contains a large collection of Chagall's works that were inspired by his religion and was founded while the painter was still alive.
There are some incredible, large pieces when you first enter the museum that are based on the bible books of Genesis and Exodus.
I always find it interesting to see how religion is interpreted by artists, regardless of whether they have a faith not.
Exploring this Museum will take a couple of hours, so allow plenty of time. It should be on your list of things to do in Nice however.
Tickets cost 8€ (children pay 6€) but it's well worth it to see the rich colours of this artistic work and because you receive a free audio guide with the admission fee too.
In addition, free entrance is available on the 1st Sunday of each month for EU citizens aged under 26.
The Musée du Message Biblique Marc-Chagall can be found in the Cimiez area of Nice, at 16 Avenue du Docteur Ménard.
This is around 2 miles from the city's beaches, near the Matisse Museum, and bus routes 22 and 15 will get you here.
Otherwise, it's about a 20 minute walk from the city centre.
Opening hours: 10am-5/6pm (closed Tuesdays).
#6 Explore the Famous Matisse Museum
It goes without saying that this museum is dedicated to the famous French painter Henry Matisse and hosts the largest collection of his work globally.
Admission fees are 10€, but children under 18 can enter for free.
I recommend the Matisse Museum as one of the best budget-friendly things to do in Nice – not only to see the artist's work, but also to enjoy the location of the building itself, which is situated in one of the most ancient parts of the city, Cimiez.
Cimiez was the main site of the Roman province in Nice and today there are still some Roman ruins, like the arena and the baths, which are also interesting to see.
The Matisse museum is easily located on the hill of Cimiez at 164 Avenue des Arènes de Cimiez. You can catch local buses: 15, 17, 20, 25 here. The stop you need is Les Arènes.
Opening hours: 10am-6pm (closed Tuesdays).
Top Travel Tips for Nice
When to Visit Nice?
Summer is no doubt the period when Nice is at its busiest, particularly during the July Jazz Festival and the month of August when many French people and other Europeans take extended summer holidays.
The weather is best during this time, but unfortunately, the prices to be at their highest too!
As an alternative, the Carnival of Nice is quite an event, usually taking place in either February or March.
Any major tourist event in the area will raise prices, but with the glorious spring weather starting to kick in by then, this would make a lovely time to visit the city.
Thanks to its Mediterranean position, Nice enjoys a fairly mild climate throughout the year.
As such, why not visit in December, when the Christmas markets light up the main square and create a wonderfully festive atmosphere.
How to Travel to Nice?
If you're planning on reaching Nice by plane, then you'll be glad to know that Nice-Cote-d'Azur airport hosts a range of budget airlines including Easyjet, Ryanair and Jet2.
As always, I use Skyscanner to find the best deals as they include budget airlines in their price comparison searches.
Journey cheaply from the airport to the city centre by public bus. Lines 98 and 99 are dedicated airport services and are cheap and efficient.
Take ones of these and avoid the extortionate taxis at all costs!
If you're travelling to Nice by train, then Gare Thiers is the central station and is well served by local, regional and international trains.
In particular, a high-speed TGV train
will whisk you to Paris in under 6 hours for as little as 20€.
There are also direct trains to Brussels and Milan from under 20€.
And when it comes to the quickest and easiest way to book train and bus tickets across Europe, look no further than Trainline.
Offering the best prices, with a handy journey planning feature and live departure updates, this is my one-stop shop when it comes to organising all my Europe adventures on a budget.
If you want to make your budget stretch even further, then the third option is to travel to Nice by bus.
I always recommend Flixbus for incredibly well-priced and comfortable rides across Europe including to Nice.
Check out their route plans and book tickets for Flixbus here.
Where to Sleep in Nice?
Airbnb is a great choice if you are looking for budget accommodation in Nice.
It goes without saying that the more you get closer to the Prom and the centre, the more prices tend to go up, but you can still get a reasonable Airbnb apartment for around 67€ per night.
Otherwise, finding a budget hotel is a great way to go.
The Hotel de Centre always has some excellent deals, sometimes it's as little as 63€ per night, which is a great price in a typically expensive city like Nice.
This hotel has free wifi and boasts a brilliant location.
Another great recommendation is the IBIS Budget Nice Californie Lenval, which is also excellently priced and well located.
Travel Insurance for France
World Nomads offers simple and flexible travel insurance. Buy at home or while travelling and claim online from anywhere in the world.
Alternatively, if you're a long-term traveller, digital nomad or frequent remote worker seeking travel health cover, check out Safetywing's Nomad Insurance policies.
5 Key Packing Items for France
#1 Walking Shoes
Can't come to France and not enjoy some walks in the villages and vineyards of this country!
I highly recommend these lightweight and durable ones from Salomon.
#2 Waterproof, Windproof Jacket
Look, a lot of France is green… and that's because it often rains!
So do bring a good waterproof and windproof jacket with you no matter what time of year you're coming.
#3 Sturdy Day Pack
I never go on anywhere on my travels without a sturdy backpack to ensure I've got room to day trip with everything I need. This featherweight Kompressor from Marmot is my go-to.
#4 Good Camera
Having an excellent camera to snap France in all her glory, and preserve some epic memories from your trip, is a must. My mirrorless Sony A6000 never leaves my side!
#5 Portable Charger
Come armed with 2 fully charged Anker power banks, so you can fire up your phone, camera or other devices whenever you and wherever you need.
Travel Money for France
When it comes to paying for things in France, you want to ensure you're not being charged overseas transaction fees or getting poor exchange rates when using your card abroad, which is why I always take my Wise card away with me wherever I travel.
The easy way to spend abroad with real exchange rates, no markups, no sneaky transaction fees and a free Euros account, you can use your Wise card just like a debit card and it links easily with Google and Apple pay. Grab yours here.
PIN IT FOR LATER!
I hope you will enjoy your stay in this great French city and get to sample some of my best budget-friendly things to do in Nice.
Or perhaps you've already been to this city and fallen in love with it?
If so, please let me know your favourite spots to visit in Nice in the comments box below…
Au revoir!