The idyllic Magnetic Island, situated off the coast of Townsville in Queensland, Australia is a paradise.
It's a popular tourist hot spot and a welcome place for all travellers, budget ones included, to enjoy a slice of tropical island life.
At 52sqkm and with only 2000 residents, Magnetic Island is the perfect, relaxed getaway; with its palm trees, national park reserves and gorgeous hidden beaches, it's definitely worth a visit on any east coast Australia itinerary.
I originally visited Maggie Island (as it's fondly known) during my first 2 weeks in Australia as a solo backpacker.
Little did I realise that over 2 years later I would be returning to work on Magnetic Island, my Aussie boyfriend in tow! But such is the unexpected nature of life on the road, and I've got to say, I love it!
As part of our 4wd trip around Australia, the boy and I have now been living on Magnetic Island for almost 3 months to top up our travel funds.
Working in a guest house and car hire company full time here, we certainly have a pretty good idea of what to recommend to Maggie's visitors, and I've compiled this all into my ultimate budget travel guide to Magnetic Island.
So here goes…
Grab Your Copy of How to Road Trip Australia on a Budget
My ultimate guide to road tripping Australia on a shoestring is now available, meaning you can finally get ALL my top tips for driving around all, or parts, of this amazing country in one handy eBook, including…
Full Planning & Preparation Guides
Day by Day Itineraries & Routes
Complete Packing & Gear Lists
Top Money-Saving Tips & Hacks
---
Related Posts
---
This page contains affiliate links meaning Big World Small Pockets may receive a small commission on any purchases at no extra cost to you.
---
How to Get to Magnetic Island Cheaply

An easy 20-minute ferry from Townsville, hopping across to Magnetic Island for a day trip or a weekend is the perfect way to enjoy this gorgeous part of eastern Australia.
That's not to say you shouldn't stay longer, as there is more than enough to occupy you for at least a week on Maggie, it's just that most people can only spare a few days of their tight schedule.
There are 2 ferry companies that will bring you to Magnetic Island – both roughly priced $30 AUD return for a foot passenger.
They both offer a regular service, with at least one boat leaving every hour between 6am and 10pm.
Flights to Townsville are the cheapest way to reach this city from across Australia if you're not driving here. Check out Skyscanner for the best flight deals.
#1 Fantasea Ferry
Fantasea is the island's only car ferry service, so if you're looking to bring a vehicle to Maggie, this is the one to catch.
That said, bringing your car to the island can be an expensive option ($180 round trip on the boat!) so budget travellers may be better placed to leave vehicles in Townsville and rent a car on the island instead.
The Fantasea ferry crossing is the longest of the 2 – taking around 40 minutes.
BUDGET TIP: If you are leaving a vehicle on the mainland, then it's worth noting that Fantasea are the only company that offer passengers free parking in their Townsville car park, which is definitely worth considering if you're on a budget.
#2 Sealink
Sealink is the speedier foot passenger service which takes around 20 minutes.
Parking a vehicle in their car park costs roughly $7 AUD per day.
BUDGET TIP: The cheapest tickets for both Fantasea and Sealink ferries can be purchased online, so click through to their websites to get the best deal.
How to Get Around Magnetic Island

As well as the obvious taxis, budget travellers will be pleased to know Magnetic Island has an excellent bus service.
Operated by SunBus, full timetables are available via their website, but roughly speaking the service runs until 10pm at night, 12pm on the weekends.
Brilliantly, the buses line up to meet the ferries and run past most of the major accommodation providers.
Fares are cheap, operating on a zone system and generally costing between $2-$3 AUD per ride.
BUDGET TIP: You can buy a bus day pass for unlimited travel across all zones on Magnetic Island for as little as $8 AUD. Bargain if you're going to be out doing and seeing stuff a lot.
You can also hire vehicles for self-drive adventures on Magnetic Island.
Mini-mokes used to be the hire car of choice on Maggie back in the day, but now the cheapest are scooters and barbie-car looking vehicles, which can be picked up from around $50 AUD a day.
The problem with these 2wd vehicles however is that you can only drive them on Magnetic Island's one sealed road.
To really see the best this island has to offer, it's all about hiring a 4wd on Maggie.
These can be a little more expensive (around $100 AUD per day), but they are well worth it when it comes to exploring the best bits of the island, including the stunning, semi-deserted Radical Bay and the epic sun-set watching spot of West Point
BUDGET TIP: Try to team up with as many others as possible, so that you have a full car, is going to make renting a vehicle cheaper.
Where to Stay on Magnetic Island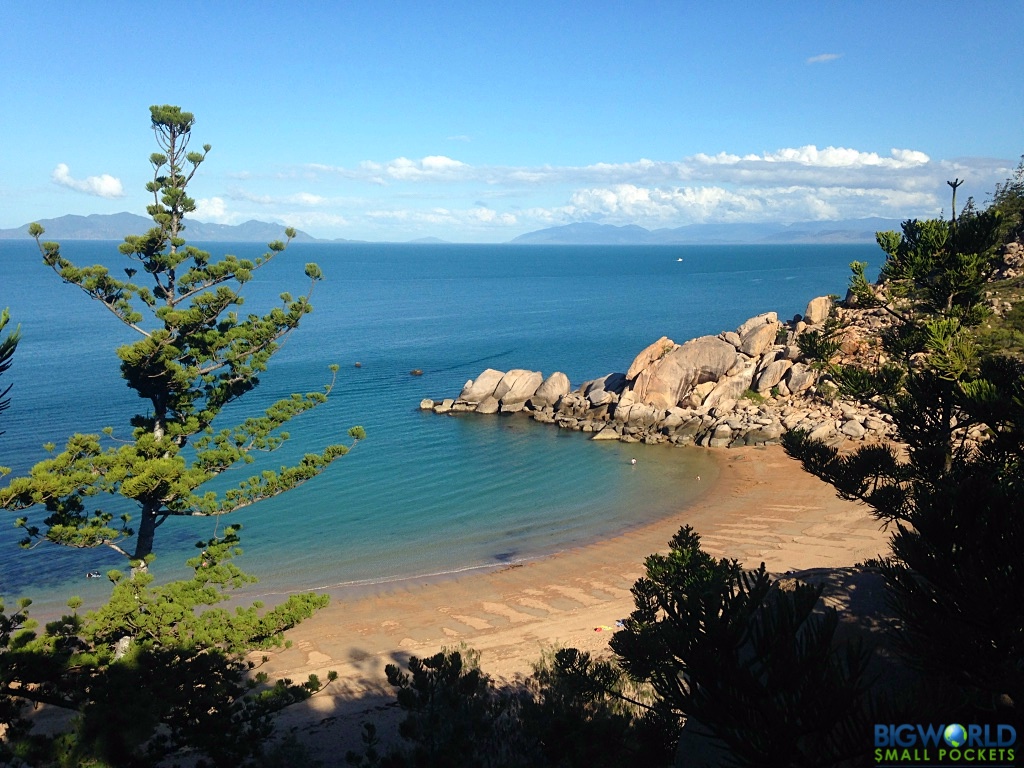 Magnetic Island has a great spread of accommodation options from 5* resorts to small guest houses.
There's also a spattering of property rentals, which prove good value if you're travelling as part of a group or looking for something self-contained.
Backpacker hostels dominate the budget accommodation, so here are the best ones if you're looking to stay on Magnetic Island cheaply.
#1 Base Backpackers
Known as the party hostel on the island, Base Backpackers is most famous for its monthly full moon parties between June and October.
Situated on the beach this large hostel has some cheap dorms, as well as camping facilities and private rooms.
There's also a big bar onsite, nightly entertainment, a swimming pool and a dive shop.
#2 YHA Bungalow Bay
YHA Bungalow Bay is situated up at Horseshoe Bay, the YHA hostel is generally a quieter and more sedate option than Base.
With dorms, private rooms and a campsite here, this hostel has a ton of wildlife that can be seen from the gardens as well as cafes and restaurants nearby.
There is a swimming pool here, as well as a bar, but Bungalow Bay is most renowned for its koala village, which hosts an array of Aussie wildlife.
You can visit the village as part of a daily tour and top of the list is hugging a koala – if that's your sort of thing!
#3 Arcadia Beach Guest House
Arcadia Beach Guest House is slightly more expensive than the first 2 options, but this relaxed guest house in Arcadia is less crowded and more spacious.
Set near one of the best snorkelling spots on the island, as well as a good pub with weekly live music, there is a more local feel to the place.
BUDGET TIP: Arcadia Beach Guest House has some great safari tents, which offer the best budget accommodation for couples and older travellers looking for some privacy.
Free Things to Do on Magnetic Island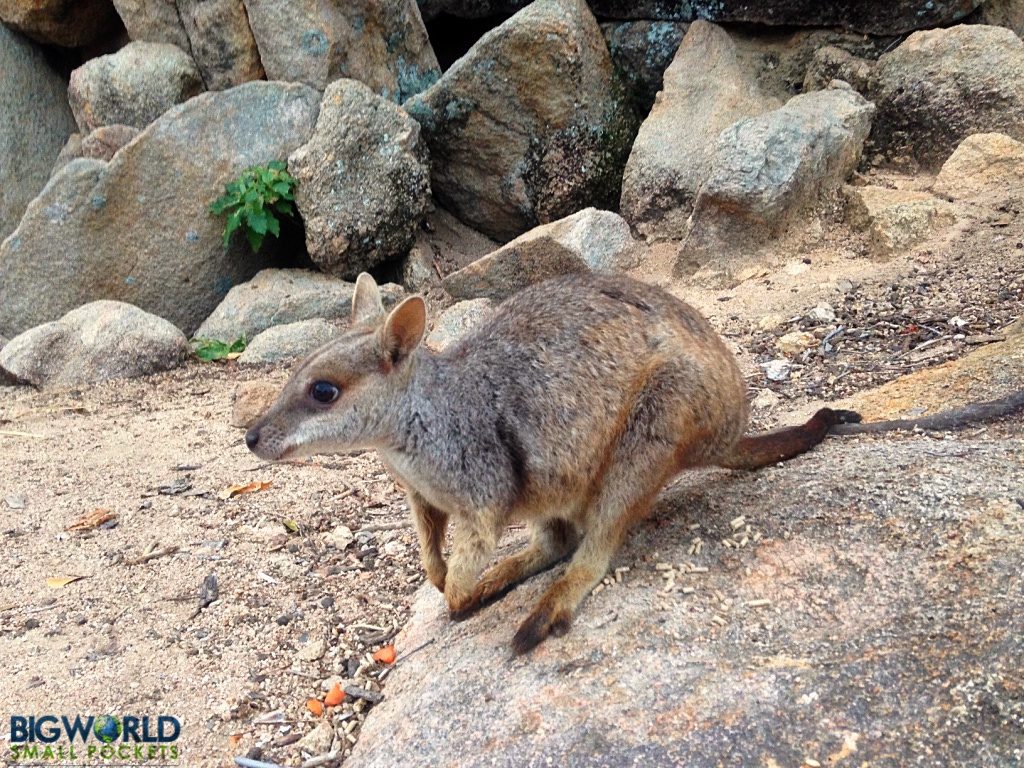 One of the best things about Magnetic Island is the wealth of free activities there are to do here.
From walking, snorkelling, wildlife spotting and beach hopping it's all there for the taking.
If it's wildlife you're after, then there's a heap of Aussie critters to spot on Maggie.
Out on the headland at the end of Geoffrey's Bay is a gorgeous wallaby colony that simply love having their photo taken.
Otherwise heading to The Forts on the island is your best bet if you're looking to spot a koala in the wild. Australian birds such as lorikeets and kookaburras are also common.
Down in the ocean, turtles, rays, dolphins, dugongs, sharks and even whales cruise the waters around Magnetic Island.
The cheapest and easiest way to see these guys is by renting some budget-priced snorkelling gear for the day and heading to some of the island's beaches.
Florence Bay and Alma Bay provide easily snorkelling action right off the beach, or you can follow the trail at Geoffrey Bay for your chance to spot tropical marine life and giant clams around a shipwreck.
Hitting the beach is, of course, a popular attraction on Magnetic Island given the fantastic tropical climate here.
Personal favourites of mine include Radical Bay (which I've voted one of the best beaches in Queensland). You have to look of out for the piano!
I also love the deserted Rocky Bay, which is only accessible via a quiet walking track.
Talking of walking, another short stroll I recommend involves heading down to the jetty at Picnic Bay.
Here you can scout for rays over the edge, throw in a fishing line or just relish the history of the place.
There's a market every Sunday down at Horseshoe Bay too, which is well worth checking out for local arts and crafts.
Getting to West Point to see the fabulous sunset over the ocean is also another awesome and free thing to do on Maggie Island.
You'll honestly feel like you're standing on the edge of the earth here as the deserted nature of the place makes a great spot to enjoy some peace and quiet.
Just make sure you don't swim here however, this is a popular bull shark feeding spot!
Hiking on Magnetic Island

Walking on Magnetic Island is a great free activity and with so much gorgeous scenery around, it's hard to pick the best tracks. Here, however, are a few of my favourites:
#1 The Forts Walk
This is probably the busiest track on the island, not least because of the koala-spotting opportunities it presents and the fabulous views you get from the lookout at the top.
Scattered amongst the forest as you walk up to the lookout are some wonderful ruins, and accompanying storyboards, that tell of a time when Magnetic Island was a defence outpost during World War II.
Combining history, views and wildlife, the Forts Walk really is hard to beat.
#2 Arcadia to Nelly Bay
This track is an awesome 6km walk, which you'll almost certainly have to yourself.
Taking you up and over the range, this walk presents you with some of the best views of the island care of the Sphinx Lookout.
If it's been raining, then you're also likely to see some gorgeous waterfalls.
The walk to the lookout at Hawkings Point is also a phenomenal hike on Magnetic Island.
With great views across both sides of the island, the start of this track leads from the end of Picnic Street and takes you up and over Rocky Bay.
Other Great, Cheap Things to Do on Magnetic Island

If you have a little spare cash then here's a list of some other great activities to enjoy on Magnetic Island…
The island aquarium is well worth a look around and can be visited for a gold coin donation.
Charter a boat and explore Magnetic's hidden bays and great fishing opportunities
Enjoy a round or 2 at Maggie Island's very own golf course.
Kayaks, jet-skis and stand up paddle-boards are all available to rent from Horseshoe Bay
Enjoy breakfast with the koalas 3 times a week at YHA Bungalow Bay.
Try your hand at scuba diving or get certified at one of the island's 3 dive schools.
Horse ride along the beach care of the twice-daily tours offered by Horseshoe Ranch.
Watch the island come to life at Australia's only full moon party held at Base Backpackers once a month from June to October.
Dust down your best Hawaiian shirt for Tropical Dress Friday at the Bowls Club
Where to Eat on Magnetic Island

There is an IGA supermarket on the island, which is perfect for self-caterers. Located right opposite the ferry terminal, it's well-stocked and open from 6am-8pm, 7 days a week.
There are also 2 smaller Foodworks stores on the island, as well as a mini health food shop in the service station in Arcadia of all places!
BUDGET TIP: No supermarket is particularly cheap on the island, so consider stocking up on some essentials on the mainland before you come over if you're really on a tight budget.
Restaurant wise, there are 3 pubs on the island that offer reasonable fare – Arcadia Motel, Picnic Bay Hotel and the Marlin Bar in Horseshoe.
There's also two fun Mexican restaurants that are reasonably priced – Noodies on the Beach and my pick Man Fridays in Nelly Bay.
Gilligans and Early Bird Café offer good breakfasts and there are a number of takeaway outlets, including Thai and Chinese on the island too.
5 Essential Packing Items for Maggie Islands

#1 Good Camera – You will be pretty much snapping non-stop on Magnetic Island and will need a good camera to do this gorgeous country justice. I highly recommend the Sony A6000, which I use for all my travels and love, not least because it's light, compact and robust!
#2 Good Walking Shoes – There will be a lot of walking on Maggie – from beaches to cliffpaths! Make sure your feet are comfortable therefore with a pair of New Balance Trainers. Perfect for stylish strolling, I love mine.
#3 Good Guidebook – I'm still a massive fan of the Lonely Planet Guidebooks and do think their Australia edition is well put together.
#4 Good Water Bottle – Travelling in hot old Queensland can be thirsty work, so make sure you have a metal water bottle that you can refill as you go, because tap water is drinkable… and free!
#5 Good Sun Hat – And there's no denying you'll need a good sun hat for protection in Australia too. In my opinion, you can't go past this Hello Sunshine one, which is both gorgeous and ideal for keeping the rays off your face.
Other Helpful Magnetic Island Info

There is both a doctors surgery, as well as a pharmacy on the island if you need anything medical.
Many accommodation places have laundry facilities for guests.
BUDGET TIP: None of the major banks have a presence here on Maggie, so get plenty of cash out before you come to avoid unnecessary ATM charges.
LIKE IT? PIN IT!
So there you have it, my ultimate budget travel guide to Magnetic Island.
Hopefully I've shown you that, if are travelling down the coast of Queensland, this tiny drop of paradise really shouldn't be missed!