One of the most fun border crossings I've made in Southeast Asia was from the northern Thai city of Chiang Rai to Luang Prabang in Laos, mainly because 2 days of the journey were made on a boat down the Mekong River!
I mean sailing on the Mekong River to arrive at your destination does sound pretty fun, doesn't it?
If you agree, then read to learn how I travelled overland from Chiang Rai to Luang Prabang overland… and how you can do it too!
---
Related Posts
---
This page contains affiliate links meaning Big World Small Pockets may receive a small commission on any purchases at no extra cost to you.
---
Step #1: Begin in Chiang Rai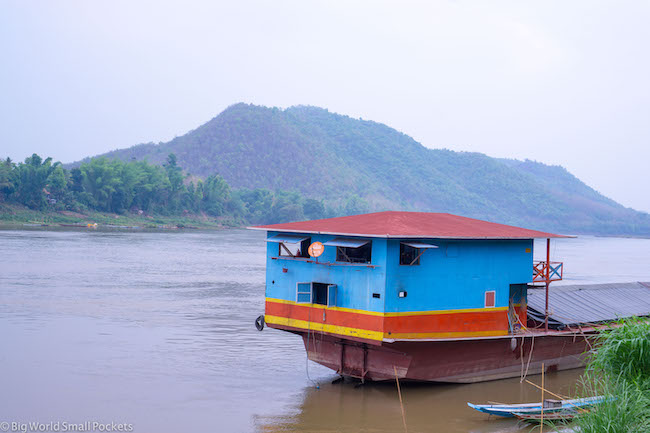 This journey begins in the city of Chiang Rai in Thailand.
A small city a few hours from the Laos – Thailand border, this is place is worth spending a few days on your way into or out of the country.
Famous for its temples, including the White Temple, Blue Temple and Black Museum, for more information about what to do in Chiang Rai, check out my specific post about this destination.
For now, the journey starts on your last night in Chiang Rai, which I highly recommend spending at Na-Rak-O-Resort – a gorgeous guesthouse, that's very affordable, just off the main street here.
It offers some lovely, ensuite private rooms at good rates and is set in a very safe and quiet location within easy walking distance to the Chiang Rai bus station.
Try to change some Baht for Laos Kip if you can in Chiang Rai, otherwise, border crossing expenses can generally be paid in small USD notes or Baht too.
Get up early in the morning and head to the bus station to catch a bus to the border town of Chiang Khong.
Alternatively, you can get buses straight from Chiang Mai to Chiang Khong if you don't have time to stop in Chiang Rai.
Step #2: Heading to Chiang Khong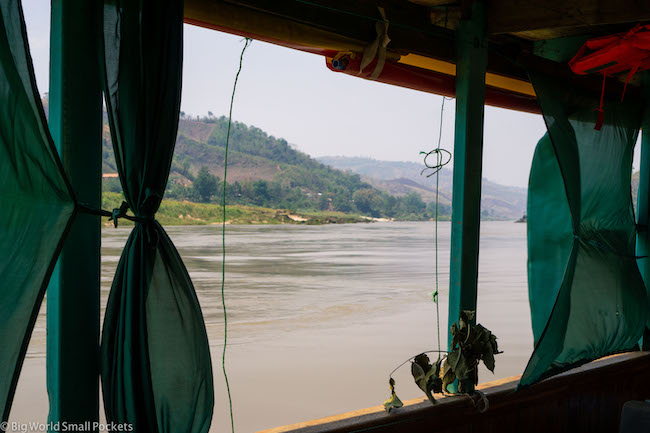 Buses leave regularly from Chiang Rai to Chiang Khong and you'll pay 65 Baht to make this 3 hour-ish journey.
Try to take the earliest bus you can, so you stand a better chance of making the boat to Luang Prabang on the same day.
When you arrive, you'll likely be dropped in the centre of the city and from there, you'll need to take a tuk-tuk to the actual border.
Tuk-tuks are easy to find and you'll be charged 60 Baht for the pleasure of this short journey if you're happy to share / wait for 5 others to join you.
THE BEST TRAVEL INSURANCE FOR SOUTHEAST ASIA
I wouldn't dream of travelling anywhere in Southeast Asia without coverage and always recommend travel insurance from World Nomads, which I've used throughout my time in Thailand, Laos and beyond.
I love this company's easy online claims process, as well as their great customer support and the fact that you can buy or extend your travel insurance with them even if you're enjoying your travels already.
Alternatively, if you're looking for travel insurance with Covid-19 cover, then look no further than Safetywing's great Nomad Insurance policies.
These guys will cover you at some seriously great prices, including if you have to quarantine!
Step #3: The Thai Border
The Thai border is delightfully clean and well organised, with some of the best toilets I've ever found at a land crossing… it's the small things right?!
You'll need to present the exit form you got when you arrived in Thailand to border officials here and then get stamped out of the country.
After that. it's a bus journey across the bridge to the Laotian border, which will set you back 25 Baht.
These tickets can be bought at the booth after you exit Thailand.
This border can get very busy, but I made the crossing early in the morning and encountered no crowds at all, meaning I was through the whole process on both sides within 30 mins – hoorah!
Generally it is open from 8am – 5pm, but do check the latest information on the ground to verify this.
5 PACKING ESSENTIALS FOR SOUTHEAST ASIA
#1 Lonely Planet Guidebook – The Southeast Asia Lonely Planet is excellent and very helpful for any trip to this part of the world with lots of top tips and useful information.
#2 Birkenstocks – A good pair of sandals are king in Southeast Asia and I love my Birkenstocks which are perfect for keeping my feet cool, supported and for kicking on and off easily when you visit temples or hit the beach. Literally wore them all day every day in this part of the world!
#3 European & British Power Adapters – Southeast Asia use a mix of power outlets, but generally opts for a mix of European and British ones, so make sure you come prepared with a Skross world adapter.
#4 Camera and Lens – I love my Sony A6000 mirrorless, which was ideal for capturing this crazy and beautiful region.
#5 Sarong – A great multi-purpose travel item that can be brilliantly used through Southeast Asia as a beach towel / dress , a pillow / blanket on bus rides and for covering shoulders when you visit temples or your head if you visit any mosques. A good sarong really is a Southeast Asia travel must have in my book
Step #4 The Laos Border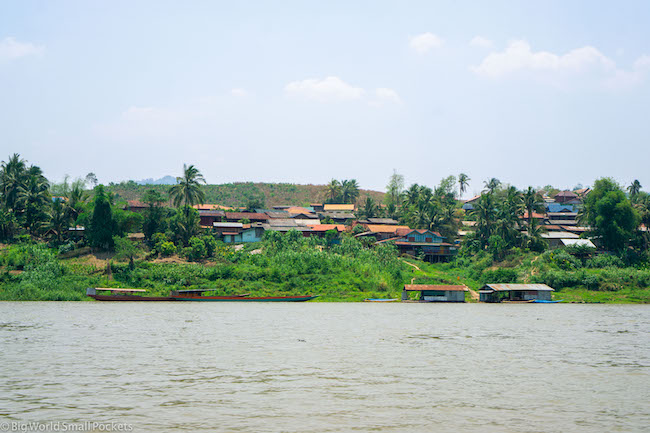 You'll need to complete another immigration form to enter Laos as well as a visa application.
For many European nationals, as well as Australia, New Zealand, the US and Canada, single entry tourist visas can be obtained at the border here for around $30 USD and last for 30 days.
You'll need to have at least 2 free pages in your passport (the visa is a full page sticker, plus they then stamp you in and out on another page), as well as 2x passport photos.
Check your particular Laos visa requirements here.
Do be prepared to pay a $1-2 USD "handling fee" to get your Laos visa FYI!
Once you've made it into Laos, you'll need to take a tuk-tuk from the border to the main town centre / port of Huay Xi. This costs 50,000 Laos Kip (₭). You can also pay in USD or Baht.
BOOKING BUSES ONWARDS FROM CHIANG RAI & LUANG PRABANG
You can book bus tickets for destinations across Thailand and Laos, as well within other countries in Southeast Asia online via the website 12Go, which I used throughout my time here and highly recommend because it's simple and straightforward and offers secure online payment.
Step #5: In Huay Xi

The Laos border town of Huay Xi is where you'll arrive by tuk-tuk.
Ask to be taken to the port and if you're early enough, you'll be able to catch a boat travelling to Luang Prabang – this is why it pays to start you day super early from Chiang Rai!
If you do get stuck, the best place to stay in this otherwise uneventful town is the River Hotel, which is right next to the pier with views of the Mekong – perfect sunset material.
The staff give approximately zero f*cks, but the location is very handy and facilities fairly good, including decent wifi.
A room here cost me 150,000 ₭ for a basic ensuite room with aircon. It's 100,000 ₭ without aircon.
You can book your boat tickets for the following day through these guys. or just head down to the pier itself.
A 2 day ticket, excluding 1 night accommodation enroute in Pak Beng will cost you around $25 USD.
If you haven't already, I suggesting buying some snacks / water for the boat and downloading some Netflix stuff or Amazon Audible audiobooks to get you ready for the next 2 days!
Step #6: Day 1 Mekong Boat Ride
That's because, while you can take a pricey cruise down to Luang Prabang from Huay Xi, the cheaper, funner and more authentic way is to take a local barge.
Like a pricey river cruise, this will take you 2 days, but at a snip of the price – only $25 USD instead of $200+ USD.
Have breakfast before you board the boat and make sure you've got food and water with you for 1 day.
Normally the boats leave around 8am… Laos time!
There is literally nothing to do on the boat except soak in the experience and enjoy the views of the Mekong as you dock at tiny, isolated villages on your way to Luang Prabang.
Boat conditions vary and you're likely to have different boats on day 1 & 2 of your adventure.
Some come with wooden benches tables and charging points, making working bloggers like me very happy!
Others come with filthy old bus seats loosely stapled to the floor and jack all else – but the gamble is all part of the fun remember!
On day 1, you'll then sail as far as Pak Beng, arriving here around 5pm in the evening
Step #7: Night in Pak Beng
This town literally only seems to exist to service the stop over on the Mekong River ride from Luang Prabang to Huay Xi, so don't expect too much!
Not to worry, you'll only be here the night, and there's plenty of places to stay on a budget and shops where you can buy snacks and water for day 2 of your river journey.
There's also a bar here called Hive Bar, where backpackers seem to congregate of an evening.
In Pak Beng, on my 2nd night from Chaing Rai to Luang Prabang, I stayed at Syvonsack Guesthouse – they touted me as soon as the boat docked and I was happy to make life easy and go with them.
There's many touts waiting for the boats from Huay Xi to come in, and they all seem to offer pretty similar deals, so it's much of a muchness choosing between them.
Syvonsack Guesthouse offered me a private room with a fan and wifi for 50,000 ₭ which included a free return transfer service to the boat.
I found out when I got to the guesthouse that it was 50,000 ₭ more for aircon (happy to pay when it's 42 degrees outside) and that they had a small café for breakfast and dinner.
The women here can also make you lunch for the next day if you want.
Just beware, the first room I went in – #5 – had a dead bedbug, stuck to the wall – yup that kind of place!
I'm guessing it was a friendly warning from some previous travellers and I was very grateful for it!
I then moved to room #10 and slept well and bed-bug free under my aircon!
The room was ensuite and the shower cold, but seriously people, when it's 42 degrees, this is small fry!
Step #8: Day 2 Mekong Boat Ride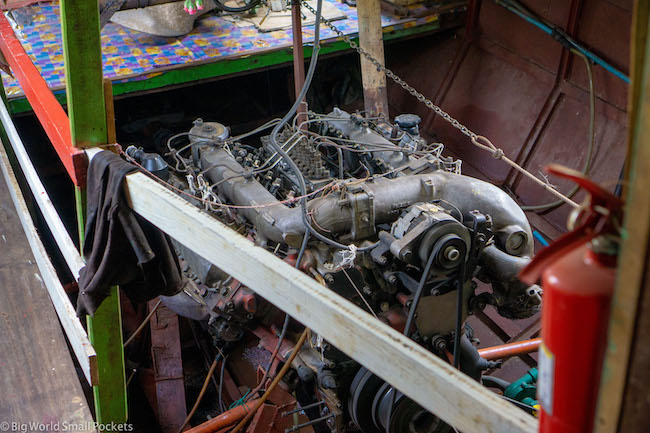 At 8am in the morning, after breakfast, it's back onto the boat you go, for pretty much more of the same.
I had to say a lot of sleep was had, especially given the heat, which sears into your brain and pretty much renders you unable to do anything else!
People-watching is of course always good fun for the times you are awake and more beautiful Mekong views can be enjoyed.
You'll arrive into Luang Prabang around 5pm again, depending how much village stopping you've done on the way!
Step #9: Enjoy Luang Prabang
Welcome to one of the most chilled spots in Southeast Asia.
Yes Luang Prabang is a delight and I ended up spending 1 week here doing, well, not a whole lot really apart from café sampling and temple ticking!
It has to be said, I also spent a fair amount of time trying to stay cool around the swimming pool in my great hostel there – Freedom Friendly's Place (totally recommend this spot FYI).
You can learn more about this great town in my post about the best things to do in Luang Prabang, but top of my highlight list was visit the Kuang Si Waterfalls… don't miss it!
Don't forget, you can also miss out the boat ride and just take a bus between Chiang Rai and Luang Prabang. Compare journey times and prices for these services here.
PIN IT TO PINTEREST!
And so there you have it, the complete guide on how to travel from Chiang Rai to Luang Prabang overland.
Have you made this Southeast Asian journey?
Do you have any advice to add to the above?
If so, please help other travellers out, by leaving any relevant info in the comments below…