Looking to travel to Mozambique? Don't want to miss the highlights? Then here are the 5 best things to do there.
Ideal if you only have a short time in this country, these top 5 things to do in Mozambique will bring you the absolute can't miss beauties!
A land that is pretty far off the tourist track in Africa, Mozambique occupies the Southeastern corner of the continent and is therefore often overlooked by those motoring up from South Africa either through Namibia to Vic Falls or through Botswana to East Africa.
As such, this hidden coastal gem has remained delightfully free of crowds (apart from a few South African during school holidays!) and is a budget travel mecca, especially for those craving a bit of Indian Ocean downtime.
I've linked the main highlights of this country into 4 distinct areas, which means heading to any one of them will then give you a wealth of sights to see and activities to enjoy.
So read on to discover the 5 best things to do in Mozambique and start planning your trip to this wonderful African country today…
---
Related Posts
---
This page contains affiliate links meaning Big World Small Pockets may receive a small commission on any purchases at no extra cost to you.
---
Grab Your Copy of How to Travel Africa for Less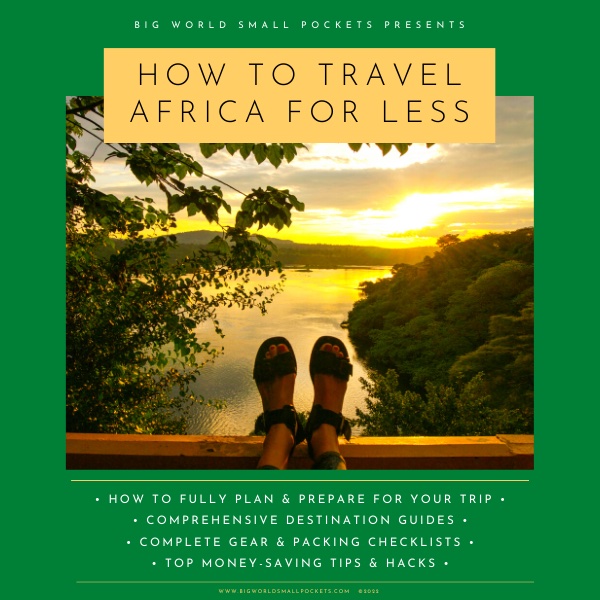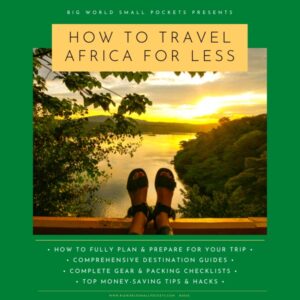 My ultimate guide to travelling Africa on a budget is now available, meaning you can finally get ALL my top tips for adventuring around all, or parts, of this amazing continent in one handy eBook, including…
Full Planning & Preparation Guides
Detailed Destination Info
Complete Packing & Gear Lists
Top Money-Saving Tips & Hacks
#1 Explore Maputo
The capital city of Mozambique is perfectly situated near the South African border, which means that for most people entering this country, it's their first port of call.
And what a first stop it is.
100% authentic and a great introduction to this nation, you'll immediately feel like you've stepped into another world after SA.
The vibe is way more relaxed and tropical, the pace of life an interesting blend of African everyday reality and bustling metropolis, and there's plenty of historical attractions to get your teeth into too.
Top of my list is the Maputo Train Station, which is a beautiful colonial building still in use – see what I mean about that blend!
You can get some great snaps here of local people with some beautiful, classic architecture and there are a number of interesting information boards with historical facts and background details to enrich your visit further as well.
After the train station, why not head to the Square of Workers opposite, which is a centre of life in the city including makeshift lunch vans and buses hooting past.
After this, I'd continue onto the Mercado Municipal – the main market. Checking it out is definitely one of the best things to do in Mozambique.
Peruse the wealth of fresh produce on offer here, including a rather stinky fish aisle and some amazing moringa powder – a superfood grown in Mozambique, that can be bought here for literally a third of what it can in the west.
This market is also a great place for snapping local people, but always ask before you take any pics.
After this, why not head on to the Maputo Cathedral (a grand, white building you really can't miss) before taking a peaceful stroll in the Tunduru Botanical Gardens.
After this, just ambling around the nearby streets, to snap some of the wonderful abandoned buildings (a sad sign of the slow economic development of Mozambique following their tragic civil war) is a good way to learn more about the culture, politics and current lives of Mozambicans today.
#2 Hit the Beach at Tofo
You probably will only need 1 day in Maputo to see most of this city, so the next day it's time to motor onto the coast – the real jewel in Mozambique's crown.
First stop has to be Tofo and hitting the beach here is definitely one of the best things to do in Mozambique.
Just beware, most people get stuck for longer than they plan in this peaceful, easy enclave.
The largest developed tourist town in Mozambique, and it's still just a one street affair (which really shows you how fledging the industry is in this country) everything in Tofo revolves around the gorgeous ocean that lies on it doorstep.
Top of the activity list are scuba diving and snorkelling fun, which just about every business in town offers.
And, it's no surprise really with those crystal, clear waters of the Indian Ocean and the wealth of marine life just begging to be explored.
Highly recommended are Diversity Scuba, who have excellent safety records and some top, knowledgeable staff.
Tofo is also the capital for whale shark sightings in Mozambique and there's no question taking an ocean safari to try and see these magnificent creatures, as well as jumping into the water and swimming with them, is definitely one of the best things to do in Mozambique.
As always, just remember to keep a safe distance from these amazing animals and not to disturb them, you will be in their habitat after all and respecting that, as well as maintaining good ethical practices with the whale sharks, is key to their healthy survival.
Ocean safaris run daily from Tofo during the whale shark season, which is largely from October to March, and boats usually go out in the morning, when you have the best chance of sighting them.
But aside from the ocean, Tofo also boasts a great holiday vibe, with many backpackers living it up here for cheap.
In part, this is due to the good public transport Tofo has, with daily buses travelling from here to the province capital of Inhambane, from where you can also connect via buses to Maputo.
With several good beach bars to choose from, as well as cute cafes, and a bustling local market, stopping in Tofo (possibly for longer than you planned) is certainly one of the top things to do in Mozambique.
#3 Chill at Barra Beach
Just up the road from Tofo, but way more chilled and with a very different vibe, is the equally pretty spot of Barra beach.
Heading here to chill for a few days is definitely one of the best things to do in Mozambique.
You can certainly enjoy the beach, as well as coastal adventures like diving, snorkelling and ocean safaris too, but being smaller than Tofo, this is a better spot to just relax.
There's a few places to stay in Barra, with Bay View Lodge offering self-catering facilities and being one of the best priced.
But aside from the one dive school here – which offers the usual array of underwater action, as well as trips to Penny Island to see seahorses – and a few beachside cafes / bars, Barra Beach is best if you're looking to get away from it all and just escape.
Part of this is due to the fact the Barra Bay is not accessible by public transport, so you will likely need to catch a bus to Tofo and then take a private transfer from there if you don't have your own vehicle.
#4 Marvel at the Beauty of Bazaruto
The most epic place to visit in Mozambique as far as I'm concerned, the Bazaruto Archipelago shows off this country's Indian Ocean beauty in its most glorious light.
5 islands, all with small populations, give a real sense of a Robinson Crusoe style place, where village life is lived way off-grid amongst coral reefs, white beaches, towering sand dunes and tropical, jungle stretches.
Since 1971, much of the archipelago has been protected as a national park, which has resulted in rich marine and bird life populations that you can't miss out on seeing if you come this far north.
Dolphins, dugongs, turtles, flamingos and crocodiles can all be sighted here and it's definitely a coconut-laden, palm tree paradise, sandy feet, salty hair kind of a place.
Understandably diving and snorkelling are the key activities to enjoy in the Bazaruto Archipelago too, as well as the stunning views of course!
The main season for getting underwater is May to September when cyclone season has passed, so try to time your visit with this.
The Bazaruto Archipelago is most easily and affordably accessed as a day trip from the mainland town of Vilanculos, which is a small, safe city that has a good range of accommodation nearby.
There's cheaper options for lodgings here in Vilanculos too, as most of the island accommodation tends to be centered around top-end resorts.
Accessing Vilanculos is easy by road from destinations further south in Mozambique, otherwise, there's also an international airport here with flights direct from Joburg as well as Maputo.
#5 Head North!
Outside of the 4 other best things to do in Mozambique I've mentioned above, here's a few more options if you feel like venturing north.
It's worth pointing out that the north of Mozambique is far more remote than the south and, as such, roads and tourist infrastructure are more limited.
If you're up for a truly off-the-beaten track however, then check out these 2 brilliant options…
#1 Mozambique Island
With a fascinating history, cobbled streets and a crumbling colonial feel, stepping onto Mozambique Island is like stepping back in time.
Mixed heritages, riddled with Portuguese, African, Swahili, French and Goan influences, intermingle here in a rich, UNESCO World Heritage site that is one of the most fascinating historical sights in Africa.
Think Zanzibar's Stone Town with far fewer tourists!
#2 Quirimbas Archipelago
You're almost in Tanzania when you head this far north, but the 31 islands of the Quirimbas Archipelago are home to some of the most pristine marine life around, as well as some of the whitest sand beaches you've ever seen!
The chief island of Ibo is also a fascinating mix of colonial history that overlapped centuries ago and have changed little since.
With a remote population, mainly situated in the north of the island, the rest is a wilderness open to some seriously intrepid exploration.
Mini Travel Guide to Mozambique
Looking for a Great Tour in Mozambique?
If you're interested in an unforgettable, well-priced tour in Mozambique with guides you can trust, or a self-drive trip organised by a great company, then email me at [email protected] and I'll send you my top recommendations – simple!
Alternatively, I'm currently offering my readers an exclusive discount on all Absolute Africa tours, meaning you can now travel even more in the amazing country of South Africa and across the whole region of Southern Africa for even less! Simply send this top African overland tour company an email to [email protected], quoting the discount code BWSP, and start planning your incredible trip with them today!
Otherwise, if it's more safari tours you're looking for, check out these top picks.
Travel Insurance for Mozambique
World Nomads offers simple and flexible travel insurance. Buy at home or while travelling and claim online from anywhere in the world.
Alternatively, if you're a long-term traveller, digital nomad or frequent remote worker seeking travel health cover, check out Safetywing's Nomad Insurance policies.
6 Packing Essentials for Mozambique
#1 Swimwear and Sarong – One World Sarongs are always my go to.
#2 Bradt Guidebook – Their Mozambique edition is excellent and very helpful.
#3 Insect Repellent and Anti-Malarials – I recommend a 30% DEET spray.
#4 European and South African Power Adapters – They mix and match in Mozam so best to have a World Adapter to cover all bases.
#5 Camera and Lens – I love my Sony A6000 mirrorless, but a GoPro would also be great for the underwater action in this country.
#6 Good Sandals – You'll live in sandals on the coast in Mozambique and I would never travel anywhere now without my trusty pair of Birkenstocks!
Best Budget Accommodation in Mozambique
Tofo: Pariango Beach
Vilanculos: Baobab Beach Lodge & Backpackers
Maputo: The Base
Travel Money in Mozambique
When it comes to paying for things in Mozambique, you want to ensure you're not being charged overseas transaction fees or getting poor exchange rates when using an ATM or your card abroad, which is why I always take my Wise card away with me wherever I travel.
The easy way to spend abroad with real exchange rates, no markups and no sneaky transaction fees, you can use your Wise card just like a debit card here… and it links easily with Google and Apple pay – sold! Grab yours here.
PIN IT TO PINTEREST!
So that's my round-up of the best things to do in Mozambique.
Have you visited this coastal African gem of a nation?
Did you love it just as much as I did?
What was the best thing you did there… or are planning to do?!