Lush, green, adventurous and drop-dead gorgeous, East Africa is a treat on every level.
From the glistening beaches of Tanzania and Kenya, to the wild safaris of Uganda and rolling hills of Rwanda, this part of the continent is a favourite for many travellers.
Indeed it blew me away during my few months there and from gorilla trekking to scuba diving the Indian Ocean, I basically found it impossible not to fall in love with the people and the places in this part of the world.
And having travelled as a solo female here, I can definitely attest to the safety as well, bearing in your mind you're sensible and exercise the usual level of precautions.
So with your mind at rest and your wanderlust reaching fever pitch, here's 4 unbelievable East Africa itineraries that will have you booking a ticket there today!
Oh, and if you want to take a great tour through East Africa, visiting all the hot spots in this epic region, then I highly recommend Absolute Africa.
I loved my trip with them so much that I'm currently offering all my readers an exclusive discount on their tours, meaning you can now travel even more in this amazing continent for less!
Simply send Absolute Africa an email to [email protected], quoting the discount code BWSP, and start planning your incredible trip with them today!
---
Related Posts
---
This page contains affiliate links meaning Big World Small Pockets may receive a small commission on any purchases at no extra cost to you.
---
Grab Your Copy of How to Travel Africa for Less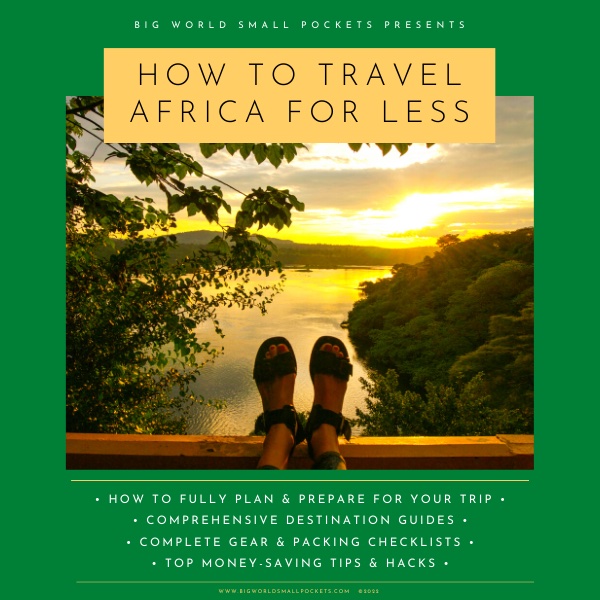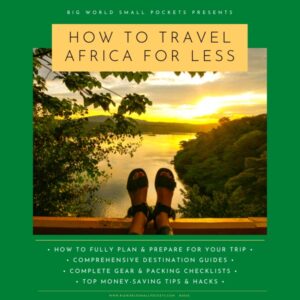 My ultimate guide to travelling Africa on a budget is now available, meaning you can finally get ALL my top tips for adventuring around all, or parts, of this amazing continent in one handy eBook, including…
Full Planning & Preparation Guides
Detailed Destination Info
Complete Packing & Gear Lists
Top Money-Saving Tips & Hacks
2 Weeks – Kenya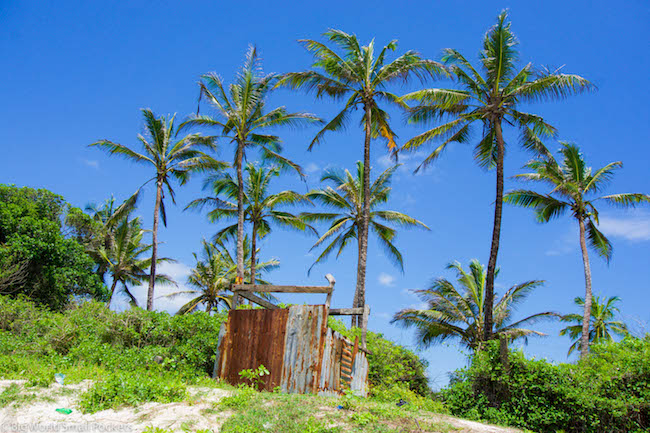 If you have just a couple of weeks for your East Africa Itinerary, I highly recommend Kenya as the perfect destination to base yourself.
From spellbinding safari opportunities, like that of the world-class reserve of the Masai Mara, through to some of Africa's most beautiful coastline, Kenya is a treat no matter whether you want to spot some insane wildlife or swing in a hammock.
On top of all this, there's also the bustling Swahili towns of Mombasa and Lamu, the buzzing capital of Nairobi and hiking opportunities aplenty at Mount Kenya's dizzy heights.
Start your Kenya itinerary in the nation's capital – after all, it's the city you're most likely to be flying into, given its excellent global connections.
Check Skyscanner for the best deals, but in my experience, Kenya Airways tend to offer the most competitive prices.
Allow a few days to check most of the great things to do in this city and stay at Milimani Backpackers who provide some great value safari tours for backpackers and solo budget nomads.
Use this opportunity to head out to the Masai Mara for 2-3 days from Nairobi.
Winner of the Best Africa Safari Award (as voted by me!), the Mara is a paradise for its big 5 spots, stunning landscape shots and rich cultural heritage.
Kilifi and Diani Beach are my 2 favourite spots.
Kilifi is a gorgeous, relaxed place that has a friendly local community and an arty-alternative crowd of expats that tend to orbit around Distant Relatives Eco Lodge.
Set on the banks of a creek, there's tons to do in Kilifi including day trips to the coastal resort of Watamu and Malindi, visiting local markets, swimming in the nightly bioluminescence and enjoying sunset dhow rides.
On the other hand, Diani is all about the white sand, turquoise sea and dreamy views.
Diani Backpackers offers a great budget place to stay here among the expensive resorts and you can access the beach, boat trips and some great diving opps along with everyone else!
And if you still have some time spare, heading up to the Swahili town of Lamu is an absolute must!
Travelling here by road isn't recommended, so the best option for safety, time and possibly your budget too, is to hop on a cheap flight from Nairobi or Mombasa direct to Lamu.
Budget airlines FLY540 and Safarilink both offer competitive prices, which you can quickly compare at Skyscanner.
Get a ticket to Manda Island and from there hop on the short ferry to Lamu itself.
Once you arrive in town, sink into the tantalising slow pace of life here as the steamy, Swahili coast seeps into your spirit.
There's no cars on Lamu, only donkeys wandering the ancient streets of this UNESCO World Heritage-Listed town, as mosques sing out their call to prayer and the smell of simmering samosas lies thick in the air.
From thin winding streets to beautifully carved doorways, this place is a great introduction to a very different side to Kenya, the sort of destination where the essence is more a reason to visit than any of the listed tourist attractions.
Check out these top-rated Kenyan tours if you're keen to head to this county with a guide.
READ MORE: Ideal Kenya Itinerary for a Tight Schedule!
3 Weeks – Rwanda & Tanzania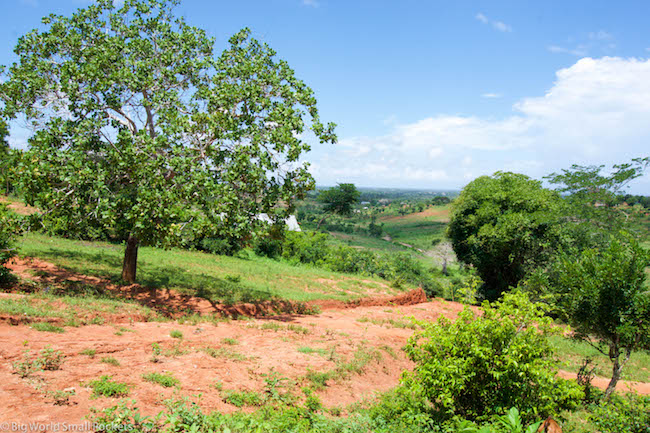 Combining the countries of Rwanda and Tanzania is the perfect way to visit a couple of different nations as part of your East Africa itinerary, even if you only have 3 weeks to spend in this amazing part of the world.
Starting with Rwanda, the lush, green countryside of this country can be a welcome surprise, and that's before you've encountered the people!
Rwanda is a small country and can easily be covered in 1 week.
I'd recommend beginning your travels in the capital Kigali and allowing a few days here, where the important Genocide Memorial Centre is an extremely worthy place to visit.
In the capital, the best place to stay on a budget is Discover Rwanda Youth Hostel, Kigali.
After Kigali, why not head out to the Volcanoes National Park to trek with Gorillas or spend some days relaxing in nature at Lake Kivu.
After Rwanda, head on to neighbouring Tanzania, where 2 weeks in this country is ideal for experiencing some of Africa's most scenic and spectacular safaris, as well as coastline.
My favourites, and pick of the bunch, were the Ngorongoro Crater and the Serengeti, and I'd suggest allowing at least 3 days to really soak in their enormity.
Picking up a tour last minute to these great game reserves can be done cheaply from the town of Arusha and you may want to hang a few days in this place to experience a bit of everyday Tanzania life at the same time you try and score a bargain.
Otherwise, you can actually drive through the Serengeti on a public bus as the main road cuts through the park!
While you won't have the specialities of a guide or a 4wd if you take this option, it's certainly going to be the cheapest way to visit!
After you've had your wildlife fix, head to the coast and the country's biggest city, Dar Es Salaam for a night or 2.
The commercial hub of Tanzania, Dar Es Salaam is a bustling port city with a great atmosphere.
From crazy markets to ferry rides and some super sunsets, there's plenty to do in this city to amuse you for at least a day on your Tanzania itinerary.
It's also the departing point for ferries to Zanzibar, so many travellers end up passing through Dar whether they want to or not!
READ MORE: Top 10 Things to Do in Dar Es Salaam
Then it's onto the famous island of Zanzibar.
I'd allow at least 5-7 days for this stunning island, starting with 2-3 nights in the capital Stone Town.
From tiny, winding cobbled streets that echo with calls to prayer, to the rich collection of museums and crumbling, atmospheric architecture, it's hard to not become enchanted by the sights and smells of Stone Town.
And that's not to mention the giant tortoises you can see, the local food markets you can taste and the coffee you can savour.
READ MORE: The 21 Best Things to Do in Stone Town, including 9 that are FREE!
And then, saving the best for last, it's time to head to the beautiful beach of Paje on Zanzibar's east coast.
Many people head to the north of the island for their Indian Ocean fix, but trust me, it really is all about the east!
A favourite for scuba divers and kite surfers alike, this long stretch of beach also boasts perfect white sands and paradisiacal turquoise waters.
There's some lovely cafes to enjoy and some great hostels to meet other travellers in as well.
Otherwise, it's all about swinging in a hammock and enjoying the view!
One of the best places to stay in Tanzania is New Teddy's Place, Zanzibar, so don't miss it!
4 Weeks – Kenya & Uganda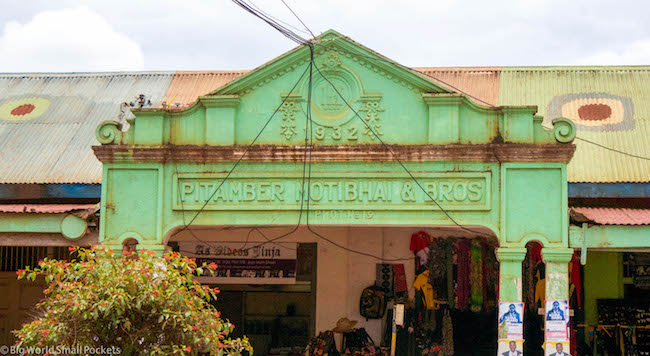 With 4 weeks for your East Africa itinerary (you lucky thing!) you can combine 2 of my favourite countries, splitting your time between them.
For a 2 week Kenya itinerary, check out my suggestions at the top of this post, and for Uganda ideas read on…
Start your time in Uganda in the bustling capital of Kampala, which has good international connections from Entebbe Airport.
The best place to sty in the capital on a budget is Fat Cat Backpackers, Kampala.
After some city exploring, it's all about the wildlife, and you can't miss either the amazing national park of Murchison Falls National Park or Queen Elizabeth National Park.
Murchison Falls, in particular, boasts a stunning waterfall formed as the river Nile is forced through an 8 metre² gap into Devil's Cauldron.
Uganda's largest national park, Murchison was one of first established in 1952 and offers the opportunity to spot crocodiles and Rothschild Giraffe, as well as warthog, buffalo and elephants.
Then there's Queen Elizabeth National Park, which features 4 of the Big 5 and has large elephant population numbers, meaning you're almost guaranteed a sighting!
Also hot on the list in this park are the tree-climbing lions and the stunning scenery.
And the enormous crater lakes, aren't bad either!
After your wildlife spotting is done, head onto the town of Jinja, the East Africa adventure capital and a must on any itinerary of the area.
Boasting mountain biking, bungee jumping and kayaking among its many attractions, perhaps top of the bill in Jinja however is the white water rafting, which is famous in these here parts and arguably some of the best in the world.
Almost any accommodation can arrange an excursion for you and it's definitely likely to be an unforgettable experience!
You also can't miss seeing the start of the river Nile while in Jinja, not least for the boat ride itself, which will take you past local villages and makes for a great, relaxing afternoon excursion.
And while we're talking about global landmarks, no East Africa itinerary is complete without straddling the Equator!
Situated at the heart of the planet, the equator runs right through Uganda and stopping off at the very spot where this invisible, but important, line crosses the highway is a great thing to do while you're in the country.
Not only can you have your photo taken at the great monument marking the centre of the earth, but you can actually straddle it to, with one foot in each continent.
Best of all however, is the free display given by locals here, that really shows you how the water does circulate down the drain hole in different directions depending on which hemisphere you're located in!
And finally, if you're still got any time or energy, I can highly recommend gorilla trekking in Uganda.
There's only 3 countries in the world where you can get this incredible sort of wildlife experience and Uganda is the cheapest of the lot, so needless to say I was a big fan!
Saying that however, this is still a crazily expensive venture, but when it comes to gorilla trekking Uganda offers a once in a lifetime opportunity – even the hike through the clouds and dense jungle of Bwindi Impenetrable Forest is an experience in itself.
Trackers go on ahead of each small group, so sightings of the gorillas is almost guaranteed and although you only get an hour in the company of these close relations, it's great to see that minimal disturbance of the animals is being upheld despite the tourist dollars.
6 Weeks – Tanzania, Rwanda, Uganda & Kenya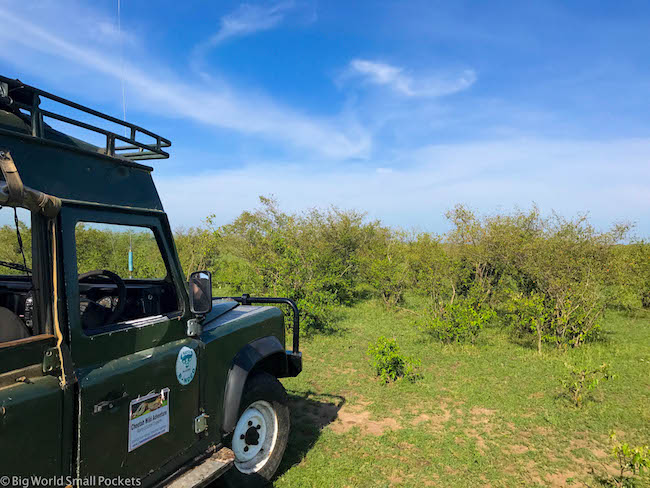 And if you're having the trip of a lifetime and able to donate 6 whole weeks to your East Africa Itinerary, then why not hit up all 4 of the countries I've talked about.
Combining the 4 week and 2 week itineraries I've laid out should give you some great ideas.
But then, of course, there's always the DRC to consider aswell!
Mini Travel Guide to East Africa
How Long to Spend There?
I'd suggest at least 7 days in Uganda to ensure you have the chance to trek to see the gorillas and chimpanzees, plus explore at least one of this country's top other national parks.
How to Get to There?
If you're flying to East Africa, then flights to Nairobi in Kenya are usually the most affordable.
As always, I use Skyscanner to find the best prices.
Top East Africa Tours
I'm currently offering my readers an exclusive discount on all Absolute Africa tours (who I visited east Africa with), meaning you can now travel even more in this amazing country for even less!
Simply send this top African overland tour company an email to [email protected], quoting the discount code BWSP, and start planning your incredible trip with them today!
Otherwise, why not check out these comfortable and well-rated options.
Top 5 Packing Items for East Africa
#1 Good Camera – Don't even think about coming to east Africa without a good travel camera to capture the best of this country. The Sony A6000 mirrorless ticks my box every time!
#2 Walking Boots – These are highly recommended for trekking to see either the gorillas or the chimpanzees and for early morning or evening game drives when temperatures can really drop. North Face Hedgehogs always get my vote!
#3 Birkenstocks – And talking of footwear, a good pair of sandals are king in east Africa. I love my Arizona Birkenstocks which were perfect for keeping my feet cool and supported at the same time. Literally wore them every day in this country!
#4 Waterproof Windproof Jacket – I visited east Africa in the dry season, but was amazed how cold and damp it could still be, especially when camping. Having my North Face lightweight, windproof and waterproof jacket saved me!
#5 World Power Adapter – east Africa primarily uses European power outlets, but make sure you come prepared with a suitable Skross world adapter.
Travel Insurance for east Africa
World Nomads offers simple and flexible travel insurance. Buy at home or while travelling and claim online from anywhere in the world.
Alternatively, if you're a long-term traveller, digital nomad or frequent remote worker seeking travel health cover, check out Safetywing's Nomad Insurance policies.
Travel Money in East Africa
When it comes to paying for things in east Africa, it's great to know that accommodation and tours can generally be paid for by card.
ATMs are also available in most major towns.
Whether you use ATMs or pay by card however, you'll want to ensure you're not being charged overseas transaction fees or getting poor exchange rates, which is why I always take my Wise card away with me wherever I travel.
The easy way to spend abroad with real exchange rates, no markups and no sneaky transaction fees, you can use your Wise card just like a debit card here, and it links easily with Google and Apple pay. Get yours here.
SAVE THIS TO PINTEREST!
Well that's my 4 unbelievable East Africa itineraries for your next trip.
I'm sure they'll get you fired up for the trip of a lifetime, the only thing left to decide is which one gets you the most excited.
Do let me know your thoughts in the comments below…