If you've never travelled in the Middle East before, then let me tell you, Jordan is the perfect introduction.
Small, safe and stable, with amazing food, some incredible historical sites and very welcoming locals, Jordan is the perfect first foray into adventuring this part of the world.
I actually spent almost 3 weeks in the country, as a solo female traveller and loved it!
So here, to get you prepared for an awesome trip too, are my top 21 things you need to know before you travel Jordan…
---
Related Posts
---
This page contains affiliate links meaning Big World Small Pockets may receive a small commission on any purchases at no extra cost to you.
---
#1 It's More Expensive Than You Might Imagine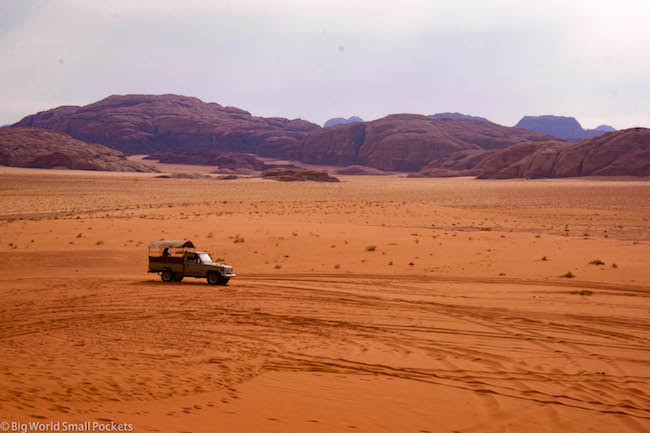 The first thing to know when it comes to travel in Jordan is that, unfortunately, it's not as cheap as you might expect.
Or at least, it's not as cheap as I expected!
With accommodation coming in as much more expensive than Egypt or Turkey, as well as high tour costs and entrance fees, the numbers to adventure here soon mount up.
And you'll probably think twice about having a beer once you see the price too!
On average, in Jordan, you can expect to pay the same prices as when you travel in a country like Italy, so think at least 50€ for a double room and 25€ for a dorm bed in a hostel.
Food, coffee and local buses are cheap – a few euros – but tours, guides, transfers and entrance fees are on a par with those in western Europe – think around 450€ for a 3 day tour from Amman to Petra, Wadi Rum & the Dead Sea or 225€ for a 2 day tour to the same spots.
#2 JD is the Currency
Worth noting at this point, that Jordan doesn't use or accept Euros (I'm just using them as a point of comparison here!)
The currency in Jordan is actually the Jordanian Dinar, or JD, which is worth more than $1 EUR – a key reason why travelling in this country isn't super cheap.
I recommend getting some JD cash ahead of your arrival if you find a good rate, or else bring some USD or EUR cash to change while you are here instead.
There's plenty of foreign exchange offices in Amman, where you can easily change your money.
Just don't exchange any money at the airport, you'll almost certainly get stung with a bad rate!
#3 Use ABC Bank to Avoid Charges
And one of the reasons I recommend bringing some cash with you to Jordan is because, while you can use your ATM card (both Visa and Mastercard) in Jordan, the banks here charge a crazy 5 JD fee to withdraw money from them each time.
This is of course in addition to the foreign exchange fees and any charges from the bank in your home country!
Sadly it all adds up rather too quickly.
That said, I did manage to find 1 local bank that didn't charge the 5 JD transaction fee and that was the ABC Bank.
Seek one of their branches out in Amman and withdraw as much JD as you can if you're running low on cash!
Oh and make sure you're not being charged overseas transaction fees or getting poor exchange rates by your bank too.
I always take my Wise Card away with me to avoid exactly these issues.
The easy way to spend abroad with real exchange rates, no markups and no sneaky transaction fees, you can use your Wise card just like a debit card in Jordan… and it links easily with Google and Apple pay – sold! Get your Wise card here.
#4 Buy a Jordan Pass
Another way to save money when you do travel here is to invest in a Jordan Pass before you arrive.
This great tourist pass will also include the price of your visa (although do check the nationalities eligible), as well as entrance to Petra and 39 other historical attractions in the country.
As such, there's no question this tourist pass is a great money-saving option and it's ideal if you buy it before you enter Jordan to get the visa inclusion.
To give you some idea, entrance to Petra for 1 day comes with a steep 50 JD entrance tag (cue GASPS!), but buying a Jordan Pass gives you a 1 day entry ticket for Petra + your Jordan visa (normally 40 JD) + entrance to a whole heap of other Jordan attractions for only 70 JD.
You can also buy an upgraded Jordan Pass for 75 JD, which allows you 2 days in Petra + all the other benefits, again easily helping you to offset the 55 JD fee for a 2 day standalone Petra entrance ticket.
And finally, there's a Jordan Pass that gives you 3 consecutive days to enjoy Petra (plus all the other benefits of the Pass) for 80 JD.
#5 Eat Local
Another way you can save money when you travel Jordan is to eat locally!
By this I mean, head down the side streets in any town and city to find small cafes and street stalls selling delicious falafels, juices and more.
My favourite place in Amman sold a huge falafel wrap with salad, hummus and fries for only 50c.
I can't even give you the name of it, because I don't think it had one – but I did become a regular when I was there!
And trust me, eating locally from small cafes and stalls is an absolute bargain compared to a sit-down tourist restaurant in Jordan, where you'll pay in excess of 20€ for every meal – no alcohol included of course!
Another great choice is to pick a hostel or hotel that includes free breakfast!
The place where I stayed – Jordan Tower Hostel – did just that and it was fab!
#6 Come for 10 Days
If you're looking to balance costs with exploring Jordan, then I'd suggest 10 days is the perfect amount of time to spend in this country.
Being a small nation, it's easy to get around Jordan in this time and see almost everything, but with less than 2 weeks, and if you watch your cash, you won't spend a fortune, making it a nice balance.
Check out my perfect 10-day Jordan itinerary for more details about what to see and where to go.
If you're tight on time, even 7 days in Jordan will allow you to see a lot of the country, including the hot spots of Amman, Jerash, Petra, Wadi Rum and the Dead Sea.
#7 Take 2 Days for Petra
And talking of itineraries, it's worth pointing that I definitely recommend you take 2 days just to visit Petra.
Honestly, you'll want it!
And you won't even realise it until you get to Petra and see how huge this place is!
Honestly, it's massive, and with all the snaps you'll want to take and all the trails you'll want to hike, spreading your experience over 2 days is going to allow you the time to bag maximum memories.
Plus, with 2 days, you'll be able to savour a sunrise and sunset at Petra, and you'll be able to get as far as The Treasury (Al-Khazneh in Arabic), which lies furthest from the entrance and is a must!
Because I suggest allowing 2 days to visit Petra, I recommend the Jordan Explorer Pass, which includes a 2 day entrance pass to Petra and which I'm delighted I paid the little bit extra for.
And if you're looking for more tips about how to visit Petra for less, then check out this post I wrote.
#8 Visit in the Spring
And talking about visiting Petra and Jordan, we now move on to thinking about when to come and travel here.
And in my opinion, the ideal time to travel to Jordan is definitely during Spring.
February through April really is a wonderful time in this country, with great daytime temperatures and cooler evenings that still allow you to sleep!
As long as you avoid major holiday times such as Easter and school breaks, prices are also quite cheap during these months too and most of the historical sights are not too crowded!
Winner!
#9 It's Safe for Solo Females (or Anyone!)
So as well as being small, Jordan is also very safe.
And for the Middle East, it's also very stable.
This does make it a great introduction to travel in this part of the world as, generally speaking, it's easy to get around, you won't be hassled and the local people are insanely welcoming.
Having travelled here as a solo female, I can also attest firmly to the fact that Jordan is a very easy country for single ladies to travel in and I felt perfectly secure doing so.
Dressing correctly, being respectful and not wandering around alone at night are just some of the commend sense measures I took.
That said, if you would still prefer to take a tour in Jordan, and meet other travellers (which I can totally understand), then here's my top picks.
World Nomads offers simple and flexible travel insurance. Buy at home or while travelling and claim online from anywhere in the world.
Alternatively, if you're a long-term traveller, digital nomad or frequent remote worker seeking travel health cover, check out Safetywing's Nomad Insurance policies.
#10 Check Out Day Tours
Otherwise, if you don't want to take an organised tour around the whole of Jordan, you can actually pick up some brilliant day, or multi-day, tours around the country too.
These are particularly useful given the lack of public transport here – especially to more of the off-the-beaten-track destination such as the nature reserves, the Dead Sea or the eastern desert.
As such (and kind of unbelievably), the cheapest way to access many of these spots is via budget tours arranged by some of the larger hostels (including Jordan Towers in Amman) or GetYourGuide.
I'm not joking!
Normally I'm not a huge fan of organised tours, but I highly recommend the day or multi-day tours run by these companies when it comes to seeing a lot of this country in a short timeframe – to simple book, affordable, enjoyable and highly informative, they make a great option.
Alternatively, you can hire a car to get around Jordan – great if you're travelling as a couple or a group, as you can share the costs.
Check out these good car rental options in Jordan and then take a look at this great guide to driving in Jordan.
#11 Beware the School Groups!
Maybe one thing to bear in mind when you are sightseeing in Jordan however – particularly at many of the historical sights – is that you will run into loads (and I mean LOADS) of school kids.
It's wonderful that local Jordanian children get the opportunity to see and experience their country's treasures (don't get me wrong), but the noise and chaos can be an interesting accompaniment to your day!
You have been warned!
#12 Prepare for the Photo Requests!
And on that note about school children when sightseeing, you'll also want to be prepared to be asked – as a tourist – for a million photos a day when you travel Jordan.
And it's not just school children that will want a selfie with you – local officials, shopkeepers, guides, families and members of the armed forces will also want to get in on the action too!
Now, say "CHEEESSSE!"
#13 Great English is Spoken – Phew!
And how does everyone in Jordan communicate that they'd like a photo with you?
In perfect English of course!
Thankfully (unless your Arabic is way better than mine), you'll be delighted to find that the level of English spoken in Jordan is excellent, especially when it comes to those that work in the tourism industry here.
Many other local people want to practise their English language too and, as a tourist, you're likely to be stopped in the street and asked many friendly questions on a regular basis, both out of curiosity and from people's desire to rehearse their skills.
That said, it doesn't hurt to take an Arabic phrasebook along with you to try and learn a few simple greetings in Jordan's local language either.
#14 Pack Your European Adapter
And along with a phrasebook, you'll also want to make sure you pack a European adapter when you travel Jordan, so that you can charge everything during your time here.
Because yes, it's European pin plugs that are used throughout this country, so do not travel here without your European adapter if your appliances aren't already compatible with these plug sockets.
#15 Consider What to Wear in Jordan
And on the subject of packing, what to wear in Jordan is a key area to consider when you're planning to travel here.
Certainly one of the most frequent questions I get asked by people heading to Jordan, is about dress standards.
And while this is the Middle East and most locals here are deeply religious, dress codes are not super strict.
By this I mean, non-Muslim women certainly do not have to wear a headscarf, but by the same token, you're likely to feel out of place with bare legs, exposed shoulders or tight /revealing clothing.
Most of the time I was travelling in Jordan I opted for trousers and a T-shirt, plus a scarf around my neck.
This meant my legs, shoulders, chest and neckline were all covered, but my lower arms and head were exposed enough to keep cool!
Find out more about what you should and shouldn't pack in my complete guide about what to wear in Jordan.
#16 Bag a Budget Flight from Turkey
And now that you're all packed, it's time to think about how to get to Jordan.
For most people who want to travel here, the main gateway to this country is via the international airport in the capital Amman.
Modern, clean and efficient, the airport here is easy to navigate and there's regular flights from many European destinations, as well as other Middle Eastern and African countries.
Flights aren't always cheap however – a fact exacerbated by the Syrian crisis, which has meant land crossings from countries such as Lebanon have been very difficult in recent years.
However, there are many budget flights available from Turkey, particularly with the airline Pegasus, which makes Istanbul one of the cheapest places to access Jordan from.
As always, I highly recommend you check out Skyscanner for the best rates on tickets to Jordan from Istanbul… or anywhere!
#17 Cross Overland From Egypt & Israel
One land crossing that is possible however is between Jerusalem and Amman via the King Hussein (Allenby) Bridge border.
If you've bought the Jordan Pass and you're from one of the countries whose visa entry is included in this, then entering Jordan via this route is straightforward.
Learn more in this post about how I made this border crossing independently.
Otherwise, if you're travelling from another Middle Eastern country such as Egypt or Israel, it's worth noting that land / sea borders to both these destinations are also open now.
Do just check the border times however to avoid crossing on holy days or holidays when things are either totally closed, shut early or invariably very chaotic!
#18 Go for a Zain SIM
And once you arrive into Jordan successfully, one of the first things you'll want to do is get a SIM card.
Most of us who travel Jordan these days, or anywhere for that matter, want to stay connected and thankfully, there's a couple of telecommunication companies in the country that offer tourist SIMs.
And the top one I recommend is Zain, whose staff in Amman were efficient and helpful when I got my SIM. Plus they had excellent network coverage across the country – hoorah!
That said, getting a SIM is not cheap – this is Jordan after all!
For around 20 JD, you can get a SIM card with tons of free minutes and texts (not that important), along with a decent amount of data (very important!)
I got 10 GB of data and this lasted me the 3 weeks I was in the country, especially because all accommodation spots in Jordan have free wifi too.
#19 Everyone Loves the King
And the other thing all accommodation spots in Jordan have, is a photo of the King.
Yes, Jordan is a Monarchy and everyone here absolutely LOVES the king and his wife!
And I mean love!
The Queen even has her own Instagram account if you want to follow along!
The current King is actually half British, which means attitudes to Europeans and Brits, in particular, is extremely welcoming across Jordan – a nice change!
#20 The Best Places to Visit in Jordan are…
We're getting towards the end of this article now, but I wanted to give you a quick heads up that if you do plan to travel Jordan and want me to cut straight to the chase, then here are the best places to visit in the country…
Amman
The capital and a great place to start! Learn more with my list of the top things to do in Amman.
Jerash
A great day trip from Amman, this amazing ancient Roman city is one of the best preserved in the world. Check out these top tours that will take you there.
Dead Sea
Bring your book and enjoy floating in the world's most saline sea!
Petra
A World Wonder and a bucket list ticker for almost everyone, Petra is a must during your time in Jordan and here's how to visit it for less.
Wadi Rum
The beautiful orange desert where you can enjoy jeep safaris and camp under the stars. Check out these top tours to learn more.
#21 Take the Jett Bus or Minivans
And finally, when it does come to travelling around Jordan and seeing some of these amazing spots, it pays to know that there are some cheap transport options that definitely help.
First up is Jordan's main coach company, Jett Bus, who operate a regular timetable across the country in relative comfort.
An example of the Jett Bus prices I paid were…
#1 Aqaba to Amman for 7 JD
#2 Amman to the King Hussein Bridge for 11 JD.
The other option in this country is to use local minivans to shuttle around.
These are by far the cheapest option, but are irregular, infrequent and unreliable to say the least!
As per usual, when in countries such as Jordan, minivans only run when full, so you may be waiting a while until they leave.
If you have time on your hands however, this shouldn't be a problem.
Just make sure you set out early when you go to catch one as most only operate before lunchtime.
Alternatively, you can hire a car to get around Jordan – check out these good car rental options in Jordan.
SAVE THIS TO PINTEREST!
So that's my list of the 21 things to know before you travel Jordan.
Have you visited this delightful Middle Eastern country?
What's your number 1 tip for other travellers here?
Please drop your fav slices of advice into the comments box below…