One of the 7 new wonders of the world, Petra is, quite simply, an amazing, must-see travel spot.
A veritable bucket list item in fact!
If you weren't already inspired, no doubt the rise of Instagram has had you marvelling at more than one picture of this sensational ancient city, buried deep in the desert and known about only by the local Bedouin people for hundreds of years.
Termed as the rose-red city, Petra was undoubtedly the highlight of my time in Jordan – no mean feat given the plethora of other amazing things to do and see in this small Middle Eastern country.
From the stunning views, epic structures and fascinating sense of mystery it pervades, despite being well-discovered and visited these days, Petra can still wow you.
Yep, it certainly wowed me… and then some!
And I've now got the full lowdown to help you revel in this ancient treasure for less with my top tips for visiting Petra on the cheap.
---
Related Posts
---
This page contains affiliate links meaning Big World Small Pockets may receive a small commission on any purchases at no extra cost to you.
---
#1 Buy the Jordan Pass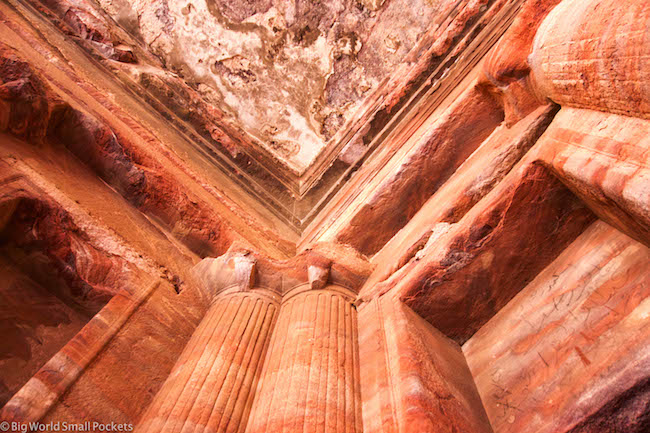 Buying the Jordan Pass is a great tip when it comes to seeing Jordan on the cheap full stop.
But it when it comes to top tips for visiting Petra on a budget, then the Jordan Pass really comes into its own.
Put simply the Jordan Pass, is a digital ticket that, once purchased, allows you to visit a ton of the country's attractions for free.
It also includes the cost of your single entry visa to Jordan (although do check if your country is included) and for this reason it's well-worth buying the Jordan Pass online before you arrive.
Given that the entrance to Petra for 1 day comes with a steep $70 USD (50 JD) entrance tag (cue GASPS heartache), buying a Jordan Pass that gives you a 1 day entry ticket for Petra + your Jordan visa normally $56.50 USD (40 JD) + entrance to a whole heap of other Jordan attractions, it's a no-brainer money saving purchase at $99 USD (70 JD).
You can also buy an upgraded Jordan Pass for $106 USD (75 JD) which allows you 2 days in Petra + all the other benefits, again easily helping you to offset the $77.50 USD (55 JD) fee for a 2 day standalone Petra entrance ticket.
#2 Spend 1 Full Day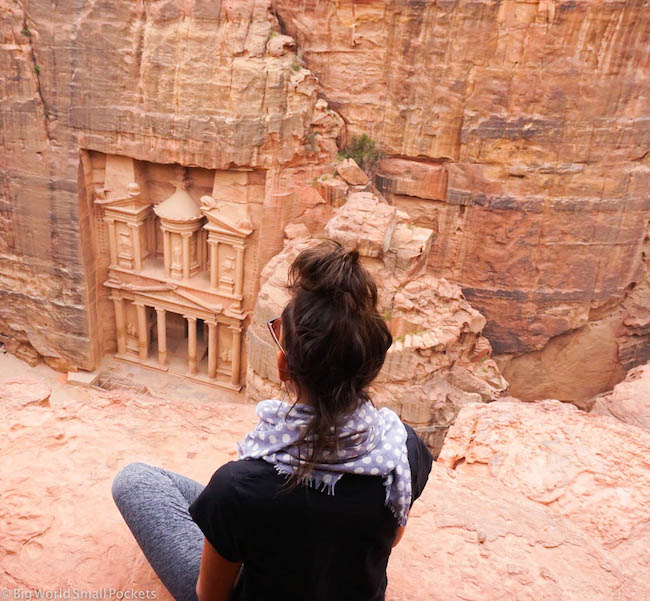 Personally, I actually opted for the Jordan Pass that included the 2 day Petra option (the Jordan Explorer Pass) and was really glad I did, as this place is huge and definitely requires 2 days to take it all in, especially if you're photographing and videoing it like a crazy blogger!
That said, if you really want to visit Petra on the cheap, the best thing to do would be to save the extended entrance fee and just spend 1 full day here.
And I mean 1 FULL DAY!
Trust me you'll need it, so plan to get there early and leave late because you'll want many an hour to walk, snap and marvel at this desert stone city.
The best way to give yourself a full day therefore is not to day trip from Amman, like many do, but actually to reach Petra the night before, stay there and then rise at dawn to begin your mammoth day.
Ditto, you'll be so pooped at the end of it all that I wouldn't consider returning to Amman and advise instead you opt to stay a second night in Petra before moving on elsewhere (namely to Wadi Rum – see #7).
#3 Stay in Wadi Musa
Just to be clear, you can't actually spend the night in Petra itself, so will need to book accommodation in the surrounding area.
The main town near to the site of Petra is called Wadi Musa – a small local village with bus connections to both Aqaba and Amman.
I actually spent 3 nights in Wadi Musa – because I wanted 2 days to see Petra – and selected the excellent Petra Gate Hostel as my accommodation of choice.
Offering both dorms and private rooms, and well-located in Wadi Musa, it was a great choice with friendly staff and excellent free wifi.
Find the Best Rates for Petra Gate Hostel here!
Slightly cheaper, although with mixed reviews, is the Valentine Inn, which you can book here.
The other option if you prefer a more local feel, is to stay in the Bedouin village, which is located the other side of Petra to Wadi Musa.
Here there are plenty of homestays or home rentals available in Bedouin owned houses and apartments.
It is also possible to access Petra for free via the village and a sneaky back route, but you didn't hear it from me and I'm not advocating that you do this.
#4 Don't Take a Guide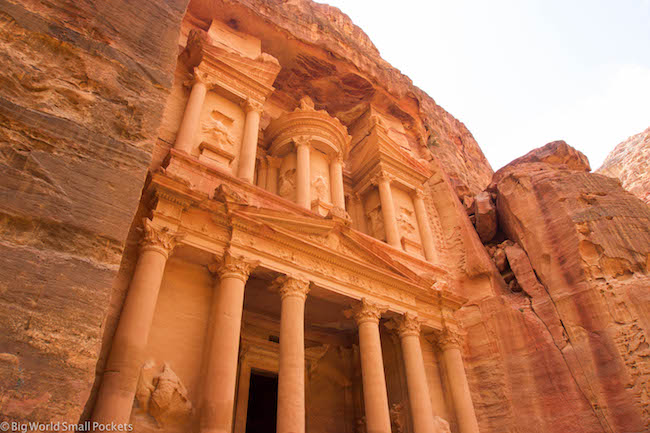 My 4th important tip for visiting Petra on the cheap is to not take a guide and do it alone.
Honestly, it's easy to navigate the site and with free maps available at the entrance, which mark all the main sites, plus the top walking trails, Petra is totally easy to manoeuvre solo.
Of course taking a guide will increase your understanding of what you're actually looking at, but between Google and my Jordan Lonely Planet Guidebook, I managed perfectly well!
#5 Don't Take a Tour
In the same way that you don't need to take a guide in Petra to enjoy it, you also don't need to take a tour here either.
Jordan is a very safe and easy country to travel in and honestly visiting Petra alone, or working as a team with other backpackers, is totally manageable.
Public minivans can be caught to Wadi Musa from both Amman and Aqaba, otherwise for a little more, Jett Bus provide a comfier bus option that still comes in way cheaper than a tour.
Walking from Wadi Musa to the entrance of Petra is easy and, as I've already explained, there's some good budget accommodation options in and around the site you can easily book online.
#6 Come Prepared
My next tip when it comes to visiting Petra on the cheap is to come prepared for your time here.
What I mean is bring snacks, lunch and plenty of water with you.
This will definitely help you keep costs down as you won't have to fork out so much while you're in the ancient site of Petra itself.
There's tons of supermarkets in Wadi Musa where you can pick up supplies, so being prepared is also easy.
In addition to staying fed and watered, you'll want to bring a sun hat or cap with you to Petra, as well as sunscreen and some good walking shoes – you're going to cover a lot of ground.
Ideal for visiting Petra are a pair of lightweight runners, like these New Balance ones, which I found perfect for my time there.
You'll also want a good day pack to keep all your stuff in and keep your hands-free and, as always, I do think the Bobby Anti-Theft Backpack is hard to beat when it comes to great travel day bags.
Finally, you'll also want a good camera for Petra.
Here the budget goes a little out of the window, but really, when it comes to snapping one of the world's most photogenic places, your phone just ain't going to cut it!
Find out why I always recommend the Sony A6000 Mirrorless as the best travel camera HERE.
Also, bring layers.
Petra can be cold even when the sun is shining, mostly because the wind whips through here and, in true desert style, temperatures plummet as the sun gets lower.
If you want to spend longer in the Petra area, then check out this awesome Jordanian cooking course my friend Sally over at Passport and Plates experienced in the region care of A Piece of Jordan.
#7 Combine with Wadi Rum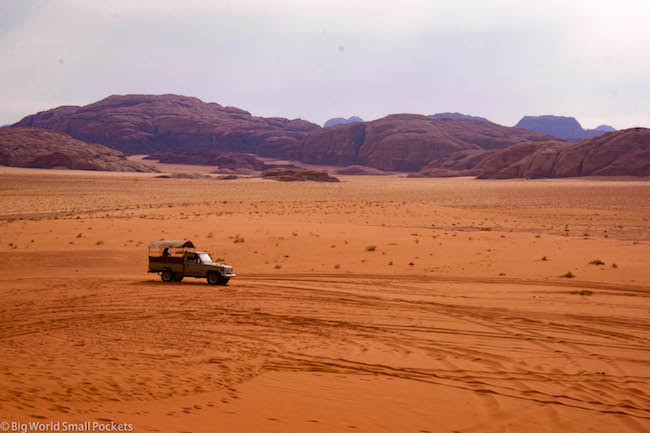 Close to Petra, and the 2nd best Jordan attraction in my opinion, you can't visit Petra without making time for Wadi Rum too.
And it's great to know that the best prices for this desert adventure can be found in Petra itself.
Sadly Wadi Rum can't be visited without a tour (I mean this is the desert right?!), but don't book your trip in Amman.
Instead ask at one of the budget accommodation places, like Petra Gate Hostel, in Wadi Musa and score an awesome deal.
I paid 40 JD for my Wadi Rum tour through these guys, which included a full day safari jeep tour, return transport to Wadi Rum Village (where the bus will drop / collect you), 3 great meals and an overnight stay in a beautiful Bedouin Camp deep in the desert.
I was actually travelling with some French guys at the time who hadn't booked a tour and just rocked up to Wadi Rum village hoping to bag a bargain.
Unfortunately, having not arranged anything, they actually ended up paying double what I did, simply because there weren't any other people also waiting to fill up the jeep.
So, you have been warned people.
Sometimes it pays to be organised!
And if you want to be super organised and book a tour to Wadi Rum in advance, then check out these great tours that include Petra and Wadi Rum and run from 2-3 days for some great prices.
When to Visit Petra?
There's no question in my mind that the best time to visit Petra, and Jordan in general, is during the spring or autumn seasons, when the weather is warm and dry, but not too hot.
This will allow you to get the most pleasant experience from your time there, especially if you want to enjoy some hiking.
Just be aware of any major holidays during these times however, especially Easter holidays or european school holidays, as the crowds will be much bigger and prices much higher at these times.
Petra Packing Essentials
And now here's my list of the top 5 packing essentials you shouldn't head to the beautiful spectacle of Jordan without…
#1 A Good Camera
No doubt you're going to be snapping like crazy in this amazing spot and need to ensure you have a good camera to do the place justice.
I love my Sony A6000 and GoPro, which are both light, compact and great for travel.
#2 Decent Walking Shoes
Please don't come to Petra without any appropriate footwear!
Instead, be prepared with a decent pair of walking shoes – these cross trainers from New Balance are ideal (and totally stylish) for the job.
#3 Light Windproof Jacket
Whatever the time of year, you have to remember the desert can be freezing and wind at dusk, night and dawn.
Don't get caught out therefore and ensure you have a good lightweight, windproof jacket with you.
This North Face one is perfect.
#4 Compact Hiking Day Pack
I never go on any big day trip without a sturdy backpack to ensure I've got everything I need and that the weight is equally distributed across my back and shoulders.
This super featherweight Kompressor from Marmot is my go-to for travel, because it folds down to nothing and is super durable and comfortable.
#5 Portable Charger
And finally, I would never head off anywhere without my trusty Anker Portable Charger, which keeps my phone and camera batteries full all day, every day!
This means no matter how many pics or videos I might take in Petra, I can rest assured I'm never going to run low on battery!
The Best Travel Insurance for Jordan
And I would never think of travelling to Jordan without proper coverage and always recommend travel insurance from World Nomads who I've used during my time in this country and throughout the Middle East.
I love their great coverage of various outdoor and sightseeing activities, as well as their excellent customer service and ability to claim online, which is very handy if you're travelling in remote places for a long time.
Alternatively, if you're looking for travel insurance with Covid-19 cover, then look no further than Safetywing's great Nomad Insurance policies.
These guys will cover you at some seriously great prices!
PIN IT TO PINTEREST!
So those are my top tips for visiting Petra on the cheap.
Have you got any more to add to the list?