Without question, Jordan is one of the safest, most stable and most delightful Middle Eastern countries to visit.
And for this reason, it's an absolutely ideal country for first-time or solo travellers in the region.
From sensational ruins to incredible desertscapes, the famous ancient city of Petra to the amazing float-friendly Dead Sea, along with some of the most amazing hospitality I've ever experienced, there's no question the small country of Jordan packs a big travel punch.
So, if you're a keen traveller thinking of ticking this country off your list soon, here's 3 fantastic Jordan itineraries that'll get you all fired up and ready to hit up this awesome destination before you can even utter the words Middle East adventure!
Covering 1-2 weeks, they're sure to help you plan the perfect trip.
---
Related Posts
---
This page contains affiliate links meaning Big World Small Pockets may receive a small commission on any purchases at no extra cost to you.
---
1 Week Jordan Itinerary
My 1 week Jordan itinerary is designed for those who only have a short trip planned.
7 days is going to give you just enough time to see the top highlights of this fabulous country, which you can definitely visit independently, or with guided tours, if you like.
Day 1: Amman
Start your time in Jordan's capital Amman – this is likely to be where you'll enter the country and makes for the perfect introduction.
Indeed this super relaxed capital honestly feels more like a town than a city and is the perfect place to stroll around in order to get acquainted with this friendly and welcoming country.
From falafel tastings to mosque visits, roman ruins to bustling souks, there's loads of great things to see and do in Amman that will keep you more than entertained for at least one day.
Learn more in my list of the top 13 things to do in Amman and when it comes to good value accommodation in the capital, highly recommended is Jordan Towers, which boasts an amazing location in downtown Amman, some of the best free breakfasts I've ever tasted and super fast, free wifi.
With a roof terrace, as well as spotlessly clean dorms and private rooms, it's a great place to base yourself in the capital.
Day 2: Jerash
One of the best-preserved Roman cities in the world, there's absolutely no question that Jerash is a total must on any travel itinerary of Jordan.
Easily accessible from the capital Amman, I'd actually just recommend taking a day trip to Jerash and then returning to the capital to spend the night.
Not only is this less stressful, but the level and price of accommodation is better in Amman compared to Jerash too.
That said, you will need to allow a good few hours to see and experience everything at Jerash, because this place is seriously huge.
I'd certainly recommend an early start for your day trip, not least because the public minivans that run there can take a while to fill up and start moving!
Welcome to the Middle East!
Once you do get to Jerash, you don't need to take a guide, because wandering around the ruins here with your Jordan Lonely Planet will totally suffice when it comes to marvelling at this huge and ancient city.
And don't be put off by the awful souvenir shops at the entrance either… it gets better I promise!
Honestly, once you get into the city itself and start wandering this beautifully preserved and tout-free Roman town, you'll forget all about them!
Remember to take a hat, sunscreen and water for your Jerash adventure and when you're finished, it's an easy minivan ride back to Amman.
For day trips to Jerash, look no further than these great offerings, which have some of the best prices around.
Day 3: Dead Sea
On Day 3 in Jordan, it's time for another day trip out of the capital, this time to the incredible floating water world of the Dead Sea.
Honestly, I had no idea just how cool the sensation of being totally buoyant was going to be, so let me point out to you now that it's actually way more fun than it sounds!
The downside about the Dead Sea in Jordan is the very limited public transport that goes there, but you can avoid taxi fees if you're on a budget by taking one of Jordan Towers' excellent backpacker-style tours.
These tours tend to run daily and generally bring 4 travellers together so that the cost of a driver and vehicle are shared.
In addition to the Dead Sea, the trip also includes panoramic lookouts, the Madaba Mosaics (which just happen to include the earliest map of Palestine ever found) and Mount Nebo – where Moses is supposed to have spotted the Promised Land.
A full day itinerary with a local driver who, although not an official guide, will be able to offer you a great insight into life in Jordan, I highly recommend Jordan Towers trip to the Dead Sea, especially if you're a solo traveller looking to meet other adventurers like I was.
Day 4: Kings Highway Tour
After returning to spend the night in Amman following your Dead Sea trip, it's up early to begin your journey to Petra, Jordan's star attraction.
While you can travel straight to Petra from Amman either via local minibus or the slightly more luxurious Jett Bus, Jordan Towers actually offer another top day trip to Petra, which allows you to see some stunning sights on the way, which are otherwise totally impossible to get to without your own transport.
These include the Roman ruins of Umm ar-Rasas, the Mujib Valley, Karak Castle, the Dana Valley and Shobak Castle, all of which sit along the Kings Highway – a road that provides some of Jordan's most stunning scenery too.
Because of how much you see (and how fab the views are), I highly recommend taking a day to experience the King's Highway Tour – it makes for a far more exciting, scenic and interesting journey to Petra than the main road.
As a full day trip however, it does mean you won't arrive into Wadi Musa – the town nearest to Petra – until about 6pm, so it's a good idea to already have your accommodation here booked.
In my opinion, the great-value spot of Petra Gate Hostel is hard to beat.
Day 5 & 6: Petra
And then enter the piece de resistance, Petra is absolutely worth 2 days of your Jordan itinerary.
The Red Rose City is far bigger and grander than every picture you've ever seen lets on, and from its walking trails to its monasteries, tombs, theatres and caves, you really will need a couple of days to get your head around the place… and you'll need at least one empty memory card for your camera too!
An easy downhill walk from Petra Gate Hostel in Wadi Musa, the visitor centre at Petra is a great place to pick up a free map and plan your time in this ancient desert city too.
Must-sees at Petra include the famous Siq and Treasury, as well as the Theatre, Royal Tombs, the Monastery and you don't miss the trail of the High Place of Sacrifice either!
Learn more about how to see Petra for less with this helpful article I wrote all about visiting this ancient city on the cheap!
Day 7: Wadi Rum
And with one last day in Jordan, there's no question a night in the desert of Wadi Rum is the perfect way to end a jam-packed week in this country.
Easily accessible via public bus from Wadi Musa, Wadi Rum is a stunning desert landscape populated by the Bedouin People who offer incredible safari tours and camping under the stars in this remote and stark landscape.
I actually booked my Wadi Rum tour (because you have to take a tour) through Petra Gate Hostel and scored an excellent deal that included transport to and from Wadi Rum village, a full day safari jeep tour, a night in a beautiful Bedouin camp, plus breakfast, lunch and dinner.
A definite highlight of my time in Jordan, Wadi Rum will give you a very different, but still dazzling side of Jordan.
Learn more about what you should pack if you want to explore this desert region in my full guide about what to wear in Jordan.
10 Day Jordan Itinerary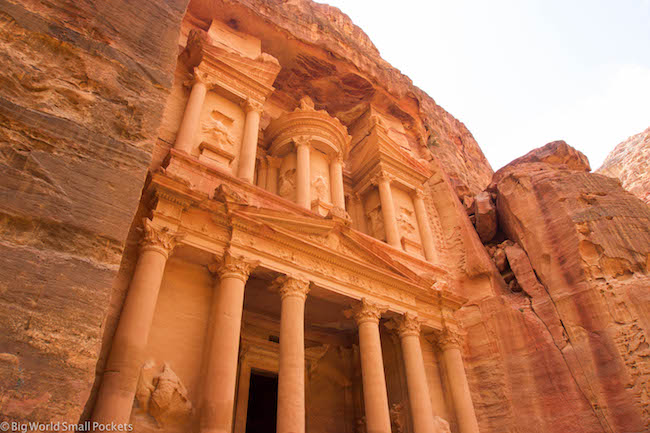 If you're lucky enough to have 10 days for your Jordan itinerary, then I'd highly recommend following the 7 day itinerary above, but giving yourself an extra night in Amman either at the start or end of your trip.
This will give you time to explore what is known as the country's Desert Castles, which lie to the east of the capital, near the town of Azraq.
Again, although they can be difficult to see without your own transport, Jordan Towers offers day trips for budget travellers to see around 5 of these castles by pairing you with other backpackers, a driver and a vehicle.
For history buffs, this is a must-do trip that takes you through the desert towards the Iraqi border.
With 8 days of your Jordan itinerary then planned out, why not spend the remaining 2 days relaxing on the country's coastline?
Aqaba is Jordan's famous Red Sea resort and where the locals go to let their hair down.
From diving to partying, relaxing to snorkelling, there's plenty to do here, almost all of which revolves around the sand, sea and sun.
As such, I'd actually avoid staying in the town of Aqaba itself, and instead book 2 nights at one of the many South Beach accommodation options instead.
Top of the list is Darna Village Beach Hostel, which continues to get rave reviews from travellers thanks to its top facilities, great location and friendly staff.
2 Week Jordan Itinerary
For your 2 week Jordan Itinerary, I'd highly suggest following the 10 day programme above and then combining this with an extra day in Petra.
With 3 full days in this ancient city you're likely to be able to see it from every angle, as well as enjoy some very early morning and evening views after the crowds have dissipated.
Staying at the Infinity Lodge in Petra will also give you an extra special experience!
The best and cheapest way to access Petra for 3 days is to invest in the Jordan Expert Pass. Learn more about this by checking out my article everything you need to know about travelling in Jordan.
And then finally, with 3 days of your 2 week Jordan itinerary still remaining, some incredible opportunities for hiking in the Dana or Mujib Reserves await you.
The best way to get off the beaten track in Jordan, heading to one of these protected areas of natural beauty will provide you with some of Jordan's best scenery and ecotourism experiences.
From the numerous trails you can explore with guides, to the hidden accommodation options that deliver solitude and seclusion, this is a Jordan experience you certainly won't forget in a hurry.
Jordan Mini Travel Guide
When to Visit Jordan?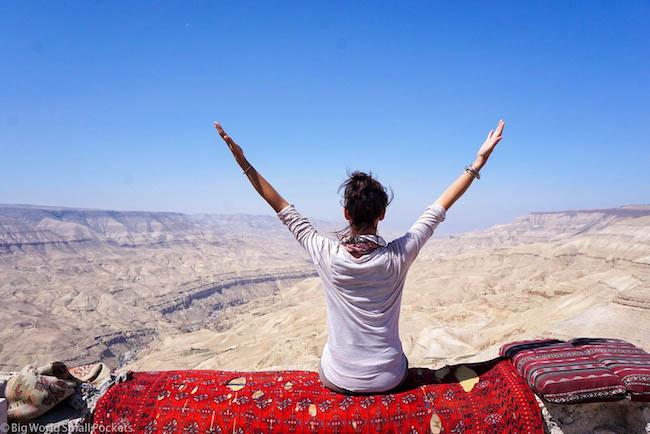 No question in my mind that you should definitely visit Jordan during the spring and autumn seasons i.e. from April to May and September to October.
This will allow you to get the most from the country's lovely historical and natural sites without being either too hot or too cold!
How to Get There?
Most people access Jordan by flying into the international airport in the capital Amman.
As always, I use Skyscanner to find the best prices.
If you are crossing into Amman overland from Jerusalem, check out this post that details all the ins and outs of crossing this border.
Top 5 Packing Items for Jordan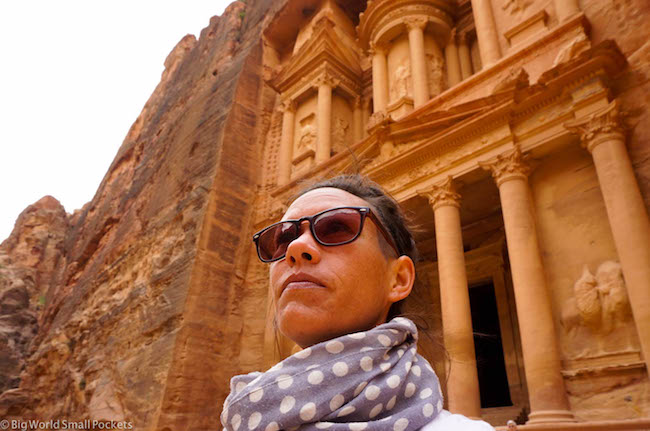 #1 Good Camera – You will be pretty much snapping non-stop during your time in Jordan and will need a good camera to do this gorgeous country justice. I highly recommend the Sony A6000, which I use for all my travels and love, not least because it's light, compact and robust!
#2 Good Walking Shoes – There will be a lot of sightseeing in Jordan, it's as simple as that! Make sure your feet are comfortable therefore with a pair of New Balance Trainers. I love mine!
#3 Head Lamp – Great for taking into Roman ruins to get an even better look at the amazing engravings and for any power cuts you may experience in Jordan, I love my Black Diamond Storm, which served me super well in this country.
#4 Sun Hat – Trips to Roman ruins, crusader castles and Petra will mean many hours in the hot sun of Jordan. Do yourself a favour and bring a wide-brimmed hat to protect you. I love this Hello Sunshine design.
#5 Long Thin Trousers – While Jordan isn't a super strict Muslim country, you're unlikely to feel comfortable walking around in anything too short. As such a pair of long, thin cotton or linen trousers provides the perfect attire for this hot country.
Travel Insurance for Jordan
World Nomads offers simple and flexible travel insurance. Buy at home or while travelling and claim online from anywhere in the world.
Alternatively, if you're a long-term traveller, digital nomad or frequent remote worker seeking travel health cover, check out Safetywing's Nomad Insurance policies.
SAVE THIS TO PINTEREST!
Despite being a tiny country, I think this Jordan itinerary makes clear exactly how much there is to do in this beauty of a Middle Eastern spot.
Ideal for both a short break or as part of wider Middle Eastern tour, there's no question Jordan is a top up-and-coming destination.
Have you visited this amazing gem of a country?
Did you love it as much as me?
I'd love to hear from you in the comments box below…