After 3 years of continuous travel and having spent the last 9 months coming down the African continent by land, I want to share with you my 12 essential Africa travel tips.
Hopefully they'll help you have the best possible journey in this amazing part of the world because, let's be honest, Africa is pretty hard to beat.
Yep, this is a continent that most of us always dream of exploring, myself included, and I feel very privileged to have finally made it here.
So, let the countdown begin!
---
Related Posts
---
This page contains affiliate links meaning Big World Small Pockets may receive a small commission on any purchases at no extra cost to you.
---
Grab Your Copy of How to Travel Africa for Less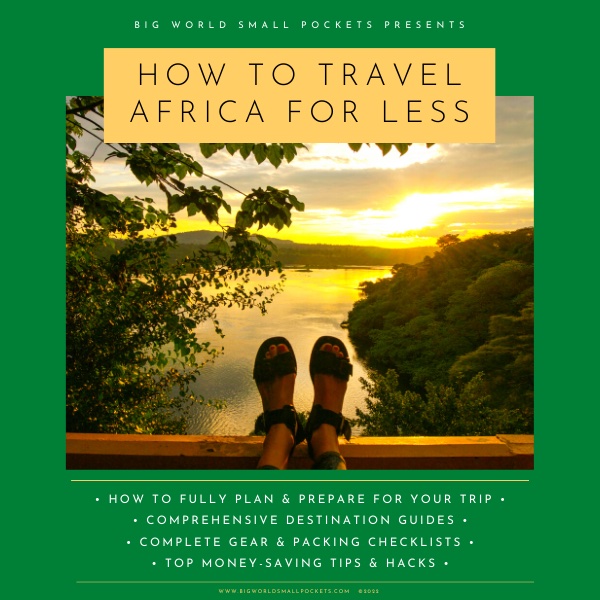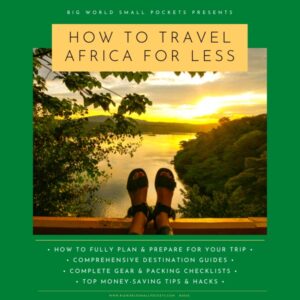 My ultimate guide to travelling Africa on a budget is now available, meaning you can finally get ALL my top tips for adventuring around all, or parts, of this amazing continent in one handy eBook, including…
Full Planning & Preparation Guides
Detailed Destination Info
Complete Packing & Gear Lists
Top Money-Saving Tips & Hacks
#12 Taste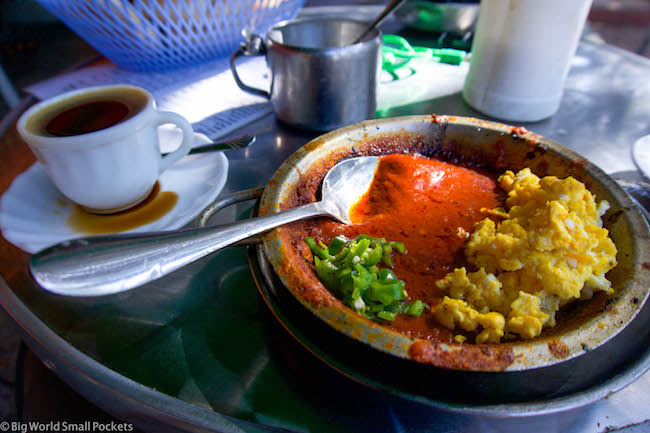 The first of my 12 essential Africa travel tips has to do with our taste buds.
While some people might be squeamish about trying new foods and even be scared of getting sick, few things are more enjoyable while travelling than discovering new tastes.
Be it at finer restaurants, or street food stalls for the more adventurous, eating the local food is an amazing experience in Africa.
It's also a great way to learn about another culture.
In many countries in Africa the locals eat with their hands. Are you up for it?
Or imagine trying a delicious new fruit that you never even know existed!
Bon-appétit!
#11 Help
This Africa travel tip does not refer to help you'll need, but the help you can give!
While we all know that the African continent has some hugely economically hard-up countries, how we might be able to help and contribute is often an ethically fraught question.
What is not questionable however, is that we can all make a contribution with our actions.
While I sometimes stop and volunteer for an organisation when travelling in Africa, I think the biggest contribution we can make as visitors is actually with our everyday actions.
By being a good example and a good person – doing things like showing kindness to people, respect for animals and cleaning up rubbish where we see it (children often come to help) – there's a great chance our behaviour will be replicated by others.
#10 Negotiate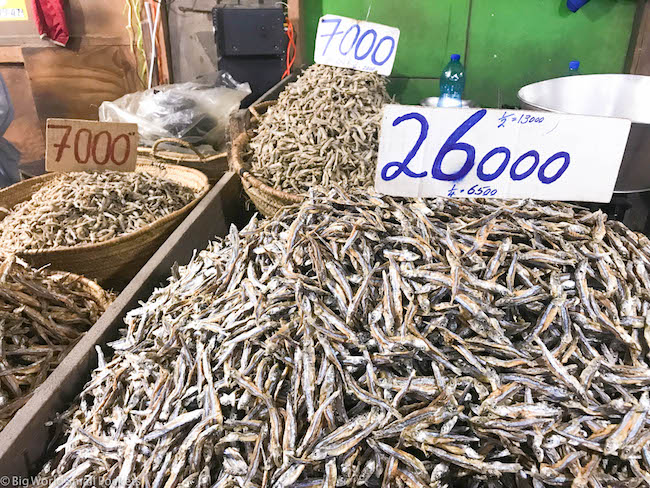 Most countries around Africa have a culture of negotiating or bartering on the price of things – from private transportation (think taxis or tuk tuks) to souvenirs.
Therefore one of my top Africa travel tips is to not accept the first price people tell you, but to ask for a discount and then agree on a price that seems fair for both parties.
And while it's easy to get caught up in this game, remember that probably the few cents that you'll end up fighting for make a much bigger difference in the seller's lives!
#9 Respect
While we all want to be ourselves wherever we are, sometimes it's best to hold back from something that is not considered culturally acceptable in the city or country we are visiting.
Things like wearing short shorts or tank tops in places where people are more traditionally covered up is an easy example that springs to mind.
For instance when I was travelling in Sudan, I traded in my shorts and tank tops for trousers and long-sleeve shirts.
I was really grateful I did this, as it felt far more respectful of the culture in that country and my interactions with the local people were much better as a result.
#8 Say What!?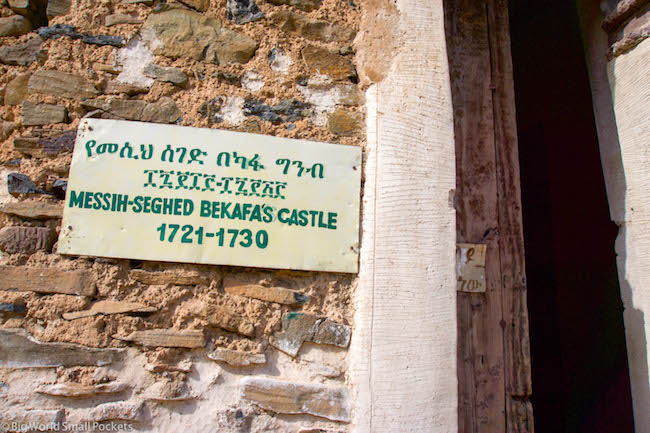 It's amazing how much of a difference it makes to be able to say at least one thing in the local language.
You often get a big smile in return and people genuinely feel happy that you've made an effort to speak their mother tongue.
As such, another of my top Africa travel tips is to learn some language basics in every country you visit.
This really does makes SUCH a big difference in the way people treat you and interact with you.
As a starter, I recommend writing down at least 5 key words every day and memorising them.
Honestly, you'll be amazed at the reactions you get – it'll definitely make your small piece of effort worthwhile.
Plus, you'll find that you'll even be able to get better prices this way!
5 PACKING ESSENTIALS FOR AFRICA
#1 Headtorch – Required for those all too often power cuts, Black Diamond are always my go-to brand.
#2 Insect Repellent – Malaria is a big risk in Africa, so cover up at night and pack at least 1 30% DEET spray.
#3 Good Camera – An absolute must if you're looking to capture the incredible landscape of this continent. I love my mirrorless Sony A6000, which is light, compact and robust – ideal for Africa travel.
#4 Sarong – Whether it's covering yourself from the dust on safari, using as a pillow on long bus journeys or making into a beach dress, this is a great multi-purpose travel item for Africa. 1 World Sarongs have a great collection if you're looking for some inspiration.
#5 Africa Lonely Planet – Incredibly useful for the maps and accommodation recommendations, the Africa Lonely Planet is a must-have companion.
#7 Money
Like in many other parts of the world, it's a common occurrence in Africa that people won't have change for big bills.
As such, one of the best Africa travel tips I can give you is to make sure you break your big bills every chance you get!
This means you'll then have smaller denomination notes for things like delicious street food and snacks, as well as transportation.
A good place to exchange bigger bill is at shops and guesthouses, where more reliable commerce means they often have a greater amount of change!
#6 Music
Having Shazam or a music-identifying app on your smartphone is super handy in Africa as, trust me, you are going to hear some amazing music in this continent, which you'll be delighted to identify.
Knowing what "that tune on the bus" was, means you can then find, enjoy and add it to your collection of music from around the world later.
This Africa travel tip also combines well with…
#5 Dance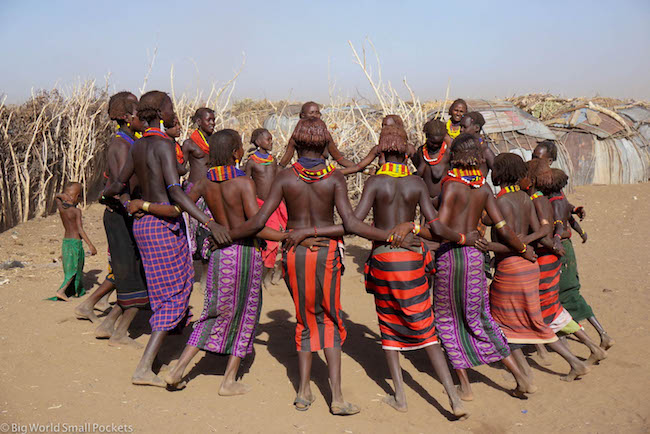 One of the most unique things in African countries is the dances the local people know and perform.
Yes, music and dance plays a huge role in social life for people across this continent, and even if you're not a party animal, you should go out to see people dancing in a local bar or club at least while you are here.
If you're too shy to join in on the dances that's ok, because even just standing and watching, it's hard not to be impressed with the rhythms and movements.
But of course, it is more amazing if you do decide to join in and let your body move to the booty-shaking sounds.
There's no question you will learn some new moves to impress your friends and family back home in the process!
And it's worth pointing out that Ethiopia is particularly amazing for this!
TRAVEL INSURANCE FOR AFRICA
World Nomads offers simple and flexible travel insurance. Buy at home or while travelling and claim online from anywhere in the world.
Alternatively, if you're a long-term traveller, digital nomad or frequent remote worker seeking travel health cover, check out Safetywing's Nomad Insurance policies.
#4 Pack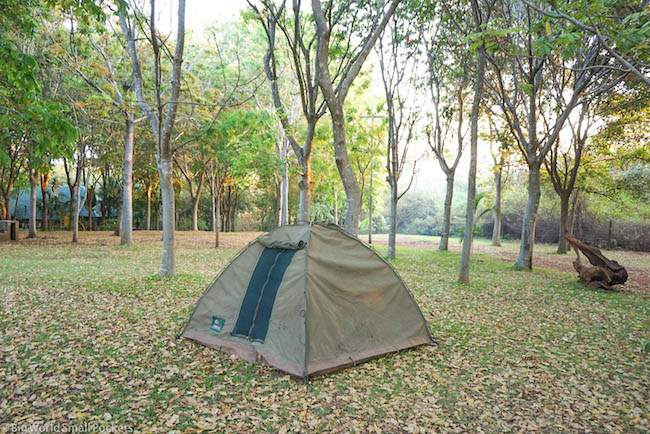 So number 4 on my list of Africa travel tips is all about packing light for your travels in this continent.
Besides the obvious pleasure of having less to lug around, Africa has some really amazing things you'll want to buy (from beautiful handicrafts to super cool printed fabrics at fair prices) and if your bag is already full to bursting when you arrive, how are you possibly going to fit in all those amazing souvenirs and gifts you will want to buy?
So trust me, when it comes to Africa travel, it's way better to have under packed, than to have overpacked!
READ MORE: Why I Never Travel with More than 13kg
#3 Attitude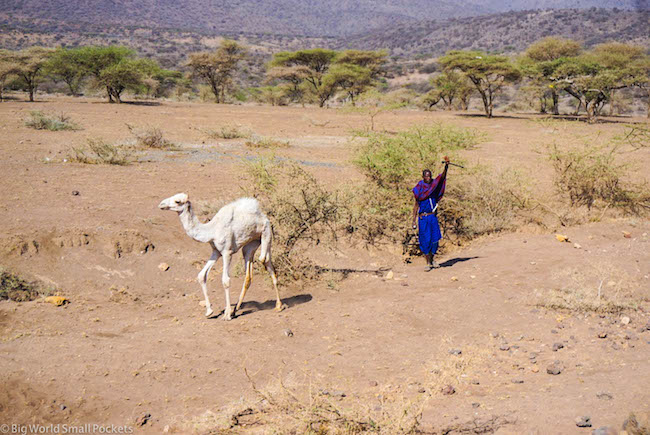 People in many of the African countries I've travelled to make a complete transformation from just staring at me at first, to becoming my friends by just smiling or saying hello.
Honestly being friendly and open really does make all the difference in the world.
And so, there's no doubt, that one of my key Africa travel tips is to always greet people and ask how they are before just jumping into what you need.
This will help you both befriend locals and fellow travellers alike.
The pleasantries take a second, but they can make a world of a difference.
#2 Learn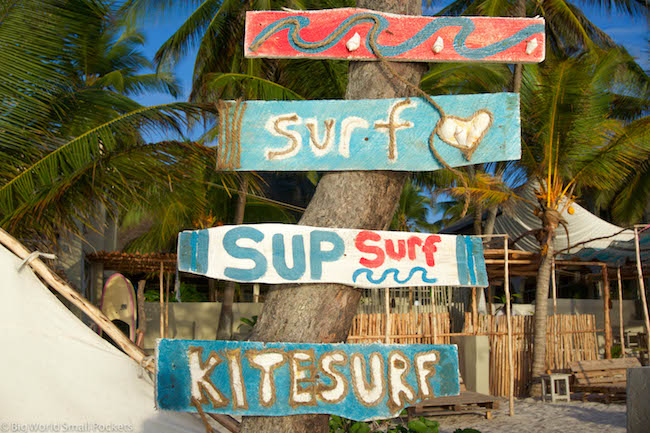 Learn whatever you can!
Whether its local history, culture, language, stories, music or dances, a key part of travelling in Africa is opening yourself up to new experiences and information.
Sometimes the most important thing we learn is something unexpected.
In this way, we often learn more about ourselves; about how we react to things; about what makes us happy and why.
Speaking personally, it's obvious that the last 3 years of continuous travel have acted as a huge therapy session for me, even though I never intended it to be that way when I began.
So please, use your time away to look within yourself and not just at all the amazing stuff around you.
Take the time travel provides to reflect on things in your life, and that includes reading and studying about things that interest you and learn everything you can. Soak it up like a sponge.
#1 Enjoy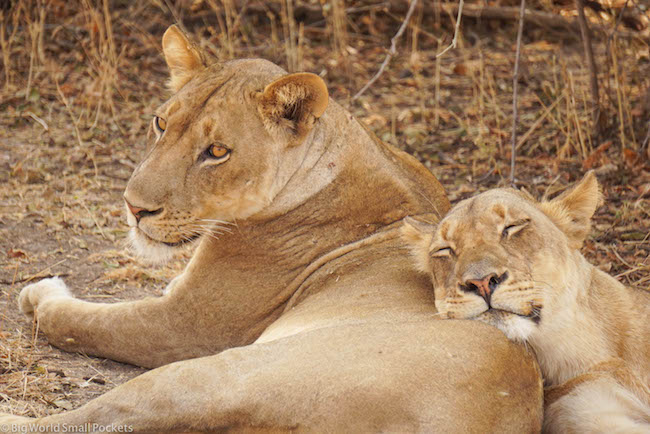 And now for the top entry on my list of essential Africa travel tips.
Whatever dimension your trip takes, don't forget to enjoy it!
There are some people who take it to extremes in terms of budgeting (myself included!), but it's important not to forget to treat yourself either, especially to things that make you happy.
This could be something nice to eat, a massage or buying a gift for either someone or yourself!
Whatever happens, enjoy your journey!
PIN IT TO PINTEREST!
And that's it.
That's are my 12 essential Africa travel tips.
I really hope you'll put them to good use and come explore the amazing continent of Africa soon!
---
Alejandro is 3 years into an around the world trip and is currently voyaging Africa from tip to tip by land and on a backpacker budget.
Originally from Colombia and NYC, he used to work in as a sustainable development consultant, but he traded it all in to chase his dream; seeing the world and collecting smiles and spreading positivity.
This big kid has a sweet spot in his heart for animals and children and wants to inspire you to never give up on your dreams, so check out his blog: www.pleaseliveyoudream.com and follow him on Instagram for beautiful images and good vibes everyday: @pleaseliveyourdream.com.
---