My 4 days in Luxor were undoubtedly some of the most spellbinding I had in Egypt.
Chock full of ancient awesomeness, there's just simply no way you can come to this country and not hit up Luxor… no matter how short your itinerary.
From Valley of the Kings to Karnak Temple, Luxor Temple to Medinet Habu, this city is a veritable treasure trove of historical highlights that you're able to visit for some ludicrously cheap prices.
Add into that the great price of accommodation here, as well as transport and food, and there's no question this is a budget traveller's, not to mention historian's, heaven.
So to help you get the most out of your time in this fantastically jampacked city, here's the best 2 day itinerary for Luxor Egypt – ideal for those on a tight timeframe and perhaps a tight budget too!
---
Related Posts
---
This page contains affiliate links meaning Big World Small Pockets may receive a small commission on any purchases at no extra cost to you.
All prices given are correct at the time of publication.
---
Grab Your Copy of How to Travel Africa for Less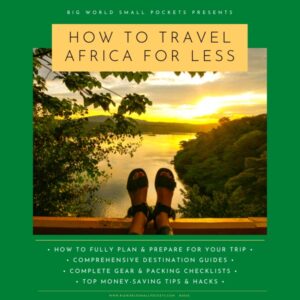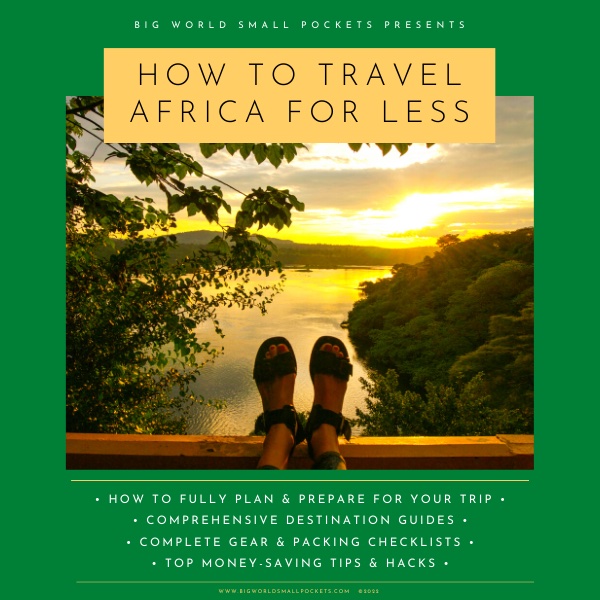 My ultimate guide to travelling Africa on a budget is now available, meaning you can finally get ALL my top tips for adventuring around all, or parts, of this amazing continent in one handy eBook, including…
Full Planning & Preparation Guides
Detailed Destination Info
Complete Packing & Gear Lists
Top Money-Saving Tips & Hacks
How to Get to Luxor?
I thought it might be useful to kick off this post with a short intro about how to visit Luxor.
After all, if you're planning on travelling there, it's probably useful to know how to get there in the first place!
While Luxor does have an international airport, most travellers still tend to arrive into Cairo's airport when they travel to Egypt – mostly because the capital has by far the largest number of flight connections.
As always, I use Skyscanner to grab the best flight prices to Egypt… or anywhere!
From Cairo, you then have 2 main options – either you can take a train to Luxor (ideal if you're spending a few days in Cairo before heading to Luxor), or you can catch a domestic flight to Luxor (which is probably easiest if you're flying straight into Cairo, and then looking to promptly move on to Luxor).
If you're down in Aswan instead, and looking to travel north to Luxor, then again your options are train, flight, or Nile cruise!
Yes this third option is a great choice for travelling between Luxor and Aswan as it will cover the cost of the journey, a Nile experience and you'll get to see some amazing temples up close and personal on the way as well.
To learn more about catching the train in Egypt – including what to expect and how to book – check out this post I wrote about the 27 things you need to know before travel Egypt.
For more information about cruising the world's largest river, in particular how to pick up a budget Nile cruise, check out this post, which details the exact steps I took to do just that!
Intro to this Luxor Itinerary
And now that you know how to arrive into this city, it's time to share my guide to spending the perfect 2 days there.
The first thing to know is that, separated by the river Nile, the city of Luxor is essentially split into 2 parts – the West and East Bank.
I recommend taking 1 day of your time here to visit each bank.
The order you visit them in i.e. West Bank followed by the East Bank, or visa-versa, doesn't really matter, but I like to start with the West Bank as it means you'll finish up your time at the spellbinding Luxor Temple – which is quite the finale I can tell you!
The other thing to consider is whether you want to take a private guide, a guided group tour or visit independently.
Yes you can travel independently to all the temples and sites mentioned on this list, but if you want both the ease of a minivan to shuttle you between them and the experience and knowledge of a qualified Egyptologist, then I highly recommend hiring a private guide or taking a group guided tour.
Both of these options are surprisingly cheap in Egypt and offer unparalleled value for money given the level of historical info and comfort you'll enjoy.
Day 1: West Bank
And on that note, we begin!
Although you can start with either side of this city, as I mentioned, I probably recommend beginning your 2 day Luxor itinerary by visiting the West Bank, which is home to some of this city's greatest treasures.
Tours that include all the following sights can be picked up for less than $25 USD and make absorbing a lot of history and visiting a lot of temples very enjoyable.
Tours are also a great way to meet other travellers too if you're adventuring solo.
Almost any hostel or hotel in Luxor can arrange a tour for you, but if you'd like to book one in advance (which has its advantages when you're on a short timeframe), then these top-rated options are good ones to choose from.
The West Bank of Luxor – the side the sun sets on – was designated as the land of the Dead, so it's here you'll find all the great tombs of the deceased pharaohs and the temples built in their honour so citizens could pay their respects.
Start your day on Luxor's West Bank with a bang by visiting the Colossi of Memnon – 2 giant statues that mark the entrance to what was once the greatest city on earth.
Next it's onto Medinat Habu, the Temple of Ramesses III, which boasts some outstanding paintwork that is more than 3,000 years old, but looks like it could have been applied yesterday.
Following this, I'd suggest going to the Temple of Hatshepsut.
With few original parts remaining, having been heavily reconstructed, this is nevertheless a great way to get an idea of the scope and grandeur of this ancient capital.
And finally, it's time to go out with a bang by hitting up the Valley of the Kings.
With your entrance ticket here (cost 240 Egyptian Pounds) including access to 3 tombs, having a guide is a great way to learn which tombs are the best ones to visit.
The famous tomb of Tutankhamun is actually situated here, although personally I wouldn't bother as, despite its reputation, it's really not worth it! You also need to pay extra to visit it i.e. it can't be included in your ticketed 3!
*sorry to burst your bubble*
All of these West Bank sights can actually be visited in a morning – especially if you're seeing them as part of a tour – but given the heat and strength of the sun in Egypt, plus the lack of shade at many of these destinations, it's likely you'll feel pretty done-in after such a busy sightseeing few hours.
As such, I recommend spending the rest of the day relaxing on the rooftop of your accommodation with a tea in true Egyptian style!
Day 2: East Bank
On your second day in Luxor, it's time to head over to the bank of the living.
The East Bank is, of course, where the sun rises over this city and, as such, was home to the most significant places of worship.
In the morning, head to Karnak Temple.
One of the largest in Egypt, this is a huge place you'll need at least a few hours to explore.
The "Forest of Pillars" as it's known here is simply breathtaking and the Sanctuary and Purification Lake are also must-sees.
Again, you can see Karnak Temple as part of a tour of the whole East Bank in Luxor, which will set you back under $25 USD dollars and is highly worth it for the great guide knowledge you'll receive.
After Karnak Temple, head to the excellent Luxor Museum.
Open until 2pm, when it closes for lunch, this is Egypt's best-curated museum and holds a wealth of treasures from the tombs and temples excavated in the city.
Entrance to the museum costs 100 Egyptian Pounds (LE) and you don't need a guide here as the exhibits are well displayed and labelled.
The Luxor Museum is small, but full of treasures and allowing 2 hours or so to wander around here is certainly a great way to spend a hot Egyptian lunchtime.
At the start, your entrance ticket also includes the viewing of a short video that does a lot to explain some of the major artefacts.
It's worth noting you do have to pay extra for a photography license to snap inside the museum.
Then it's time to relax for a few hours at your accommodation, before then heading out to see the Luxor Temple in the late afternoon.
Situated in the heart of the city, this monument is open until 9pm and being here around sunset, to catch the golden fading light of the day reflect off the many pillars, really is magnificent.
I found this Temple fascinating, not least because of the crossover of the Islamic and Christian artwork with the Ancient Egyptian designs – even Alexandra the Great allegedly left his mark here!
The Avenue of Sphinxes, some of which still remain in front of Luxor Temple, used to stretch all the way to Karnak Temple and again give an amazing insight into just how grand and audacious this city was in its heyday.
Entrance to the Luxor Temple costs 160 LE.
More Time on Your Luxor Itinerary?
If you're lucky enough to have more than 2 days to spend in Luxor, then I'd consider taking a 3rd day to visit both Kom Ombo and Edfu Temples, which are south of Luxor, but can be accessed by public transport or tour.
I actually visited both these places by way of my crazily cheap Nile cruise but, if have a day spare in Luxor, heading to these splendid temples would be a great activity to undertake independently or with a guided tour, like this one.
Mini Travel Guide to Luxor
5 Key Packing Items for Luxor
#1 Egypt Lonely Planet – A great travel aide to this country with tons of historical info, the Egypt Lonely Planet will help you get the best from your time in this country.
#2 Arabic Phrasebook – Most people in Egypt who are connected with the tourism industry speak good English, but learning some Arabic never goes a miss, especially if you want to ensure you're paying the best prices! The Egyptian Arabic Lonely Planet phrasebook is a super affordable helping hand.
#3 Good Camera – Egypt is one of those ultimate bucket list destinations and travelling here with a good camera will help you preserve the memories. I highly recommend the mirrorless Sony A6000. Light, compact and robust, it's been perfect for my Africa travel adventures.
#4 Sun Hat – This country is hot and dry, really like hot and really dry. When you're walking around temples and other sights you'll be exposed to the sun for long periods of time, so making sure you pack a sunhat for adequate protection is key. I love this Hello Sunshine one.
#5 Amazon Audible – Travel in Egypt can often involve long train or bus journeys, so having something to listen to while you enjoy the scenery is a must! I love Amazon Audible, which is the best audiobook service around.
Best Accommodation in Luxor
This title has to go to Bob Marley Peace Hostel.
Formerly Boomerang Hostel, this budget choice has a superb location with FREE wifi and FREE Breakfast for some crazy cheap rates.
It's also impeccably clean with a great roof terrace and super friendly staff.
Get the best rates for Bob Marley Peace Hostel here!
For something with a bit more comfort and privacy, why not check out these other great Luxor accommodation options.
Travel Insurance for Egypt
World Nomads offers simple and flexible travel insurance. Buy at home or while travelling and claim online from anywhere in the world.
Alternatively, if you're a long-term traveller, digital nomad or frequent remote worker seeking travel health cover, check out Safetywing's Nomad Insurance policies.
SAVE THIS TO PINTEREST!
So there you have it, my top 2 day Luxor itinerary for those on a short timeframe in this city.
Have you visited this amazing Egyptian destination before?
What was your favourite sight there?
Do let me know in the comments box below…