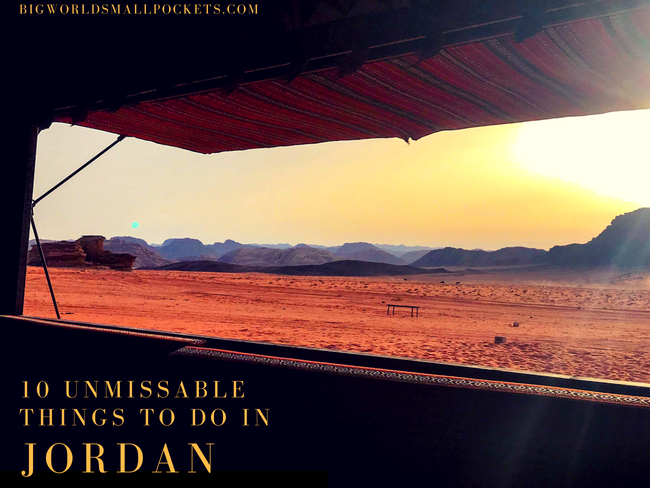 For a small country, it's probably fair to say that Jordan has more bucket list beauties than you can shake a stick.
Yup, slap bang in the centre of the Middle East, just about every great empire, ancient civilisation and his dog has wandered through this tiny nation at some point in history… and left his mark to prove it.
So whether you're after ancient cities lost for hundreds of years in the desert, or some of the best-preserved Roman ruins in the world, or the oldest map of Palestine ever found, Jordan has it all… and more!
Having spent almost 3 weeks in this fabulous country, I'm lucky enough to have travelled the length and breadth of this beautiful place and so here's my 10 bucket list things to do in Jordan you can't miss.
---
Related Posts
---
This page contains affiliate links meaning Big World Small Pockets may receive a small commission on any purchases at no extra cost to you.
---
#1 Step Back in Time at Jerash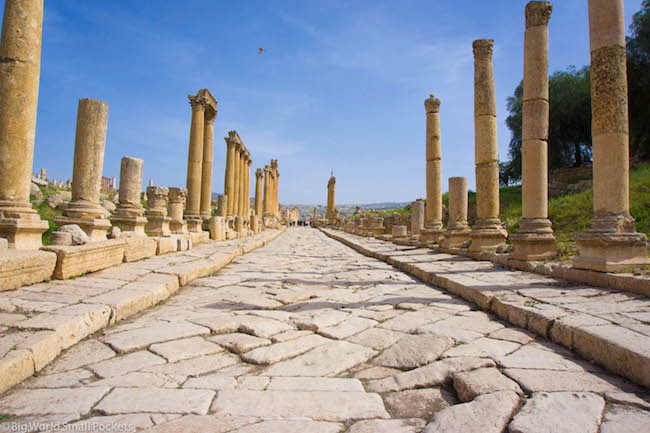 One of the best preserved Roman ruins in the world, there's no question that the ancient city of Jerash in the north of the country is absolutely one of the best things to do in Jordan.
Hopping on a public minibus here from the capital of the country, Amman, is super easy, and once at the site, taking a guide isn't necessary, as just wandering around and being blown away by the size of this place is joyful enough.
Because honestly, Jerash is huge – it really is a whole city still intact – and that's even given the fact that an incredible 90% is still presumed to be unexcavated.
I'd advise allowing yourself at least a few hours here to see as much of it as possible, including the forum, hippodrome, theatre, gates, streets and temples.
#2 Hike in the Dazzling Dana Reserve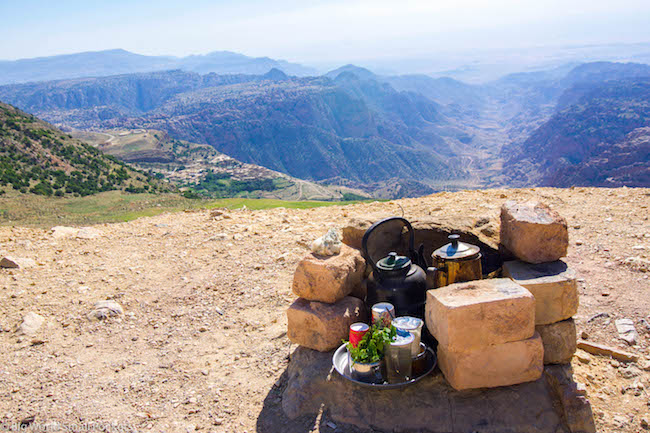 It's so delightful to learn that Jordan is taking steps to protect its areas of natural beauty and top of the list is the stunning Dana Biosphere Reserve.
A landscape of deep valleys and desert mountains, this place makes the perfect setting for getting off the beaten track in Jordan and with ecolodges scattered throughout, hiking here for a few days is more than possible and more than wonderful!
Check out the website of Wild Jordan – who manage the reserve – for more information.
READ MORE: Backpacking Jordan? The 21 Things to Know Before You Go
#3 Marvel at the Madaba Mosaics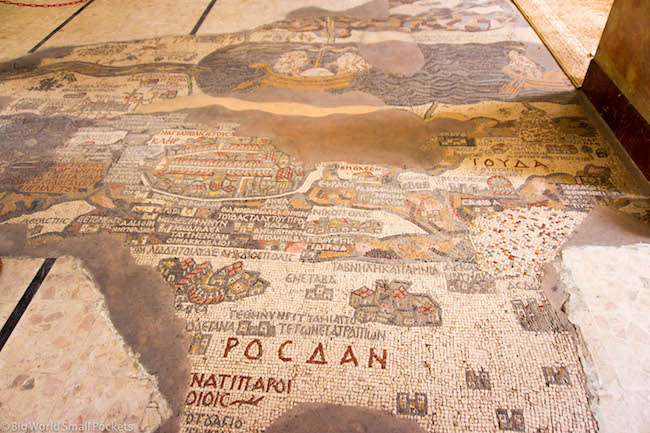 The town of Madaba would be lovely enough to explore for a day in itself, and that's without considering the incredible mosaics, the most famous of which lie in the main Christian edifice – St George's Church.
Discovered only by accident during restoration work in 1884, builders came upon an old Byzantine Church in the process and amidst all the rubble and ruins discovered one of the most significant maps in history – a mosaic cartograph that depicts the oldest known representation of Palestine.
Giving a unique insight into the history of this region, the mosaic is displayed for all to see on the church floor for a small fee.
Thankfully, it's now roped off, so people can no longer step or build all over it!
#4 Road Trip the King's Highway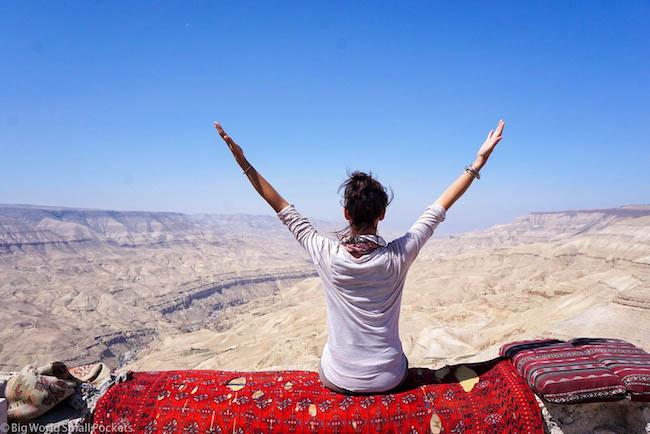 This absolutely has to be one of the best things to in Jordan because, quite frankly, from start to finish, the views are incredible!
Sadly not possible via public transport due to the twisting and turning nature of the road, backpackers can, however, pick up reasonably-priced group tours of the King's Highway from Jordan Towers Hostel in Amman.
These trips join budget travellers together and, with a driver and vehicle provided, allow you to experience some of the country's most epic scenery.
As part of this day trip you'll also get to take in the amazing Crusader Castles of Karak and Shobak, as well as get more than your fair share of instaworthy-moments!
And perhaps adding to the value-factor even more, is the fact that this tour will also get you from the capital Amman to the amazing site of Petra – therefore saving you additional transport costs on this journey too.
DISCOVER MORE: The Perfect 1 Month Backpacking Middle East Itinerary
#5 Float in the Dead Sea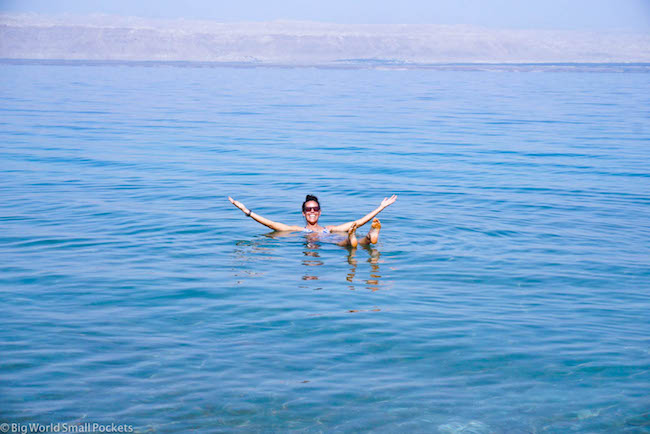 Floating in the Dead Sea is honestly one of those things that I didn't even realise needed to be on my bucket list, until I was doing it!
And that's because it's hard to imagine just how fun the feeling of weightlessness in a salt lake between Jordan and Israel at one of the lowest points on earth covered in mud really is until you're there!
So yes, there's no doubt that floating in the Dead Sea is definitely one of the best things to do in Jordan – just make sure ladies that you don't shave the night before (stings!) and that you get there early in the morning to avoid the crazy crowds!
LEARN MORE: Solo Female Travel in the Middle East – What to Expect!
#6 Walk in the Footsteps of Moses on Mount Nebo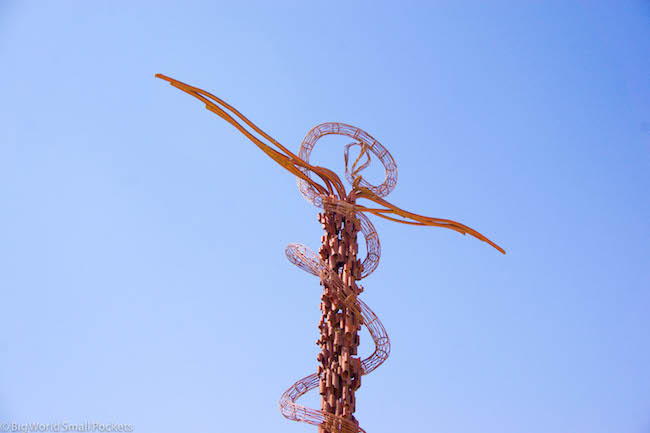 When travelling in the Middle East, it's almost impossible not to feel like you've stepped into a storybook.
And perhaps never is that more true than when you physically visit some of the sites supposed to have also been visited by some of the most famous religious figures in history.
Heading to Mount Nebo, the spot where Moses allegedly first glimpsed the Promised Land after having led the Israelites out of slavery in Egypt, it's pretty mind-boggling to stand here and see the landscape spread before you in a way it has for thousands of years – regardless of whether you have religious beliefs or not.
#7 Feast on Falafels
No trip to this country would be complete without gorging on its amazing culinary treats, and top of the list for me as a vegetarian is feasting on falafels!
Definitely one of the best things to do in Jordan, enjoying this cheap feed from as many places as you can in this land is basically a backpacker rite of passage here.
Although if you ask my opinion, it's hard to find better than the stuffed version lovingly created by one of Amman's most-loved restaurants – Hashem.
#8 Get out of Breath in Amman
So talking of the capital, no trip to Jordan would be complete without a few days spent in its delightful capital city – Amman.
Honestly, I think this is the most relaxed capital city I have ever visited which, being quite small, manages to feel very peaceful, safe and unhurried, even given its location in the centre of the Middle East!
From the Citadel and the Roman Theatre, through to the Souk and numerous museums, there's tons to do in Amman, but perhaps one of the best things, in fact one of the best things to do in Jordan full stop, is to get out of breath strolling up the many hills of this city and then be rewarded by the incredible views from the top of each and every one of them!
When it comes to staying in Amman, it's hard to look past the brilliantly-located Jordan Towers, which has well-priced dorms and one of the most delicious hostel breakfasts I've ever eaten!
READ MORE: 10 Budget-Friendly Things to Do in Amman
#9 Spend a Night Under the Stars in Wadi Rum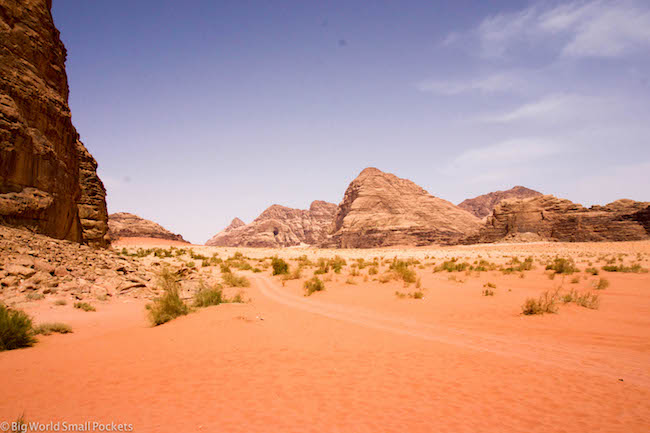 And now, we're getting to the really good stuff!
Yup, you absolutely, 100%, definitely, totally cannot come to Jordan without taking a trip to Wadi Rum.
This magnificent desert area is inhabited by the Bedouin People, who have some fantastic camps way out in the wilderness that give budget travellers a unique opportunity to enjoy this otherworldly landscape.
You have to take a tour in Wadi Rum – because it is a barren, arid desert after all – but well-priced, 1 night excursions that include a full day jeep safari, 3 meals and a night under the stars in the silence of the vast nothingness, are absolutely one of the best things to do in Jordan.
#10 Snap Petra Until You Can't Snap No More
And last, but by no means least, is Petra.
Of course, the big Daddy of them all, Petra is the reason that many travellers come to Jordan in the first place… and rightly so!
Honestly this vast and ancient desert city is every bit as amazing, if not more so, than you've been led to believe and I really do advise giving yourself at least 2 full days to hike, snap and just stare at this UNESCO world wonder.
Getting a Jordan Pass, will help you save money on the extortionate entrance fee to Petra (and will help you with your Jordan visa costs too if you buy it in advance) and staying in the nearby town of Wadi Musa will give you some good budget accommodations options.
I highly recommend Petra Gate Hostel, which I found clean and close with good wifi and friendly staff. These guys can also book you a cheap tour to Wadi Rum that I highly recommend!
LEARN MORE: Top Tips for Visiting Petra on the Cheap
PIN IT TO PINTEREST!
So there you have it folks, my list of the 10 bucket list things to do in Jordan you can't miss.
Does it sound like a good list to you?
Which is your favourite?