It's no secret, my love for Ethiopia is unmatched.
Startup a conversation with me about this amazing country and you're likely to regret it; such is my ability to wax lyrical about this totally unique place!
For it is totally unique.
I've travelled across Africa, and even in the countries that border this landlocked country, none are even remotely similar to the one and only Ethiopia
And so, in case I need to prove to you just how fantastic and totally different this sensational destination is, here are 10 utterly unique and totally crazy things to do in Ethiopia!
---
Related Posts
---
This page contains affiliate links meaning Big World Small Pockets may receive a small commission on any purchases at no extra cost to you.
---
#1 Feed Wild Hyenas in Harar
Coming in first on the list is certainly one of the craziest things to do in Ethiopia and an eternal crowd-pleaser that proves just how bonkers this country is!
Yes, in the UNESCO World Heritage City of Harar in eastern Ethiopia you can feed wild hyenas.
And I'm not talking here about throwing these well-known predators a bit of meat from a distance.
Nope, I'm talking about feeding wild hyenas a piece of meat dangling from a stick, held between your teeth!
No word of a lie, this is for real and it's every bit as mad as it sounds!
LEARN MORE: The 10 Best Things to Do in Harar, Ethiopia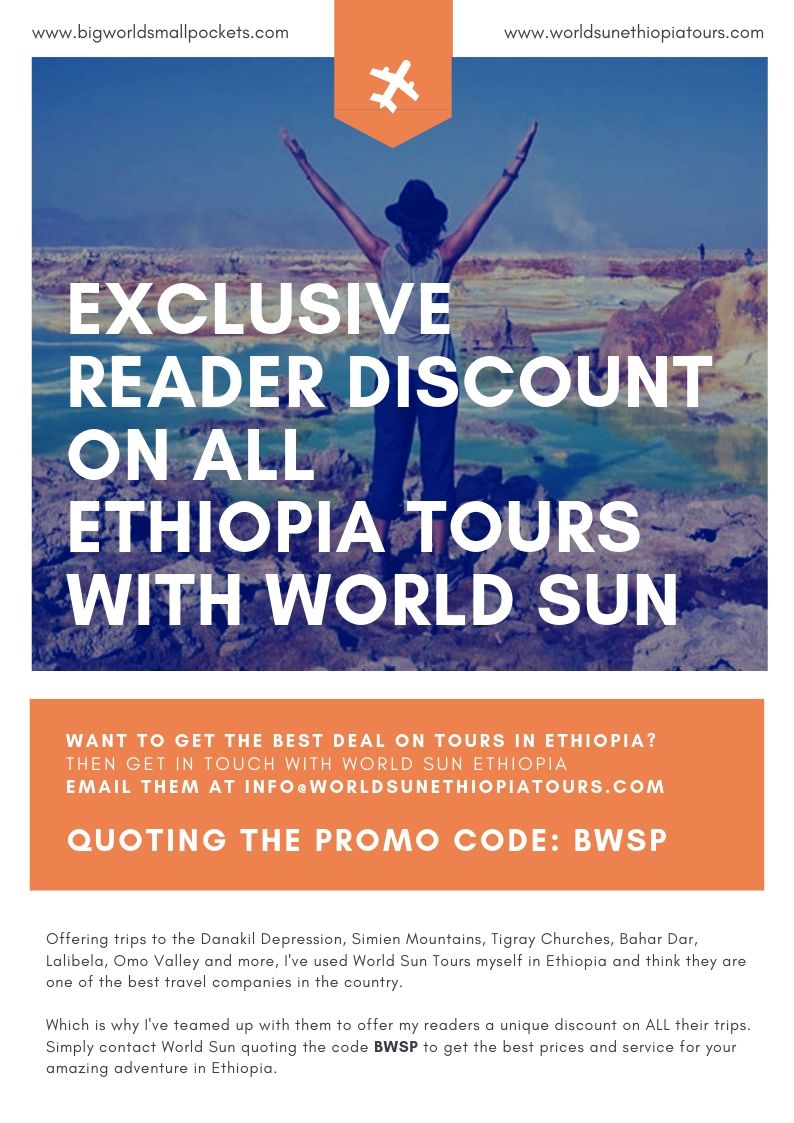 #2 Spot Gelada Baboons in the Simien Mountains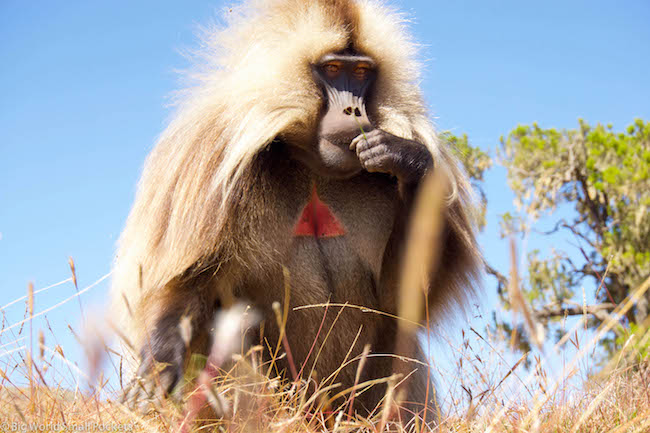 At number 2 and sticking with the animal theme, spotting the endemic Gelada Baboons, is another of the top things to do in Ethiopia that is absolutely unique to this country.
Also known as the bleeding heart monkeys, because of the amazing blood red colouring on their chests, this species only exists in Ethiopia, in fact they only exist in the Simien Mountains National Park.
Not only does this UNESCO-listed park offer some incredible hiking and high altitude views, but seeing the hordes of Gelada Baboons that live here will make your time in this beautiful location even more special.
READ MORE: The Ultimate Guide to Visiting Ethiopia's Simien Mountains
#3 Sleep on Top of an Active Volcano
Coming in 3rd on this list is a pretty impressive thing to do in Ethiopia no matter which way you look at it!
Yup sleeping on top of an active volcano is every bit as mad as it sounds, and in crazy Ethiopia, it's totally possible.
Located in the country's Danakil Depression region, the Erta Ale Volcano is very much active and alive.
A fact peering down into its lava-bubbling crater will instantly prove to you!
As part of your tour, you'll then get the chance to sleep not 100m from this crater outside under the desert stars while you pray the thing doesn't erupt!
READ MORE: Discovering the Most Dramatic Destination of Earth : Ethiopia's Danakil Depression
#4 Watch Sunset Over a Salt Lake
Keeping it in the Danakil Depression – because, quite frankly, this place is just too bonkers not to have 2 entries on this list – watching sunset over the huge salt lake of Asale is an absolute must.
Normally only part of a 4 day Danakil Depression Tour, the sunset over this huge white expanse, which reflects the fading rays of the sun like nothing else, makes a longer trip in this remote part of Ethiopia certainly worth it.
I mean, who even knew Ethiopia had salt lakes?
Not me, until I was practically standing on the thing and watching the amazing spectacle of camel caravans, laden with salt bricks, slowly lumbering their way along the crystal salt surface to the backdrop of one of the reddest sunsets I've ever seen!
#5 Visit the Camelot of Africa
But it's not all just natural wonders in Ethiopia.
Nope, this utterly unique country also packs a mean old punch when it comes to cultural sites too and definitely another of the great things to do here is to check out the Royal Enclosure in the city of Gondar.
Known as the Camelot of Africa, Gondar boasts a wealth of Medieval castles that sit right at the heart of this busy student city and really do look like something out of a fairy tale.
For next to nothing, you can wander around these crumbling structures and almost hear the clattering of horses' hooves and chink of full goblets on overhanging balconies and in huge banquet rooms that were once the epicentre of a mighty powerful trading empire.
DISCOVER MORE: The Ultimate Guide to Visiting Ethiopia's Gondar
#6 Revel in the Mysticism of Lalibela's Sunday Mass
Stepping back in time from the Medieval period to the beginning of the third century, Ethiopia was one of the first African countries to embrace Christianity.
Little has changed within the isolated Ethiopian Orthodox Church since that time, and the perfect place to witness this ancient and mystical form of the faith is at the Sunday dawn mass in the town of Lalibela.
Famous for its rock-hewn churches, Lalibela is one of the epicentre's of the Orthodox community in this country and heading here on a Sunday to witness this magical ceremony complete with incense, drumming and chanting, as the day slowly breaks, puts a whole new layer of meaning and significance onto these amazing UNESCO churches.
LEARN MORE: Everything You Need to Know About Visiting Lalibela in Ethiopia
#7 Hike to Abuna Yemata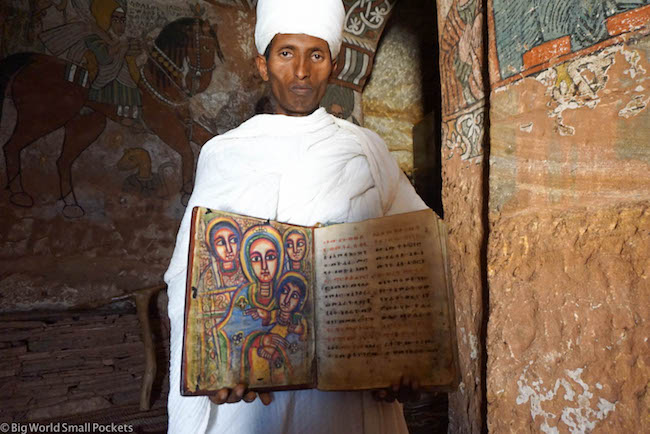 And if it's more rock-hewn churches you're after, it doesn't get better than Abuna Yemata, one of the Gheralta churches dating from the 3rd century.
But you don't necessarily head here just for the church.
Although the tiny cave chapel, built high up on a rocky cliff and covered with amazing paintings is spectacular and spell-binding, it's the location that clinches it.
Yes, set at the top of an isolated outcrop, the barefoot climb to make the ascent to this remote religious outpost is definitely one of the best things to do in Ethiopia.
Largely referred to as the most remote church in the world, there's no doubt that the journey to Abuna Yemata is more than half the experience… and the view from the top ain't half bad either!
READ MORE: Reaching for the Heavens : Trekking to Ethiopia's Tigray Churches
#8 Learn About a Forgotten Ancient Civilisation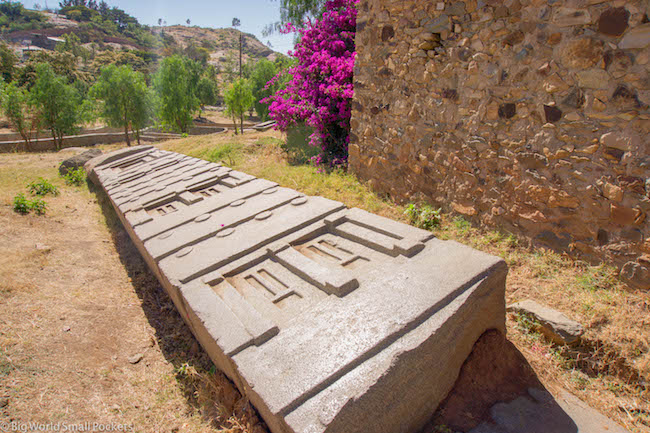 Did you know that Ethiopia was home to one of the greatest powerhouses on Earth?
A powerhouse that matched the Roman, Greek and Persian civilisations in its strength, that traded across the Red Sea, Europe and Sub-Saharan Africa and that even used coins and written language to create an ordered and established empire?
Nope neither did I!
And why's that?
Because this is Ethiopia, the land of secrets, that's why!
Discover all you need to know about this lost chapter of history by visiting the ancient city of Axum in northern Ethiopia, to marvel at the giant obelisks here, as well as the ancient tombs and highly sophisticated engineering skills from thousands of years ago!
DISCOVER MORE: The Complete Guide to Visiting Ethiopia's Axum
#9 Stand at the Start of the Nile in Bahar Dar
The origin of ancient and Medieval civilisations, as well as some of the earliest forms of Christianity still practised, did you know Ethiopia also boasts the origin of the River Nile within its borders too?
Ok, so granted it's just half the Nile – the Blue Nile (the other half, the White Nile, originates in Jinja, Uganda) – but nevertheless, heading to see the start of the most famous river in the world is, without question, one of the best things to do in Ethiopia.
Set near the town of Bahar Dar, a trip out to see the amazing waterfalls marking the start of the Blue Nile is a short afternoon excursion, but the lovely hike in this rural area, local boat ride and then of course the sight of the falls themselves, makes it very rewarding.
READ MORE: Seeing Bahar Dar's Blue Nile Falls
#10 Watch and Try Some Ethiopian Dancing
And finally, coming in at number 10 on my list of the most utterly unique and totally crazy things to do in Ethiopia, and to really get into the spirit of this country, is to go to a traditional restaurant, bar or club and watch some Ethiopian dancing!
If you're feeling brave, or have a few beers in you, you might even give it a try!
I won't spoil it too much for you now, but the key is the shoulders and the neck, losing all inhibitions and rocking it to that semi-awful, semi-genius Ethiopian music!
The best places I've enjoyed Ethiopian dancing is in Axum and Bahar Dar.
Just ask a local for the traditional restaurant and they'll point you in the right direction and will probably join you in the fun too!
PIN IT TO PINTEREST!
So there you have it, my list of 10 utterly unique and totally crazy things to do in Ethiopia.
Have I convinced you to visit this insanely brilliant country yet?
Or perhaps you're already a fan!
Let me know all your thoughts in the comments box below…