It's supposedly home to the Queen of Sheba and the Ark of the Covenant (which holds Moses' 10 commandments) and it definitely was the centre of an ancient civilisation on a level with Rome, Greece and Egypt!
So why hasn't anyone heard of the mighty city of Axum?
Because it's in Ethiopia, that's why!
Yes this country has more hidden treasures than you care to imagine and pretty near the top of the list is the amazing city of Axum, complete with its sacred churches, cobbled streets and ancient obelisk ruins.
Axum is one of my favourite spots in Ethiopia – I've already been there a number of times – and to give you the complete rundown on why you should go to, here's my complete guide to this wonderful town.
---
Related Posts
---
This page contains affiliate links meaning Big World Small Pockets may receive a small commission on any purchases at no extra cost to you.
All prices listed are correct at the time of publication.
---
Grab Your Copy of My Real Travel Guide to Ethiopia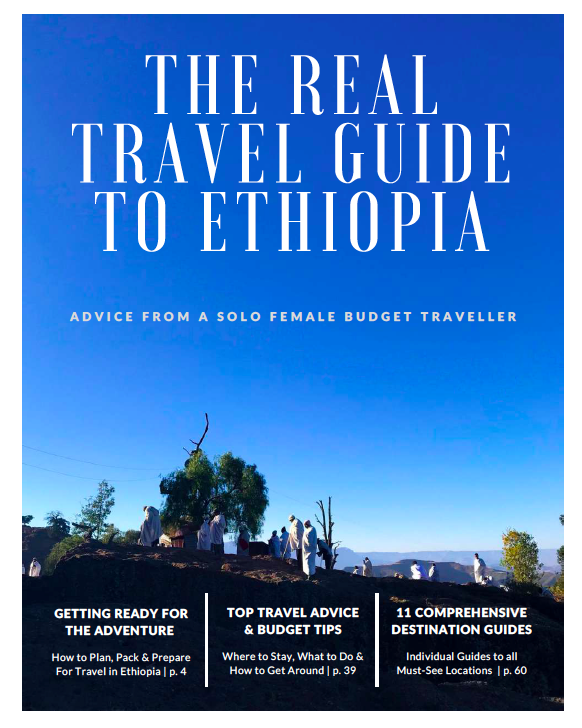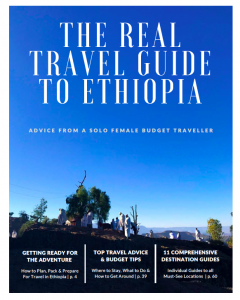 My ultimate guide to travelling in Ethiopia is now available, meaning you can finally get ALL my tips for adventuring in this amazing country in one handy eBook, including
11 Complete Destination Guides to the Best Cities & Attractions
Recommended Places to Stay
Recommended Guides & Tour Companies + Contact Details
Money Saving Tips + Budget Planner
Advice on What to Expect & How to Stay Safe
Packing Checklist
Itinerary Schedule
Why Should I Visit Axum?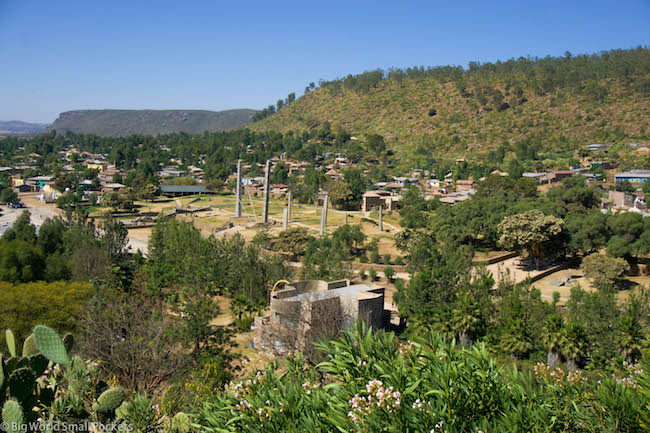 For starters Axum is a UNESCO World Heritage site – one of 9 in Ethiopia, which currently has the most of any African country.
It's also a beautiful, safe, small town, which has a genuine living culture to it that is highly visible everywhere.
Yet to be overrun by tourists, coming to Axum allows you to engage with everyday Ethiopian life in a very real way.
Axum is also a very holy town and a sort-of mecca to Christian Orthodox Ethiopians, coming here any day of the week will give you a glimpse of this, but on festival days, the place goes nuts!
But perhaps, the number one reason why you should visit Axum is because this unheard of and near-forgotten about city was actually once the capital of a huge, wealthy and very important ancient civilisation.
Who knew?!
Yup, supposedly on a par with ancient Greece, Rome and Egypt, the Axumite empire began around the 1st century AD, with its heyday between the 4th – 7th AD century.
Christianity came to Ethiopia via the Axumite empire and coins came to the world! They had a written language, sophisticated masonry skills and a royal class!
Yes, little old Axum was once the capital of huge swath of the continent, a powerhouse empire trading with Europe, the Middle East and Southern Africa that left behind some impressive monument still visible today.
LOOKING FOR A BUDGET TOUR IN ETHIOPIA?
If you're interested in an unforgettable, well-priced tour in Ethiopia with guides you can trust, then email me at [email protected] with details of where you want to go and I'll send you my top recommendations – simple!
Where is Axum?
Located in the north of Ethiopia, Axum forms part of the so-called Northern Historical circuit in this country.
It's in the Tigray region and is usually visited between the cities of Makele (where the Danakil Depression tours leave from) and the so-called Camelot of Africa – Gondar.
It's a very small town, but a very important one historically in Ethiopia and heading here is a must if you're exploring this part of the country.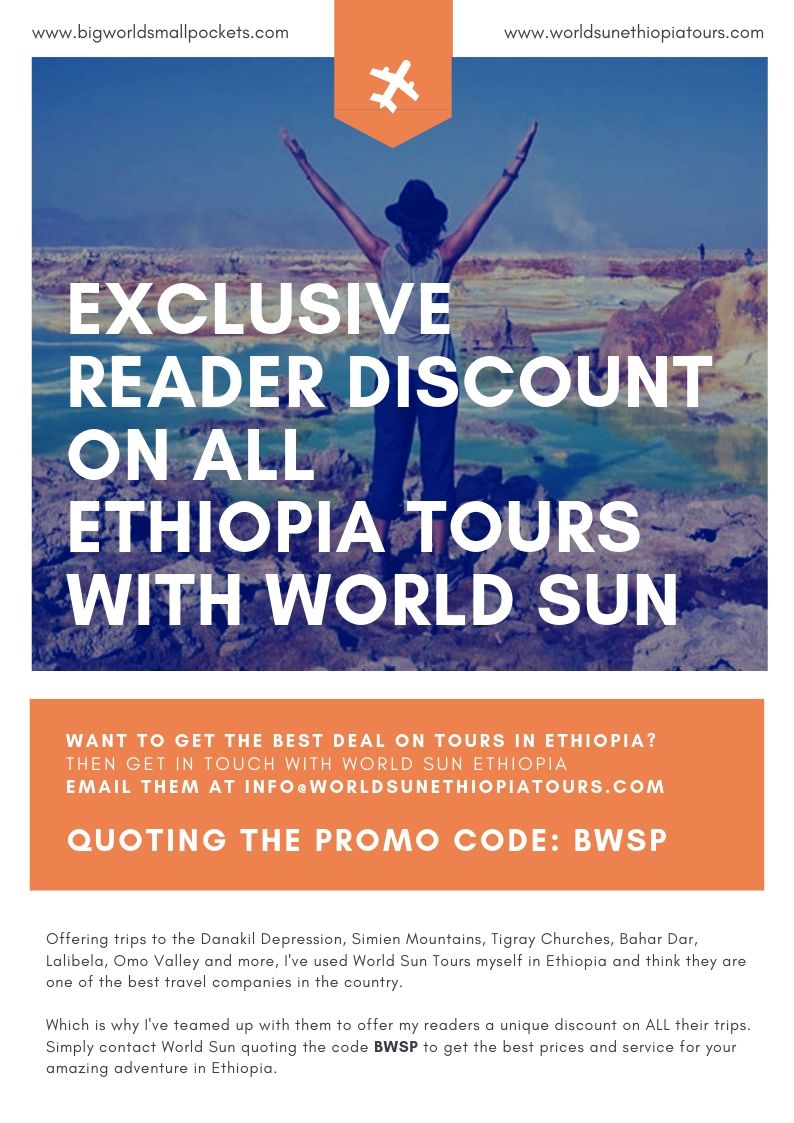 How to Get to Axum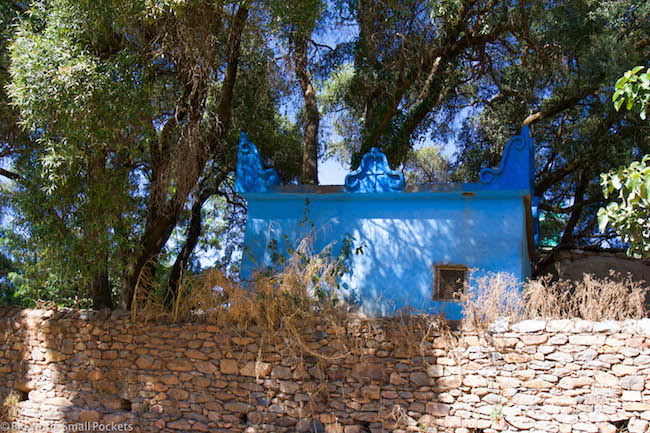 From Gondar or the capital, Addis Ababa, it's easiest to take a flight to Axum – which is only about a 20-minute journey from Gondar or an hour from Addis.
REMEMBER! You can get really cheap domestic flights in Ethiopia if you fly internationally with Ethiopian Airlines. For more great tips on visiting this county, check out my post EVERYTHING you need to know about travel in Ethiopia.
Otherwise, it's also possible to get public buses between Axum and Gondar, via a town called Shire, where you may have to change or spend the night.
From Makele, it's possible to catch a bus to Axum as the distance is quite short.
On the way, I highly recommend stopping to hike and visit some of Ethiopia's Tigray Churches. It will set the scene for Axum nicely and was definitely one of the highlights of my time in this country.
READ MORE: Reaching for the Heavens Trekking to Ethiopia's Tigray Churches
When to Visit Axum
Like most of Northern Ethiopia, you can visit and enjoy Axum any time of the year apart from during the rainy season, which is roughly between the months of May and September.
During this time Axum will be wet, damp, cold and muddy – I'd avoid it!
TRAVEL INSURANCE FOR ETHIOPIA
World Nomads offers simple and flexible travel insurance. Buy at home or while travelling and claim online from anywhere in the world.
Alternatively, if you're a long-term traveller, digital nomad or frequent remote worker seeking travel health cover, check out Safetywing's Nomad Insurance policies.
Axum Climate
The reason Axum will be wet, damp, cold and muddy during the rainy season is because this city is located at an altitude of 2130m, which means if the sun isn't shining it can get a bit chilly here.
That said, the sun really does shine most days in Axum and shines so strong that the climate is usually very hot and dry.
Blue skies reign and the stunning landscape around the city looks even nicer in this startling brightness.
How Long to Spend in Axum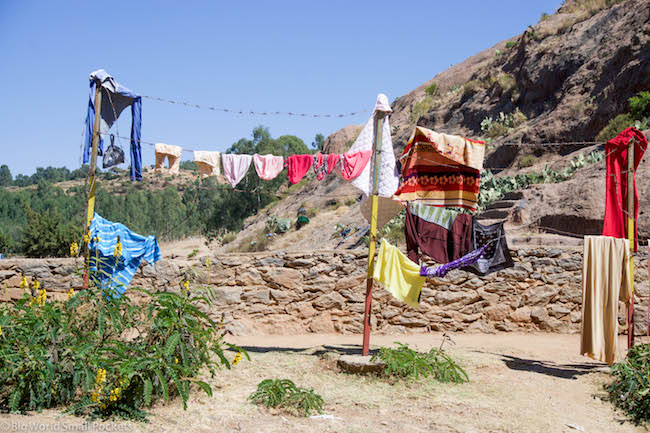 Despite being a small town, there really is a lot to see in and around Axum.
For starters, there's tons of historical monuments, churches, obelisks and tombs, as well as an interesting museum and some beautiful cobbled streets that will take you the best part of full day to explore.
If you're arriving into the city later in the day therefore, I'd advise AT LEAST 2 nights to see everything here.
If you want to take things at a more relaxed pace, or you want to visit any attractions around Axum, such as the archaeological site of Yeha or the famous monastery of Debre Damo, I'd allow at least 3 nights.
Because I travel slow and I love Axum, I spent 5 nights here!
Sometimes just wandering the streets and having coffee with locals is the best form of travel!
Where to Stay in Axum
There's several budget hotels in Axum, but none of them are much to write home about compared to other cities in Ethiopia.
That's notwithstanding the excellent Ethiopis Hotel, which is definitely my favourite place to stay in Axum.
Well located on a road with many shops, cafes and restaurants – it's possible to walk almost anywhere in Axum from here, including to historical sites or out for dinner.
The Ethiopis Hotel feels really safe, with 24hr security, and my lovely ensuite room came with its own balcony, which was perfect for people watching!
There's free wifi and free breakfast included too, as well as a sunny street-side café where you can enjoy a beer, making it my top choice when it comes to Axum accommodation.
FOR THE BEST RATES, CALL THE ETHIOPIS HOTEL ON 09-11-52-65-57 or 09-10-09-76-44 OR EMAIL THEM AT [email protected].
6 PACKING ESSENTIALS FOR AXUM
#1 Headlamp – Required for those all too often power cuts. I always go for Black Diamond, which hasn't failed me in Africa yet!
#2 Toilet Paper – Most places don't provide it, although Ethiopis Hotel does, thank goodness!
#3 Long, Thin Trousers – Perfect for the cold evenings in Axum and conservative dress standards during the day, these ones from Columbia are great.
#4 Good Camera – An absolute must if you're looking to capture the incredible landscape and historical artifacts of Axum. I love my mirrorless Sony A6000, which is light, compact and robust – ideal for Africa travel
#5 Insect Repellent and Sun Screen – Mozzies at night are common here and in the day it can be super hot!
#6 Travel Scarf or Sarong – Whether it's covering your shoulders in the churches, wrapping round you at night as a shawl or using as a protection for the dust, this is a great multi-purpose travel item for Axum.
Suggested Axum Itinerary
Start your day in Axum at the famous St Mary of Zion Church Complex. This is actually the most important church in Ethiopia and is meant to be home to the Ark of the Covenant, which is closely guarded by one man and one man only!
This means you can't see it, unfortunately, but a visit to the church to witness the many pilgrims that come here is well worth it anyway.
Entrance to St Mary of Zion Church Complex = 200 Birr
After the Orthodox Christian sights, it's time to turn your attention to Axum's other main attraction – its historical sights.
These chart the rise of the empire from pre-Christian times, right through to its demise due to massive deforestation, over-population and the rise of Islam in the Middle East, which cut off many of Axum's trade routes across the Red Sea.
First up you have to see the obelisks, which are the central attraction in town and located just across from St Mary of Zion Church Complex in what is known as the Northern Stelae Field.
Visit the underground tombs here, as well as the museum, before starting your journey up the hill to the Yeha Hotel, where you can view them all from a great elevated position.
Then move onto Queen of Sheba's Bath, where the locals now do their washing (!), before climbing further to see King Ezana's inscription.
This is an amazing stone tablet uncovered by 3 local farmers some years ago, with several ancient languages inscribed on it such as Ge'ez and Ancient Greek and just casually housed in a small shed!
Essentially it shows the Axum community spoke several languages – probably for trading purposes – that they had a sophisticated written language and that they declarations were made to the public via stone monuments, essentially ancient noticeboards!
After this amazing insight, check out King Kaleb's Tomb at the top of hill – this is one of the most impressive sites and the views are great too.
Afterwards, return to town and head out to visit King Bazen Tomb (supposedly one of the 3 Wise Men at Jesus' birth) and finally end your day at Queen Sheba's Palace.
Entrance to Historical Sights = 100 Birr (valid for 3 days)
It's a long, hot day sightseeing in Axum, so don't forget plenty of water, as well as sunscreen, camera and a hat!
To Guide or Not to Guide in Axum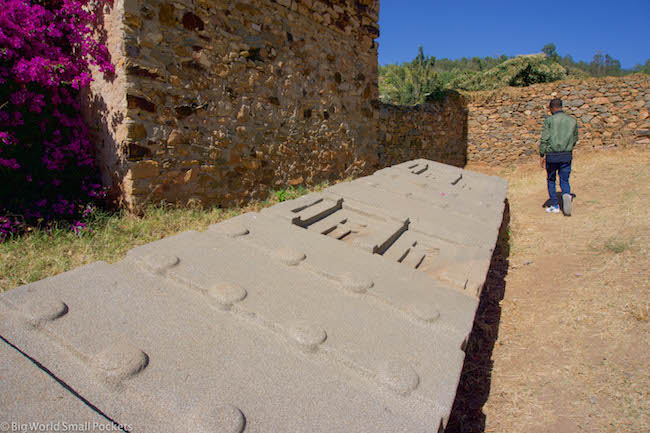 As a committed budget traveller, I'm not usually up for taking guides if I don't have to, but in Axum I did and I'm super glad.
Seriously, you will not appreciate what you are looking at unless you get some background context and many of the guides here are UNESCO-trained, which means they have tons of background info to give you!
You can pick up a guide very easily once you get to town via the Guide Association Centre, which is situated next to the main historical site with the obelisks aka the Northern Stelae Field – you can't miss it!
Like most places in Ethiopia, guides here operate on a rotational system, so they'll always be somebody ready to take you. Most have excellent English, but do check first.
It's roughly 600 Birr for a guide in Axum and this is usually for the whole day as there's a lot to get through!
Try and locate your guide around 8am and you'll have until 4:30pm roughly to cram it all in!
Around Axum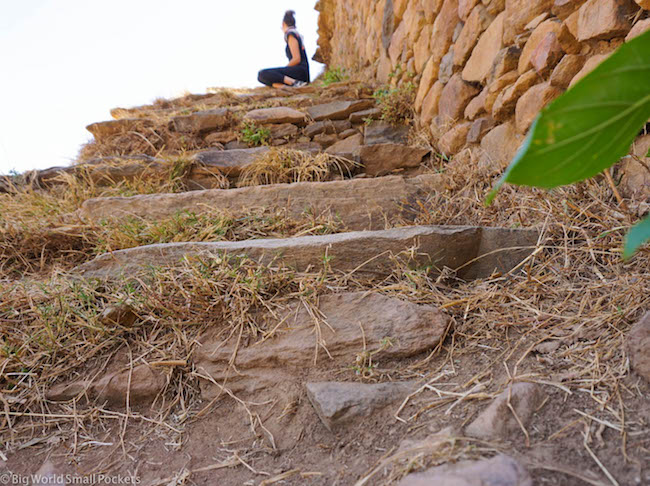 There's also plenty to see around Axum, but you'll need a car or some form of private transport to get there.
Day trips with local guides or tour companies can easily be arranged, for example.
Top of the list is the amazing monastery of Debre Damo, situated at the top of a mountain and requiring some rock climbing to access it!
Sadly it's only men who get to do the rock climbing and go inside however, women have to be content to walk halfway up the hill and then just enjoy the view!
The other great day trip excursion from Axum is to Yeha, which is actually on the way to Debre Damo, so if you set off early, you should be able to do both in a day.
Yeha is an ancient site, dating to pre-Christian times, and originally a religious temple to the moon god.
It was later transformed into a church and today is being carefully excavated by a team from a German university.
Grabbing a guide here is essential and worth it to take in the significance of what you're looking at.
Entrance and guide fees apply for both Yeha and Debre Damo.
Entrance is 200 Birr for each site and a guide around 300 Birr.
Eating in Axum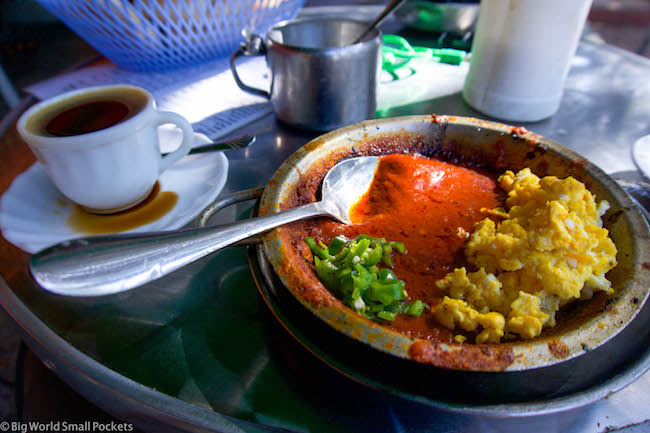 For breakfast, I suggest heading to Ezana Café, near the Ethiopis Hotel, for some delicious Ethiopian fare. Their special Ful (spicy tomato and bean dish topped with yogurt and scrambled egg and served with crusty bread) here is the best… and cheap!
For lunch, Atse Kaleb Guest House do some great pizzas and you can sit outside in their lovely garden area to enjoy it.
When it comes to eating the evening in Axum, my favourite spot has to be the Antica Traditional House.
For those not in the know, traditional houses in Ethiopia are restaurants / bars where the food and the drink flow to a background of local dancing and music. This may sound super touristy, but actually it's not and these places are generally packed with young locals having a great time.
Antica Cultural Restaurant is no exception and one of my favourites in the whole country.
The food is delicious, the beer cheap and the entertainment bonkers! Win, Win, Win!
Amenities in Axum
Even though it feels tiny Axum is actually quite a major town in Ethiopia's Tigray region and as such has many amenities you might need as a traveller.
There are several banks and many ATMs which accept international cards.
There's also an Ethio Telecom office if you need to get a SIM card sorted and an Ethiopian Airline office if you need to book any domestic flights
NB. International flights are much cheaper on the Ethiopian Airlines website, whereas domestic are the same price online and in the office.
PIN IT FOR LATER!
So there you have it, my complete guide to visiting the amazing city of Axum in Ethiopia.
Had you heard of this place before?
Have you been?
Tell me all in the comments box below…