Like my adventure in the Danakil Depression, my trip to Ethiopia's Omo Valley region took me to one of the most remote parts of this incredible country.
Located in the South, this distant region feels like a world away from Northern Ethiopia – with a rural and tropical feel, it was more reminiscent of sub-Saharan Africa than anywhere else in the country.
Indeed, I found the Omo Valley more similar to parts of Kenya than the rest of Ethiopia, a fact perhaps unsurprising given the border is, in parts, just 30km away.
Historically many of the indigenous people from Kenya are supposed to have emigrated from Ethiopia and up until recently, nomadic communities from Ethiopia would frequently move between the two countries.
Even though these nomadic people may not move internationally anymore, their cultures are still very strong in this almost forgotten part of Africa.
For most travellers visiting the Omo Valley, this is precisely the motivation behind their trip – the opportunity to gain a glimpse of the indigenous communities that still inhabit this off the beaten path region.
Like them, that was also my exact intention, when I undertook a 5-day tour of Omo Valley with Ethio Travel and Tours.
And what a trip!
I can safely say the Omo Valley really is like nowhere else on earth and here's why…
---
Related Posts
---
My trip to the Omo Valley was kindly sponsored by Ethio Travel and Tours, but as always, all views are my own.
This page contains affiliate links meaning Big World Small Pockets may receive a small commission on any purchases at no extra cost to you.
---
Grab Your Copy of My Real Travel Guide to Ethiopia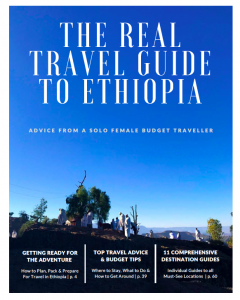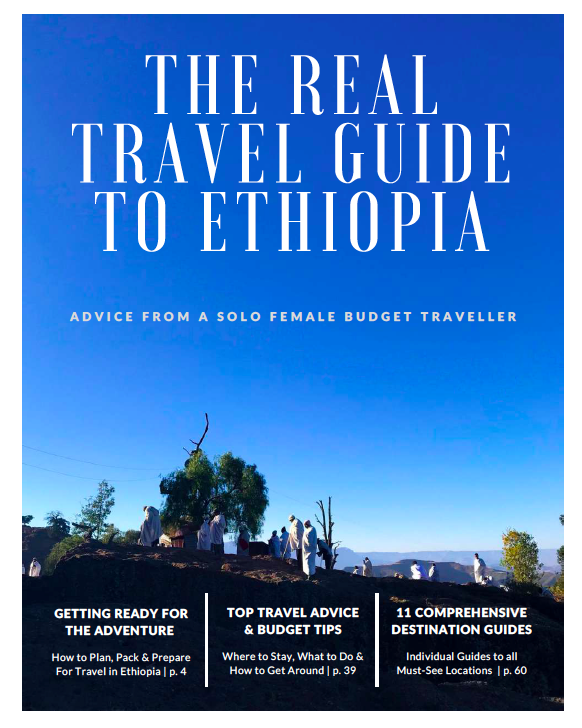 My ultimate guide to travelling in Ethiopia is now available, meaning you can finally get ALL my tips for adventuring in this amazing country in one handy eBook, including
11 Complete Destination Guides to the Best Cities & Attractions
Recommended Places to Stay
Recommended Guides & Tour Companies + Contact Details
Money Saving Tips + Budget Planner
Advice on What to Expect & How to Stay Safe
Packing Checklist
Itinerary Schedule
The Uniqueness of the Omo Valley
The first and predominant reason that the Omo Valley is like nowhere else on earth is due to the multiplicity and strength of the indigenous cultures that exist here.
I can't think of anywhere else I've been (or anywhere else in the world for that matter) where so many different groups of people (over 16 in fact) are still following the traditional lives of their ancestors with such earnest and in such close proximity.
In Omo Valley, it feels like time has stood still, or at the very least that it isn't 2018.
I mean this in the least patronising way possible of course, for the people of the Omo Valley region are extremely sophisticated in their skills, rituals and lifestyles.
They have to be; for in this harsh, arid and scorching environment survival isn't easy.
Yes as soon as you arrive in your comfy 4wd after a 2-hour bumpy ride through unforgiving mountains, you realise living here is no walk in the park.
Most of us wouldn't survive more than a few days – in fact half our group almost got taken out in the space of about half an hour by an insanely strong dust storm!
And the longer you spend here, the deeper the respect for the people you have.
Like Nowhere Else On Earth
However, what really made the Omo Valley like nowhere else on earth was the genuine vivacity of these ancient cultural groups.
While, as tourists, we were certainly chaperoned around the communities, there was no sense that the peoples' indigenous practices were being put on for our benefit.
Indeed, we saw many people walking along the street in their traditional dress and we visited busy, local markets where the selling of livestock, vegetables and local sorghum beer was certainly not for our benefit.
In fact, we were often the only tourists.
It all felt very "real" – an incredible feat in this day and age, when we all know what is happening to most traditional landowners in other parts of the world.
To be able to witness, as a visitor, such true and ancient styles of living really is nothing short a privilege and, of course, there's no telling for how much longer such a privilege will exist.
This is especially true given the welcome we received from many local people, in particular, the Dassanach community, where we invited into a home and played freely with the children.
There were no sideways glances, no phoney displays, no sign of our security being compromised.
Even though language barriers existed between us, there was a sense of a human contact and a mutual respect.
Us for their culture, them for ours.
People of the Omo Valley
There are over 16 different ethnic groups living in the Omo Valley region, all with different customs, rites, rituals, architecture and dress.
Some of the largest and most visited by tourists include:
The Hamer People – The women traditionally have their hair braided and stained with red clay. They perform the traditional Bull Jumping Ceremony, which marks a man's transition from boyhood.
The Banna People – Closely related to The Hamer, the Banna are known for their entrepreneurial skills and run popular markets around the area.
The Konso People – Famous for their stone wall villages and recognisable-shaped homes with thatched roofs and pottery ornaments, many Konso villages are UNESCO-listed.
The Mursi People – The women traditionally wear large lip plates and have stretched ear lobes.
The Karo People – Renowned for their incredible body paintwork.
The Daasanach People – One of the smallest ethnic groups in the Omo Valley, the Daasanach live on the banks of the Omo River in round homes that can be collapsed and reassembled in less than a few hours.
Other Omo Valley indigenous communities include: The Ari, The Nyangatom, The Surmi, The Tsemay and The Dorze.
TRAVEL INSURANCE FOR ETHIOPIA
World Nomads offers simple and flexible travel insurance. Buy at home or while travelling and claim online from anywhere in the world.
Alternatively, if you're a long-term traveller, digital nomad or frequent remote worker seeking travel health cover, check out Safetywing's Nomad Insurance policies.
Nature of the Omo Valley
Along with the traditional cultures that exist in the Omo Valley, the natural world here feels just as raw and special.
From the huge Lake Chomo near Arba Minch, to the stunning mountains ranges that undulate out from the town of Konso, the landscape is both vast and, from a distance, seemingly untouched.
Blue skies roll over head, barely casting a shadow over the dry, arid landscape.
Hiking here, as well as rafting on the Omo River and fishing in one of the many lakes are popular activities you can enjoy from the city of Jinka.
Mago and Omo National Parks near Jinka also have good wildlife spotting opportunities.
Otherwise, in the Arba Minch area, boat cruises in Lake Chamo allow you to see the crocs and hippos who live here, or a walk into Nech Sur National Park gives you access to an incredible array of birds and the chance to dip in a geothermal pool – known as Forty Springs.
Highlights of My Omo Valley Trip
Witnessing a famous Hamer ritual – the Jumping Bull Ceremony – which marks a man's transition from boyhood was an obvious highlight from my trip. The ceremony began with his female relations being whipped to show their love for the boy and ended with the naked man jumping onto and then running across a line of oxen held in place by his male relatives. Even though there were quite a few other tourists at this event, it really was truly spectacular.
The Konso villages, with their sophisticated architecture and societal structure were amazing to see and it's no surprise they are one of Ethiopia's 9 listed UNESCO World Heritage Sites. Our guide in this village was fantastic, with tons of information at his disposal and more than happy to answer any questions. The views from this village were also spellbinding.
Visiting the Daasanach People, who live on the banks of the Omo River was another distinguished highlight of my time in the Omo Valley. First the ride in a local dugout canoe to get across the river was great, and then the impromptu welcome we received from the local children and the manner in which we were invited into a traditional home was like nothing else I've ever experienced.
Finally, I loved my trip to a Dorze village on the final day of my Ethio Travel Tour. Set in the hills above Arba Minch, the experience of visiting these people was highly interactive with the opportunity to eat their locally made food, drink their locally produced alcohol and see how they farm cotton and then weave it into beautiful garments.
LOOKING FOR A BUDGET TOUR IN ETHIOPIA?
If you're interested in an unforgettable, well-priced tour in Ethiopia with guides you can trust, then email me at [email protected] with details of where you want to go and I'll send you my top recommendations – simple!
When to Visit the Omo Valley?
Omo Valley is best visited during the months of Jan to April when the weather is dry and many traditional ceremonies take place, giving you a unique insight into the cultural practices of the ethnic groups in this area.
I visited in February and it was perfect as we got to see the famous Bull Jumping Ceremony and the weather was dry enough to allow access to the many national parks.
It was stinking hot however, especially in the lower parts of the Valley near Turmi (like 36 degrees) so do bring a good sunhat and sunblock if you're coming at this time of year.
How Long to Spend in Omo Valley?
You should really allow 4 or 5 days to explore this area.
Given the amount to see here, plus the distances you'll have to travel between places, plus the exhausting heat, you'll want this many days to really get to grips with this region.
Most tour companies offer packages for this length of time, as well as longer offerings that include hiking and further outdoor activities.
I personally undertook a 5-day tour with Ethio Travel and Tours.
Given my great experience with them in Bahar Dar last time I was in Ethiopia, I was more than happy to work with this company again and enjoyed yet another small group (just 2 others) with our own driver and various local guides we picked up along the way.
Getting to the Omo Valley
One of the best ways to see much of this area in the shortest time and most affordable way is to fly into the city of Jinka and out of the city of Arba Minch, or visa-versa.
This will stop you backtracking and give you more time to appreciate the region rather than adding on additional and unnecessary driving time.
Daily flights run to both destinations from Addis Ababa and can be picked up for around $70 USD one-way (with the international flight discount that is – see my post about everything you need to know about travel in Ethiopia for more info.)
Otherwise you can also take a bus from Addis Ababa, normally spending a night in Awasa on the way down and back.
Do check the security situation in the area however before jumping on a local bus.
Getting Around the Omo Valley
While you can make a trip through the Omo Valley independently, you're going to be totally reliant on infrequent and changing bus timetables.
You'll also have to hire local guides to see the different village communities or to access the national parks.
As such, I recommend saving yourself the time and energy and taking a guided trip there instead.
This is a great way to pack a lot more into your time in the Omo Valley, as a driver will take you in a private 4wd vehicle between all your destinations and accommodation.
Omo Valley Itinerary
I enjoyed my 5-Day Omo Valley Tour with Ethio Travel and Tours immensely.
The itinerary ran as follow:
Day 1: Fly to Jinka from Addis Ababa. Stay in Jinka
Day 2: Drive to Mago National Park and see the Mursi People. Lunch at Besha Gojo in Jinka. Drive to Turmi, visit the Hamer people and see Bull Jumping Ceremony. Stay in Turmi.
Day 3: Drive to Omorate and visit the Daasanach People via a canoe ride across the Omo River. Drive to Arbore and visit a Banna market. Lunch at Kanta Lodge in Kenso. Visit a UNESCO-listed Konso village.
Day 4: Drive to Arba Minch and take a boat trip on Lake Chamo to see the hippos and crocs. Walk in Nech Sur National Park to see hot springs and birdlife. Lunch and stay in Arba Minch.
Day 5: Visit a Dorze Village. Fly from Arba Minch to Addis Ababa.
As you can tell, my ETT trip fitted a lot into the 5 days and we got to visit many different attractions in the Omo Valley.
I feel it was a great taste to the area and would highly recommend it as being comfortable and well organised.
ETT also organised my flights down to the Omo Valley area, making my life even easier!
Places to Stay in Omo Valley
Nowhere is particularly cheap to stay in the Omo Valley, probably due to a lack of competition and infrastructure, but here is a list of the places I stayed as part of my ETT tour:
Jinka – The Orbit Hotel. Good wifi and restaurant. Rooms ensuite, clean with mosquito nets. Try and get a room upstairs in the new 2-floor building.
Turmi – Kizo Lodge. Fantastic, new accommodation in a peaceful setting on the outskirts of town. Lovely restaurant set in a traditional roundhouse with very helpful staff. Super clean rooms, with hot water and good wifi.
Kenso – Kanta Lodge. The best quality place I stayed with clean, well-kept rooms and an amazing terrace with great restaurant. Located on a hill above Konso, giving stellar views across the undulating landscape. Unfortunately, the wifi wasn't working at the time and it was more expensive than anywhere else.
Arba Minch – Ezana International Hotel. I was not a fan of this hotel where I found the staff rude and unhelpful. The rooms were overpriced and the bar / restaurant outside my room was noisy until late at night.
Dorze Lodge – I didn't stay in this traditional village option, but if I return to Omo Valley, I definitely will. Set right in the village, this lodge provides guests with the chance to experience the life of the Dorze people first hand. Trekking tours, as well as horse riding adventures can be arranged to the surrounding hills.
Things to Know When Visiting the Omo Valley
Anytime spent in this remote, southern region of Ethiopia will involve long driving hours, so come prepared with some audiobooks – I love Amazon's Audible, which has been perfect for my land travels in Africa.
Most of the roads in this part of Ethiopia have not been tarmacked. This makes travelling in a 4wd pretty essential – or at the very least a helluva lot more comfortable. Thankfully ETT's tour gave us access to a 4wd, and a very competent driver, for the duration of the tour.
Mosquitos are a problem in this hot and lower-lying area. Bring mosquito repellent and anti-malaria medication.
Suncream and a good sunhat are highly recommended as you'll be walking around villages in the blazing sun. I love this Hello Sunshine sun hat, whose wide-brim will give you good protection.
Most accommodation in this remote region is still basic and power failures are common. Come prepared with a headlamp. I never go anywhere in Ethiopia without my trusty Black Diamond one.
The Ethiopia Lonely Planet gives good coverage of the Omo Valley region, with helpful maps and some useful background on the various ethnic groups in case your guide fails to deliver on this front!
Taking photos of indigenous people can be a tough moral landscape to navigate. Always ask your guide about the particular rules each community have and always ask individuals before you start snapping. In many cases, people will ask for 5 Birr per photo. In some villages, the hassle can prove exhausting, especially from the begging children.
PIN IT TO PINTEREST!
A trip to the Omo Valley in Ethiopia will certainly provide you with some memories and photos to last a lifetime.
The uniqueness of the people and landscape here is truly unforgettable and, like so much, of Ethiopia is matched by few other places on earth.
Have you visited the Omo Valley?
What was your experience like?
Please let me know in the comments below…