Oh Ethiopia!
The land of mystery, magic and madness had me under its spell from the first day I arrived and now, planning my 3rd trip there, it still hasn't let me go!
This country is so totally unique, that I assure you, you will never experience another place like it.
Not like the countries of Sub-Saharan Africa, not like the countries of the Middle East – Ethiopia sits in its own little world, hemmed in by wild mountains, rivers and deserts.
One of the only African countries to avoid colonisation, Ethiopia has its own language, calendar, clock, alphabet, culture, food and climate that have endured, uninterrupted for thousands of years.
I told you it was unique!
And while this provides so much richness for the traveller, it can also provide something of a nightmare when it comes to knowing what to pack!
"What will I need when I travel in Ethiopia?" is a question I hear time and time again.
Well fear not, I've got you covered!
Here's the only Ethiopia packing list you'll ever require!
Read on to learn exactly what you need (and don't need) to take to my favourite travel destination on earth!
---
Related Posts
---
This page contains affiliate links meaning Big World Small Pockets may receive a small commission on any purchases at no extra cost to you.
---
Grab Your Copy of My Real Travel Guide to Ethiopia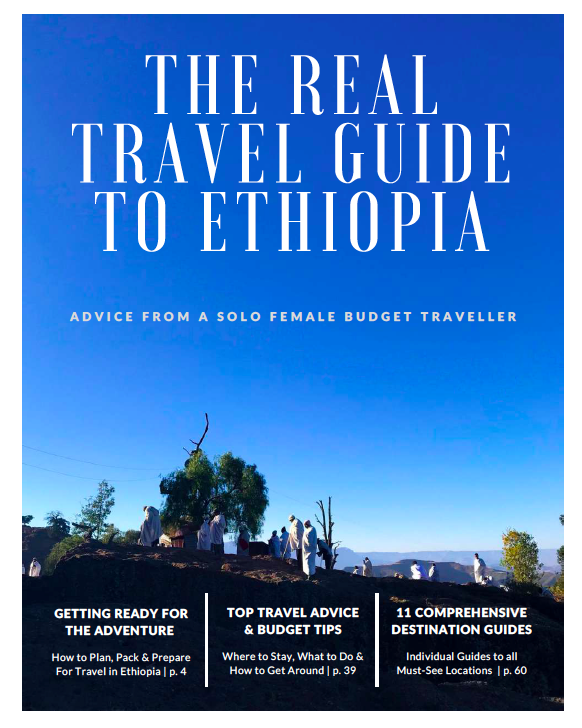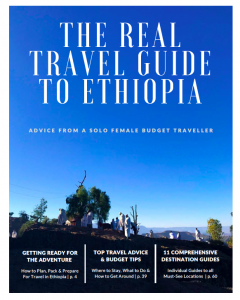 My ultimate guide to travelling in Ethiopia is now available, meaning you can finally get ALL my tips for adventuring in this amazing country in one handy eBook, including
11 Complete Destination Guides to the Best Cities & Attractions
Recommended Places to Stay
Recommended Guides & Tour Companies + Contact Details
Money Saving Tips + Budget Planner
Advice on What to Expect & How to Stay Safe
Packing Checklist
Itinerary Schedule
Clothes
1x Thin Windproof & Waterproof Jacket
It can get cold, wet and windy up at those altitudes.
I love my North Face Venture 2, which was ideal for Ethiopia.
2x Sweaters / Fleece
Who knew Ethiopia can get cold?!
But, I'm telling you it definitely can!
With much of the country situated at altitude – particularly the northern cities of Makele, Axum, Gondar and Addis Ababa – Ethiopia can get chilly at night and I certainly recommend bringing a couple of sweaters with you.
A fleece like this one from North Face would be great. As well as being lightweight and fast-drying, it will keep you toasty too!
2x Thin Long Sleeved Tops
Perfect to go under your thermal fleece, thin long-sleeved tops are also awesome for cold nights, altitude hiking and mosquito protection in Ethiopia.
Try to choose a natural fabric like cotton or merino if you can.
I love this one from Minus33 which stops you sweating and smelling a lot more than synthetic fibres!
8x Singlets / T-Shirts
Singlets are good for hot days – which most are in Ethiopia – and T-shirts are great for when you need to protect your shoulders from the hot African sun (particularly in the Omo Valley region or Danakil Depression).
Bring a mix of both (perhaps making 1 or 2 of them quick-dri) and bring enough to last you a week without washing.
3x Pairs Long Thin Trousers
Having some long pants for men and women is a crucial part of your Ethiopia packing list.
Dress standards are quite conservative in this country and neither gender wear pieces of clothing that come above the knee.
As such, I'd definitely advise you to follow suit and avoid shorts or short skirts, even during the day or in really hot places.
Long trousers are also useful for places like Lalibela, when you'll be visiting lots of religious sites, and for when you're hiking to the Tigray Churches.
At night, long trousers are also great for keeping you warm, protecting you from mosquitoes and if you want to go out to a bar.
Again, I always bat for natural fabrics like linen or cotton first when it comes to travel trousers. These ones from Soojun would be ideal.
2x Pairs Leggings / Hiking Wear
As well as trousers, I'd also suggest putting a couple of pairs of leggings on your Ethiopia packing list too ladies.
Leggings are great to wear under trousers on cold days and to wear in bed on cold nights.
They also double as great hiking wear if you want to do any trekking whilst in this country.
I also suggest packing a dress you can wear over the leggings for a great evening look.
1x Light, Knee-Length Dress
To wear over the leggings if you want to look a bit smarter in the evening.
1x Sports Bra
Required for those bouncing bus rides and hikes!
1x Set Nightwear
4x Pairs Socks
Taking a mix of ankle and long, thick hiking socks like these would be my recommendation.
8x Pairs Underwear & 2 Bras
Enough so you don't have to do any washing for a week.
1x Bikini / Swimwear
Just in case you stay somewhere with a pool in Addis or Bahar Dar!
I love my Ripcurl bikini sooo much!
1x Woolly Hat
A godsend when I was up at altitude in the Simien Mountains and in those cold nights in Ethiopia's capital, Addis Ababa.
1x Wide-Brimmed Sun Hat
Essential for places like the Omo Valley and the Danakil Depression, where temperatures regularly exceed 40 degrees.
Here, even a few minutes without shade is too much!
As such, a sun hat is a must on your Ethiopia packing list and I love this cute one from Hello Sunshine.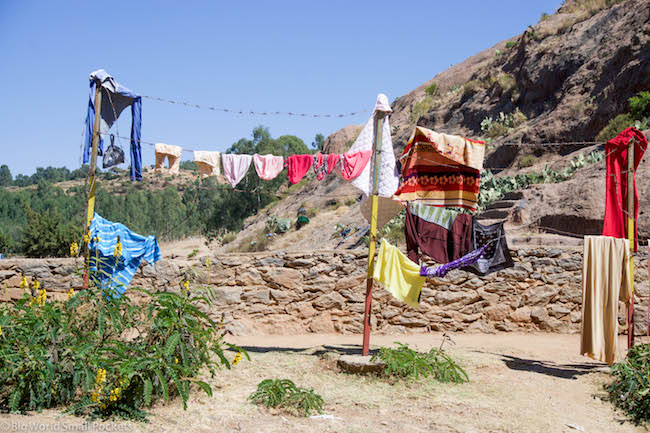 3x Sarongs / Scarves
Great for dusty rides, shoulder-covering in churches, as a second towel, sheet, dress or blanket, a sarong or 2 is a must on my Ethiopia packing list.
Check out my 20 reasons you should always travel with a sarong if you're looking for any more ideas about the ways this amazingly versatile and cheap item can be used!
1x Pair Sunglasses
Essential!
Shoes
1x Pair Sandals
Flip flops, like Havaianas, are good as they can quickly be thrown on and off.
I always go for a dark colour – normally just plain black – not only are they more versatile and likely to match with your outfits, but they won't show up the dirt as easily either!
1x Pair Runners / Trainer
Great for walking around Ethiopia's cities, I love my New Balance runners, which have great grip and tread.
Runners are also good for days when you're likely to be visiting multiple churches or attractions – they provide more cushioning and support than sandals, so are better for your feet on the unpaved and uneven streets in Ethiopia.
1x Hiking Boots / Shoes
Essential if you're going to be trekking Erta Ale Volcano in the Danakil Depression or hiking in the Simien Mountains or the Bale Mountains National Park, I do advise bringing a pair of hiking boots with you to Ethiopia.
For those high altitude national parks, they will be great for the cold temperatures at this elevation, and the rocky trails here really do require some decent ankle support.
When visiting Erta Ale in the Danakil Depression, you're essentially hiking on hardened lava in the dark! Boots are a must for stability and the sharpness of this terrain.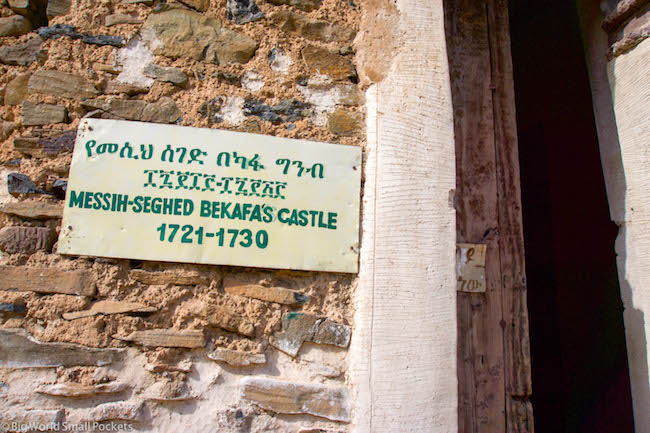 TRAVEL INSURANCE FOR ETHIOPIA
World Nomads offers simple and flexible travel insurance. Buy at home or while travelling and claim online from anywhere in the world.
Alternatively, if you're a long-term traveller, digital nomad or frequent remote worker seeking travel health cover, check out Safetywing's Nomad Insurance policies.
Electricals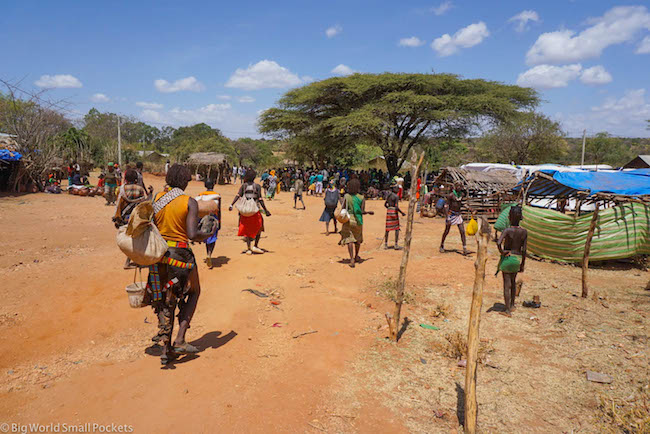 Mirrorless Camera
I love my Sony A6000 mirrorless camera which is lightweight, compact and study enough for travel in Ethiopia.
Zoom Lens
My Sony A6000 mirrorless camera came with a 16-50mm optical lens, but it's definitely worth putting a good zoom lens on your Ethiopia packing list too.
My E 55-210mm lens was perfect for this and not too expensive either!
I used it a lot in the Omo Valley region.
2x 64GB Fast SD Memory Cards
Get large 64GB SD memory cards as you do not want to run out of photo space when you're in Ethiopia, trust me!
I'd also recommend splashing out a bit and getting some fast ones, as these cards will process videos and continuous shooting images much speedier – just what you need to snap that gelada baboon!
Spare Camera Battery
You never want to run out of battery when there is an amazing portrait opp right in front of you!
Battery Charging Unit / Cables / Leads
Take spare micro USB leads as they always get lost / broken!
European Adapter Plug
You'll need a European adapter for Ethiopia.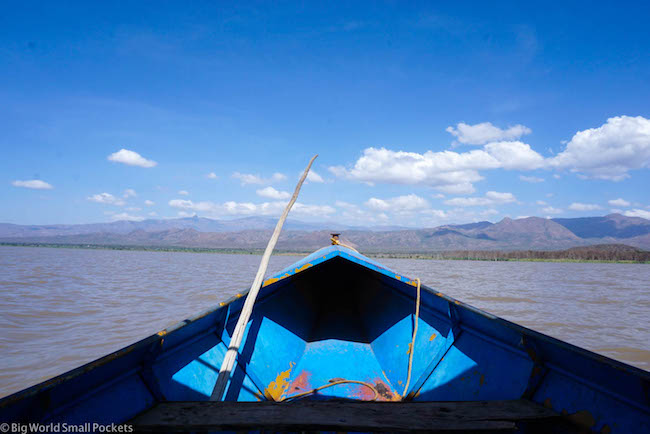 Smartphone & Headphones
It's amazing but almost all the guesthouses / hostels I stayed at in Ethiopia had wifi, so taking your smartphone to stay in touch with those at home, checking maps and uploading some pics is a great idea.
Also, download some audiobooks and music onto your phone before you leave home – a great idea for long journey days.
I recommend Amazon Audible
and Spotify Premium for these purposes and wouldn't travel without either these days.

Portable Power Pack
Portable power packs are great when travelling without a solidly reliable charging source, like in Ethiopia!
I recommend the Ankor Powercore Portable Charger which has 2 output sources, meaning I could charge my phone and my camera at the same time – BOOM!
LOOKING FOR A BUDGET TOUR IN ETHIOPIA?
If you're interested in an unforgettable, well-priced tour in Ethiopia with guides you can trust, then email me at [email protected] with details of where you want to go and I'll send you my top recommendations – simple!
Toiletries
Shampoo and Conditioner Bars
Freedom
have the best supply and they last for ages!
Say goodbye to mid-travel spillages and bulky bottles people, this is the future!
Toothbrush, Toothpaste, Floss
Anti-Bacterial Soap
Deodorant
Moisturiser
Razor & Spare Blades
Tweezers, Nail Scissors, Nail File
Cotton Buds
Hairbands & Hairbrush
50+ SPF Suncream
Menstrual Cup
Ye yeah ladies, you know what I'm talking about!
If not, check one out here.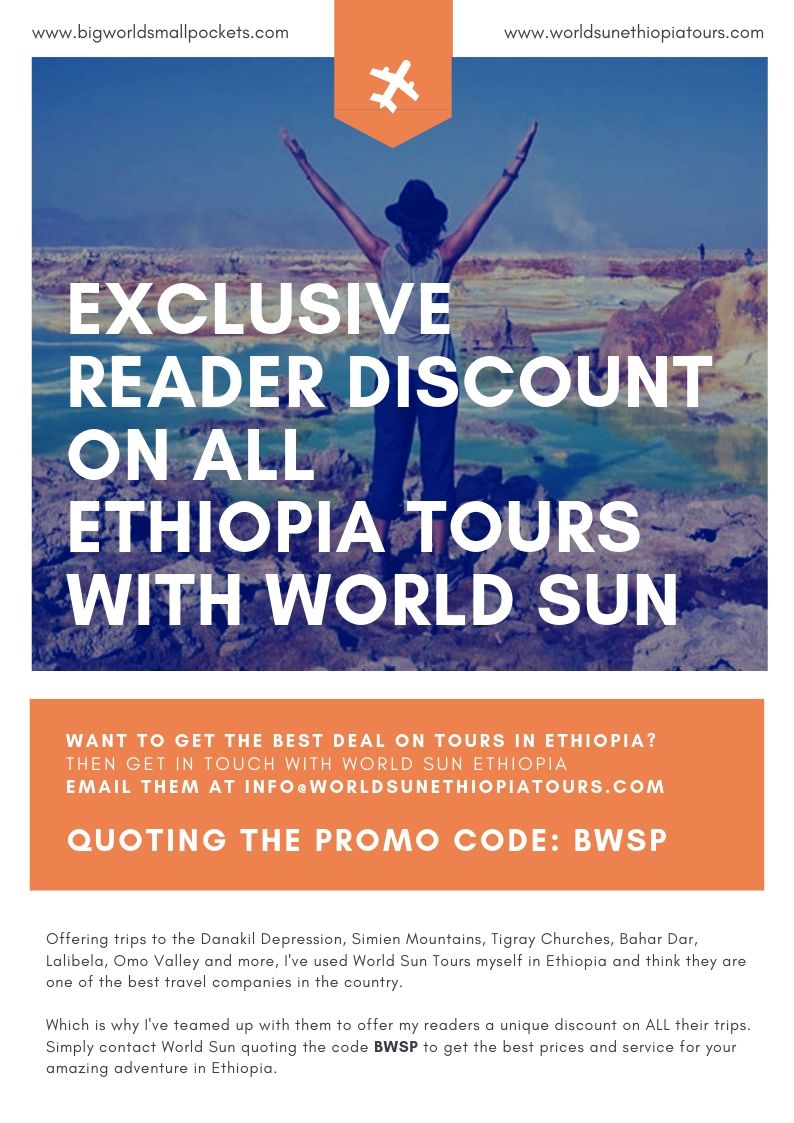 Medical / First Aid Kit
Anti-Malaria Medication
It is a risk here in Ethiopia, so check with your doctor for the latest advice.
DEET Insect Repellent
I recommend 30% DEET, which is enough to deter those pesky nippers, but safe enough for children to use.
Rehydration Salts
Imodium
Painkillers / Anti-Inflammatories
Antihistamines
Band Aids & Bandages
Safety Pins
Anti-Septic Cream
Tiger Balm
Great for aching muscles and soothing insect bites, this is travel must for me.
The Rest
Sleeping Bag and Silk Liner
I love my snugpak sleeping bag, which condenses down to nothing and my silk sleeping bag lining, which is perfect for keeping me cool and sweat-free.
Travel Towel
Compact, quick-dry and all-round brilliant!
I love this one from Sea to Summit.
Hiking Day Pack
Combination Padlock
Ideal for locking up your bag during transit or keeping your valuables extra safe in guesthouses.
Travel Sewing Kit
Multi-Tool
Travel Washing Line
Travel clothes lines
are the best and especially in Ethiopia, where laundry facilities are thin on the ground.
I wouldn't be without mine.
Toilet Paper
Remove the cardboard centre and condense these bad boys.
Sadly, few places in Ethiopia provide TP, so definitely bring some with you!
Wet Wipes
Multiple packs… I've never used so many in my life!
Guidebook & Amharic Phrasebook
Headlamp & Spare Batteries
An absolute necessity on your Ethiopia packing list, because the power cuts in this country are something else!
Make sure you pack a headlamp with a red setting to deter those insects and bugs at night.
Black Diamond
are always my go-to brand.
PIN IT TO PINTEREST!
So there you have it folks, the only Ethiopia packing list you'll ever need!
Have you been to the incredible country of Ethiopia?
What was top of your packing list and what did you bring that you did not need?
Join the conversation in the comments box below …