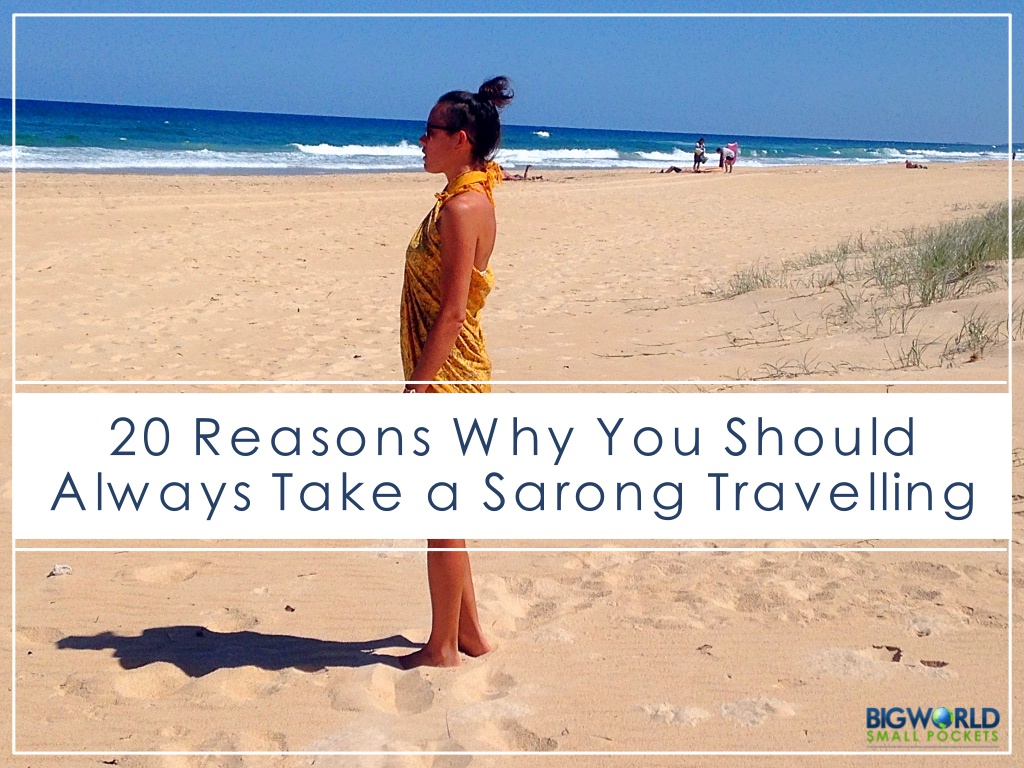 Sarongs are, without a doubt, the most incredible items to take travelling.
I wouldn't dream of going anywhere without them and, despite my self-imposed rigid baggage restrictions, I always pack at least 2 on any trip!
Perfect for hikers, backpackers and campers there are many reasons why you should always take a sarong travelling.
For starters, sarongs are small, light, cheap and quick to dry; they hardly take up any room in your pack.
Secondly, they won't cost you much to buy either … Just check out these gorgeous sarongs and you won't believe the prices!
These factors alone are good enough reasons to make sure you pack a sarong.
Yet even better, is the humble sarong's incredible versatility.
Not just a fashion item for women, no, sarongs have a plethora of other uses that can be harnessed for all sorts of practical pursuits.
And to prove it, here are 20 reasons why you should always take a sarong travelling.
---
Related Posts
---
This page contains affiliate links meaning Big World Small Pockets may receive a small commission on any purchases at no extra cost to you.
---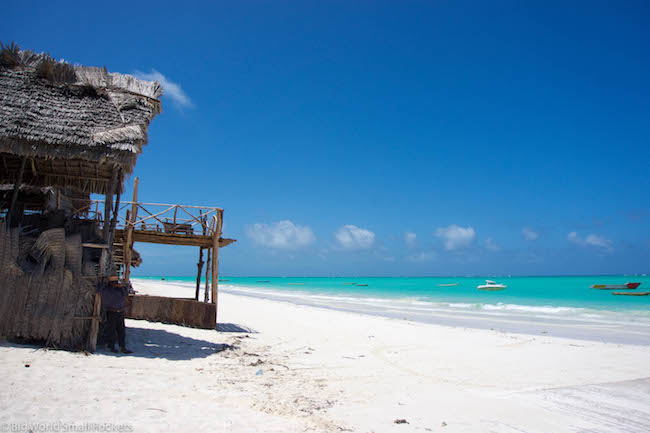 #1 They make super beach towels
I've used sarongs the world over as beach towels as they dry quickly and are easy to carry.
Never has this been more useful however than here in Australia, where life at the beach is a daily pursuit.
Whether it's a quick swim before work or a nice sunbathe after, having a small, light towel permanently ready in your bag is a perfect time saver!
#2 They double as handy ropes
If you need to tie things up or together then sarongs can prove very handy as bits of rope or string.
A great use of a sarong in this instance is if you are trying to secure a mosquito net, but the string you have doesn't stretch far enough for you to attach the net to something on the wall or ceiling of your room.
In this case, just use a sarong as an extension cable and sleep bug-free all night!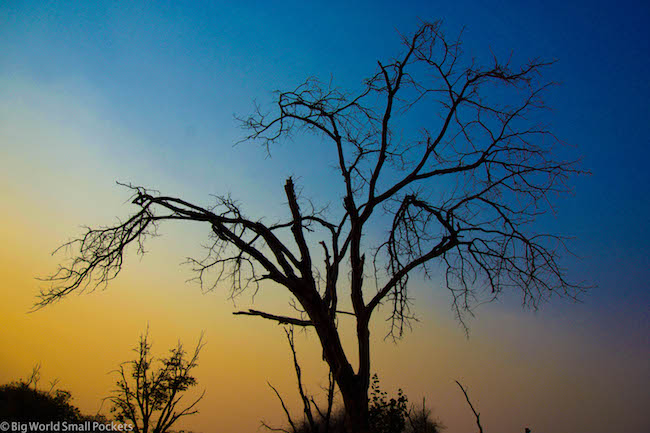 #3 They can stop you getting sunburnt
We all know what it's like … you set out on a daytrip only to realise later you've forgotten to bring sun cream or worse, you're already burnt or feeling a bit light-headed from over exposure.
Got your sarong? No probs!
Just pull it over your head, shoulders or chest to give your body some respite and stop the burn!
#4 They can be used as practical shopping bags
Don't want to use plastic bags for your groceries, but don't have anything else?
Just take along your sarong and wrap up your shopping in that!
Simple!
#5 They have first aid advantages as bandages, slings or supports
If you're like me and don't really carry any first aid with you when travelling, then sarongs can make excellent substitutes!
I used mine as a support when I was working in New Zealand and getting a sore wrist from making so much coffee as a barista!
Wrapping my sarong around my wrist overnight as a support made it feel much better each morning!
#6 They help you as useful headscarves
When travelling in Morocco, I continually used my sarong as a headscarf in places where I felt this way of dressing might be more suitable and limit the amount of attention I got.
I also use them in bright environments with lots of glare, such at Cotapaxi in Ecuador.
Employed in this way, sarongs are easy to take on and off and great at keeping you cool too.
#7 They make lovely tablecloths
Feel like treating yourself to a nice dinner when travelling but can't afford it?
Snazz things up where you are by using a tablecloth – makes the food you've prepared taste a lot better!
#8 They provide excellent mosquito protection
Simply wrap round your shoulders and neck to keep bugs away, whilst still allowing cool airflow to those parts of the body.
This was an amazing lifesaver in Mozambique where I had to cover up at night due to the high malaria risk, but it was still far too hot for sweaters, jumpers or long sleeves.
#9 They can be used as clean bed sheets
If there aren't any sheets where you're staying, or if the ones there look a bit dubious (!), simply lay your sarong on top and use as a comfy sheet.
The sarong can also be pulled over the top of you as a sheet if you're cold – a great lightweight piece of bedding when camping or hiking.
If you need to transport your dirty clothes to the laundry mat when travelling then don't worry about trying to bundle them into bags.
#10 They can double as a helpful laundry bags
Simply wrap everything up in sarong, tie it up and then and wash that too.
In Italy, where there were limited hostel laundry facilities, this is what I did every time!
#11 They are easily worn as dresses when it's too hot for anything else
When it's too hot to wear anything, sarongs make the perfect alternative to clothing.
Light, cool and breezy with plenty of airflow, they make ideal tropical beachwear.
I basically wore nothing else when I was on Little Corn Island, Nicaragua.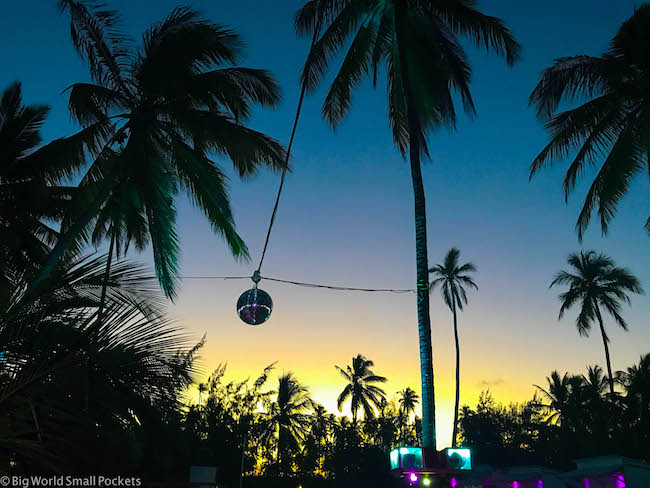 #12 They can be rolled up as pillows
If you're lugging a tent and bedding around then you want as much of your stuff as possible to be lightweight and versatile.
Sarongs, therefore, are a great piece of equipment and can easily be rolled up as comfy pillows if you've omitted this luxury from your kit.
#13 They make beautiful curtains
If you're room or dorm is lacking privacy then tying a sarong up as a curtain can be the perfect method to block out others from view or to keep the sunlight out if you fancy a daytime snooze.
Road tripping in Australia, we also always tie sarongs up to the windows of the Land Rover as lovely colourful curtains!
#14 They are great shawls when temperatures drop in the evening
In countries where it is warm in the day but cold at night, and in the mornings, sarongs make the perfect transition garment if you're out all day and need to take clothing to accommodate the evening drop in temperature.
Travelling in South American countries like Colombia this can be very handy, especially because the Andean weather is often bright and sunny in the day, but can quickly plummet once night falls and remains cold in the early morning.
#15 They can easily be rigged up to form shade cover
A day at the beach can be hard work if there's no shade for you or your stuff to keep cool in.
Hanging a sarong in tree braches or between sticks pressed into the sand can easily fashion you a quick and comfortable cover where you can sit or lie out of the sun's rays.
#16 They are an excellent way to keep cool if you have a fever
If the fan simply isn't doing the job, or there simply isn't one, just run your sarong under cold water and squeeze out until it's only damp.
Then lie down and pull the cold, wet sarong over you like a blanket.
You'll feel your body temp drop in minutes.
#17 They can be convenient shower / dressing gowns
Staying in hostels can often mean communal shower areas. Make getting in, out and back to your room a lot easier and more private by just wrapping a sarong round you.
I used this trick in Guatemala all the time, where the limited shower facilities always seemed to have a queue of people outside waiting to use them!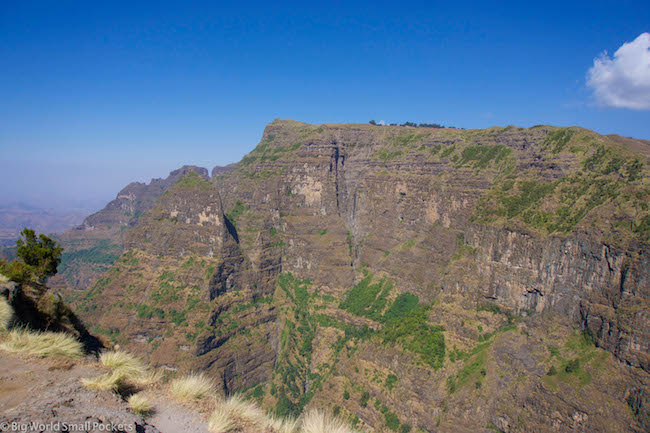 #18 They make carrying water bottles hands-free
If you're got a water bottle with a loop or hook, thread the sarong through one end and then tie the sarong diagonally across your chest and over one shoulder (with the bottle resting on your back) to make a simple hands-free water carrier.
Great when hiking, you can also tie the sarong around the middle of the bottle and then knot it if you don't have a hook or loop.
#19 They are brilliant when visiting temples
If you need to remain respectful at religious sites or shrines, sarongs can easily be worn to cover the hair, shoulders or legs.
#20 They double as comfy picnic rugs
Sitting on the ground to enjoy lunch? Roll out your sarong and make the whole affair a bit more civilised! My favourite time I used this was
Roll out your sarong and make the whole affair a bit more civilised! My favourite time I used this was
My favourite time I used this was picnicing with friends at Agua Azul in southern Mexico – it was lovely to sit on something nicer than the ground and made the experience much more communal too.
LIKE IT? PIN IT!
So there are 20 reasons why you should always take a sarong travelling.
Any more ideas?
I always like sarongs with lovely ethnic patterns and One World Sarongs has a beautiful online collection and they are so reasonably priced!