A land of fiery active volcanoes, wild colourful markets and dense jungle ruins, Guatemala is like nowhere else on the planet.
Nestled at the top of Central America, this tiny country is a feast for the senses at every turn and never fails to captivate those who visit her.
Indeed Guatemala was the first country I ever visited in Central America and instantly infused me with a wild passion for the culture and character of this part of the world.
I can remember the first day I arrived there; loading onto an overcrowded local chicken bus, stuffed with animals and people, which belched and rattled its way out of the capital city to views of smoking volcanoes on the horizon.
WOW, I thought, this is something else.
Perfect for the budget traveller, Guatemala is one of Latin America's cheapest countries and is full of friendly locals and incredible experiences.
From the picturesque colonial streets of Antigua to the soaring Mayan temples of Tikal, here are my pick of the top 5 best places to visit in Guatemala, which really showcase the diversity of this enchanting country.
---
Related Posts
---
This page contains affiliate links meaning Big World Small Pockets may receive a small commission on any purchases at no extra cost to you.
---
#1 Antigua
Coming in at number 1 is probably the most popular tourist place in the whole of Guatemala.
This is the first place I landed after venturing out of the capital on that virgin chicken bus ride and it's a place I returned to repeatedly after my travels around the country.
In many ways, Antigua became my home in Guatemala; being safe, accessible and easy to reach, it is a good place to base yourself while in the country and definitely one of the top tourist places to explore here.
Most famed as a UNESCO World Heritage Site, Antigua is incredibly picturesque and sits in a valley flanked by numerous volcanoes.
Comprised of some beautifully cobbled streets lined by wonderfully painted buildings and window boxes overflowing with bougainvillaea, this is tourist town number one!
That said, there is also a great market here that gives a more earthy feel to the place and taking a day trip to any of the surrounding small villages will also impart a great sense of the local life here.
Many travellers to Guatemala start their journey in Antigua, so if you're looking to get around the country from this city, then check out Bookaway – a great website where you can plan and reserve your transport tickets for all your Guatemalan adventures.
Must Do: Climb a volcano! Be it an overnight trek to Acatenango, or afternoon excursion to Pacaya, experiencing the wonders of these smoking giants is a must-do while in Antigua.
Stay: Sangha. A gorgeous new hostel right in the centre of town, with a yoga studio and vegetarian restaurant, this isn't your average hostel!
#2 Chichicastenango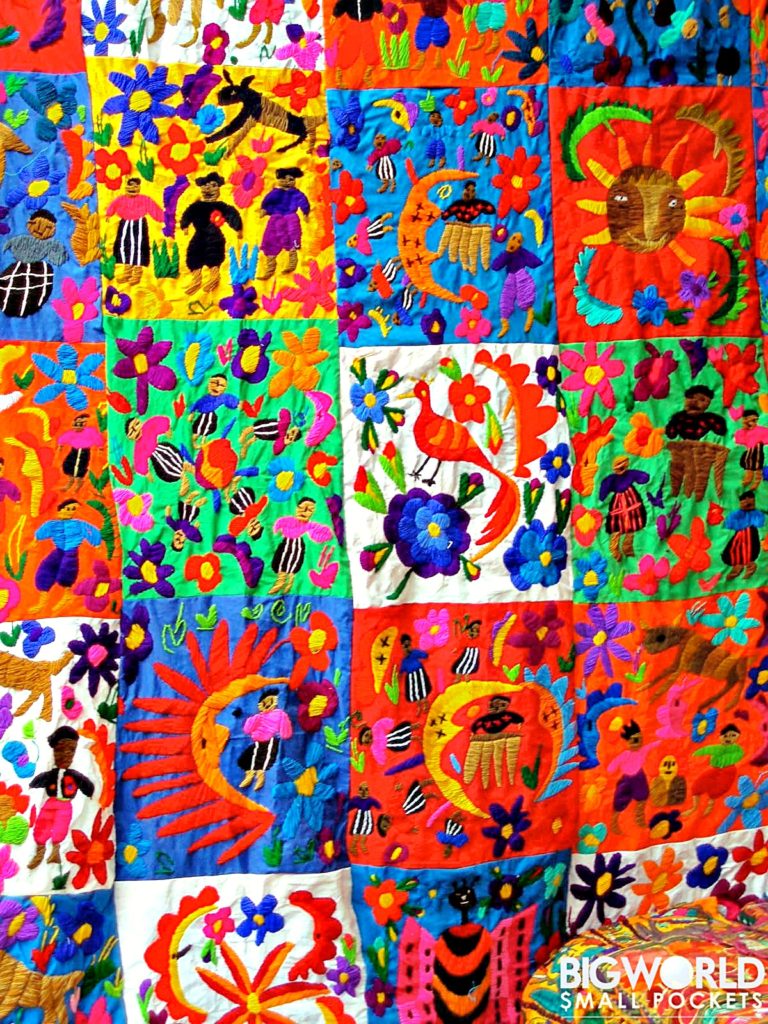 Visiting Guatemala and not experiencing a great market, is like heading to the Alps and leaving without so much as a glance at the slopes – you're missing the top prize.
In almost every town in Guatemala, prolific markets are the economic and social centre of the community and are the place to buy everything from food, to clothes, to household goods.
As I've already said, Antigua has a fine market to explore, but the real jewel in the market crown of Guatemala is Chichicastenango.
Held every Thursday and Sunday, Chichicastenango is the tourist place to go in Guatemala if you want to purchase some local handicrafts or souvenirs.
Famous for their fabric and design work, indigenous communities from all around come to sell their beautiful textiles, woodcraft and pottery at this vast shopping extravaganza.
You can also get your hands on local incense, natural medicines and other traditional items while touring the stalls makes for a great cultural eye-opener.
Must Do: Buy some beautiful local fabrics and textiles to take home with you.
Stay: Posada el Telefono. Super cheap and right in the heart of town, it makes a great base for the early morning market rise.
DON"T LEAVE HOME WITHOUT THE GUATEMALA LONELY PLANET!
#3 San Marcos La Laguna
San Marcos is one of the many towns that sit at the edge of the famous Lago Atitlan – a shimmering blue lake that is one of the deepest and most famous in Latin America.
As such is it certainly one of the most popular tourist places in Guatemala, visited by many who come to explore the region's geography and indigenous culture.
Many also get stuck here, myself included. In fact, it was over 2 months before I could tear myself away!
A lot of visitors to the lake tend to stay in San Pedro, another town across the water, but having spent a bit of time around Lago Atitlan, I can definitely say that San Marcos was by far my favourite spot.
A little quieter than San Pedro, there is a beautiful sense of peace and tranquillity in San Marcos as well as a lovely little village square where you can get great street food and enjoy the sights and sounds of local life.
There is also a fantastic little beach in San Marcos and some rocks that are a famous spot for jumping off into the crystal-clear lake waters.
Must Do: Climb to the top of Indian's Nose for the most awe-inspiring of view of the Lake.
Stay: Hostel San Marcos. Complete with a traditional Mayan sauna and situated right at the lake's edge, this hostel is a must for experiencing the best all this alternative destination has to offer. I also loved La Iguana Perdida in nearby Santa Cruz.
#4 Semuc Champey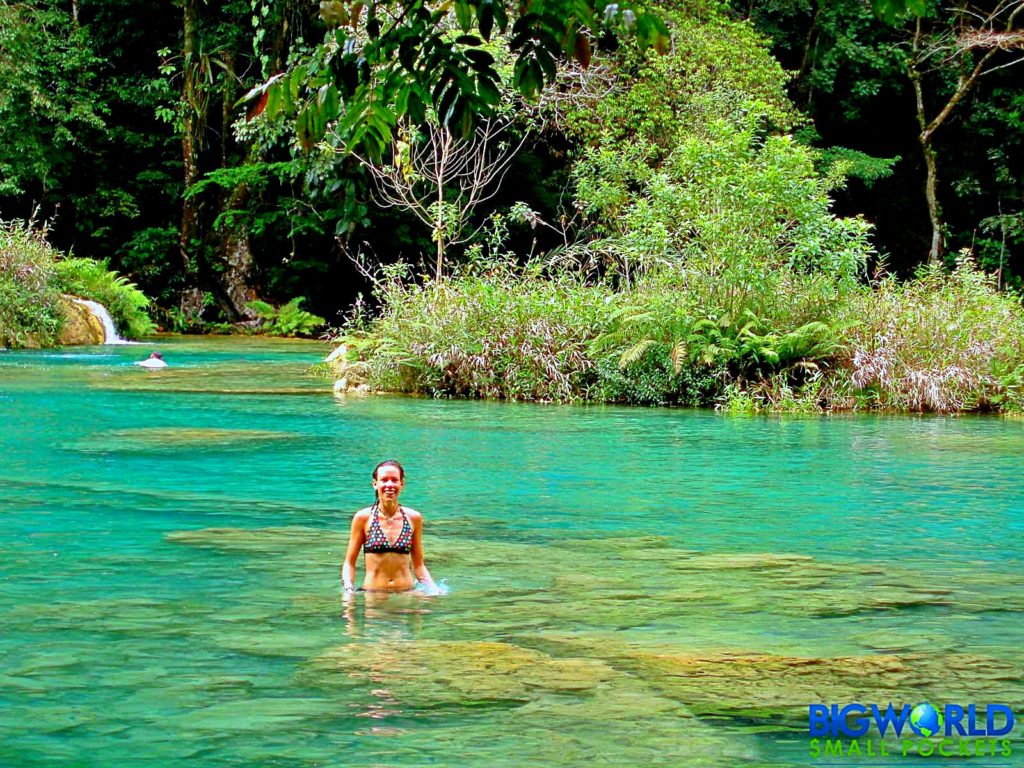 Just out of the village of Lanquin, Semuc Champey is a famous geological attraction comprised of a beautiful set of cascading rock pools that boast that most blue, lagoon-like water.
Despite its remote location, Semuc Champey is certainly one of the best tourist places in Guatemala because it seems so different from the rest of the country.
Often shrouded in cloud, due to the altitude of this place, if you never the less climb to the lookout at the top of Semuc Champey you'll be rewarded with incredible views of this series of these spiraling rock pools and the fantastic colours of the water.
Take your camera and swimmers and enjoy the best dip you'll get in this highland country.
Must Do: Avoid the tours and the shuttles buses and instead make your own way to this incredible Guatemalan attraction using local transport – quite an adventure in itself.
Stay: El Muro Hostel, Lanquin. As the nearest town to Semuc Champey, you'll almost certainly be spending the night in this town. El Muro is the best pick here and their staff are great!
#5 Tikal
I've visited lots of Mayan ruins during my time in Central America so believe me when I saw that Tikal is by far the best.
The sheer number, size and layout of these great stone temples is breathtaking and it's almost impossible to believe they weren't built using mechanised tools.
Set at the top of Guatemala, in an area of low-lying jungle, Tikal and its surrounds feel like a world apart from the mountainous highlands that make up the majority of the country. Here, life is hot, slow and steamy.
Situated within Tikal National Park, the setting of the temples in a spacious jungle reserve is well done and rarely does the place feel over-crowded or filled with hawkers like many major tourist places can.
You can spend hours wondering, climbing and photographing these towering temples all to the background soundtrack of monkeys swinging in the trees and birds singing their hearts out.
The density of the jungle can, at times, even make you feel like you have the place to yourself and you can easily begin to picture the vast bustling city that Tikal once was 1000 years ago.
Must Do: Entrance to Tikal National Park is only permitted during daylight, but take a tour and you can enjoy sunrise over the jungle canopy from atop one of the best viewing temples.
Stay: Hotel Las Gardenias, El Remate. As you aren't allowed to stay within Tikal National Park, you have to spend the night outside. Many travellers opt for a place in the town of Flores, but I loved the closer and quieter enclave of El Remate, which sits on the edge of a gorgeous blue lake. Enjoy a dip and some comfort at the Hotel Las Gardenias here.
LIKE IT? PIN IT!
So that's my list of the best 5 tourist places to visit in Guatemala.
Have you been to this colourful country?
Do you agree with my list?
Any other favourite destinations in Guatemala you have to share?