My love for Australian National Parks is well documented.
First of all they are beautifully accessible, dotted right across the country, and secondly they are very cheap to visit, providing some incredible super budget camping facilities and a wealth of free activities.
This has led me to call Australian National Parks a budget travellers dream – they brilliantly allow us visitors to explore untouched and off-the-beaten-track areas of Australia that showcase some the best of this grand, wild, old land.
---
Related Posts
---
This page contains affiliate links meaning Big World Small Pockets may receive a small commission on any purchases at no extra cost to you.
---
Where are the Bunya Mountains?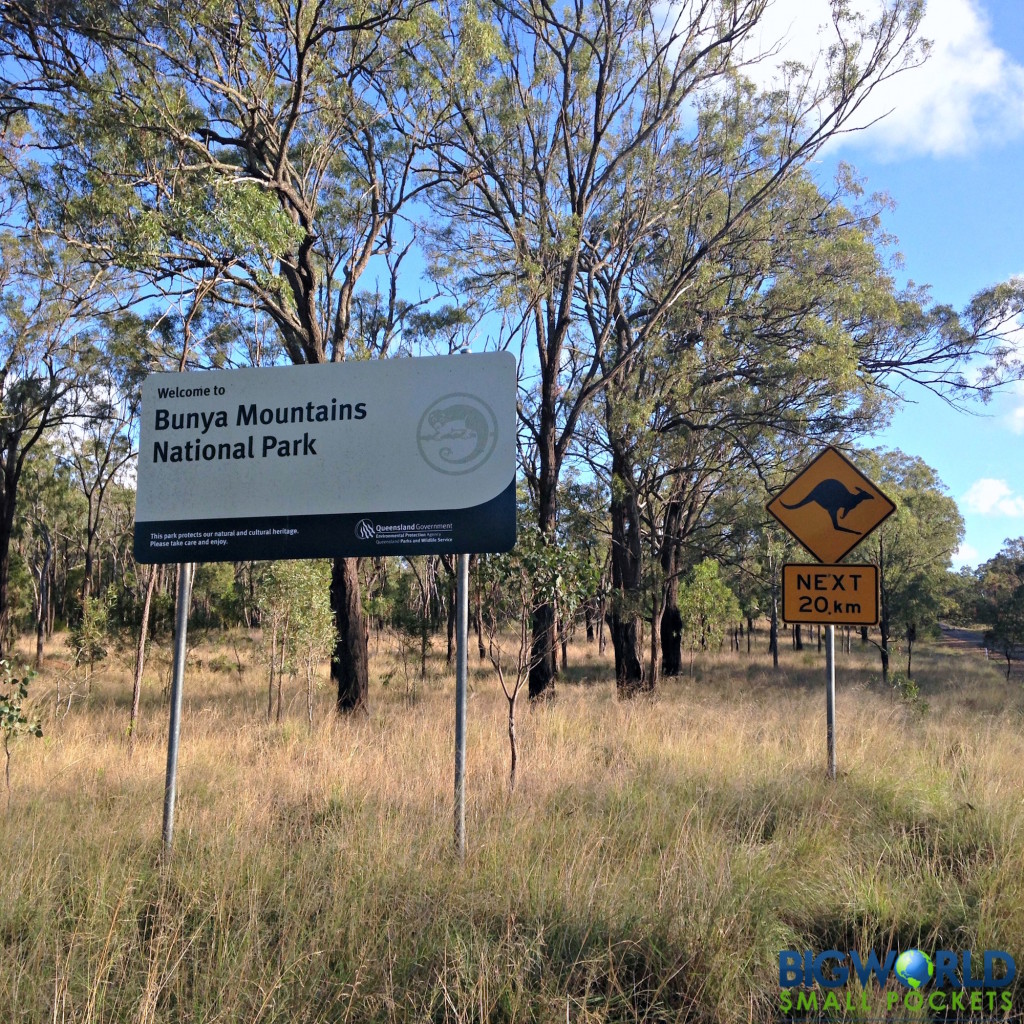 My latest national park adventure Down Under was to the beautiful Bunya Mountains National Park, which is situated in southeast Queensland, about 4 hours from where I'm based in Noosa on the Sunshine Coast.
The Bunya Mountains make up Queensland's second oldest National Park and are a wonderfully preserved area of wilderness high up in the state's Great Dividing Range.
As such, the Bunyas sit at an average elevation of 1100m above sea level and are famous for their alpine topography complete with pine trees, cooler climates and fresh mountain air! It's almost like being back in Europe!
As you drive up the range to get to here, you actively sense the drop in temperature and humidity.
This makes the Bunya Mountains feel like a world away from where I, and most people in Australia, live.
Despite being only a 3-hour drive from the sea, coastal Australia feels like another country entirely when you're way up here.
When to Visit the Bunya Mountains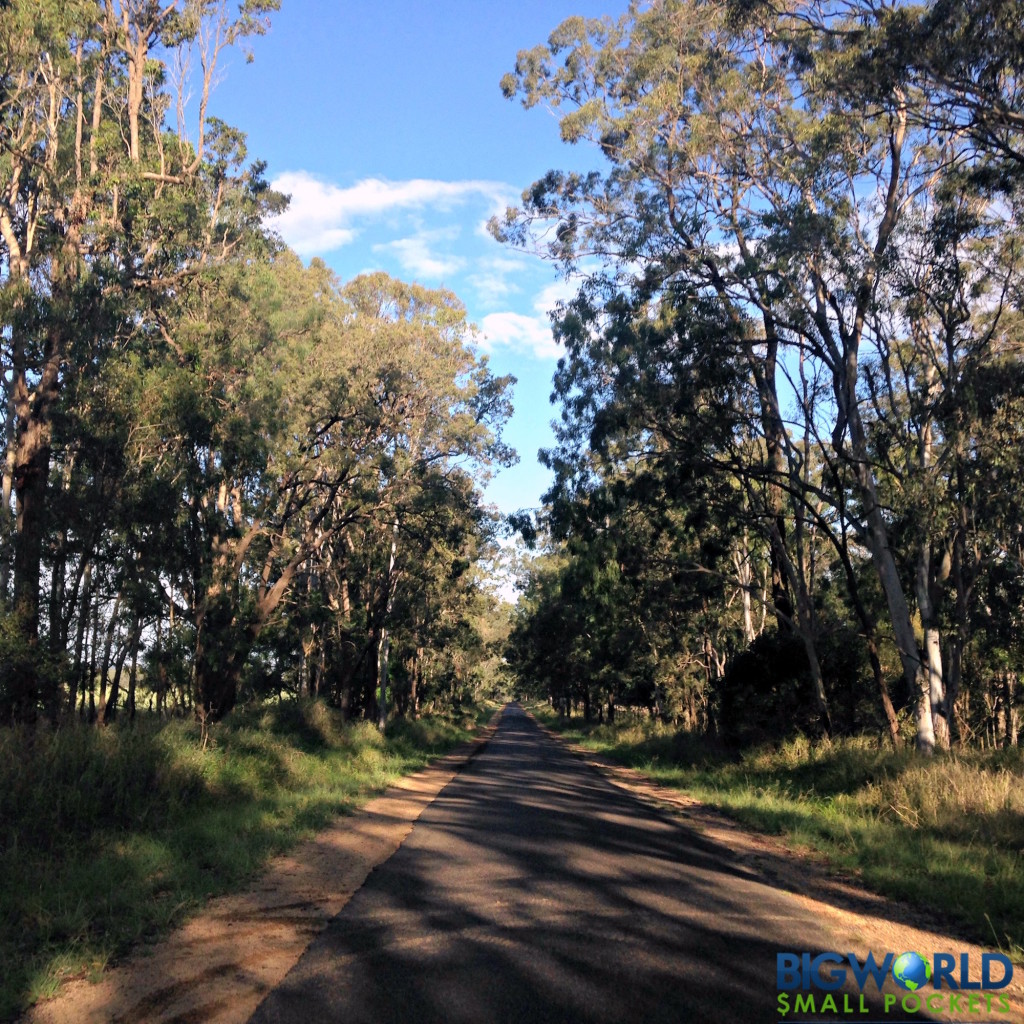 Due to the colder climate experienced at this height, even in Queensland, many people relish visiting the Bunyas during the winter months of June-August. This is when the alpine quality of the area really comes into its own.
At this time of year, winter log cabins complete with logs fires are in hot demand, and there are many Swiss-looking wooden chalets in the Park that are available to rent for groups or families.
What did I say?
Just like Europe!
Tucking up inside one of these chalets, wrapped up in front of the fire, and enjoying the scenery while the frostiness outdoors keeps things crystal clear and cool, would be a beautiful way to spend a few days.
Make sure to bring a hat and coat though!
Our trip to the Bunyas however was during the spring month of November and I have to say this was a delightful time to visit too.
With cool evenings and mornings we slept well, while the warm and sunny days allowed us to easily explore the beautiful nature around.
Being able to camp and hike meant visiting in the springtime really allowed us to enjoy the best of the Bunya Mountains alpine awesomeness.
5 ESSENTIAL PACKING ITEMS FOR AUSTRALIA
#1 Good Camera – You will be pretty much snapping non-stop in Australia and will need a good camera to do this gorgeous country justice. I highly recommend the Sony A6000, which I use for all my travels and love, not least because it's light, compact and robust!
#2 Good Walking Shoes – There will be a lot of walking in Australia – from cities to national parks! Make sure your feet are comfortable therefore with a pair of New Balance Trainers. Perfect for stylish strolling, I love mine.
#3 Good Guidebook – I'm still a massive fan of the Lonely Planet Guidebooks and do think their Australia edition is well put together.
#4 Good Water Bottle – Travelling in hot old Australia can be thirsty work, so make sure you have a metal water bottle that you can refill as you go, because tap water is drinkable… and free!
#5 Good Sun Hat – And there's no denying you'll need a good sun hat for protection in Australia too. In my opinion you can't go past this Hello Sunshine one, which is both gorgeous and ideal for keeping the rays off your face.
Getting to the Bunya Mountains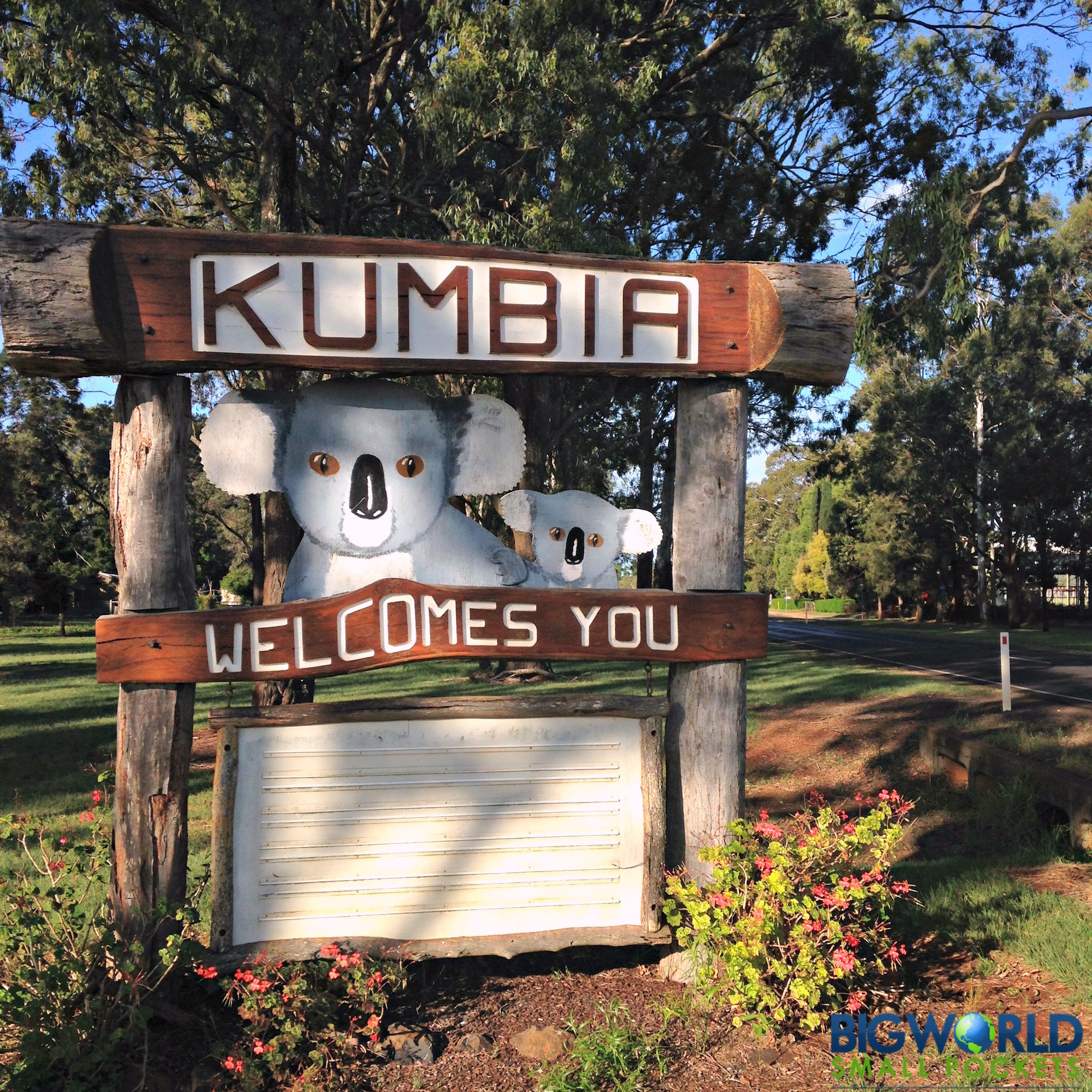 As always, public transport in Australia is limited, so you'll have to have a car to get here, but a 2wd vehicle would suffice.
Of course, we took the trusty Landrover up here and she loved the cool mountain air and dampness for a change!
We've got a pretty good set up now, with a fridge and all our camping gear in the back, so we just had to buy some food on the way.
Very excited, this trip also gave us the first opportunity to check out our brand new rooftop tent – the Simpson III – which we've recently had fitted.
As we made our way to the Bunya Mountains through Wondai, Kingaroy and Kumbia, along the Great Bunya Drive – which is a scenic road route that stretches for 390 km between Toowoomba and Gympie – we were greeted with sweeping views down the range all the way to the coast and the city of Brisbane glittering on the horizon.
If you living or are visiting Brisbane, then the Bunya Mountains would certainly make a great overnight visit – giving you a wonderful insight into a different side of Queensland only a few hours away.
Staying at the Bunya Mountains
As a very established and popular National Park, the Bunya Mountains has a wealth of places to stay.
In fact there is even a short of small village situated inside the park itself, where the mainstay of the accommodation is based.
Here there is a café, a restaurant and phone signal! It's quite bizarre being out in the wilderness with a sense of civilisation all around too – certainly more than we are used to when camping anyway!
As I've mentioned, a lot of the accommodation in the Bunya Mountains is in Swiss-style log cabins, which are exactly what you want in the winter.
During the spring/summer months however, there are also a delightful number of campsites, which are, of course the cheaper option we went for!
National Parks Queensland operates 3 campsites in the area and they are all a steal at only $5 each per person per night.
2 of them (Burton's Well and Westcott) are closer to the entrance of the park and are outside the main village, meaning they are probably quieter.
They only allow stand alone tents however – parking of your vehicle is in a separate area to where tents can be pitched – so with out new rooftop tent on top of the Landie, we had to opt for staying at the main campsite Dandabah
Dandabah Campsite
We were so impressed with the facilities at Dandabah campsite it was quite staggering!
I mean I was pretty bowled away by the fact you we had showers when we stayed in Booloumba Creek campsite in Conondale National Park, but up here in the Bunyas was something else!
Hot showers, power points, disabled facilities and an information centre were just 4 of the wonderful things that would certainly make this campsite perfectly family-friendly and accessible for all.
Set on a large, flat grassy area, there are plenty of camp spots available at Dandabah, with rooftop tents, trailers and stand-alone tents all allowed.
The ablution block is well maintained and, best of all families of wallabies and tropical birds seemed to have made their home here, meaning there are always plenty of them hopping and swooping around – sometimes a little too many as we found at dinner time!
However, waking up in the morning to the sight of parrots, lorikeets bowerbirds, baby wallabies and kookaburras was something else, especially from the excellent high vantage point the rooftop tent provided!
And, I'm delighted to say, despite a fairly windy first night, the tent held up and certainly past the test!
Hoorah!
Walking in the Bunya Mountains
After wildlife spotting a bit of breakfast, we then set out to explore more of the beautiful Bunya scenery.
Being a National Park, there are many spectacular walks to undertake here all of varying degrees of length and difficulty.
Maps with all the hiking trails marked are available online or from the visitor centre at Dandabah and are easy to follow and well signed once you're on the trail.
Many of the walks start from one of the 3 campsites, which was great for us as, having the rooftop tent up, we did not want to have to fold everything down to drive to the trailhead!
There are plenty of waterfalls and lookouts on all the walks too and while conditions are generally, easy boots or trainers are advised due to snakes.
You also want to check yourselves closely for ticks here too!
Barker Creek Circuit Hike
We opted for the 10km Barker Creek Circuit, which we easily completed in less than 3.5 hours.
Setting off from Dandabah campsite, we passed through a number of very different landscapes from sub-tropical rainforest, to alpine woodland and finally high, open grasslands.
It was quite amazing to see the quick and sudden change in the topography of this area and to watch the plants, trees and even humidity alter quickly with it too.
On the Barker Creek Circuit we were also treated to a number of spectacular lookouts and waterfalls, which were often down marked side trails.
This did add a bit to the total length of the hike, but was well worth it mostly because of the sweeping views they afforded.
Big Falls Lookout, in particular, was fantastic and gave us a real sense of how high up we were.
We finished the walk at the Paradise Parking Area, before looping back.
Of course, with a name like that, we couldn't resist a photo! Good to know there's still plenty of parking available in paradise!
Bunya Pines
Indeed, the landscape of the Bunya Mountains really is stunning, especially the majestic Bunya pine trees, which give the park its name.
These huge beauties really did make this area feel like alpine country and some were staggering in their stature – apparently they can grow as tall as 40m and live for up to 500 years.
It was fascinating to learn that the indigenous aboriginal people of the surrounding areas used to prize the bunya pinecone kernels as a valuable food source.
Every few years during the nut season, scores of different indigenous groups would descend on this area to collect this prized fodder from places as far away as Charleville.
They would come to eat and collect the bunya nuts, as well as to communicate and celebrate with each other often in ceremonies that could last months.
These festivals were of huge cultural and social importance, with anthropologists believing they might have been Australia's largest indigenous event.
It's great to know, therefore, that the Bunya Mountains are still being prized, protected and preserved as a highly valuable area today.
We certainly enjoyed our trip here and would highly recommend visiting this national park to anyone in the area.