Travelling in Australia can be very expensive and one of the most costly things is the price of accommodation and activities.
But I want to let you in on a little secret, one that hardly any backpackers seem to know about and many locals don't either. That secret is Australian National Parks.
All across this vast country from coast to desert, mountains to islands, hundreds of Australian National Parks and state reserves act as designated pockets of protection that preserve the natural environment from development.
Many parts of these parks are open for visitors to explore in various ways and you, guessed it, because they are state or federal owned land they are often either free or incredibly cheap to enjoy – budget traveller's dream!
---
Related Posts
---
This page contains affiliate links meaning Big World Small Pockets may receive a small commission on any purchases at no extra cost to you.
---
Free Activities
From fishing to hiking, wildlife watching to swimming, so many of these Australian National Parks provide an incredible range of free activities that allow you to discover this vast country in an off-the beaten track, independent and budget-friendly way!
Activities vary wildly of course depending on whereabouts the national park is in Australia and the sort of landscape present there, but all sorts of popular outdoor activities can be found easily.
Some of the most incredible free things I've seen in Australian National Parks, include amazing art installation projects, hundred year old aboriginal rock art, stunning waterfalls, snakes and isolated swim holes.
I've also gone on amazing hikes, crazy 4wd drive adventures and seen so many stars you wouldn't believe!
For each park, there are always handy maps available for hikers, info on wildlife or history for enthusiasts and tips about where you can fish, swim or 4wd drive for adventurers.
All of this information can be sourced through the relevant state's national park website, details of which are covered below.
In some of the larger Australian National Parks, other paid activities are also available for you to enjoy, be that kayaking, climbing or camel riding.
I mean, there are even music festivals taking place in some of them.
While adding a little to your budget, these sorts of activities can also add diversity to your enjoyment of the natural world without breaking the bank.
Free Camping
In addition to free activities, many Australian National Parks and state reserves offer free, or incredibly cheap, camping facilities, which is an absolute bonus for budget travellers.
Perfectly designed for short-term stays, unlike other cheap forms of accommodation such as Airbnb or house sitting, Australian National Parks are your cheap ticket to seeing and sleeping your way round this vast country!
Camping facilities in Australian National Parks vary from very basic sites without running water to some much luxurious ones complete with BBQ areas and showers!
Normally the more amenities there are, the more expensive a site is, but I've never paid more than $10 a night to sleep in Australian National Parks.
Normally the cost is around $5, which is an absolute steal and a price I'm happy to pay to support this wonderful network.
Not all parks have available camping spots and some are only accessible on foot or by 4wd.
Some allow animals and fires, some don't.
To get all this information, as well as book camping sites across Australian National Parks, you need to go to the relevant state's national park website, details of which are at the end of this post.
Some of the best Australian National Parks' camps spots I've stayed at include 'Sculptures in the Sand', a remote park near Gilgandra in New South Wales that was free and Boolumba Creek in Queensland that was an amazingly good find as it had much-needed showers, toilets and BBQ facilities!
I've watched dingoes from my tent at Lake Eyre National Park, got up to see the sunrise over the ocean at Black Rocks National Park and scaled incredible rock formations to see the sunset at Cathedral Rocks.
All in all Australian National Parks have given me some of the greatest and longest-lasting memories of my time Down Under.
5 ESSENTIAL PACKING ITEMS FOR AUSTRALIA
#1 Good Camera – You will be pretty much snapping non-stop in Australia and will need a good camera to do this gorgeous country justice. I highly recommend the Sony A6000, which I use for all my travels and love, not least because it's light, compact and robust!
#2 Good Walking Shoes – There will be a lot of walking in Australia – from cities to national parks! Make sure your feet are comfortable therefore with a pair of New Balance Trainers. Perfect for stylish strolling, I love mine.
#3 Good Guidebook – I'm still a massive fan of the Lonely Planet Guidebooks and do think their Australia edition is well put together.
#4 Good Water Bottle – Travelling in hot old Australia can be thirsty work, so make sure you have a metal water bottle that you can refill as you go, because tap water is drinkable… and free!
#5 Good Sun Hat – And there's no denying you'll need a good sun hat for protection in Australia too. In my opinion you can't go past this Hello Sunshine one, which is both gorgeous and ideal for keeping the rays off your face.
See More of Australia Cheaply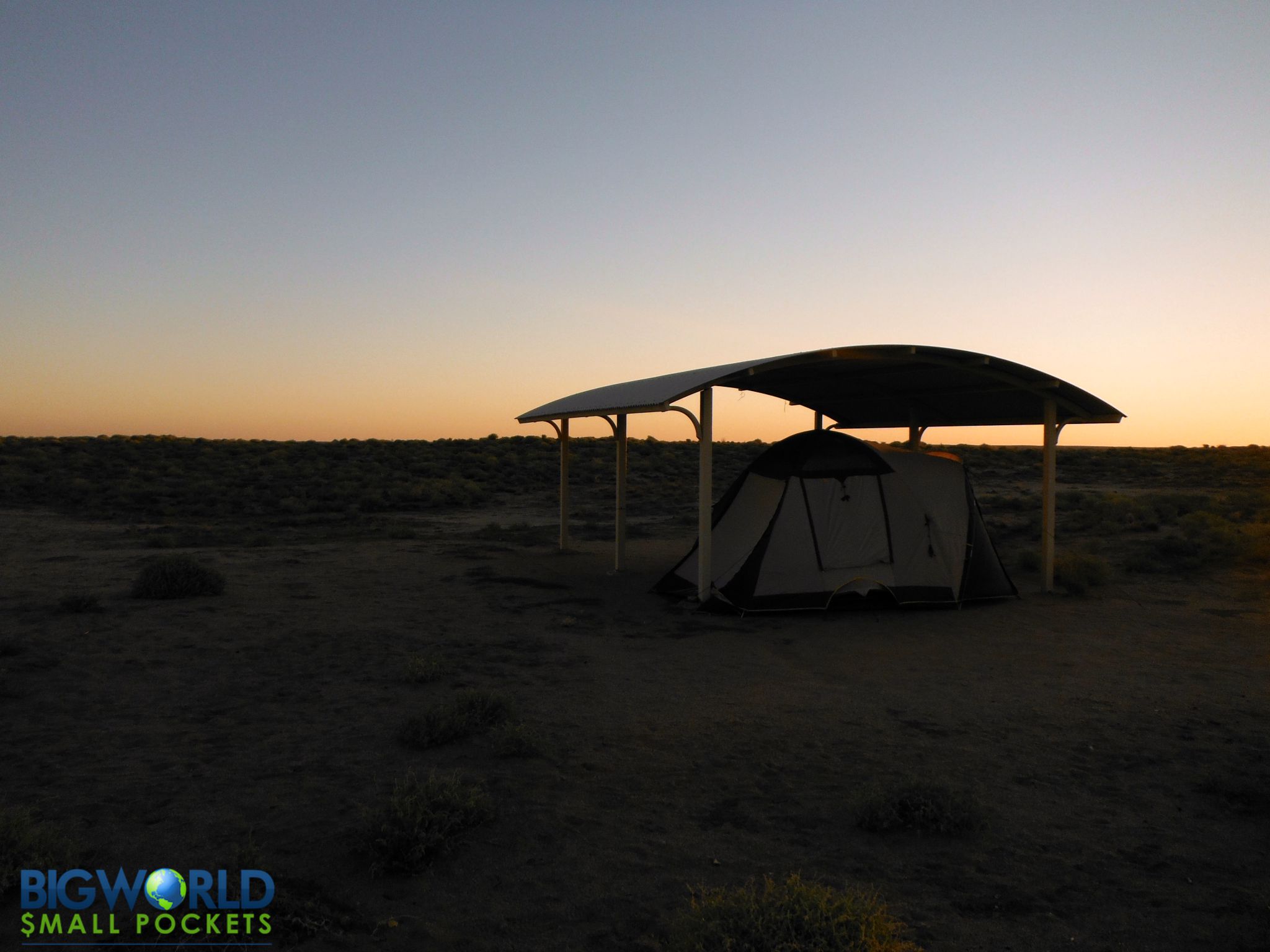 While many Australian National Parks dot the coastline, I would say that the majority are situated inland, therefore providing an excellent way to see the landscapes and little towns that many tourists, and even Australians themselves, never experience in this vast land.
It's all about getting off the beaten track, getting back to nature and independently getting the most from this amazing country.
Australian National Parks therefore give budget travellers a key opportunity to explore, discover and enjoy this country's great selling point – its nature, its wildness and its remoteness.
Each national park has provided me with a unique and alternative experience, at a cost that ranged from free to only $10 per night… and all I needed was my tent!
Some Top Australian National Parks
In my personal travels across this huge Island, I've utilised this wonderful network of cheap accommodation and activities all over the place.
Many are relatively unheard of parks, but many include some of Australia's top tourist attractions including the infamous Uluru-Kata Tjuta National Park and Kakadu National Park in the Northern Territory as well as the Whitsunday Islands and Fraser Island in Queensland.
Other great Australian National Parks on my bucket list include Karijini National Park in Western Australia, Boodjamulla in Queensland and Wilsons Promontory in Victoria.
I'd also like to visit the Grampians in Victoria, Flinders Ranges in South Australia and Mungo National Park in New South Wales.
What you Need to Enjoy Australian National Parks
The only thing with getting to these Australian National Parks however is the need for wheels; because many are remote, having your own vehicle really is crucial.
You'll also need a tent or swag, some way to store water would be handy and someway to cook and keep food cold might also be good.
However, because this is Australia all this stuff is easy to get hold of and can cheaply be bought second hand using sites like gumtree or various facebook groups.
If you don't feel like driving, navigating or getting hold of camping gear however, don't fret.
Another great way to visit many Australian National Parks, particularly the parts that don't have camping facilities, is to stay in a nearby town and simply take a day trip.
From the Daintree Rainforest near Cairns, to the Blue Mountains near Sydney and New England National Park near Coffs Harbour, there are a wealth of companies willing to take you hiking, abseiling, kayaking and more through these areas of preserved beauty allowing you to cheaply enjoy a very different side of the wonderfully vast Australia.
So what are you waiting for?
Australian National Parks are begging to be explored …. get amongst it
Information Details for Australian National Parks
New South Wales National Parks
Northern Territory National Parks
South Australia National Parks
Western Australia National Parks
PIN IT TO PINTEREST!