While it's easy to always be thinking about the next big trip (at least it is for me!) it can also be very rewarding when you take a bit of time out to explore the area near to you as well.
Travelling closer to home can be a great help in easing those itchy feet when you are committed to a job, a family or being in one place.
Needless to say, without the cost of airline tickets, baggage, insurance and extended accommodation needs, it is also a much cheaper way to see more of the world.
So it was in this spirit that the boy and I headed off from our base in Noosa on the Sunshine Coast to Conondale National Park, Queensland earlier this week for a much needed mini-break!
Much as we love a good camping weekend and have an excellent Land Rover kitted out and ready for such a trip, it's rare that we actually seem to get a series of days off together at the moment.
In fact we've been trying, unsuccessfully, to visit Conondale National Park, Queensland for the last couple of months!
So, as soon as the opportunity arose (with a couple of fortuitous shift-swaps), we jumped at it and were on our way!
---
Related Posts
---
This page contains affiliate links meaning Big World Small Pockets may receive a small commission on any purchases at no extra cost to you.
---
Where is Conondale National Park?
Situated just behind our current base in Noosa, Conondale is situated up in the rolling, rural hills of the Hinterland, south-east Queensland, Australia.
Only a short 2-hour drive from the coast (we're in Australia here, so remember a 2 hour drive counts as short!) it can make a great Noosa day trip or a super family-friendly overnight stay.
The park is located in the forested foothills of an otherwise rural, farming area and boasts beautiful bush walks, forest 4wd drives and awesome natural swimming holes.
As with a great deal of Australian National Parks, it also has some wonderful, rustic, cheap camping facilities.
Camping at Conondale National Park, Queensland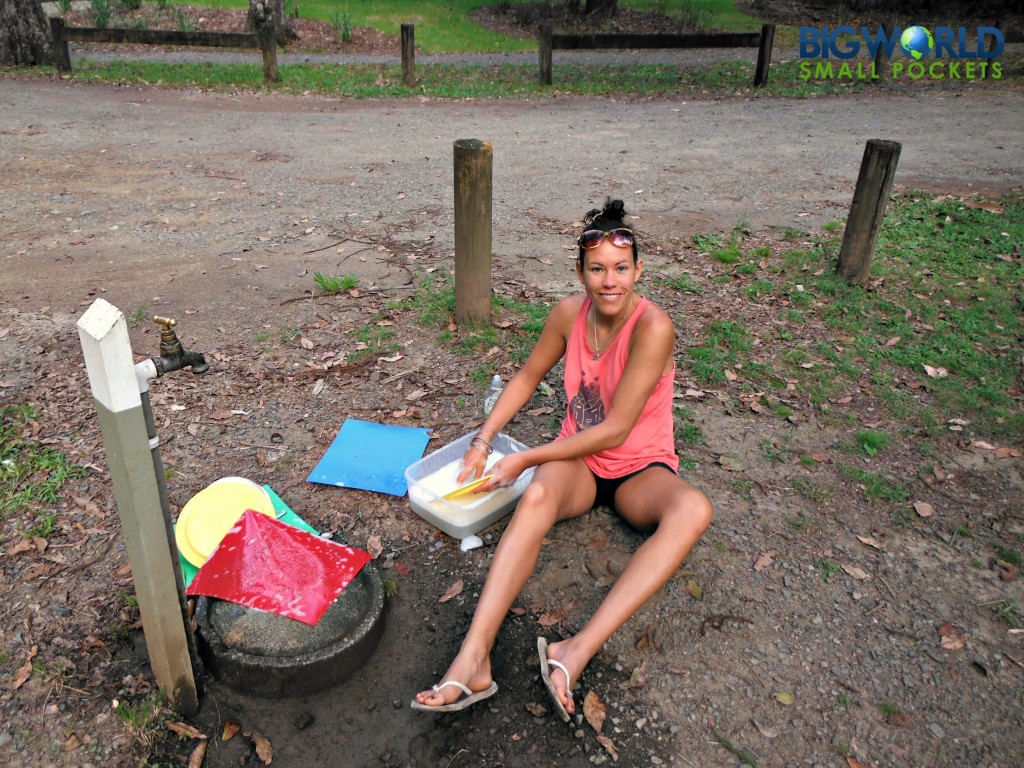 There is one main campsite in Conondale National Park, Queensland called Booloumba Creek. There are 3 different areas to the camp and they are all only accessible by high clearance 4wd vehicles – due to the creek crossing!
Luckily, our Land Rover got us through easily and so, after doing the necessary scout-out, we found a particularly sweet spot in area number 1 next to an unbelievably mosquito-free stream and nestled amongst some great shade-giving trees.
The campsite had great facilities including fire-pits, running water, flush toilets and showers, albeit cold ones.
It was definitely the most luxurious national park camp spot I've ever stayed in and the boy seemed to agree, even making the comment that it all seemed a bit too civilised!
The campsite was also wonderfully quiet, despite it being the beginning of the school holidays, which we loved.
It was also a total bargain, costing us just $5 AUD per person per night.
We booked the site in advance through Queensland National Parks online booking system, but you can also call Queensland Parks on 13 74 68 to book your site on the day – providing there are spaces left and you can get phone reception!
If you haven't got a 4wd, then don't panic! Camping in the nearby Imbil State Forest is available for 2WD vehicles and is equally beautiful and enjoyable. Check out the Charlie Moreland campground within Imbil State Forest for a great family-friendly spot to get away from it all.
5 ESSENTIAL PACKING ITEMS FOR AUSTRALIA
#1 Good Camera – You will be pretty much snapping non-stop in Australia and will need a good camera to do this gorgeous country justice. I highly recommend the Sony A6000, which I use for all my travels and love, not least because it's light, compact and robust!
#2 Good Walking Shoes – There will be a lot of walking in Australia – from cities to national parks! Make sure your feet are comfortable therefore with a pair of New Balance Trainers. Perfect for stylish strolling, I love mine.
#3 Good Guidebook – I'm still a massive fan of the Lonely Planet Guidebooks and do think their Australia edition is well put together.
#4 Good Water Bottle – Travelling in hot old Australia can be thirsty work, so make sure you have a metal water bottle that you can refill as you go, because tap water is drinkable… and free!
#5 Good Sun Hat – And there's no denying you'll need a good sun hat for protection in Australia too. In my opinion, you can't go past this Hello Sunshine one, which is both gorgeous and ideal for keeping the rays off your face.
Things to Do in Conondale National Park
As we were only in Conondale for a short amount of time, we opted to sleep in the back of the Landie, so without the need to set up our tent we were able to get straight into enjoying the great nature and adventure of Conondale National Park.
There are some super 4wd drives to take through the forest in Conondale National Park and this is a great way to check out seem for the awesome viewing spots as you get higher into the hills.
As well as driving, there are also some great bush walks to enjoy, which of course include some great wildlife spotting, including for us some rather interesting snakes, as well as historical old gold mines.
There's also a number of creeks to enjoy a swim in and as well as some lovely waterfalls to look at.
It's also possible to get a great shoulder massage while you cool down in some of the natural cascade pools!
And then, of course, there is the business of relaxing!
With pre-bought food in the esky we had stacked with ice, books to read and fires to make, there's always plenty to do when camping.
In Conondale particularly, we enjoyed a wonderful few days away from the distraction of phone and internet access.
When to Visit Conondale National Park, Queensland
Despite being situated in Australia's Sunshine State, winters up in the hill of the Noosa hinterland can get pretty chilly, especially at night.
As such, I'd recommend either the Spring months of Oct-Nov or the Autumn months of Mar-April as the best times to visit Conondale National Park.
Summer would also be a great time, but do beware that in mid-summer, days there can get very hot and you want to make sure you have plenty of drinking water with you as well as some shade potential.
Also don't expect a lie-in if you're camping – the sun will be up and so will you!
PIN IT TO PINTEREST!
So that's my report on the wonderful Conondale National Park, Queensland, Australia.
Have you been here?
Let me know what you think.