Containing one of the world's most unique geological structures – the Bungle Bungle Range – Purnululu National Park is something of a hidden gem only those venturing up into Australia's remote Kimberley region really hear about!
The range's signature banded rocks, which look like giant sandstone beehives, have been carved out over 20 million years by erosion and now stand over 200m high above the Outback plains around them.
I visited Purnululu National Park as part of my great budget 4wd trip around Australia and there was no question of this place making its way onto both my list of the most stunning National Parks in the country and one of the highlights of my Western Australia road trip.
However, before my time there, I really struggled to find any detailed information about the Purnululu National Park and the Bungle Bungle Range online.
As such, I decided to compile this ultimate guide so that if you're making a similar trip up to, around or through the Kimberley in Australia's northwest, you can be a little more prepared for your visit.
So here's goes folks, my ultimate guide to Purnululu National Park…
---
Related Posts
---
This page contains affiliate links meaning BWSP may receive a small commission on any purchases.
---
Why Visit Purnululu National Park?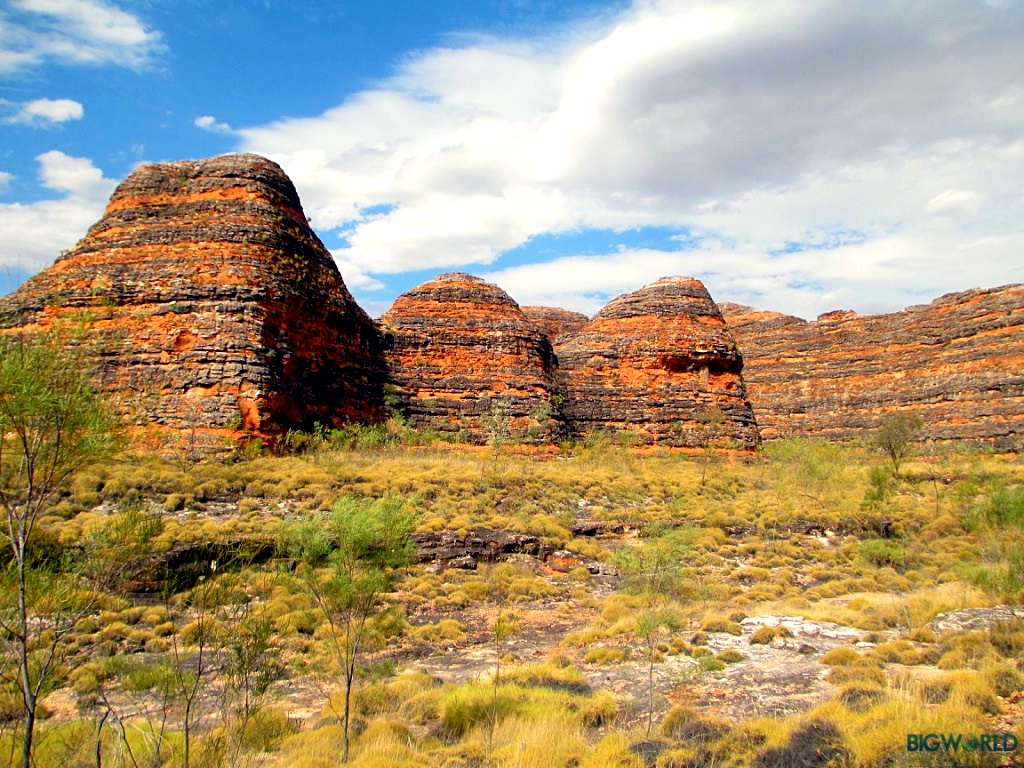 Known to the first nation Australian people for tens of thousands of years, Purnululu National Park and the iconic Bungle Bungle Range were only discovered by Europeans in the 1980's!
This really does give you a good idea of just how remote this place is and why it's the perfect destination for those looking to get off the beaten track in Australia.
At 240,000 hectares big and showcasing a landscape estimated to be around 360 million years old, Purnululu is both massive and ancient.
Succinctly put, it's a very sacred, special and beautiful place.
The park's iconic image is undeniably its grey and orange banded giant sandstone boulders, which helped the park make its way onto the UNESCO World Heritage list in 2003 for both its natural beauty and stand-out geological features.
Seeing these beauties, or better still walking among them, is a once-in-a-lifetime opportunity you're unlikely to forget.
As such, Purnululu National Park is both an Australian icon and a very unique experience, making it a no-brainer for your epic adventure bucket list!
Where is the Bungle Bungle Range?
The Bungle Bungle Range is contained within the borders of Purnululu National Park.
The park is located in the North of Western Australia, specifically within the famously remote Kimberley region, which is known for its giant escarpments, arid red dirt landscape and beautiful scenery.
Not far (in Australian terms anyway!) from the Northern Territory border, Purnululu National Park lies in the East Kimberley area, with the nearest sizeable town of Kununurra some 304km away.
Most people visiting the park will base themselves in Kununurra, but if are travelling from the west (i.e. from Broome) then the Bungle Bungle Range is also accessible LONG the Great Northern Highway, some 160km east of Halls Creek.
How to Get to Purnululu National Park
Purnululu is only accessible by air or road.
Scenic flights are available from Kununurra or Halls Creek, as are organised Bungle Bungle tours, which will drive you right into the park.
Both of these options are covered later in this article.
If you want to travel independently to Purnululu National Park however, as I did, your only option is a long drive!
Take the Great Northern Highway either east from Halls Creek or west from Kunurrura and you'll eventually come to the Park's turn-off, which is well-signed and lies off the eastern side of the Highway.
From the highway turnoff, you'll then need to follow the 53km track to the Park entrance and visitor centre.
Now please please please be aware! This is a rough track.
And I mean rough!
Honestly folks, I am not joking when I say we have driven over 20,000km around Australia so far in a 4wd and this was, without a shadow of a doubt, the worst road I came across.
Worse than the Gibb River Road.
Worse, even, than the dirt stock routes I took in the Northern Territory through Gregory / Judbarra National Park!
So trust me when I stress the point you have to be prepared for this drive.
Number 1 this means having a 4wd vehicle.
Number 2 this means having an off road single-axle towable unit (no dual axis nothing!)
Number 3 this means having enough fuel for 200km of driving
Number 4 this means having good recovery insurance and nerves of steel!
Delighted to say I made it, event-free into the park, but just this 53km took me over 90 minutes to drive!
So was I glad to finally see the visitor centre when I did!
Having recently blown a radiator in remote Arnhem Land (read about it here!), I was super cautious making this drive and actually found the entrance road into Purnululu so stressful that I limited what I did in this national park… but more about this later!
When to Visit Purnululu
Pleased as I was to finally see the visitor centre of Purnululu National Park after that 53km ordeal, I do have to say the arrival was kinda bittersweet, as I'd actually got here so late in the season it was closed!
Top Tip: The visitor centre is normally open 8am-12 noon and 1pm-4pm daily from early April to mid October.
Thankfully some of the camping areas were still open, but do be aware even these shut once December hits.
Generally speaking, the park is open from early April through to December, but of course, this is weather dependent.
Both heavy rains and bush fires can quickly render Purnululu National Park inaccessible or unsafe, so always check Western Australia National Parks website before your visit to get the latest updates.
I visited Purnululu in early October, but already the weather was scorching hot, meaning the tourist numbers were dying off and the park authorities had already shut many of the camping sites and the visitor centre here.
And when I say hot, I mean hot – it was easily hitting 38 degrees in the day when I visited Purnululu, which did make my experience of walking in the park and camping a little uncomfortable although, on the plus side, I certainly avoided the crowds!
As such, I'd definitely say the best time to visit the Bungle Bungle Range would be between the months of May and September when the weather is at its coolest and driest.
National Park Entrance Fees
When you do get to the Visitor Centre at Purnululu National Park you need to pay an entrance fee.
If the visitor centre is closed, this can be done via an honesty system.
You also need to pay for camping if you are staying in the park, but more about this later.
Budget Tip: Entrance fees can be avoided by buying a WA Parks Pass, which makes things a lot more cost-effective if you're going to be visiting more than 11 national parks in WA, like I was.
Where to Stay When you Visit Purnululu
#1 Accommodation in Kununurra
If you want to take an organised day trip to Purnululu National Park or even an extended tour, you would be best to base yourself in the town Kununurra.
I stayed here for 3 days at Discovery Parks – Lake Kununurra and loved it so much, I extended my stay!
Check out my review of Discovery Parks – Lake Kununurra and my post about the best free things to do in Kununurra if you are heading this way.
#2 Accommodation in Halls Creek
You could also stay the night in Halls Creek and visit Purnululu from there, although it wouldn't be my pick!
Read. it's not the most glamorous of towns!
If you're left with little choice, then check out the Kimberley Hotel there as your best option.
#3 Accommodation Near the Park Entrance
Right on the entrance road into the park is the Bungle Bungle Caravan Park, which would be a good stop on your way in if it's getting dark or if you want to be close to the entrance to make a full day visit.
Accommodation is in safari tents, camping spots for 4wd, vans and motorhomes.
These guys also run tours into the park including 4wd bus tours and helicopter flights.
#4 Lodges in the Park
Once within the park, the Bungle Bungle Wilderness Lodge and the Bungle Bungle Savannah Lodge are the two accommodation choices.
With glamorous safari tent cabins, they also have an onsite licensed restaurant, hot water and both properties are eco-certified.
These guys also offer tours of the National Park.
#5 Camping in the Park
Otherwise, the other option within the National Park and the cheapest by far is the Purnululu National Park Camping.
No prizes for guessing where I stayed!
There are 2 different national parks campsites within Purnululu NP – Kurrajong and Walardi campsites.
Both must be booked online, have fees attached and are open from April to December.
Both Kurrajong and Walardi have toilets, bore water (which needs to be treated or boiled before use) and require vehicle-based camping, such as rooftop tents or off-road single-axle towable trailers.
There are no rubbish facilities at either campsite, so all trash must be taken out with you.
As with the vast majority of National Parks in Western Australia, no dogs or pets are allowed.
Departure time is 10am.
Kurrajong Campsite
Kurrajong is near Northern Walks in Purnululu.
It has 106 sites, all of which are quiet camps i.e. no generators.
No fires allowed at all at Kurrajong.
The great thing about this site is the sunset view walking trail, which is a must do.
Walardi Campsite
I camped at Walardi campsite during my time in Purnululu, mostly because it is nearest to the beehive domes – in the Southern walk section of the park – which I wanted to visit most!
12km from visitor centre, Walardi campsite has some areas reserved for tour operators, and 37 other sites, some for those with generators and some for quiet camps.
Some fires are permitted at Walardi at certain times of the year in designated areas only.
However at 38 degrees, the thought of lighting a fire here seemed ridiculous!
Purnululu National Park Itinerary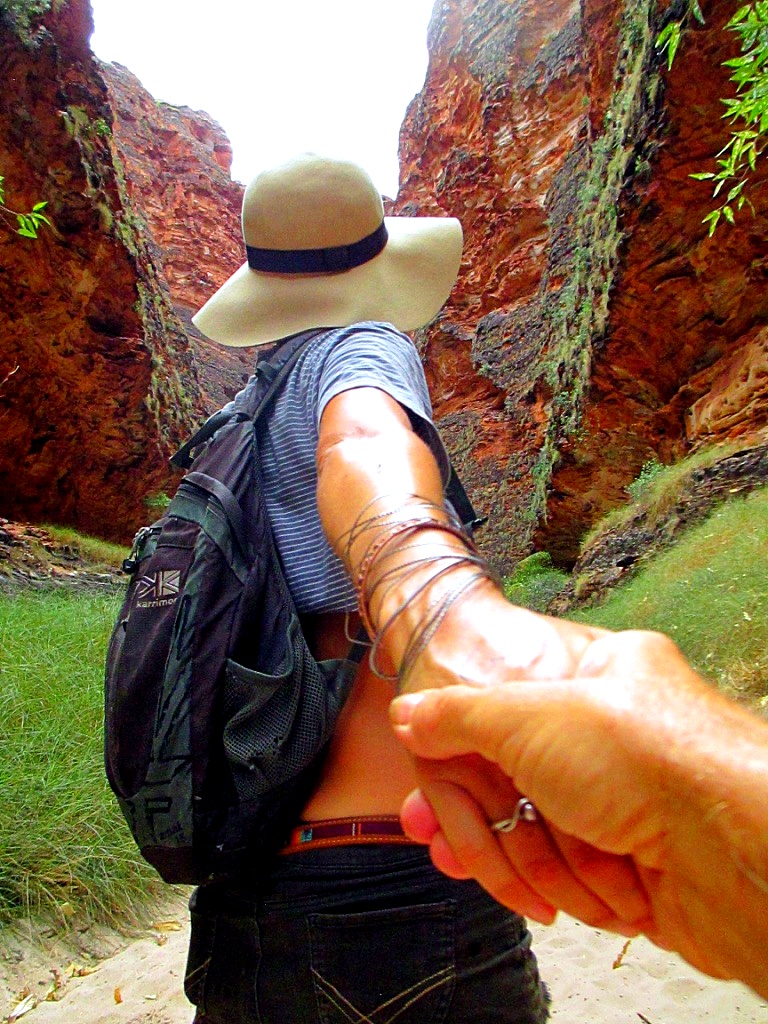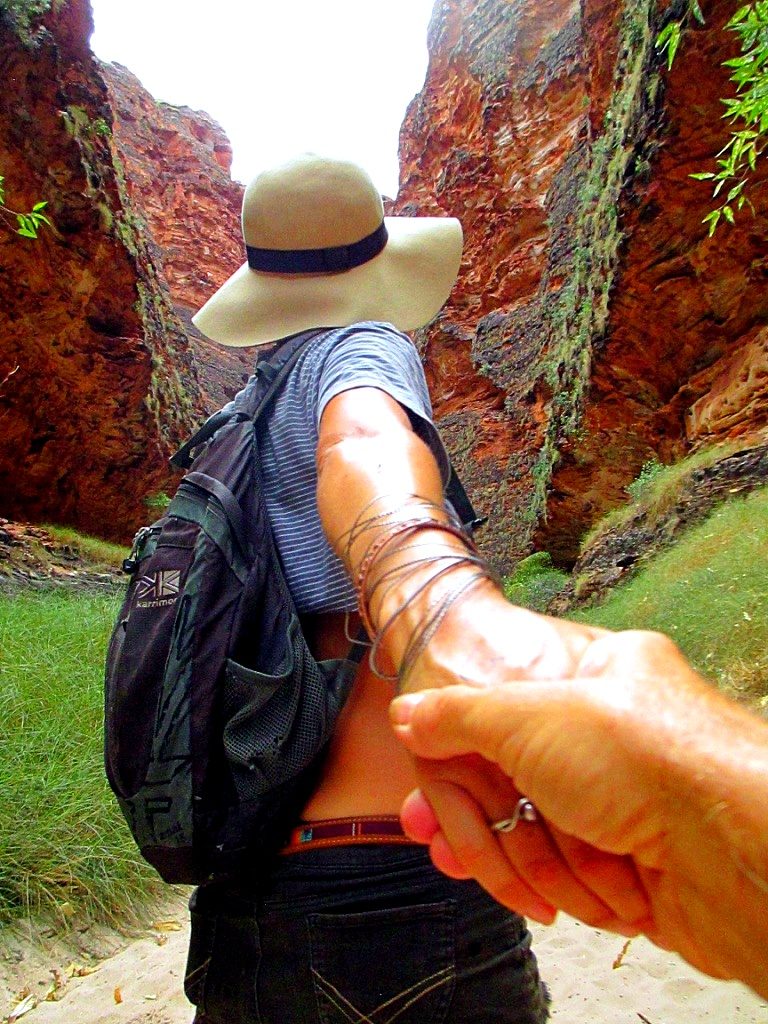 Bearing in mind getting into and out of the park takes some time, I'd suggest 1 or 2 nights in Purnululu National Park would be perfect.
I planned to spend 2 nights here – entering and visiting the Southern Section on the first day and then seeing the Northern section on the second day and leaving on the third.
However, it was just so hot when I was there, that I chickened out and only ended up spending one night there and scrapped seeing the northern section altogether sadly.
Top Tip: Do not visit in October or later!
Flora and Fauna of the Bungle Bungle Range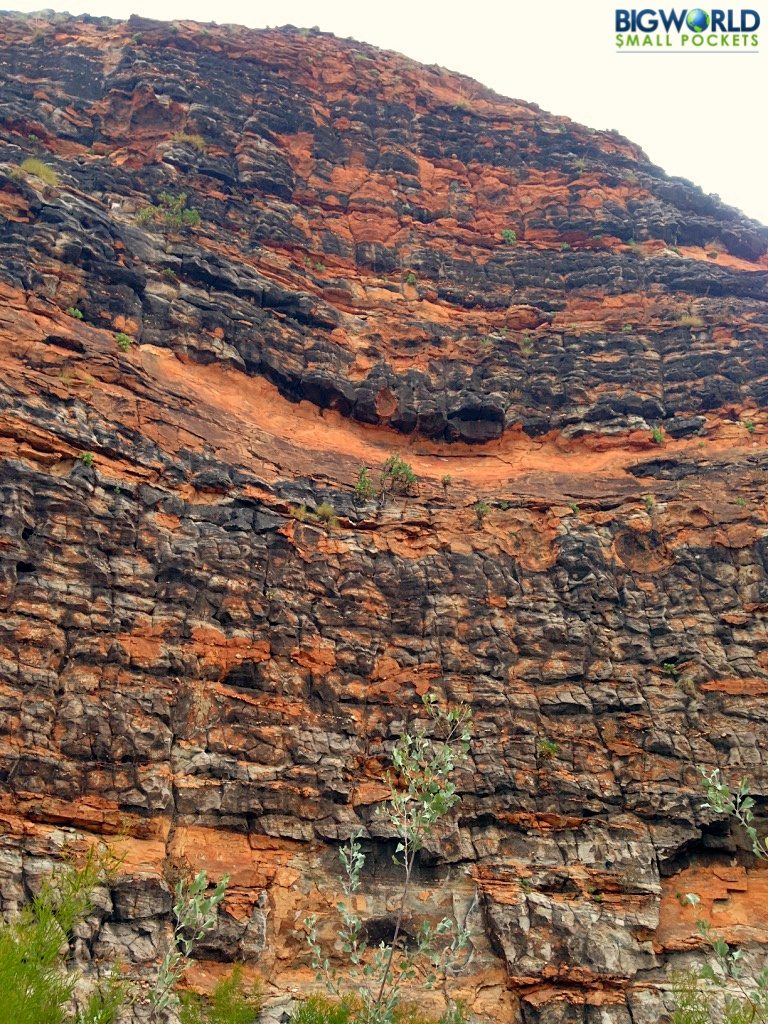 Despite being set in a seemingly quite barren area, I was amazed to discover that there are over 600 plant species in Purnululu National Park, some of which are endemic and only exist here.
Amongst these 600 species are trees such as bloodwoods and snappy gums as well as 13 species of spinifex.
Isolated pockets of East Kimberley rainforest are also present here.
In addition to plants, there have been 149 bird species recorded in Purnululu, including honeyeaters, doves, wood swallow, finches and rock pigeons.
There are also 85 different species of reptile, including a highly unique skink, 32 mammals and 12 species of frogs.
Quite the hive of flora and fauna activity it seems!
Walking in Purnululu National Park
There are 2 main areas to explore on foot in Purnululu National Park, the Southern and Northern sections.
#1 Southern Walks
Featuring the famous beehive domes, the southern section is the one most people make a beeline for – all the puns intended!
There is one car park here, which is 27km from the visitor centre and all the walking treks, then stretch out in a long line from the car park.
The longest hike on this trail is the Piccninny Gorge Trek which is a multi-day hike deep into the park.
Negotiating fallen boulders and loose rocks makes this one for experienced hikers only.
It is also unmarked, with no water available on the trail, so you will need to carry everything required.
Think carefully before you undertake this walk, consider the time of year and please register with the rangers first.
You don't have to go the whole way along the Piccninny Gorge Trail however to see the best of Purnululu National Park.
The Domes, which the park is famous for, are right at the start of this trail and a quick 70m loop from the car park.
Next along, is Cathedral Gorge, which is a natural amphitheatre I would describe as beyond remarkable!
Only 2km from the car park, definitely put in the effort to get this far and then enjoy the shade and cool inside!
I chilled in here for hours!
After Cathedral Gorge, you can continue the trail to the Piccaninny Lookout and The Window.
This was as far as I got, given the heat and humidity, but was pleased with the stunning photo spots they provided!
After these 2, there is a further day walk into Whip Snake Gorge.
This is a 10km hike along uneven surfaces, so go prepared and allow 4 hours return.
There is a permanent pool at the end here.
#2 Northern Walks
I really wanted to do this, but after the drive in there was no way I could face any more time on dirt roads and the heat was just killing me!
Seriously, it was exhausting just sitting in the shade, let alone walking in the sun!
If you do make it to the northern walks however, then Kungkalanayi Lookout, Stonehenge and The Bloodwoods are all short (under 1km) loop walks that have stunning views of the Bungle Bungle escarpments and make great sunrise/sunset photos.
They are between 3km and 15km from the visitor car park
Further on, the Homestead Valley and Mini Palms Gorge hikes are walks that cut into the range themselves and feature soaring cliffs and unique flora.
Each walk is about 4.5km, but do allow plenty of time.
And then right at the end of the Northern Walks is the Echidna Chasm – a spectacular vault in the range with some incredible colours.
From the car park, it's only a 2km return walk, although there is a steep climb at the end I'm told.
The nearby Osmand Lookout trail also starts from the same car park and would be worth doing if you've come this far.
From the visitor centre to the Echidna Chasm car park it's 20km along – you got it – rough dirt road!
Bungle Bungle Tours & Flights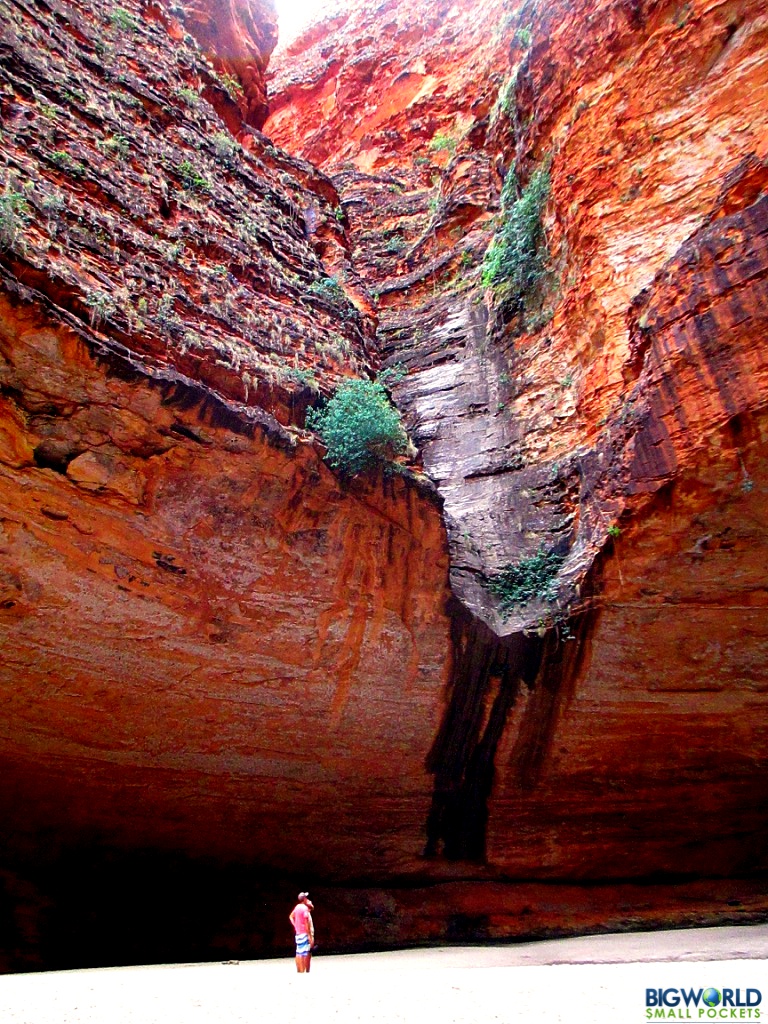 #1 Bungle Bungle Tours
If all that rough road stuff sounds like too much hard work, then you can also always take a Bungle Bungle tour instead.
4wd tours leave from Kununurra, Halls Creek and Bungle Bungle Caravan Park and vary in both length and price.
Most companies offer walks with local guides where you can learn about aboriginal artwork as well as the flora and geology of the area.
Overnight tours offer safari camp stays within the park, giving you the chance to see just that little bit more.
Check out this great selection for more info and prices.
#2 Flights over Bungle Bungles
There are 4 companies that offer scenic flights over Purnululu National Park, which is the ultimate way to see the beehive domes if you can't face the road in at all!
Out of the 4, 3 are fixed-wing flights and 1 company – Helispirit – does helicopter tours.
These leave mostly from Kununurra.
Packing Essentials for Purnululu
Enough fuel to cover 200km of driving
Hot weather clothing, including long-sleeved tops and hats
First aid kit
Vehicle equipment and essential repair kit
Cooking stuff, including all food
Water – enough for you to drink a lot and still wash up, freshen up etc
Sturdy footwear for walking on uneven surfaces
Water bottle or 4 to carry when walking!
Headlamp for dawn/sunset walks (see my list of the best headlamps if you don't have one already)
Good camera with a charged battery!
SAVE THIS TO PINTEREST!
And that's my ultimate guide for visiting Purnululu National Park in Western Australia.
I really can't recommend experiencing this place highly enough if you want to get off the beaten track and experience the beauty of the Kimberley region in all its splendour.
Have any questions still?
Please drop them into the comments box and I'll get back to you…