Set between the lovely cities of Carnarvon and Geraldton in Western Australia, the coastal town of Kalbarri is, without a doubt, best known for the stunning national park set right on its doorstep.
Split into 2 main sections – 1 coastal and 1 inland – this is a diverse national park that really showcases the best of the beautiful scenery in this part of the world and makes the perfect stopover on any west coast Australia road trip.
Over 180,000 hectares in size, Kalbarri National Park is dominated by a 400 million year old landscape that has been cut into beautiful red and white banded gorges by the Murchison River.
Bringing you all the inside knowledge following my time there, here is the ultimate guide to visiting Kalbarri National Park.
Filled with loads of info about how to get there, what to do, where to stay and when to visit, it's the perfect source for planning an amazing trip there…
Grab Your Copy of How to Road Trip Australia on a Budget
My ultimate guide to road tripping Australia on a shoestring is now available, meaning you can finally get ALL my top tips for driving around all, or parts, of this amazing country in one handy eBook, including…
Full Planning & Preparation Guides
Day by Day Itineraries & Routes
Complete Packing & Gear Lists
Top Money-Saving Tips & Hacks
---
Related Posts
---
This page contains affiliate links meaning Big World Small Pockets may receive a small commission on any purchases at no extra cost to you.
---
Why Visit Kalbarri National Park?
First up, let me kick this article off by saying that Kalbarri National Park is one of the most accessible of Australia's top-rated national parks.
With sealed roads throughout most of the park, it is ideal for families or those without 4wd, and can easily be visited as part of a longer road trip in WA.
But don't think for a second, that this makes Kalbarri any less beautiful or striking. It certainly does not!
From deep gorges to delightful lookouts, stunning photo opps and some of the best wildflower displays in the state, this national park packs a mean old punch when it comes to showing off the wild and wonderful landscape of Western Australia at its best.
But that's not all!
The nearby town of Kalbarri itself is also a great destination.
Encompassing both a river and the ocean it's a watersport and fishing mecca and is the perfect place to base yourself to enjoy the park to its fullest!
Where is Kalbarri National Park?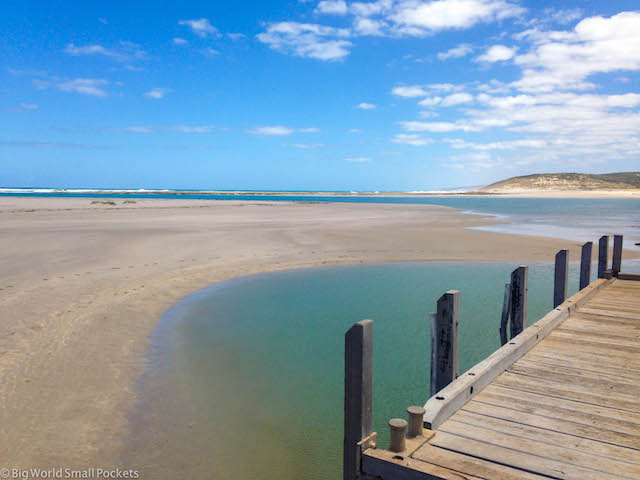 About 600km north of Perth in Western Australia, Kalbarri National Park sits where the Murchison River meets the Indian Ocean.
Despite its distance from the state capital however, Kalbarri NP is easy to access, with a direct link from the North West Coastal Highway – the main point transport route for Western Australia's Coral Coast that stretches from Exmouth in the north to the Turquoise Coast in the south.
The town of Kalbarri itself is a small place that sits between the 2 main sections of the park.
Most people visiting the park will base themselves here, as it's just a short drive from the park entrance and there is a good stock of supplies and accommodation.
More about this later…
Despite being accessible, there's no denying Kalbarri is pretty remote (anywhere in this part of WA is really!) and that means getting to it does take some planning. Keep reading to find out your best options for doing so…
How to Get There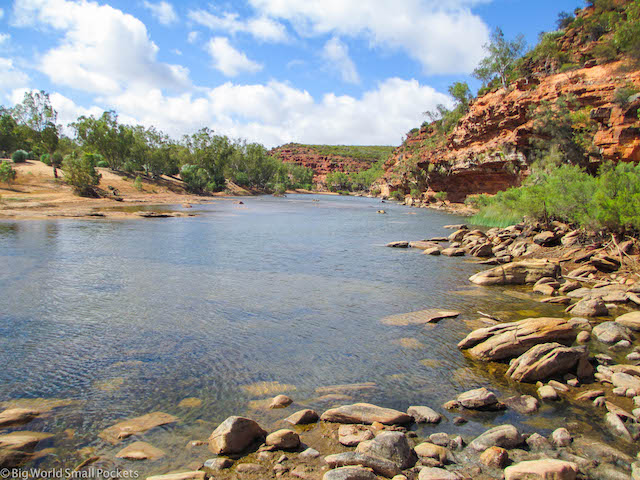 Around a 6-7 hour drive north from Perth, Kalbarri isn't somewhere you pop on a day trip from the state capital!
No it's far more likely that Kalbarri will form part of a longer journey you're undertaking up or down the Coral Coast, or perhaps across Western Australia.
Driving is therefore the way to go here, but if you don't have your own vehicle don't disappear! Check out Discovery Campervans for the best deals in this state, so that you can enjoy a road trip to remember!
If you'd rather not drive, then you can also catch the Transwa Coach Service to the town of Kalbarri, which departs from Perth 3 times a week.
Alternatively, this great 10 day overland tour from Broome to Perth includes an overnight stay in Kalbarri, as well as a host of other amazing WA highlights.
When to Visit?
Kalbarri's climate is generally described as similar to that of the Mediterranean, which means it isn't unbearable at any time of the year. And if you've experienced some of northern Australia's horrific humidity, then you'll understand this is a real blessing!
That said, most visitors will come here during the summer and autumn months of December through May, when warm days and nights make exploring the outdoors here a pleasure.
However, if you want to see the annual humpback whale migration, as well as the famous wildflower season, then the autumn months of September and October are probably the best time to visit Kalbarri National Park.
This is when I actually visited and, with less travellers around and mild temperatures, it was perfect.
How Much Does it Cost to Enter Kalbarri National Park?
Like almost all the national parks in Western Australia, Kalbarri National Park has an entrance fee and is open from 6am-6pm daily aka sunrise to sunset.
Entrances are manned and you will need to show a ticket.
Costing $15 AUD per vehicle. Allowing for vehicles carrying up to 12 people, this really is a bargain!
That said, if you do think you'll be visiting a lot of national parks in Western Australia, you might want to consider buying a Park Pass like I did.
These offer great value for money if you're travelling and exploring the state for an extended period of time.
Where to Stay When you Visit Kalbarri?
#1 In the National Park
First up, it's really important to know there is no camping within Kalbarri National Park itself.
There also isn't any free camping around, meaning you'll almost certainly going to base yourself in the town of Kalbarri when it comes to accommodation.
So sorry, the subheading of "in the park" here was a false alarm!
#2 Kalbarri Town
With tourism as its main industry, Kalbarri offers several good accommodation choices for a range of budgets.
Most popular are the caravan parks, which fill up quickly, especially in school holidays and during peak season, so I would advise booking in advance.
My pick of the bunch was Kalbarri Palm Resort, where I spent a lovely 2 nights. Otherwise, the Kalbarri Red Bluff Tourist Park also gets great reviews.
Otherwise, if you're looking for a bit more comfort, the Kalbarri Seafront Villas or Pelican Beach Front Apartments are both great choices.
When it comes to budget travellers, look no further than the Kalbarri Backpackers.
How Long to Spend in Kalbarri?
Bearing in mind that Kalbarri National Park is quite easy to access and compact, I'd suggest 1 or 2 nights there would be perfect.
I planned to only spend 1 night here, but liked the little town so much, I decided to extend … does that sound familiar?!
Kalbarri National Park Itinerary
As I mentioned, there are 2 parts to the Kalbarri National Park.
If you're really in a rush, you could cram both into one day, however, I highly recommend spacing them out, so you can savour them in all their glory, and allow a day to visit each.
Day 1: Kalbarri Coastal National Park
If you arrive by early afternoon in Kalbarri, you'll have enough time to visit the coastal section of this national park – perhaps before you head to check-in at your accommodation.
The smaller of the 2 NP sections, this is why I suggest visiting it on day 1 of your time here.
Along the coastal section of the Kalbarri National Park, which sits largely to the south of the town, the main attractions are the soaring cliffs, some great walking trails and lookouts.
My favourite spots, which you shouldn't miss, included Mushroom Rock, Pot Alley and Eagle Gorge.
Take your walking shoes and get amongst it!
Day 2: Kalbarri Inland National Park
The inland section of Kalbarri National Park is the main attraction and where you should spend most of your time – that's why I recommend it for day 2 of your itinerary here.
Easily be covered in a single day – a full day here will also enable you to walk many of the smaller trails and visit all the good lookouts.
The most famous one is, of course, Nature's Window. It gives you a perfectly framed viewpoint down the length of the gorge and if you've seen any images of Kalbarri National park before, it's likely to be this one!
My other favourite spots in this section of the park include the Z Bend Lookout and Ross Graham River Trail.
Other Things to Do Near Kalbarri National Park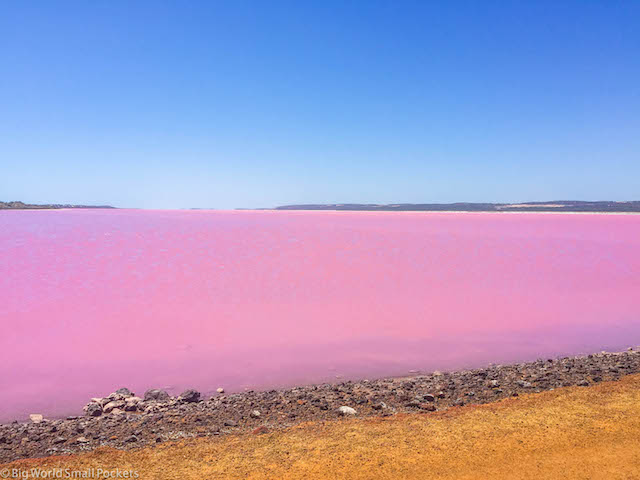 • Snap the Pink Lake at Port Gregory known as Hutt Lagoon only 55km from Kalbarri. This is sure to be a huge Instagram hit as the bubblegum colour really is hard to believe! In fact, you can even enjoy an amazing scenic flight over this lake if you really want to take in its magnificent colours at their best.
• Surf the left-hand break at Jacques Point, which is one of only 2 registered National Surfing Reserves in Western Australia and definitely one for the more experienced.
• Check out the historic buildings at nearby Northampton, one of the oldest settlements in WA, by picking up a brochure at the Visitor Centre and exploring structures that date as far back as 1885.
Key Packing Items for Kalbarri
A good camera. I love my Sony A6000 and wouldn't head to any national park without it.
Natural Sunscreen for those sunny WA rays!
A hat – gotta protect that face and neck to the max!
Swimwear for the beach… standard!
A decent water bottle – there's no drinking water in the par, so fill up in town and come prepared. These ones are great.
A headlamp if you intend on camping. I love my Black Diamond one, especially it's red light setting that keeps the bugs away.
Natural insect repellent – a must!
SAVE THIS TO PINTEREST!
So that's my ultimate guide for visiting Kalbarri National Park in Western Australia.
I definitely recommend putting this one on your list if you're heading up or down the Coral Coast – it's a WA classic that can't be missed.
And tell me, have you visited Kalbarri? Have any tips to add to the above?
Then please drop them in the comments below and help a fellow traveller out!