Sometimes in life you just stumble upon those destinations that, quite out of the blue, quite surprisingly, absolutely delight you!
Yes you've heard a bit about them, read a bit about them, but nothing to suggest you were going to find the place anything special.
But then you get there and something clicks, this place feels right, this place feels good and all of a sudden you realise you love it!
That's how we felt we when first drove into Geraldton, a town on the coast of Western Australia.
We'd planned just to pop in for a night or 2, refuel, restock and continue on our way down to Perth, but when we got there something happened … and we couldn't leave!
Perhaps it was the café culture, the coffee or just the comfort, but whatever happened, we fell in love with Geraldton and here's why …
---
Related Posts
---
This page contains affiliate links meaning Big World Small Pockets may receive a small commission on any purchases at no extra cost to you.
---
#1 The Café Scene
When we first rocked into Geraldton we'd literally spent 4 months travelling across the northern top and western coast of Australia from Cairns.
Besides Darwin and Broome therefore, it had been a long time since we'd really seen much civilisation and even longer since we'd had a decent coffee!
So you can imagine our delight when we stumbled upon the fun café scene in Geraldton's West End.
From Café Fleur to The Quiet Life, Piper Lane to The Jaffle Shack – we were in 7th cold-drip-heaven when we got found ourselves there and everyday felt spoilt for choice when it came to deciding where to spend our caffeine money that day!
#2 The Museum of Geraldton
I have to admit it, I'm a bit of a museum geek from time to time and love heading into local exhibitions to learn about a place's history when I travel.
Well, let me tell you, the Museum of Geraldton did not disappoint!
I seriously think this excellent museum is one of the best I've been to in the whole of Australia and that really is saying something for this small, rural city.
Free to enter (always a bonus in my book) and with some very thoughtful and informative displays, this museum really is a treasure.
And to top it all off, our visit there happened to collide with the HMAS Sydney Memorial Date, so that a special exhibition with invited members of the survivors' family really made our trip there extra special.
#3 Sunset at the HMAS Sydney Memorial
For those not in the know (as I wasn't) the HMAS Sydney was an Australian navy ship that sank off the coast of WA in 1941, losing all 645 crew onboard.
It was Australia's worst maritime disaster and a tragic event for a then fledging nation.
It was actually not until 2008 that the wreck of HMAS Sydney was found and the tale of the recovery really is remarkable.
Geraldton is now home to Australia's premier site for honouring the loss of life incurred during this tragic incident and it really is beautifully done.
With sweeping views of Champion Bay and Moresby Range, visiting the HMAS Sydney Memorial at sunset, when the golden light tinges the hillside around you, really is very moving.
#4 The Beaches
Geraldton's beaches are gorgeous and best of all, there's tons to choose from.
So whether you're into kitesurfing, windsurfing, snorkelling, SUPing or swimming, there's a beach for every occasion!
Coronation Beach was a favourite of ours, as was Greys Beach, but really there are tens to choose from!
Check out the guide found here.
5 ESSENTIAL PACKING ITEMS FOR AUSTRALIA
#1 Good Camera – You will be pretty much snapping non-stop in Australia and will need a good camera to do this gorgeous country justice. I highly recommend the Sony A6000, which I use for all my travels and love, not least because it's light, compact and robust!
#2 Good Walking Shoes – There will be a lot of walking in Australia – from cities to national parks! Make sure your feet are comfortable therefore with a pair of New Balance Trainers. Perfect for stylish strolling, I love mine.
#3 Good Guidebook – I'm still a massive fan of the Lonely Planet Guidebooks and do think their Australia edition is well put together.
#4 Good Water Bottle – Travelling in hot old Australia can be thirsty work, so make sure you have a metal water bottle that you can refill as you go, because tap water is drinkable… and free!
#5 Good Sun Hat – And there's no denying you'll need a good sun hat for protection in Australia too. In my opinion, you can't go past this Hello Sunshine one, which is both gorgeous and ideal for keeping the rays off your face.
#5 Point Moore Lighthouse
Let's just say I've got a bit of a thing for lighthouses, especially when I've got my camera swung round my neck!
If you feel the same, then Geraldton's Point Moore Lighthouse is easy to fall in love with!
At 34m tall, its distinctive red and white bands of colour are hard to miss.
It's also the oldest standing lighthouse in Western Australia – FACT!
#6 Ocean West Apartments
It might sound strange to pick our accommodation in Geraldton as one of the top reasons why we loved the place so much, but seriously if you've ever stayed at Ocean West Apartments, you'll know what I' talking about!
The owners Dean and Minnie here are 2 of the friendliest people we met in our whole road trip around Australia and had so much inside info on Geraldton they were willing to share, it was quite unbelievable!
And don't get me started on how clean, spacious and wonderful the apartments were, nor how reasonably priced they are!
After living out of our battered Landrover for months on end, sleeping in a real bed and cooking in a real kitchen in Geraldton's Ocean West Apartments was a huge treat and it definitely is one of the main reasons we didn't want to leave this great town!
Read my full review of Geraldton's Ocean West Apartments here.
#7 The Art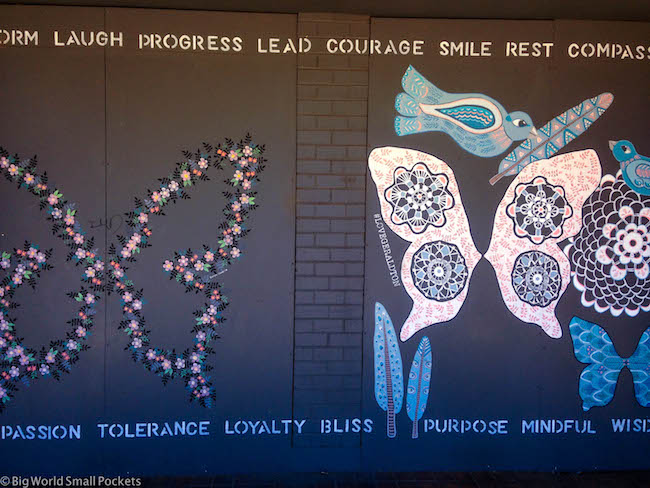 And it's not just quirky café's that line Geraldton's West End. No, this place is also awash with some fantastic street art that pays testimony to the town's thriving arts and culture scene.
From angel wings to octopus and even emu eggs, much of the art you see around Geraldton is commissioned by local artists and tells the story of the area, its history and its people.
#8 The Art & Wildflower Drive
And continuing the arty theme, we were also very lucky to find the annual Art Drive was happening in Geraldton while we were there.
This awesome DIY day trip not only allows you to get out and explore the rural edges of this community, but also view some twenty or so great environmental art pieces at the same time.
Normally running between the months of August and November, the drive wonderfully coincides with this area's wildflower season, which allows you to take in these gorgeous blooms at the same time as the art set amongst them.
At other times of the year, it's still worth taking a drive to the beautiful countryside around Geraldton to really soak up the area.
The Leaning Trees, about 21km south of the city, are a perennial favourite spot that we loved too!
#9 The Trails
And if the Art Drive wasn't enough for you to get your wildflower fix, then you can also undertake one of Geraldton's beautiful trail walks.
The Mullewa Wildlife Walk is a popular circuit if you're looking to see the blooms at their best, otherwise there's some very popular heritage trails that also take you outside exploring the gorgeous landscape of this area.
Ranging from 650m to 4km in length, you can pick up more info about these heritage trails from the Geraldton Visitor Centre located in the centre of town.
#10 The Foreshore and Esplanade
Geraldton has undergone some massive urban regeneration in recent years … and it has paid off!
The town centre is now a bustling, community-friendly space and never is this more apparent than along Geraldton's Foreshore and Esplanade.
With free BBQs, play areas, elevated viewing platforms, interpretative signage and the chance to spot sea lions, these spots are fun for the whole family.
There's also walking and cycle paths, as well as free wifi. And, with the option to jump into the beautiful ocean water beyond, it's hard to deny both the Foreshore and the Esplanade as jewels in Geraldton's crown.
PIN IT TO PINTEREST!
So there you have it folks, the 10 reasons why we fell in love with Geraldton in Western Australia!
Can you understand why this place made it into our hearts?
Has it made it into yours too?!