Located far away in a remote northern quarter of Queensland, Australia, Boodjamulla National Park is a hidden gem not many get the chance to visit.
First up, it's pretty much miles from anywhere and secondly, you have to travel on a dirt road, albeit a good dirt road, to get there!
This makes Boodjamulla National Park an absolute off the beaten track beauty in Queensland, and indeed within Australia, that really is well worth both the journey and the time.
Originally known as Lawn Hill National Park, the name given to this protected area has been reverted to give prominence to the first nation people that have long considered this area to be one of special and sacred significance.
And special and sacred it certainly is, so here's my ultimate guide to visiting the amazing Boodjamulla National Park, including why you should make the long journey there…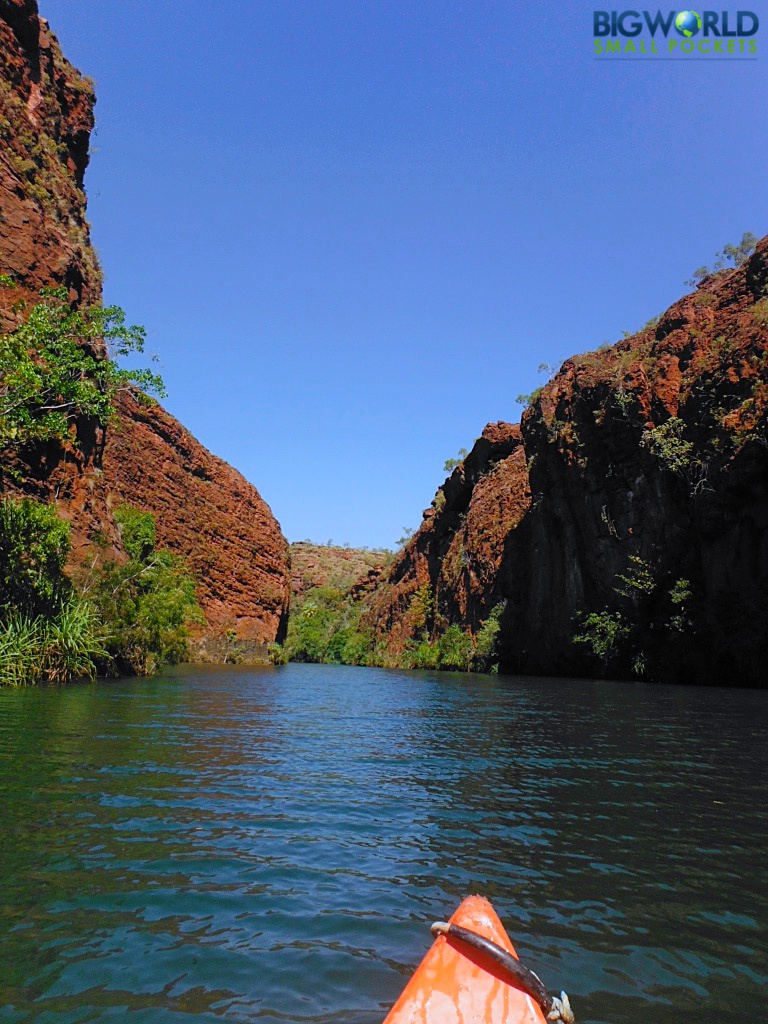 Grab Your Copy of How to Road Trip Australia on a Budget
My ultimate guide to road tripping Australia on a shoestring is now available, meaning you can finally get ALL my top tips for driving around all, or parts, of this amazing country in one handy eBook, including…
Full Planning & Preparation Guides
Day by Day Itineraries & Routes
Complete Packing & Gear Lists
Top Money-Saving Tips & Hacks
---
Related Posts
---
This page contains affiliate links meaning Big World Small Pockets may receive a small commission on any purchases at no extra cost to you.
---
Why You Should Visit Boodjamulla National Park
Dominated by an ancient gorge system, which forms a permanent watering hole in an otherwise arid landscape, Boodjamulla National Parks offers visitors a rare opportunity to hike, kayak and camp in the remote wilderness of this incredible landscape.
Put simply, it's probably one of the most beautiful places you'll visit in Australia and is certainly one of my 6 month road trip highlights.
From towering 60m red sandstone cliffs that provide epic sunset lookouts to crystal-clear green waterfalls you can swim under, there's plenty to do and see in this great park meaning you and your camera won't ever get bored!
There's also some beautiful flora, fauna and wildlife to spot, so bring your binoculars and enjoy the marvels this remote area has to offer!
How to Get to Boodjamulla?
Boodjamulla National Park is located in the remote Gulf Country of North Queensland, not far from the Northern Territory border. Unless you want to take a tour, driving here is a must.
If you don't have your own vehicle, then I highly recommend checking out Discovery Campervans for the best deals!
The nearest towns of significance are either Gregory Downs, Doomadgee or Burketown, all of which are a long way from anywhere too!
This means if you don't want to drive all the way to Boodjamulla National Park from your Australian base, taking a flight will be necessary!
The best place to fly to would be Mount Isa in Queensland – check out Skyscanner for your options.
From here you could easily rent a vehicle and then drive the 500km along a sealed road to Normanton. Day 1!
After Normanton, it's about 350km to the National Park. Day 2!
Half of this section is unsealed, but 2wd vehicles can manage it during the dry season.
Personally, I made the great trek to Boodjamulla National Park as part of week 9 of my great budget 4wd around Australia.
Coming from east to west, the famous Savannah Way road trip I undertook passes not far from the park, so I made a well-timed detour there, stopping the night at a free camp in Gregory Downs on the way.
There are very limited fuel or vehicle repair facilities near Boodjamulla National Park area, so make sure you are well prepared with adequate supplies and necessary car checks in place before you come here.
You'll also want to check the Queensland National Parks website before travelling to Boodjamulla National Park to ensure road conditions are good.
In the wet season, this whole area usually floods, rendering the park inaccessible even to 4wd – you have been warned!
When to Visit Boodjamulla National Park?
The best time to visit Boodjamulla National Park is undoubtedly during the winter months of April through September, when the chance of heavy rain is significantly lower.
Most of the rain falls in this area during the summer months of November through February and access during this time is severely restricted.
During winter, the day temperatures are also a little cooler, which makes hiking and exploring the park more comfortable.
That said, when I visited in August day temperatures were still around 35 degrees!
My top tip is therefore to start any hikes you undertake in this park early in the morning, so you're back before the hottest time of the day!
Where to Stay in Boodjamulla?
As probably the biggest tourist attraction in this remote part of Queensland, there are a few places to stay in and around Boodjamulla National Park, which cater for a range of different budgets.
#1 Adels Grove
A privately owned resort centre, Adels Grove is about 10km from the park entrance.
An old homestead, which was once a botanical garden in the desert, Adels Grove now has an excellent range of accommodation from cabins to ensuite rooms, pre-erected tents and camping sites.
There's a camp kitchen and hot showers too, so a bit of luxury is involved if you want. And you can even take a dip here in the beautiful Lawn Hill Gorge.
In addition, Adels Grove also has a small shop, bar, restaurant, fuel pumps, public phone, laundry, dump point and small mechanical workshop for emergency repairs.
It's a bit of a one-stop-shop, which is exactly what you have to be if there isn't much else around!
Adels Grove also offer tours through Boodjamulla National Park, including guided bird-watching activities and gorge cruises.
These guys are open all year round, but do call ahead to check accessibility, availability and accommodation outside of peak season (Nov-Apr) via their website here.
#2 Boodjamulla National Park Camping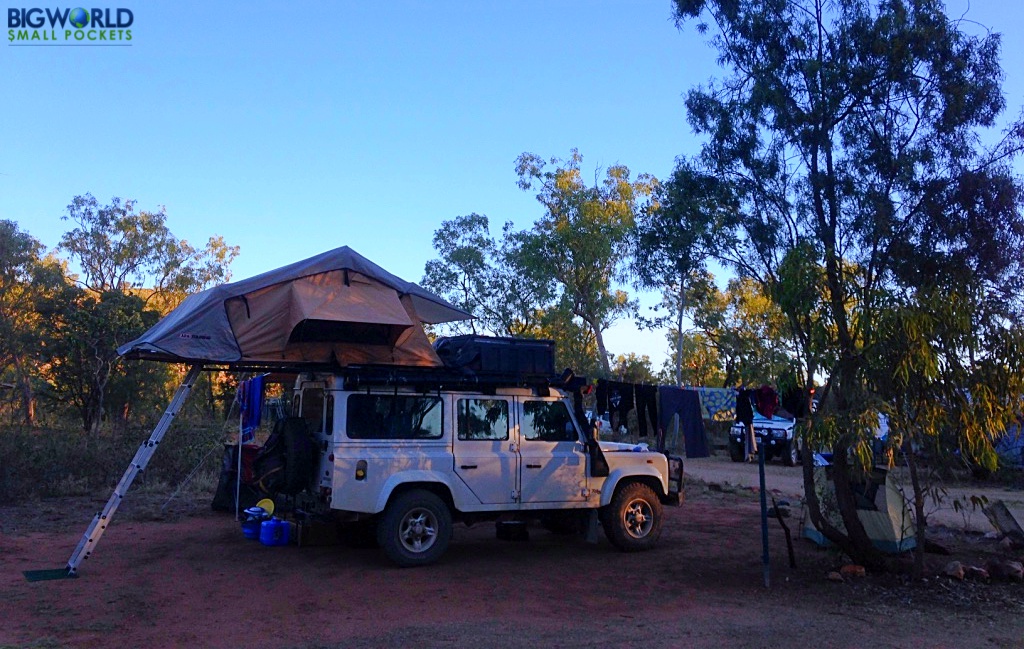 Boodjamulla National Park Camping is the only option if you want to stay directly within the reserve.
There are 2 camping sections – one for tents and one for vehicles / trailers and both are about 4km from the park entrance.
The National Park campsite here is a basic bush camp, but there are showers, toilets and a dishwashing area with non-potable water available.
If you're travelling on a budget like I was, this is your best option. At only $8 AUD pppn, it's an absolute steal!
Sites are situated right near the park entrance and are very limited given the popularity of the place. There's only 20 sites!
Because it's a national park, everything you bring into the park must also be taken out with you, including any litter. But really, this isn't too much of a burden! You also have to be self-sufficient in terms of food and camping supplies.
The only thing to bear in mind is that fires and generators are not allowed.
My recommendation is to definitely book your spot a few weeks in advance, especially in peak season!
I saw a few disappointed people turning up to Boodjamulla National Park, only to have to make the long drive back because they hadn't booked and it was full!
I loved my stay in Boodjamulla National Park, so camping out here comes highly recommended for those on a shoestring.
Book your spot via Queensland national park here.
#3 Gregory Downs Accommodation
Gregory Downs Accommodation is going to be your best bet if you're only interested in visiting Boodjamulla for a day trip.
That's because the town has a large and very popular free camp down by the river, which makes this the best budget spot to stay if you're on a tight timeframe.
There's free water in town, public showers, toilets and even a dump point, which officially makes this the most RV-friendly town ever!
And there's only 80 people who live there!
If you want to go a hit more upmarket and grab a room, then The Gregory Downs Hotel is the place to do that.
This fantastic, historic pub has recently been refurbished with some great rooms out the back.
The Gregory Downs Hotel also has a fuel pump, good for emergency refills.
There's also the cutest little corner store ever run by Murray that is well worth a look in!
How Long to Spend at Boodjamulla?
I'd say most people visit Boodjamulla National Park only for a day or 2.
Initially, this sounds like a good amount of time, but I really advise staying longer as there is so much to do here!
I stayed 4 nights at Boodjamulla National Park campground and loved every minute.
You can read more about my time there in week 9 of my great budget 4wd adventure around Australia.
I undertook one of the park's awesome hikes every day and also enjoyed hiring a kayak on 1 day, as well as a trip to the nearby Riversleigh Fossil Fields on another.
This was well-timed, as I didn't feel rushed, but I'd hate to have cut it any shorter.
Flora and Fauna
The year-round water systems at Boodjamulla National Park mean this place acts a bit like an oasis in the desert.
As such, lush tropical vegetation flourishes here, including Livistona palms, pandanus and white cedar trees.
Along with this, comes a heap of wildlife.
Animals present in the park include wallabies, wallaroos, possums, bats, pythons, crocodiles, monitor lizards, tortoises and a heap of birds.
Many can be easily spotted, so bring your binocs!
Walking Tracks in Boodjamulla National Park
Top tip here people, Boodjamulla National Park has some of the easiest, but most spectacular day hikes I've enjoyed in the whole of Australia.
And with over 20km of marked trails, there's plenty to choose from!
As with all outside activities in this steamy part of the country, it's essential you carry lots of water on your journey, as well as a hat and natural sunscreen.
Walking is best down either very early in the morning or late in the evening. Indeed, many of the walks end in lookouts that offer fantastic sunset views, so that is something to consider.
Unfortunately, when I visited, the Island Walks (including Island Stack, Cascades and Wild Dog Dreaming) were all out of bounds. If you are able to access them however, definitely do so, not least to view 2 fantastic Aboriginal art viewing areas.
Hikes I did undertake in Boodjamulla National Park included…
#1 Constance Range Walk (4km return)
This walk is an awesome sunset walk, that offers spectacular panoramic views from a vantage point at the top of the range.
Below you spread miles and miles of red desert, punctuated only by the tiny resort of Adels Grove far below you.
If you do go up here for sunset, make sure you bring a head lamp with you for the walk back to camp!
#2 Upper Gorge Walk (7km return)
This is a fantastic walk, that offers a ton of attractions and various shortcuts if you want to undertake it in stages.
Starting alongside the creek, the path steadily climbs up the range to incredible views and amazing photo opportunities.
Along the way, I encountered some great animals and plants, including an ornately decorated bowerbird nest.
But the real jewel in the crown was the Indarri Falls!
I spent a good few hours here one day, enjoying a swim under the tumbling water, snorkelling and sunbathing on the jetty, so allow plenty of time!
Other Activities to Enjoy at Boodjamulla
Hiking is certainly the main attraction when visiting Boodjamulla National Park, but alongside this, there are plenty of other things to enjoy.
Aboriginal Art Sites are viewable as part of the Wild Dog Dreaming Hike. There's also plenty of information boards around the visitor centre which outline some of the spiritual significance of Boodjamulla for the Waanyi people of this area.
Kayaking is probably the second most popular activity in the National Park after hiking. Bring your own kayak or hire one at the river's edge from the onsite Adels Grove kiosk. There's a couple of options when it comes to popular routes, but my sedate trip up to Indarri Falls and back was truly magical and gave me an amazingly different perspective on the gorge and its surrounds.
There are many guided tours available for those who wish to learn more about the Boodjamulla. These are generally operated by Adels Grove, so contact them for details. The Sunset River Cruise, would certainly be my recommendation!
Swimming and snorkelling in Boodjamulla National Park is also a great way to enjoy the place and to cool down!
What to Take
Along with the usual kit, there are a few things that I found would be especially helpful to take to Boodjamulla National Park…
Headlamp for dawn/sunset walks (see my list of the best headlamps if you don't have one already)
Good trail runners or light walking shoes (you don't need boots for the day walks)
Protective sunhat
Natural sunscreen
Camera
Daypack for walks
Warm clothes (for nighttime)
Swimwear
WANT TO SAVE THIS ARTICLE? PIN IT!
So that's my ultimate guide for visiting Boodjamulla National Park in Queensland, Australia.
I really can't recommend visiting this place highly enough, so if you ever do get the chance, definitely add it to your Outback Queensland bucket list.