Talk to any fresh-faced traveller who's just arrived in Australia, ask them where they plan on visiting and you'll usually hear the same answer, "Sydney Harbour, Gold Coast, Cairns and maybe the Whitsundays."
Yet one of the greatest things about spending time in any country is putting down the guidebook, talking to the locals and finding out about some amazing hidden or unusual places that you can also go and visit.
Having lived in Australia for almost 3 years now, and being an avid fan of the road less travelled, I've been on a mission to find and visit some of the less well-known destinations this huge island has to offer…. And I've found quite a few!
Check out my list of the best 7 off the beaten track places in Queensland to visit and get your wanderlust fix right now!
Grab Your Copy of How to Road Trip Australia on a Budget
My ultimate guide to road tripping Australia on a shoestring is now available, meaning you can finally get ALL my top tips for driving around all, or parts, of this amazing country in one handy eBook, including…
Full Planning & Preparation Guides
Day by Day Itineraries & Routes
Complete Packing & Gear Lists
Top Money-Saving Tips & Hacks
---
Related Posts
---
This page contains affiliate links meaning Big World Small Pockets may receive a small commission on any purchases at no extra cost to you.
---
#1 Dingo Beach
Once you spend just a little time in Queensland talking to a few fellow travellers, you're going to hear about Airlie Beach.
No one, however, will tell you about Dingo Beach.
Whilst Airlie is the mid-Queensland Coast's mecca for backpackers, Dingo Beach is the place that only locals in-the-know go to chill out and relax.
Dingo beach is about 15 minutes drive north of Airlie Beach. It's very undeveloped with maybe 150 people living in the whole township and well worth a visit if you like out of the way places.
There's a fantastically quaint pub right on the beach where can get a cold drink and then walk straight outside and enjoy it sitting on the sand.
The pub doubles as the Dingo Beach Hotel, which offers rooms / units and is the only accommodation choice in town.
The beach is paradise and I was left speechless by the views – now that's not something you hear often! It's definitely one of the best off the beaten track places in Queensland to visit.
Read about our trip to Dingo Beach in week 4 of the great budget 4wd road trip around Australia.
#2 Mt Isa (Only in August)
This is a surprising one to consider as a must-make trip, given Mt Isa is a mining town situated in Northwest Queensland and not usually a recommendation for tourists. Once a year, however, the Mt Isa Rodeo takes place and this is the time to visit!
Held every year between 7th and 9th August, the Mt Isa Rodeo is one of the largest held in the southern hemisphere. Taking part in this weekend is a once in a lifetime event!
Running since 1958, the Rodeo now attracts more than 25,000 visitors each year who all come to watch some of the world's best cowboys and girls compete for the $20,000 AUD prize money!
Outside of the rodeo there are some other interesting experiences to be had such as the Fred Brophy Boxing tent, the Irish Club, and the Mining Museum. There are also concerts, a mardi gras parade and a huge array of other entertainment running alongside the Rodeo festival. Overall, August is the best to visit Mt Isa
Overall, August is the best to visit Mt Isa because it's cooler, with less humidity and perfect blue skies.
#3 Boodjamulla National Park (Lawn Hill National Park)
If you've made the decision to experience Outback , then you really cannot miss out on Boodjamulla (Lawn Hill) National Park, it's certainly one of the top off the beaten track places in Queensland to visit
This is one of Australia's most incredible stretches of preserved wilderness with plenty of hiking, camping, birdwatching and kayaking available. The park is characterised by steep sandstone gorges, fossil fields and crystal-clear green waters. There is a great swimming in the creek too.
By road, Boodjamulla (Lawn Hill) National Park is 207 km from the Barkly Highway (via Riversleigh). Only the first 57 km of this route is sealed, so access is unsuitable for conventional vehicles and caravans.
The park can also be reached via Gregory Downs, a great little hamlet to check out! The entire 100 km from Gregory Downs is unsealed and although a four-wheel-drive vehicle is recommended, this is the only route suitable for conventional vehicles and off-road caravans.
Access from the north is via various unsealed routes through Hell's Gate or Doomadgee.
Read about our trip to Boodjamulla in week 9 of the great budget 4wd road trip around Australia.
#4 Normanton & Karumba
Normanton and Karumba are 2 towns situated in the Gulf of Carpentaria, right up at the top of Queensland. Indeed they are 2 of my top destinations to visit in North Queensland.
If you are one of those people looking for the authentic Queensland Outback town, Normanton is a good place to try!
Its main claims to fame are The Purple Pub and Krys the Croc – a giant lifesize replica of the biggest crocodile ever caught in Australia – it is huge!
About a half an hour north of Normanton is Karumba, which sits right on the ocean and is the only seaside settlement in the Gulf accessible by 2wd.
Famous for its prawns and fishing industry, Karumba is an awesome place to catch one of the best sunsets in Australia – a glowing ball of red fire going down over the tropical ocean.
This easily makes it one of my favourite off the beaten track places in Queensland to visit.
Read all about our trip to Normanton & Karumba in week 9 of the great budget 4wd road trip around Australia.
#5 Carnarvon Gorge
Situated between Roma and Emerald in the state's Central Highlands, Carnarvon Creek has carved a winding course through sandstone over millions of years.
The resulting Gorge, now part of Carnarvon Gorge National Park, is an oasis in the semi-arid heart of Queensland and a haven for birds and wildlife.
There is also a wealth of cultural heritage at Carnarvon with a large amount of visible rock art paying tribute to the significance of the gorge in aboriginal history.
Hiking and kayaking are all great activities to enjoy in and around the gorge. The nearby attractions of Mount Moffatt and Major Mitchell Springs make Carnarvon Gorge a great place to spend a few days.
Unfortunately camping in the National Park is not available outside of school holidays. If you visit during these time, nearby accommodation is available at Carnarvon Gorge Wilderness Lodge and Takarakka Bush Resort.
Read about my trip to Carnarvon Gorge in week 1 of the great budget 4wd road trip around Australia.
5 ESSENTIAL PACKING ITEMS FOR AUSTRALIA
#1 Good Camera – You will be pretty much snapping non-stop in Australia and will need a good camera to do this gorgeous country justice. I highly recommend the Sony A6000, which I use for all my travels and love, not least because it's light, compact and robust!
#2 Good Walking Shoes – There will be a lot of walking in Australia – from cities to national park! Make sure your feet are comfortable therefore with a pair of New Balance Trainers. Perfect for stylish strollling, I love mine
#3 Good Guidebook – I'm still a massive fan of the Lonely Planet Guidebooks and do think their Australia edition is well put together
#4 Good Water Bottle – Travelling in hot old Australia can be thirsty work, so make sure you have a metal water bottle that you can refill as you go, because tap water is drinkable… and free!
#5 Good Sun Hat – And there's no denying you'll need a good sun hat for protection in Australia too. In my opinion you can't go past this Hello Sunshine one, which is both gorgeous and ideal for keeping the rays off your face.
#6 Byfield Rainforest
Byfield is a fantastic rainforest, situated about 30 minutes north of Yeppoon on Queensland's Capricorn Coast. I love the quiet and isolated nature of this spot, which is why it's on my list of the most amazing off the beaten track places in Queensland.
Byfield has some amazing B'n'Bs as well as rainforest retreats
and there is quite an alternative vibe, with a real emphasis on relaxing and getting back to nature. Enjoy bush walking, cycling or explore the nearby Byfield National Park, stop for a picnic and enjoy the abundance of wildlife.
Read about our trip to Byfield and Yeppoon in week 3 of the great budget 4wd road trip around Australia.
#7 1770 / Agnes Water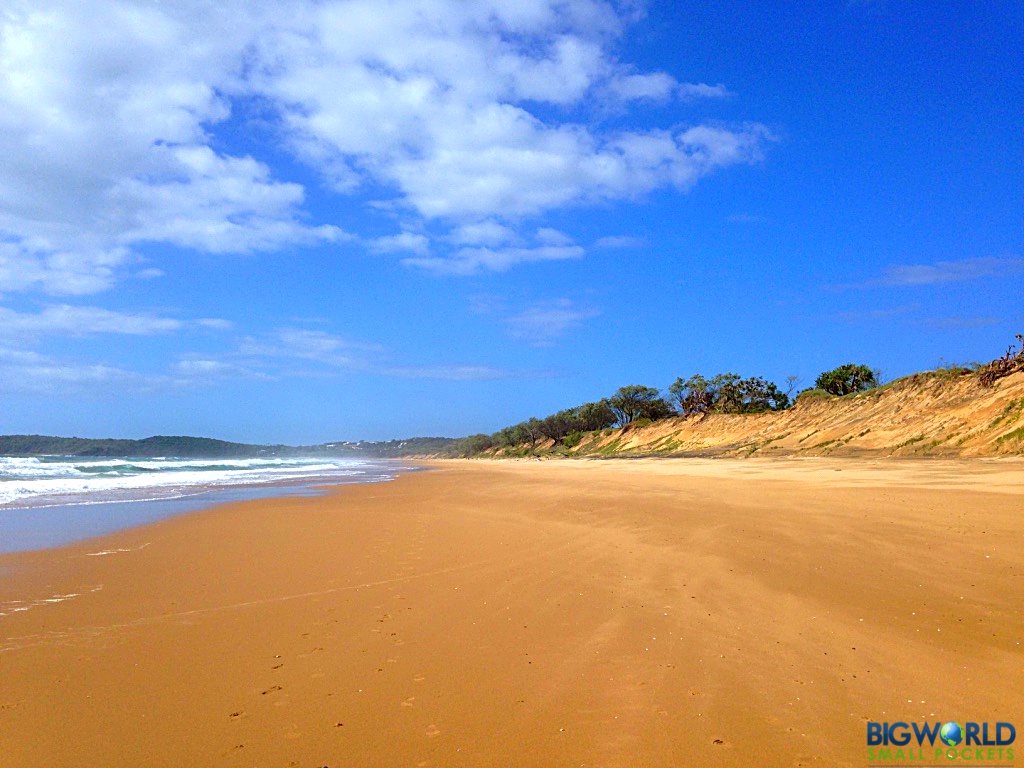 You may or (more likely may not) realise that 1770, a town on Queensland's coast, is the second place that Captain Cook landed in Australia. It's a tiny haven set between gorgeous rainforest and a stunning beach that's perfectly tucked out of the way.
To reach 1770 you have to drive through Agnes Water, which is the slightly larger, but equally beautiful town next door. Stop at Agnes Water if you're after some surfing lessons – the cheapest ones in Queensland are offered here!
Otherwise, there's some great nearby national parks to enjoy, walking to do and views to take in!
Both Agnes and 1770 have some great camp spots, as well as backpacker hostels, which you can book here.
Read about our trip to Agnes Waters in week 2 of the great budget 4wd road trip around Australia.
PIN IT TO PINTEREST!
So there is my list of the best 7 off the beaten track places in Queensland, Australia.
Hope you enjoy them as much as I did.