Carnarvon Gorge is one of Queensland, Australia's most spectacular national parks – with 16,000ha of wilderness having been preserved since 1932.
Buried deep in the state's Central Highlands, this region sits just below the tropic of Capricorn in a rugged and semi-arid area of the country.
The park is characterised by high sandstone cliffs, that majestically change colour with the sun, before plummeting suddenly into a tropical and boulder-strewn gorge that is as rich in plant and animal life as it is in colour and diversity.
We had been so excited about visiting Carnarvon Gorge National Park for a number of years after friends had relayed how spectacular it was.
Sadly, we still hadn't made it there – it was a good 2 day drive from our base in Noosa on the Sunshine Coast just to get there – so we knew it had to be one of the first stops on our budget 4wd drive round Australia
No sooner did we reach Carnarvon Gorge that we realised this is a truly magical place.
I have an inkling in fact, that it may be one of our favourite national parks in the whole of Australia and one of the highlights of our first 6 months on the road – quite a claim!
In homage to Carnarvon Gorge National Park therefore, here is our ultimate guide to visiting it.
Grab Your Copy of How to Road Trip Australia on a Budget
My ultimate guide to road tripping Australia on a shoestring is now available, meaning you can finally get ALL my top tips for driving around all, or parts, of this amazing country in one handy eBook, including…
Full Planning & Preparation Guides
Day by Day Itineraries & Routes
Complete Packing & Gear Lists
Top Money-Saving Tips & Hacks
---
Related Posts
---
This page contains affiliate links meaning Big World Small Pockets may receive a small commission on any purchases at no extra cost to you.
---
What Makes Carnarvon Gorge Special?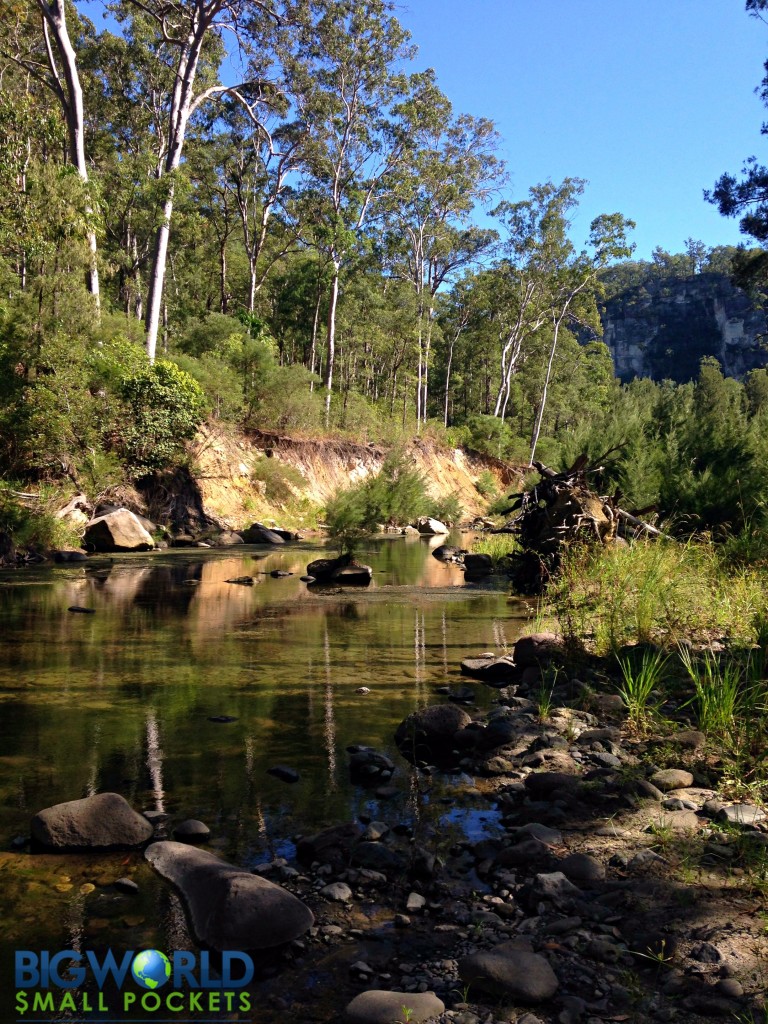 The real value of Carnarvon Gorge lies in the fact that it supplies this otherwise hot and dry area of Queensland with a much needed year-round supply of water.
Ancient rains, which have become trapped in the porous sandstone cliffs, slowly trickle out on the rock, forming hundreds of small tributaries that then join the main gorge creek.
As such, Carnarvon Gorge National Park is the site of a lush oasis in the midst of an otherwise arid and harsh environment.
This makes it an invaluable retreat for hundreds of species of animals, insects, plants and trees – all of them surviving off this ancient and very precious supply of freshwater.
In the same way, Carnarvon Gorge has also supported human communities for thousands of years and signs of a rich cultural heritage can be seen in sections of Aboriginal rock art and ancient burial sites.
It is a place of traditional ceremony, ritual and spiritual importance.
In many different ways therefore, Carnarvon Gorge is a sacred, special and life-sustaining place. A remote paradise, locked in an all-encompassing wilderness.
Getting There
Carnarvon Gorge National Park is located in the Central Queensland highlands of Australia and driving here is a must.
The nearest towns of significance are either Roma or Emerald, both of which can be reached via a domestic flight if necessary.
From either, it is then at least a 2-hour drive – first via a bitumen road and then along an unsealed track. 2wd vehicles can manage it, but 4wd can cope better!
We made the drive from Roma, stopping at the lovely little town of Injune on the way.
The drive was easy, although the last stretch we undertook at night in the dark. This is not advised as several times we had to swerve or brake suddenly to avoid wandering cattle! You have been warned!
There are no fuel or vehicle repair facilities in the Carnarvon Gorge area, so make sure you are well prepared with adequate supplies and necessary car checks in place before you come here.
You also want to check the Queensland National Parks website before travelling to Carnarvon Gorge to ensure road conditions are good.
In heavy rains, creeks along the unsealed track can flood and accessing the park becomes impossible.
When to Visit
The best time to visit Carnarvon Gorge National Park is undoubtedly during the winter months of April – September, when the chance of heavy rain is significantly lower.
Most rain falls during the summer months of November – February and access during this time is severely restricted.
During winter, the day temperatures are also a little cooler, which makes hiking and exploring the park more comfortable.
That said, when we visited in April day temperatures were around 35 degrees!
Good Tip: Start hiking early in the morning – the hottest time of the day is around 2pm!
The only downside about visiting during the winter months is that nights here can get cold.
In April, we were experiencing minimum temperatures of around 18 degrees, which is more than comfortable, but they will certainly drop a lot lower than that in the peak winter months of June – August, so do bring warm clothes.
As such, I think the shoulder months of either April, May or September would be the best times to visit Carnarvon Gorge National Park.
That said, your choice of accommodation will certainly impact when you decide to visit as some options are only open during Queensland school holiday periods.
5 ESSENTIAL PACKING ITEMS FOR AUSTRALIA
#1 Good Camera – You will be pretty much snapping non-stop in Australia and will need a good camera to do this gorgeous country justice. I highly recommend the Sony A6000, which I use for all my travels and love, not least because it's light, compact and robust!
#2 Good Walking Shoes – There will be a lot of walking in Australia – from cities to national park! Make sure your feet are comfortable therefore with a pair of New Balance Trainers. Perfect for stylish strollling, I love mine
#3 Good Guidebook – I'm still a massive fan of the Lonely Planet Guidebooks and do think their Australia edition is well put together
#4 Good Water Bottle – Travelling in hot old Australia can be thirsty work, so make sure you have a metal water bottle that you can refill as you go, because tap water is drinkable… and free!
#5 Good Sun Hat – And there's no denying you'll need a good sun hat for protection in Australia too. In my opinion you can't go past this Hello Sunshine one, which is both gorgeous and ideal for keeping the rays off your face.
Where to Stay
As the biggest tourist attraction in Queensland's Central Highlands, there are a few places to stay in Carnarvon Gorge which cater for a few different budgets.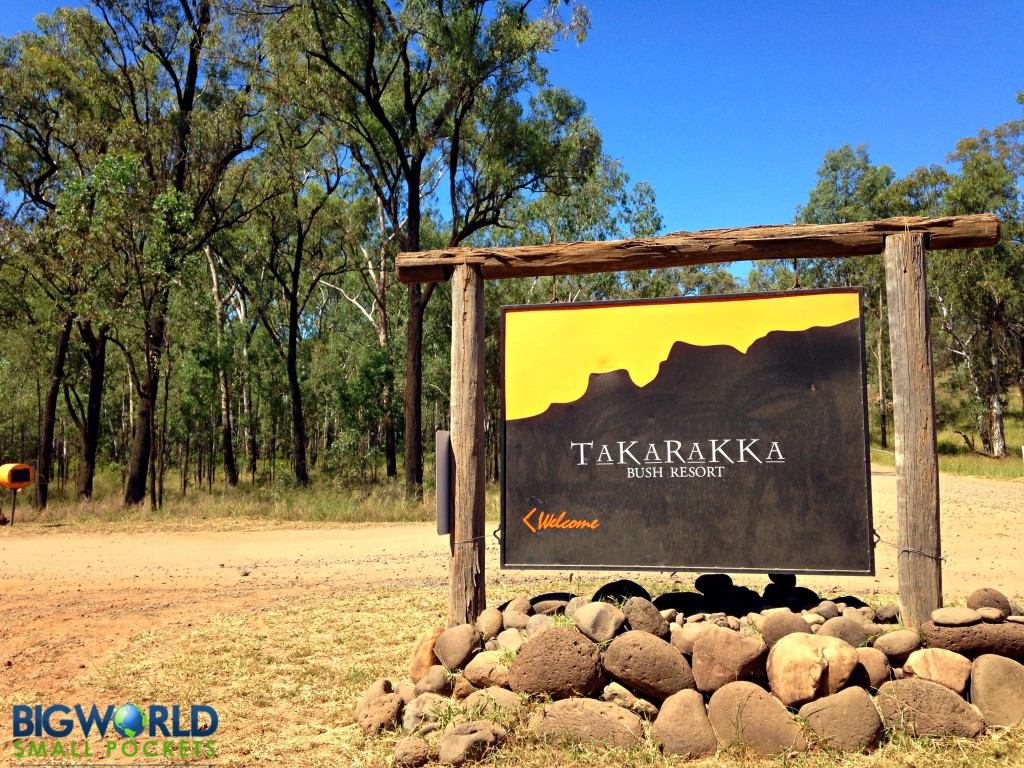 This is a privately owned accommodation centre about 4km from the park entrance.
The camp has good facilities, with a range of accommodation and is open year round.
Choose from cabins, powered sites or basic camping and enjoy wi-fi connection, a small shop, a camp kitchen, hot showers and a range of guided tours.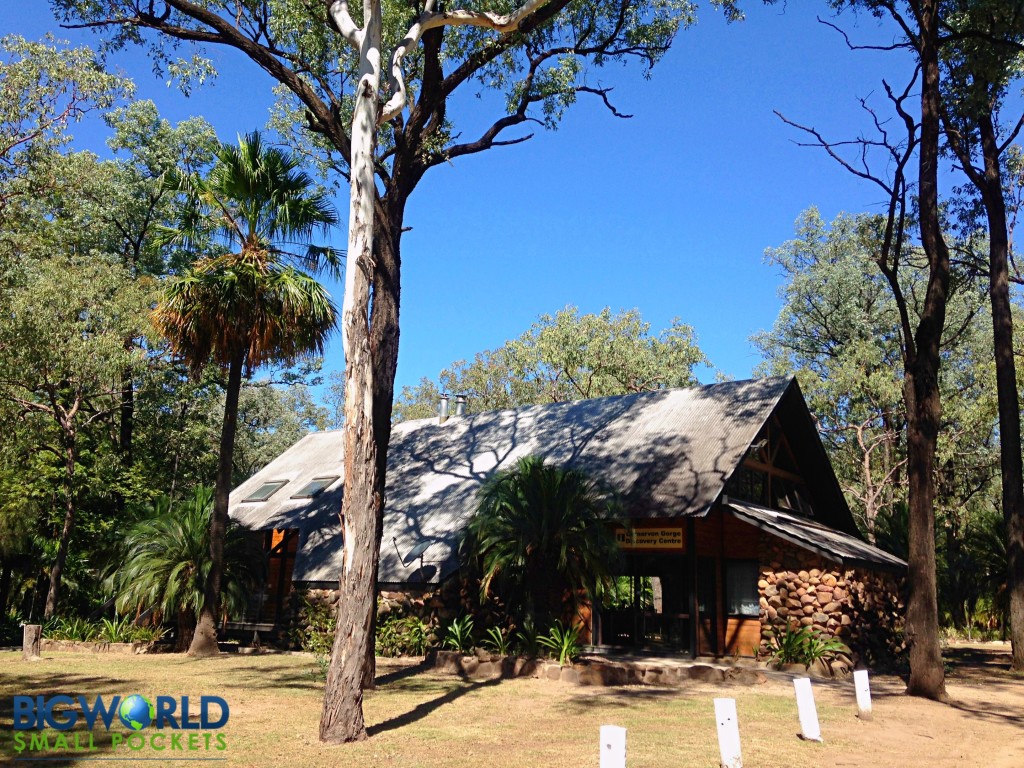 This place is only 3km from the park entrance and offers stylish bush accommodation in the form of cabins with ensuite bathrooms.
Abundant wildlife, as well as a swimming pool, and fully-licensed restaurant can also be enjoyed onsite.
#3 Carnarvon Gorge Visitor Area
This is where we stayed when we visited Carnarvon Gorge National Park, because it was the cheapest option!
Owned by Queensland National Parks, this camping ground sits within the park itself, right next to the visitor centre and very near the start of the walking trails.
Camping is available from only $6 p/person p/night, which is a real bargain given the facilities on offer here: a gorgeous grassy camping area, teaming with wildlife and adorned with picnic tables and free BBQs, adequate toilet and shower facilities, along with hot showers available for $1.
Talk about luxury!
There is also plenty of drinking water available.
Because it's a national park everything you bring into the park must also be taken out with you, including any litter, but really this isn't too much of a burden!
The only thing to bear in mind is that open fires are not allowed and that the camping spaces here are not suitable for caravans.
Sadly, the Carnarvon Gorge Visitor Area camp facilities are only open during Queensland School Holidays, so you really must visit during a few select weeks of the year to access this great campsite.
Booking in advance is strongly advised as the 36 sites fill up quick!
Luckily, I wanted to visit Carnarvon Gorge right at the end of the Easter holidays and manage to bag ourselves a spot by booking in February – you have been warned!
How Long to Stay
Many people advise staying between 4-6 nights when visiting Carnarvon Gorge.
This initially sounds like a very long time, but it really is advised as there is so much to do here.
We stayed 4 nights and undertook 3 days of walking and took one day to relax.
This was well timed, as we didn't feel rushed, but I'd hate to have cut it any shorter.
One day we walked to Boolimba Bluff, another we walked the Main Gorge Track and the third we visited the Nature Trail, the Rock Pool and Baloon Cave.
The only things we didn't get to visit were some of the other surrounding areas of national park such as Lake Nuga and Nuga and Expedition National Park.
This is a real shame, as they are meant to be wonderful, so if you have the time, I definitely suggest factoring some time in for these too.
Flora and Fauna
The biodiversity of Carnarvon Gorge National Park is one of its main selling points.
Lying in the sub-tropics, but near to the tropics, which with cliffs rising to almost 1000m above sea level, the range of terrains, temperatures and micro-climates here is vast, inviting a huge range of animals and plants in return.
Animals you are sure to see include several species of wallabies, as well as kangaroos, goannas and even platypus.
Rangers told us they had seen koalas and echidnas in the past and we even spotted an emu!
Either way, the park is a hotbed of wildlife activity and that's without including the many bird species that can be seen here, as well as the myriad of butterflies, dragonflies and insects.
Flora ranges from lush palms to pine-like forest and towering gumtrees.
Ancient cycads can be seen, as well as the very old King Fern, the world's largest fern and now incredibly rare in inland Australia due to the rising temperatures and lower precipitation rates here.
Walking Tracks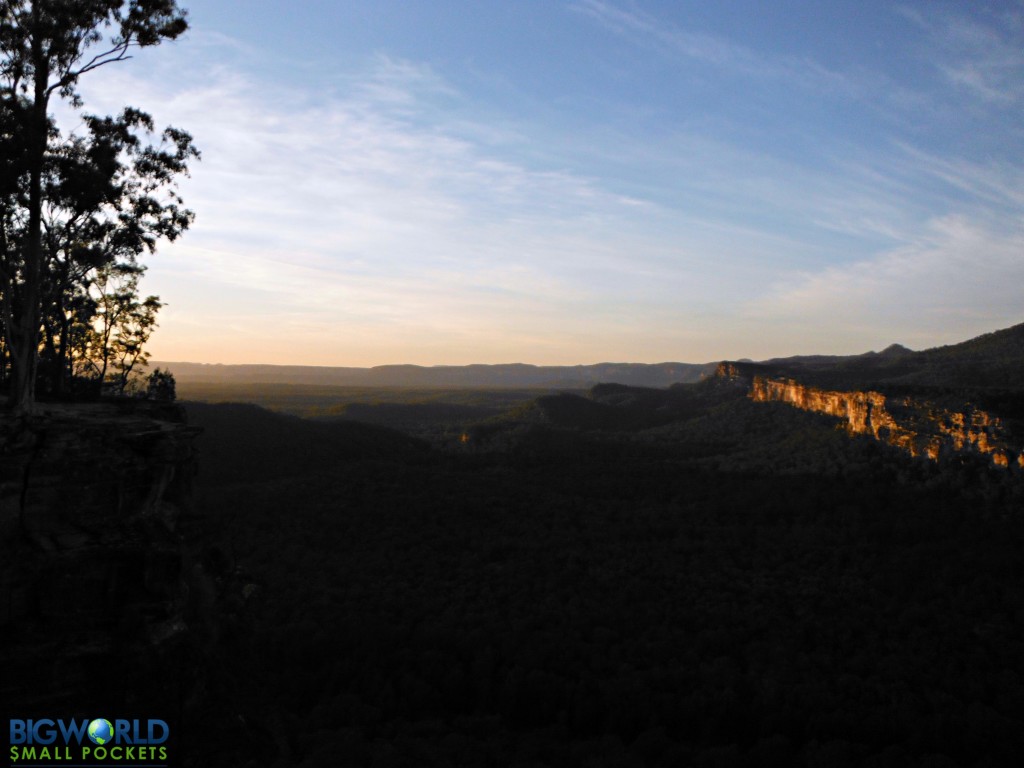 Multi-Day Hikes
Carnarvon Gorge National park is the site of one of Australia's "Great Walks".
This 87km, 6-7 day walk, is for experienced walkers only and requires those who undertake it to carry everything they will need including food, water and camping gear.
Nevertheless, the access to remote and pristine nature it provides is unrivalled.
Day Hikes
In terms of day walks, there are plenty of shorter hikes available to those just looking to explore the area for a few hours at a time. These are well-signed and easy to follow.
We undertook a number of these walks and I shall outline our highlights here.
My only advice would be to set off early and to carry lots of water. It can get very hot here in the middle of the day!
Boolimba Bluff is a walk best made in the very early hours of the morning, so that you reach the top of the cliff to see dawn break over Australia. The visitor centre will let you know what time sunrise is and for us, this 5:45am time meant a 3:30am wake-up! Nevertheless, the early alarm was worth it, as the view from the top really was spectacular. The ascent is steep in parts and about 3km one way. It only took us an hour however meaning we were at the top of the bluff to see that whole light display. As you walk up before sunrise, the ascent to Boolimba Bluff is made in the dark, so make sure you bring good head lamps with full batteries – something we forgot!!
The Nature Trail is a short circuit of 1.5km that starts and ends at the visitor centre. The real reason to take this track is the chance if affords you to spot the amazing platypus in the wild. As such dawn and dusk are the best time to walk along here. If you are trying to spot the elusive platypus, then make sure you remain very quiet and still – these creatures are real scaredy-cats and are easily frightened away!
The Main Gorge Track is a long linear walk that takes you up the main thrust of the gorge alongside the creek. Side tracks lead to various side chasms, which display wonderful examples of flora, fauna and Aboriginal rock art. One day we made the 14km return trip along the main gorge track up to the site of the Art Gallery, encompassing the Moss Garden, Amphitheatre and Ward's Canyon attractions on the way. This took us about 4 hours as the track is fairly flat and very well-marked. Several creek crossings via stepping stones add to the fun and every where the colour and beauty of this area asserts itself. From the Art Gallery, you can continue up the main gorge track to Cathedral Cave and Big Bend, but we were told by the ranger, the extra 8km this would add to the walk wasn't really with it!
Other Activities to Enjoy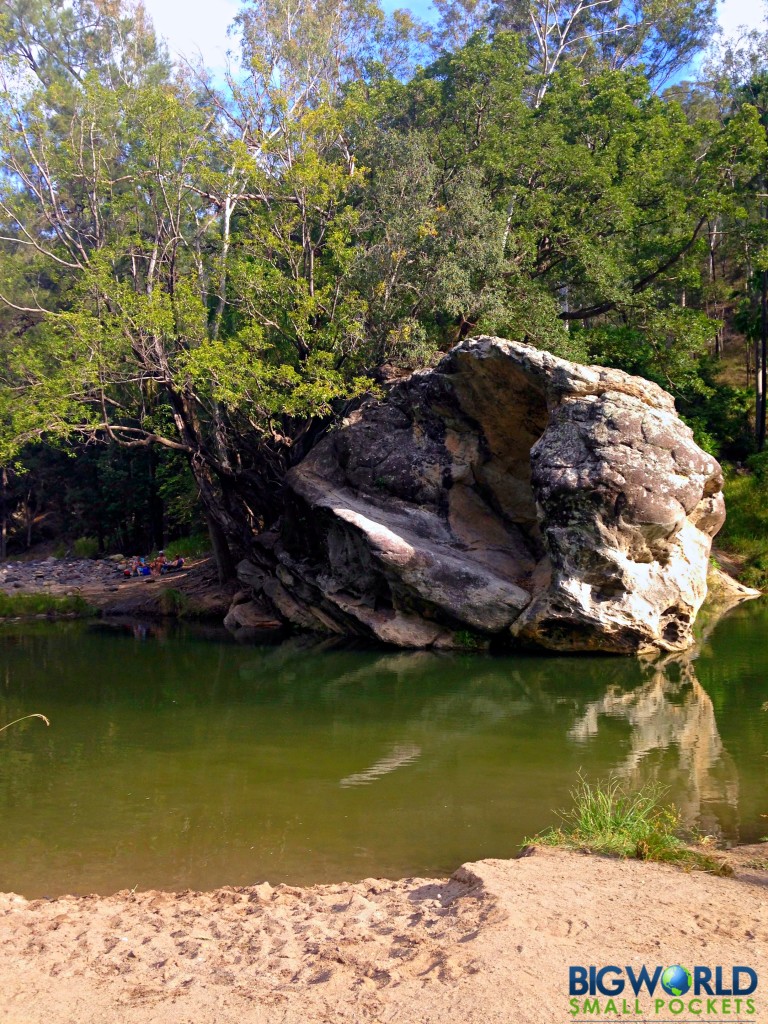 Hiking is certainly the main attraction when visiting Carnarvon Gorge National Park, but alongside this, there are plenty of other things to enjoy.
Aboriginal Rock Art is a fascinating insight into the ceremonies, rituals and beliefs of the traditional owners of this land and Carnarvon Gorge offers visitors several wonderful sites to view these important pieces of cultural heritage. The best places are Baloon Cove, the Art Gallery and Cathedral Cave
Scenic helicopter rides over the gorge are available from Takarakka Bush Resort. Sure to provide stunning aerial views of this untouched wilderness, for those with larger pockets this would be a real treat.
The wonderful Rock Pool is a great place to relax near Carnarvon Gorge and to enjoy some respite from the heat of the day. There is a gorgeous little river beach to lie out on here, as well as picnic tables to enjoy lunch at and terrapins to spot in the waters too. And, of course, you can have a lovely, cooling swim! This is the only part of the gorge you are allowed to swim in, so do take full advantage!
What to Take
Along with the usual kit, there are a few things that we found would be especially helpful to take to Carnarvon Gorge National Park.
For Walking: Headlamp for dawn walks (see our list of the best headlamps if you don't have one already)
Good trail runners
or light walking shoes (you don't need boots for the day walks)
Sunhat, natural sunscreen, 2 water bottles, camera and a daypack to carry it all in
For Camping: Natural insect repellent, warm clothes (for night time), swimwear (for the rock pool).
Practicalities
The Visitor Centre at Carnarvon Gorge is an incredibly good resource, staffed by rangers with lots of info and free walking maps for you to take.
Drinking water and toilets facilities are available here too.
There are no wifi facilities within Carnarvon Gorge National Park (the closest are at the Carnarvon Gorge Wilderness Lodge, 3km from the park entrance.)
There also isn't any phone reception within the park, but there is a payphone available for you to use at the Visitor Centre.
PIN IT TO PINTEREST!
So that's our ultimate guide for visiting Carnarvon Gorge National Park in Queensland, Australia.
I really can't recommend visiting this place highly enough, so do go there if you ever get the chance.