"Granada vs León: Which one is better?" asks my friend.
She's due to visit the Central American country of Nicaragua in the next few months and knowing my experience of travelling there, as well as my propensity for speaking frankly, she probably expects a clear answer.
"Well, they're very different," I reply, unhelpfully.
"Really?" she questions, "To me they sound pretty similar, so I've only allowed enough time to visit one… which sound it be?"
---
Related Posts
---
This page contains affiliate links meaning Big World Small Pockets may receive a small commission on any purchases at no extra cost to you.
---
Similarities
Indeed, if you've only read about them, Granada and León can sound very similar.
Both boast a diversity of cultural and outdoor activities, as well as a number of good day trips and an array of Spanish language schools.
Both have a rich cultural heritage, a strong historical identity and are located very near to the Pacific coast.
As such, there are many parallels that can be drawn between them.
Differences
Yet don't be deceived, Granada and León certainly have their differences and they're ones that have set them apart for a long time.
Political and social rivals for centuries, it's no coincidence that the capital of Nicaragua, Managua, is situated almost equidistant between the Granada and León.
With the battle for political power now a thing of the past, nowadays these two national rivals are squaring up over a different sort of power – tourist power.
While León is located further north and therefore a common stop for those travelling down from El Salvador, Granada is further south and is a classic layover for those travelling up from Costa Rica.
In a place where economic opportunities are scarce, both cities are becoming increasingly geared towards harnessing passing backpacker business.
This has added a new type of fuel to the cities' long-standing popularity contest and it's one that continues the battles of the past in local discussions on the streets today.
As a typically slow traveller, I strongly recommend paying a visit to both Granada and León, so you can see for yourself how different and diverse they are.
However, if you're stuck for time, I've compiled this handy guide to help in the Granada vs León debate, so that you can plan your trip accordingly.
#1 The Culture
Granada 3/10
Historically the stronghold of the aristocracy, Granada has traditionally been home to the right-wing and wealthier inhabitants of Nicaragua.
As such, it has a feeling of grandeur, pomp and ceremony in both its architecture and layout which persists despite its rather more downbeat appearance nowadays.
I found the local people quite friendly, but sadly there wasn't a lot of the typical hustle and bustle of Latin American cities to be seen on the street.
Somehow, I got the feeling Granada was being paraded as a model town, where the real-life of local people is shooed away from the tourist areas.
There is also a rather seedy undercurrent of sex tourism that is clearly visible around the central square at night and this, coupled with very saddening rates of glue-sniffing young children, really put me off the place.
León 8/10
Typically the left-wing enclave of revolutionaries and artists, León retains this sort of feel today, with plenty of street art visible and a large university population.
The café culture and performance activity round the central square add a bohemian feel to this exciting city and it's one that immediately grabbed me.
I chatted and interacted with lots of local people over my week-long stay there and all were delighted to swap stories and talk wildly about their city's rich history.
A very proud people.
#2 The Architecture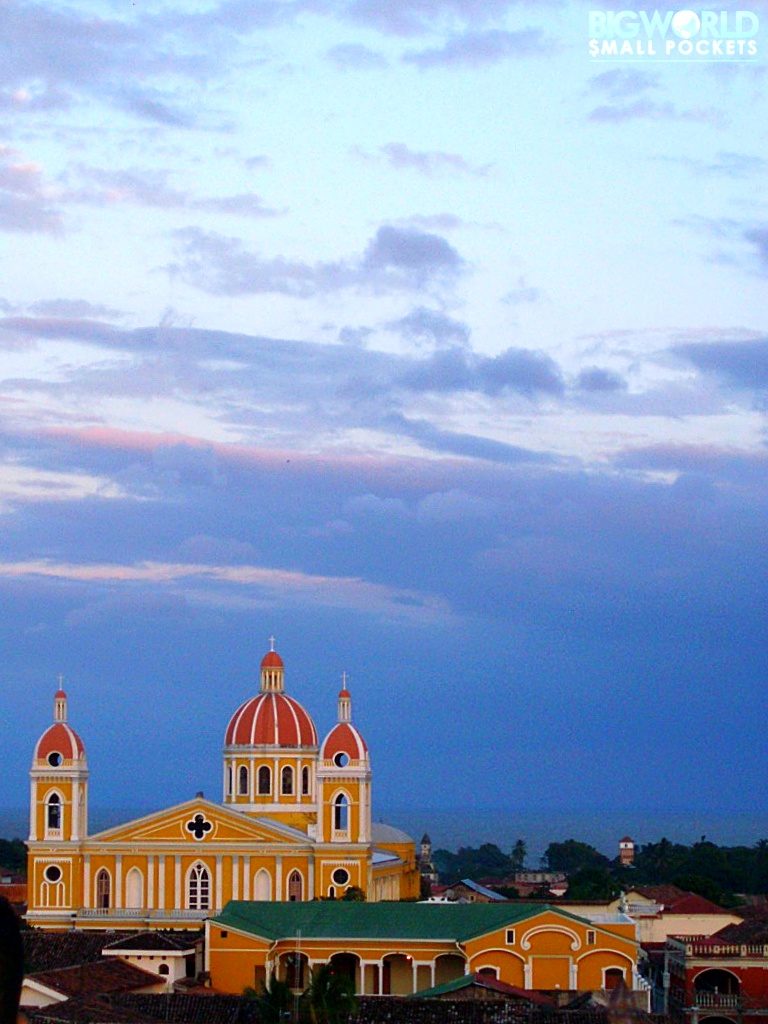 Granada 8/10
The colonial jewel of Nicaragua, Granada stands out as an architectural beauty in this neck of the woods.
The pastel-painted buildings are delightfully picturesque and strolling round the streets provides plenty of photographic fodder.
Head up to the La Merced Inglesia bell tower at sunset for a wonderfully coloured view over the city.
León 8/10
More grey and grubby than Granada, León nevertheless retains a real edgy feel to it, which I found authentic and exciting.
The nearby ruins of the old town are World Heritage Listed, as is the cathedral.
However, it was the painted street murals, many of which depict the city's artistic lineage as well as its relevance in the country's political history, that grabbed me.
A local man offered to take me on an unofficial tour of the city centre and his explanation of much of the artworks' significance really engaged and impressed me.
#3 The Markets
Granada 4/10
Sadly, coming from Guatemala, I thought the colonial city of Granada, might rival Antigua in both its architecture and its bustling market.
Sadly wrong.
The Granada market is pretty pitiful by Latin American standards and certainly not what I would expect from a major city.
Disappointing.
León 7/10
Hustling, bustling chaos, the large market on the edge of the centre of town in León, was a great find.
From fruits and vegetables to alarm clocks and spare socks, anything the discerning traveller might need can be sourced!
I was the only gringo there, which added to the local experience and although it didn't have the same wow factor as markets in Ecuador or Guatemala, it was cheap and good fun.
Felt a bit sketchy at points, but I was fine.
#4 The Food
Granada 7/10
I found a great chocolate café here where I had breakfast and a super veggie-friendly place called The Garden Café, which really made me very happy.
If you are a vegetarian, check out my post about the top 10 tips for vegetarians travelling Central America
I also treated myself to an Asian restaurant for dinner (you can tell it was the beginning of my trip!)
Failing that there are also some good options for indulging in rice, beans and fried plantain on the street – although not as many as I'd hoped.
León 8/10
Great market, as discussed, and also a bigger selection of street food, with plenty of sweet treats to be gleaned from sellers in the central square both during the day and in the evening.
Definitely less on the restaurant front, although I found an amazing French bakery – Pan & Paz – with incredible baguettes, as above, so was more than happy!
#5 The Activities
Granada 7/10
Easily accessible by bus is the Volcano Mombacho, which at 1344m high offer stellar views over Lake Nicaragua.
You are able to hike up it via 2 different trails, one that requires a guide and one that doesn't.
Alternatively, you can get a ride or a tour!
The surrounding cloud forest landscape is beautiful, but often obscures the view, if you're lucky enough the get clear skies at the top however, you will be rewarded with an incredible vista.
Good level of fitness definitely required.
León 8/10
Close by is one of the top adrenaline activities in the whole of Nicaragua – volcano boarding.
Take a day trip out to the famous Cerro Negro, put on your protection suit, grab a board and slide down this mountain of black sand.
Probably not for the faint-hearted or the safety-conscious, this is never the less a great, unique sport!
#6 The Day Trips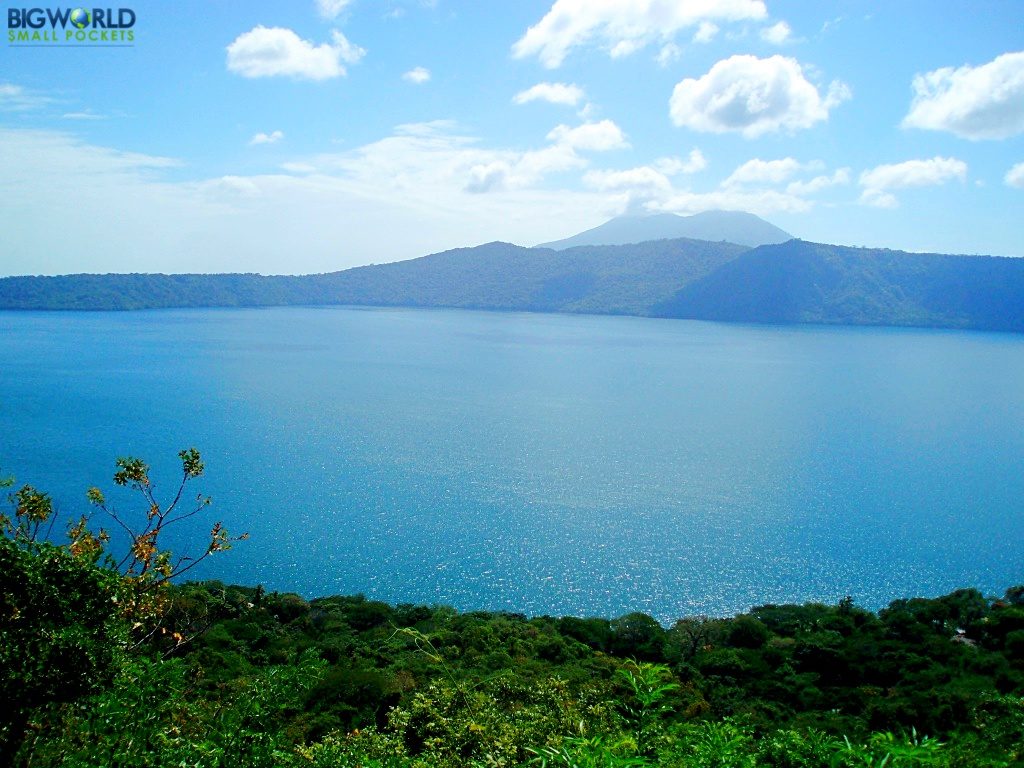 Granada 5/10
It's easy to get out to Laguna Apoyo from Granada, either with a tour or a hostel-run shuttle service.
You normally get dropped off and collected at a corresponding guesthouse at the Lake's edge on the other side.
Unfortunately, when I went the weather was poor and there isn't a lot to do there apart from swim and sunbathe.
The lake is nice, but it's nowhere near the best I've seen in Central America.
The fact that I had to use a shuttle and wasn't able to easily reach here by local bus also put me off.
The other common day trip from the city is to the artisan markets of Masaya.
This was a big disappointment, in fact I named it one of the most overrated places in Latin America.
If you've been or are going to Guatemala / Ecuador / Peru / Bolivia you really can give this one a miss. It's nothing in comparison.
León 7/10
I took a local bus out to the nearby seaside town Las Peñitas.
Wonderfully sleepy and authentic, I hung out for the whole day watching the surf and chatting to locals.
With no other tourists around it was very peaceful and you could eat some cracking fresh seafood here.
You can also catch the bus to the slightly bigger neighbouring coastal town of Poneloya to mix things up.
And don't forget, if you are travelling Nicaragua by bus, then Bookaway is my go-to site for all timetables and tickets.
#7 The Accommodation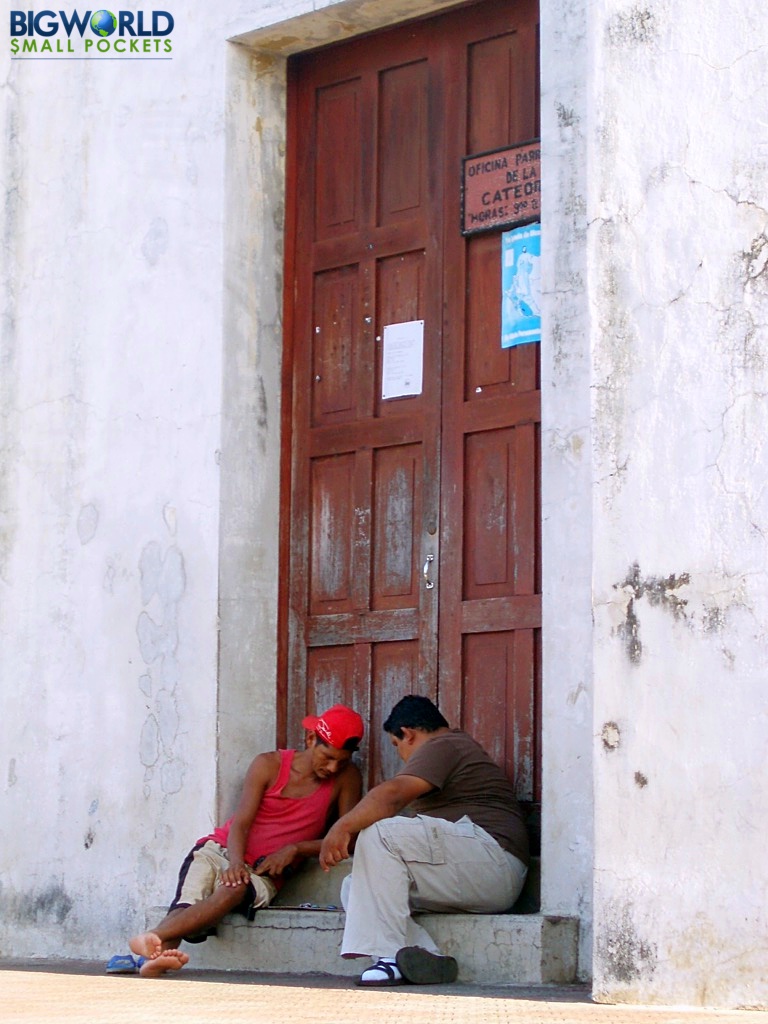 Granada 8/10
Plenty of hostels and guesthouses, generally in an excellent condition.
I stayed at Hostal Azul, which has free coffee, wifi, breakfast and hammocks – hoorah!
Hostel Oasis Granada also remains a firm favourite, again with free breakfast, wifi and a pool. It's not a party hostel, so provides quiet, peaceful surrounds, which can be a blessing in Granada!
León 8/10
Again plenty of backpacker options available with private rooms or dorms.
I stayed in Hostal Fachente, which is very centrally located with lovely communal areas and a good, chilled vibe.
Lazybones Hostel also gets great reviews and has a pool!
#8 The Language Schools
Granada 8/10
There are a range of Spanish school here, all within walking distance of the town centre, where you'll probably be staying.
Nicaragua Mia Spanish School uses some of its profits to support local families and many of its teachers are locals who use the work to fund their university study.
The school is easy to find, and it's a quick process to organise a tutor for the following days.
León 8/10
Also boasts a number of language schools, many in the centre and within easy reach for tourists.
Metropolis Spanish School, offers group cultural activities and excursions, as well a homestay programme that allows you to immerse yourself further in the culture of Nicaragua, as well as provide vital income for local families.
#9 The Safety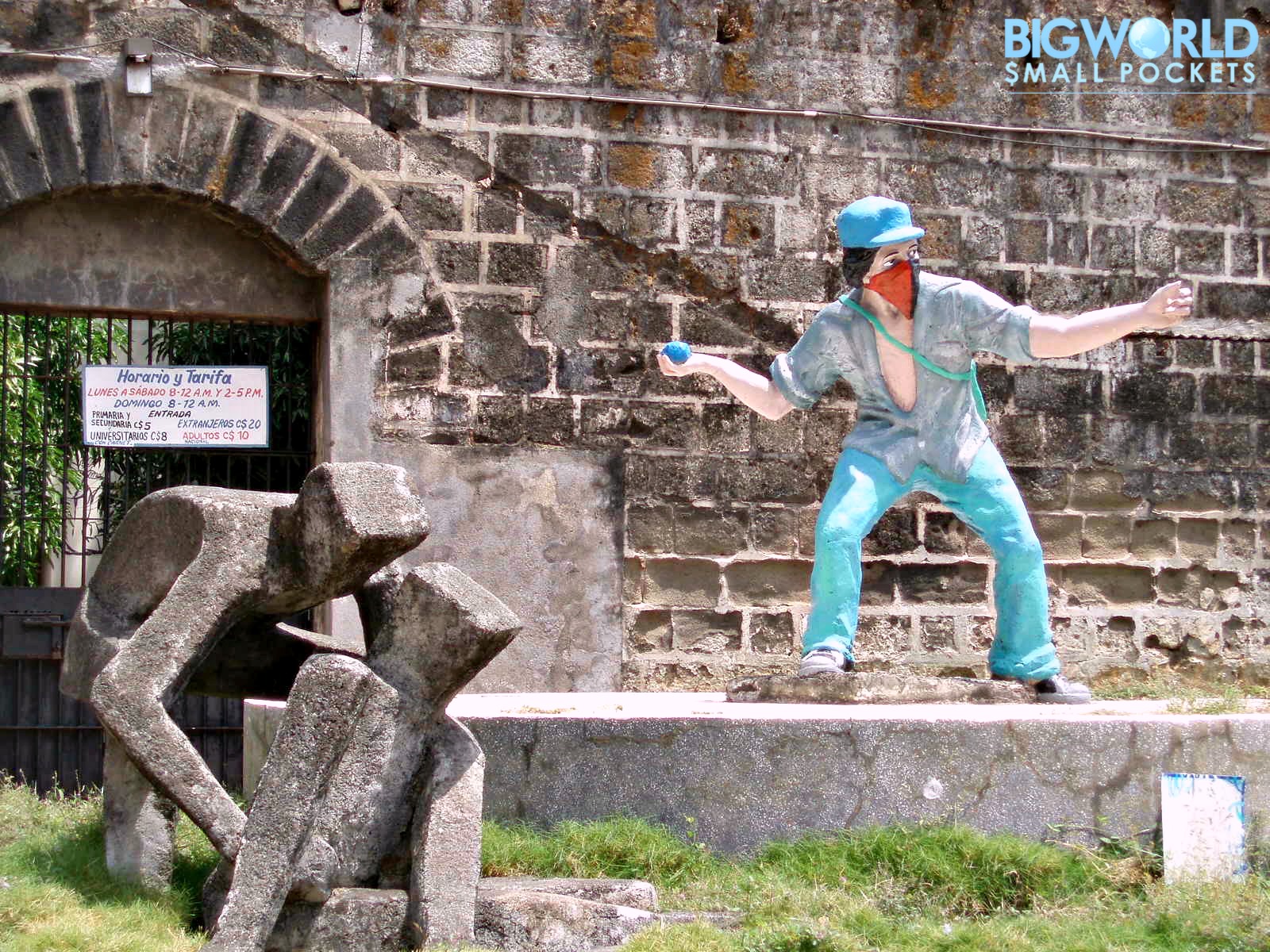 Granada 7/10
Seems like it should be safer, largely a perception derived from the fact it is ostensibly very pretty and perfect tourist territory.
I certainly felt safe wandering around the market and exploring the streets as a woman by myself.
Also a lot of other solo female tourists around to befriend.
Going out of town and down to the lakeside however, felt a bit shifty and as discussed, at night, I was really turned off by the sex tourist vibe and deeply saddened by the glue-sniffing youth.
León 7/10
Definitely less tourists here than in Granada, but I still felt perfectly safe, including strolling around the main areas by myself in the evening.
In the day, I perfectly felt safe navigating the markets and ambling off with a local who offered to explain some of the artwork to me.
PIN IT TO PINTEREST!
So in the case of Granada vs León, perhaps you can now see that these two cities are in fact more different than they first appear.
And perhaps I can now see that, for me, it's definitely León I shall be giving the title to.
At least that's what I'll be telling my friend.
Go for yourself though and let me know which you think is best.