Oh Nicaragua, you dream-filled beautiful country!
With mountains, lakes, rivers, beaches, surf, scuba, jungles and islands you've got it all, so close and so fresh and so exciting.
And best of all, not everyone knows about you yet.
About your dazzling colours, your friendly people, your fun and your wildness.
But word is getting around and people are starting to come and your tourist face is growing.
And with it, things for visitors to do and see and explore and places for them to drink and eat and stay.
And no doubt more will come and choices will grow and things will change.
And sometimes change is hard and choices bring indecision and so, while the going is good, Nicaragua, I'm going to let people know about 5 of the best things they can do with you.
Hoping they come and enjoy all you have to offer too, because it's magic what you have right now, it's raw and edgy and slightly mad.
And I hope it stays that way Nicaragua, because I love you, I really do.
---
Related Posts
---
This page contains affiliate links meaning Big World Small Pockets may receive a small commission on any purchases at no extra cost to you.
---
#1 Explore the Political Street Art of León
One of Nicaragua's great cities, León is the political and artistic capital of this country.
Home to one of the best universities here, the city life strums with a bohemian, leftist, student energy that few can resist.
A key player in Nicaragua's revolution, the cityscape of León is strewn with testimonies to this bloody fight for justice and power.
During the day it's perfectly safe to wander round and explore the various monuments, wall murals and street artworks that will help you learn more about the history and culture of this fascinating part of the world.
You should really set aside a morning to cruise the city centre's few blocks and explore the historical and cultural offerings it has.
Start in the central square as you can get a great cheap breakfast here with a free view of the cathedral!
More than likely, as happened with me, some friendly local will then offer to show you round the city's highlights.
I certainly found this is a great way to learn more about León from a local's perspective, as well as brush up on my Spanish!
Visiting León is definitely one of the best things to do in Nicaragua and, if you only have time for one city here, I will tell you now that León is much better than Granada in my opinion!
León is easily reached by local bus from Managua.
I recommend either staying at Hostel El Albergue, which boasts a great kitchen and friendly staff.
#2 Surf at Playa Gigante
Each one of Nicaragua's few but growing numbers of tourists will visit San Juan del Sur on the south Pacific Coast.
Famed for its parties and excellent surf, it's as western a place as you'll find in Nicaragua and already has a sense of being slightly overrun by the gringo population in my opinion.
Just down the road however, is the quiet beach town of Playa Gigante – literally translated as giant beach in English.
This authentic, Nicaraguan coastal town really is just a one-street town, with a few tiendas (little shops) and comedors (local cafes) offering typical Nicaraguan fare to eat.
It's steamy, hot and humid here, but there are plenty of hammocks to relax in and the beach is long and inviting.
So too are the legendary waves which are the major draw for the few tourists that make it this far out of San Juan.
If you're looking to surf and enjoy some beach time on the Pacific Coast of Nicaragua, I highly recommend checking out this beach town.
Playa Gigante is easily reached by local bus from San Juan Del Sur although you will need to change at Rivas.
Stay at Aussie Camp in nearby Playa Marsella.
#3 Dive with Sharks on Little Corn Island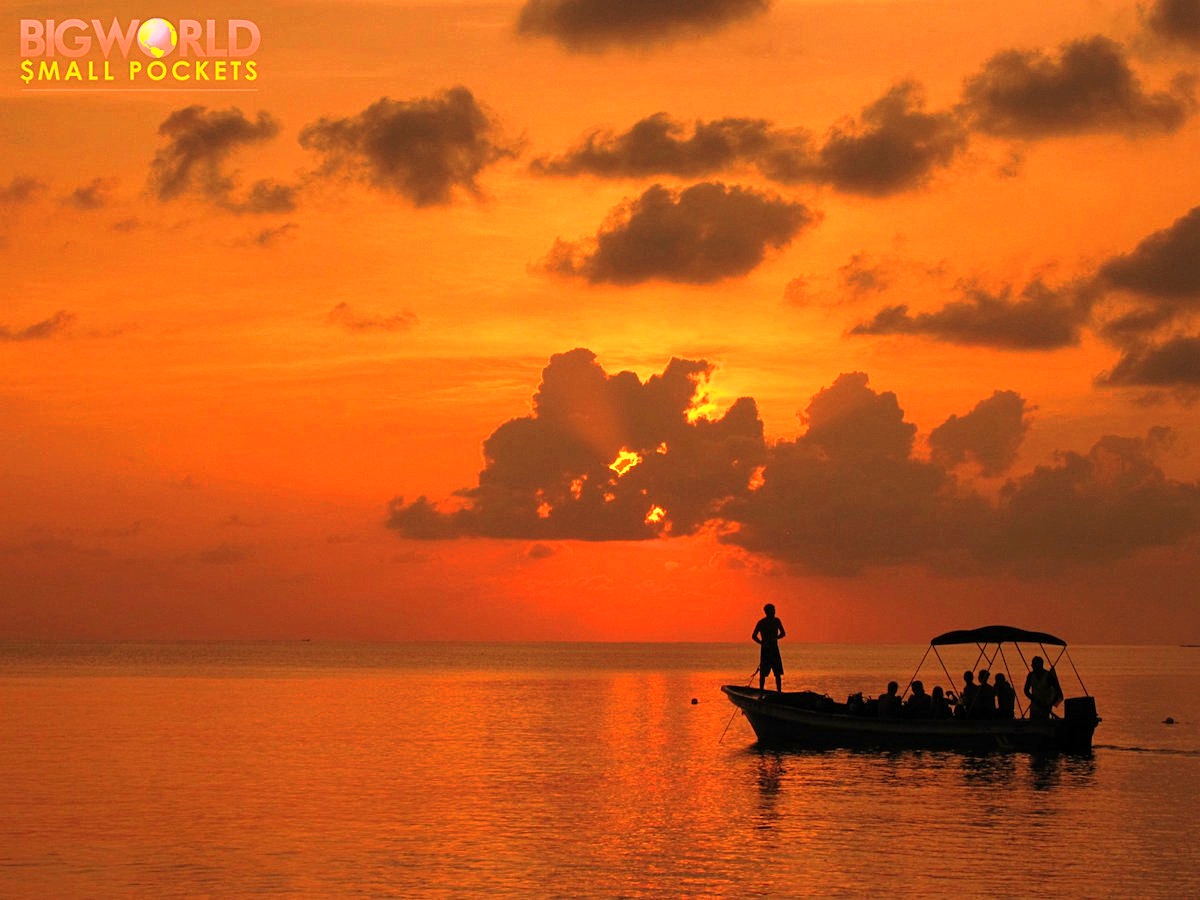 My love for this tiny pearl in the ocean is well documented after I landed there back in 2011, planning on staying a week, but ending up living there for a year!
It's an absolute paradisiacal gem, but things are certainly changing here and I really recommend you visit before it does so for the worst.
Only 1sq km, Little Corn is without cars, roads, traffic, shops, banks and largely power!
What it does have however, are picture perfect white sand beaches, coconut-laden palm trees, the friendliest of people and incredible diving.
There are 2 dive shops on the island, both with excellent reviews. I personally recommend Dolphin Dive, after I completed my PADI Open Water with them for a fraction of the price of what you might pay elsewhere in the world.
Not only that, but I was treated to some of the best diving I am yet to match – hammerhead sharks, reef sharks, nurse sharks, turtles, dolphins, the list goes … Everything about this place is magical – from the early morning yoga to the Bonfire Nights spent at Tranquilo – making it a clear favourite on my list of best things to do in Nicaragua.
The crystal clear waters here, along with the wealth of their wildlife and the diving opportunities simply provide the icing on the cake!
The Corn Islands can be reached by flight with the airline La Costeña from Managua's airport. Alternatively and more cheaply, you can get there by various boats from either El Rama or Bluefields – 2 towns on Nicaragua's Caribbean coast. Boat times change a lot, so the best thing to do is call the captain – don't worry they speak English! You can get to El Rama by bus from Managua. Some of the large cargo boats to the Corn Islands run from there, otherwise you can get a panga down the river from El Rama to Bluefields, where other boats depart from. Please note however, that the boats normally only leave 3 times a week, if at all, and that they are slow cargo boats which can take up to 18 hours. This is no ride of luxury, but it's cheap and one hell of an adventure! After reaching Big Corn via air or sea, you then need to catch a boat across to Little Corn – which is another fun adventure!
On Little Corn Island stay at Green House Hostel. Incredible owner, relaxed vibe, excellent prices and very safe.
#4 Volunteer on Isla de Ometepe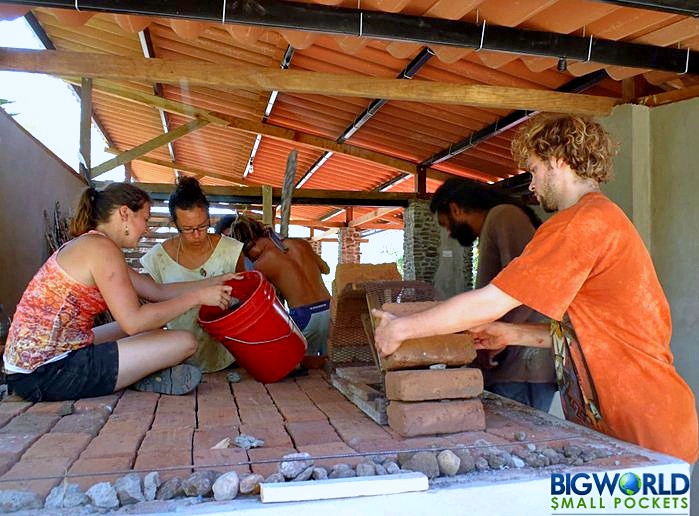 In the middle of Lake Nicaragua, the second largest lake in Latin America, sits the volcanic island of Ometepe – a wonderful place to explore for a few days.
There are some great volunteer projects here, which work with local communities promoting sustainable agricultural practices and opportunities for local women.
I volunteered at Project Bona Fide, an incredible permaculture farm that also supports a local community centre.
Volunteering alongside Nicaraguans here was one of the best experiences of my whole travels, especially as I got to learn so much too.
If you volunteer, then staying here only costs you about $10 USD per day.
With that you get some great, local food and simple lodgings, plus an experience you'll never forget.
This is grassroots, overseas volunteer work at its finest, certainly making it one of the best thins to do in Nicaragua.
Ometepe can be reached by boat from the port of San Jorge near Rivas. Most boats dock on the island at Moyogalpa and from here you can get local buses to just about anywhere on Ometepe – although you have to be early, as many stop running by the early afternoon.
Stay and volunteer at Project Bona Fide or at relax for a few days at Hostel Life is Good.
#5 Sip Coffee In Estelí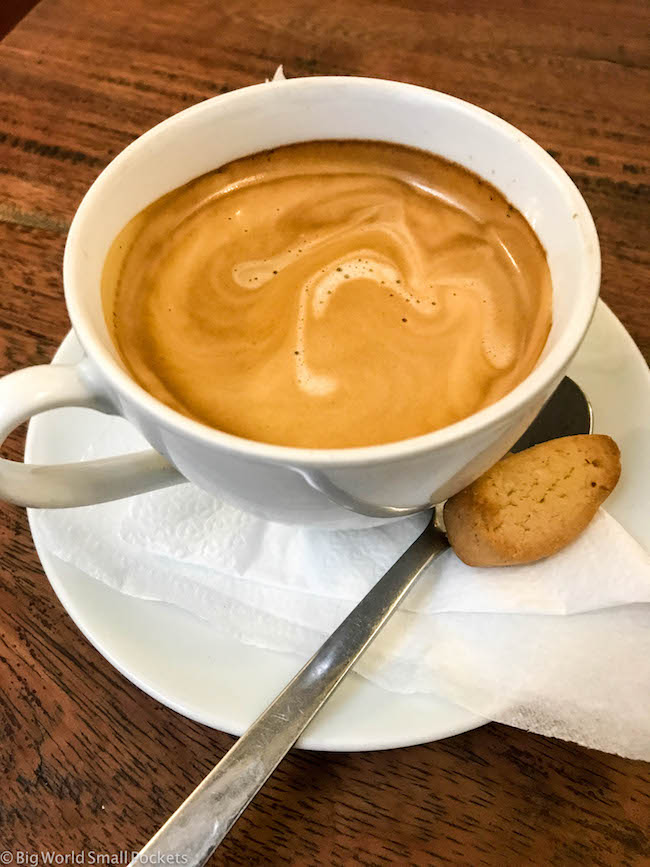 Oh, the other thing I forget to mention about Nicaragua is that it's the land of coffee and chocolate.
Forget milk and honey, give me cacao and café any day!
Up in the northern city of Estelí, the farming of coffee is a major source of income for many people.
A lot of the area surrounding the city is dedicated to the organic growing of this must-lusted after bean and you can easily take a guided daytrip out to visit these farms, learn about the process and taste the beautiful product.
In the city of Estelí itself, there is a famous market every Saturday where farmers come to sell their produce.
Make sure you don't miss this, or the evening entertainment after the market is done for the day, the city puts on quite a party!
Estelí is also a great place to study Spanish if you need to brush up on your language skills.
The city boasts a super all year-round climate due to its position in the mountains and has a relaxed vibe, making it a great place to acclimatise to Nicaraguan heat and culture.
It's also famous for its cigar production, so you can get a factory tour and certainly pick up a bargain smoke here too!
You can easily get local buses to Estelí from Managua.
Stay at Sonati Hostel who have a kitchen and FREE coffee!
PIN IT TO PINTEREST!
So that's my list of the best things to do in Nicaragua.
Have you been?
What were your favourites?