I don't think there's another region on earth that produces quite the mixed reaction that the announcement you're going travelling in the Middle East does.
From a smile of deep fascination to a worried concerning frown, a glazed look of awe, to a grin of intrigue, you're equally likely to get any one of these responsive facial expressions, along with a few more that I haven't even listed!
And it might serve as a good introduction, because there's nowhere quite as complicated and complex as the Middle East – a part of the world where travelling is a constant puzzle of trying to piece together things into a cohesive pattern before watching them crumble before your eyes minutes later.
Or in other words, I think of travelling in the Middle East as having the rug pulled from beneath your feet on a daily basis!
But, nothing, absolutely nothing, ignites the wanderlust fire in me more and, while the Middle East is every bit as confusing as I've described, it's very often that this exact chaos is what gives this region such a unique charm.
Impossibly captivating and compelling, enchanting and endearing – there's not many places where local people have experienced such conflict and at the same time are still able to offer strangers such a great level of hospitality.
So if I haven't convinced you already to book a ticket to the Middle East, here's 11 photos that I hope will seal the deal!
---
Related Posts
---
This page contains affiliate links meaning Big World Small Pockets may receive a small commission on any purchases at no extra cost to you.
---
#1 Petra, Jordan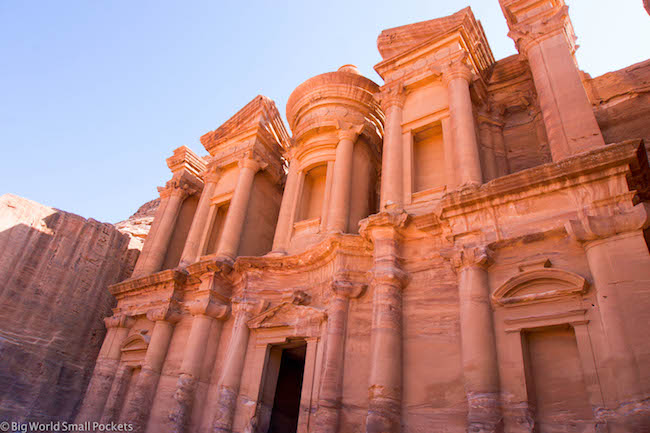 Stay: Petra Gate Hotel, Wadi Musa
It's one of the 7 new wonders of the world and Petra really is nothing but awe-inspiring.
Even if you've seen a million pictures of this place on Instagram, nothing quite cuts taking in its enormity in real life.
Situated in the south of Jordan, Petra is a huge ancient city carved out of the desert rock around.
Allow at least 2 days to take in this spectacle, including at least once at sunset when the fading rays of the day cast an incredible light over the whole valley.
LEARN MORE: Top Tips for Visiting Petra on the Cheap
#2 Jerusalem
Stay: Stay Inn, Jerusalem
If there was ever a destination that typified the complexity of the Middle East it is surely the city of Jerusalem.
Visiting here was, for me, like stepping into a storybook – one where places I've read or heard about my whole life were suddenly springing into 3D reality around me.
Even if you're not religious, like me, this place can't fail to move you as pilgrims from 3 of the world's largest religions justle almost alongside each other in a holy and ancient city where the very stones have a deep and profound significance to so many.
#3 Jebel Shams, Oman
Perhaps the Gulf states' most exciting country to explore, Oman is a desert delight, full of towering sand dunes and expansive views.
Jebel Shams, the country's highest mountain, is an absolute must in this country and, all around it in the Al Hajar range, amazing hiking opportunities are just begging to be discovered.
The Grand Canyon of Oman is also located nearby and staring down into this huge abyss is perhaps even more impressive than staring up at the huge peak beside it!
LEARN MORE: 23 Amazing Things to Do in the Middle East
#4 Luxor, Egypt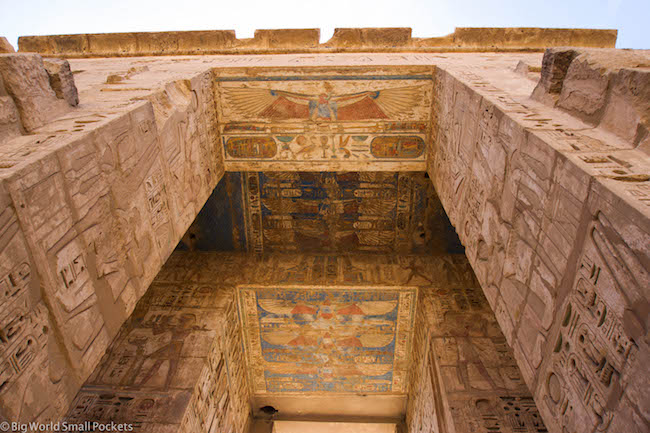 Stay: Bob Marley Peace Hostel, Luxor
Home to some of Egypt's greatest temples and once the centre of this powerful kingdom, you simply cannot go to Luxor and fail to be impressed.
From the huge Karnak Temple with its Forest of Pillars, through to sunset at the central Luxor Temple, which still sits in the heart of the city, this is a place where the ancient meets the modern, the everyday meets the extraordinary.
There's also a wonderful museum here, as well as Medinat Habu, Colossi of Memnon and the Temple of Hatshepsut, not to mention day trips to Kom Ombu and Efnu Temple which are also possible from this Nileside city.
If there's one place to get your Ancient Egyptian fix, then trust me, it's Luxor!
LEARN MORE: The Best Luxor Itinerary for Budget Travellers
#5 Cappadocia, Turkey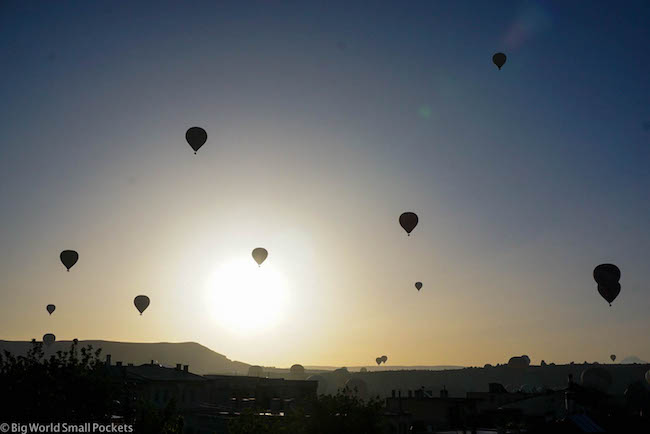 Stay: Cave Hotel Saksagan, Goreme
If you haven't heard of Cappadocia before then you may well forgive people for asking which rock you've been hiding under.
That's because this place is Turkey's trending hot spot right now… and rightly so.
Despite spending a month in this huge country, there's no doubt Cappadocia knocked it out of the water for me and my 3 days here passed WAY too quickly – honestly I would have been better with a week in this magnificent spot!
From hiking to hot air ballooning, this magical landscape has it all and, like much of Turkey, it's incredibly well-priced and sensationally stunning!
SEE MORE: The Most Unbelievable Things to Do in Cappadocia on a Budget + Itinerary
#6 Wadi Rum, Jordan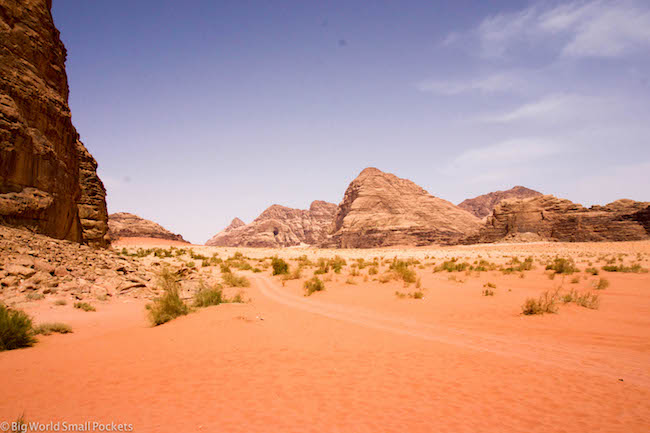 Newbies to the Middle East may think only of the desert when they cast their mind to this part of the world, but that's simply not true.
In fact, great swatches of this region are nowhere near the desert!
One place that is however, and that you should definitely get on your list, is Jordan's Wadi Rum!
Taking an overnight trip to this sandy land is a must-do while in the country and from the amazing desert safari to camping under the stars with the local Bedouin people, it gives a whole different angle to this fascinating country.
READ MORE: Things to Do in Jordan
9 BEST HOSTELS IN THE MIDDLE EAST
#7 Cedars, Lebanon
Did you know you could ski in the Middle East?
Did you know you could ski and swim in the sea in the same day?
Welcome to Lebanon my friends!
The unchartered treat of the Middle East, I was so blown away by Lebanon's scenery the I first visited here, that I decided to return and base myself here for a bit!
Anyway, I digress.
The point is that this gorgeous country is seriously heavy on the amazing landscape front and never does it get more sensational than in the country's northern mountain region.
Top of the list is the Cedar Reserve which sits above the Qadisha Valley.
Come here with your walking shoes, your warm clothes and your camera… and be prepared to not stop snapping!
DISCOVER MORE: The Perfect 7 Day Lebanon Itinerary
#8 Abu Simbel, Egypt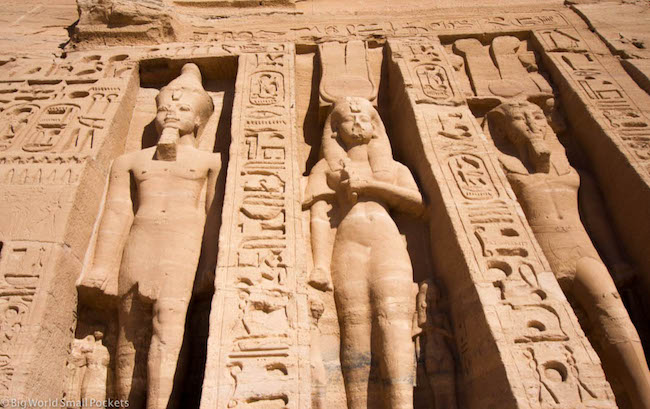 Stay: Ekadolli Guest House, Aswan
When I first rounded the corner to see the giant statues outside the temple of Abu Simbel in the south of Egypt, I literally squeaked outloud with delight and wonder!
Ok, so this was my first experience of seeing an ancient temple in Egypt, but nevertheless, you cannot, I repeat, CANNOT, fail to be impressed by these insanely huge stone edifices that sits at the edge of Lake Nasser, watching the sun rise and set as it has for thousands of years!
Mind blowing!
EXPLORE MORE: Plan to Backpack Egypt? 27 Things to Know
#9 Sheikh Lotfollah Mosque, Iran
Probably the most visited attraction in Iran, there's no doubt this beauty is a favourite for a reason!
An architectural masterpiece, the mosque dates from the early 1600's and its ornate decoration will have you gasping at every turn.
Outside, the Naqsh-e Jahan Square is equally as impressive – a UNESCO World Heritage site and deeply significant both spiritually and historically.
#10 Beirut, Lebanon
Stay: Hostel Beirut, Mar Mikhael
Without a shadow of a doubt, the coolest city in the Middle East has to go to Beirut and literally everyone I know whose visited this place, complains that they had a) no idea how amazing it was and b) not enough time to see and do everything they wanted to here!
Do yourself a favour therefore and learn in advance how cool this city is and allow yourself enough time to do its café, galleries, museums, coastal views, bars, restaurants, shops, clubs, souks, architecture and day trips justice!
It's not called the Paris of the Middle East for nothing y'know!
DISCOVER MORE: 10 Best FREE Things to Do in Beirut
#11 Kabak, Turkey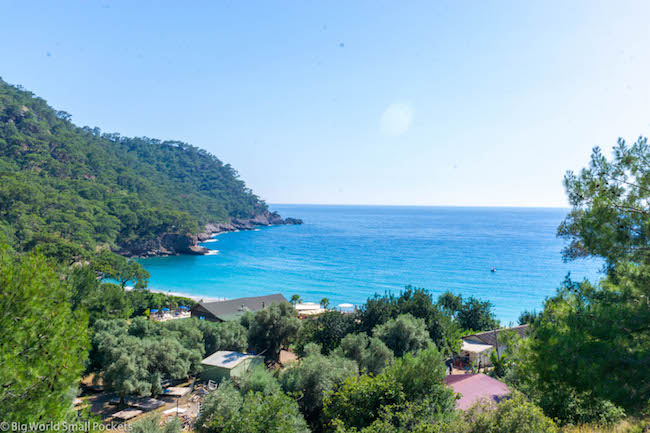 Stay: Reflections Camp, Kabak
And finally, number 11 on this list of the photos that will make you want to book a ticket to the Middle East today, has to go to the most relaxing, rejuvenating location – the sort of hidden place you go to retreat from the world.
And that place is Kabak on Turkey's Mediterranean coast.
If you're looking to get away from the crowds, kick off your shoes, lie in a hammock, swim in the sea at sunset and forget all the cares in the world… then come here.
Just don't tell too many other people about it, ok?!
LEARN MORE: Why Kabak is Turkey's Most Guarded Travel Secret
5 Essential Packing Items for the Middle East
#1 Middle East Lonely Planet – A great travel aide to this part of the world with tons of historical info, the Middle East Lonely Planet will help you get the best from your time here.
#2 Arabic Phrasebook – Most people in the Middle East who are connected with tourism industry speak good English, but learning some Arabic never goes a miss, especially if you want to ensure you're paying the best prices! The Egyptian Arabic Lonely Planet phrasebook is a super affordable example.
#3 Good Camera – The Middle East is one of those jam-packed destinations and travelling here with a good camera will help you preserve the memories. I highly recommend the mirrorless Sony A6000. Light, compact and robust, it's been perfect for my Middle East travel adventures.
#4 Sun Hat – The Middle East can be hot and dry, like really hot and really dry. When you're walking around temples, ruins, mosques, churches and other sights you'll be exposed to the sun for long periods of time, so making sure you pack a sunhat for adequate protection is key. I love this one from Hello Sunshine.
#5 Travel Insurance – World Nomads offers simple and flexible travel insurance. Buy at home or while travelling and claim online from anywhere in the world.
.
PIN IT TO PINTEREST!
So there you have it, the 11 photos that I think will have you booking a ticket to the Middle East before you can even squeak the word "hummus"!
(Sorry, awful stereotype, but what can you do?!)
Hope to see you in this incredible part of the world soon!