The coastal city of Tel Aviv is hard to put into words.
Completely different in atmosphere to the city of Jerusalem – the previous destination I'd visited – reaching the oceanside, working and modern city of Tel Aviv had me thinking that maybe I'd airlifted to another world.
Feeling far more secular, relaxed and fun-loving, Tel Aviv is a great destination for anyone who feels like combining an interesting city with some time swimming in the Mediterranean – and let's be honest, who doesn't ever feel like that?!
And with cheap, short flights available from many European cities, it's no surprise to learn that Tel Aviv is now trending, more and more, as a popular city- or short-break destination.
So if this is making your ears prick up and you fancy heading somewhere a bit different on your next holiday, check out my 10 brilliant things to do in Tel Aviv and start planning your trip today…
---
Related Posts
---
This page contains affiliate links meaning Big World Small Pockets may receive a small commission on any purchases at no extra cost to you.
---
#1 Hit the Beach
In my opinion you really can't beat a city by the beach, because it literally is like having your cake and eating it!
And Tel Aviv is no different.
Set right on the Mediterranean coastline, with some incredible weather that allows you to make the most of it, strolling to the long strip of sandy beach here for a swim and a sunbathe is absolutely one of the best things to do in Tel Aviv.
#2 Enjoy a Free City Tour
Located in the Middle East, there's no question that any city in this part of the world has a huge amount of history to be explored and Tel Aviv, formerly the city of Jaffa, is no exception.
And as with every city in the Middle East, the history is also very layered and complex, which means getting some of it explained to you can be really helpful.
But fear not budget travellers, you won't have to take an expensive guide or tour in order to learn about the history in Tel Aviv / Jaffa, instead you can simply join one of the excellent free tours that run daily in this city.
Departing at 11am and 2pm everyday, meet your qualified guide at the Clock Tower near Old Jaffa (you can't miss it) if you're keen to get your knowledge up to scratch.
#3 Eat at a Food Market
And because this is the Middle East, there's no question that the food in Tel Aviv is sensational too.
In fact, outside of Beirut in Lebanon, I have to say that the food in Tel Aviv was probably my absolute favourite in this part of the world and I feel like I put on weight just upon waking up in the morning here!
But if you're on a budget, you will find eating out in Tel Aviv expensive, so my tip is to head to one of the city's great food markets, snap up a bargain and enjoy a picnic down the beach or on a roof terrace instead.
Top of the list is Carmel Market, a feast for both the senses and the tastebuds – and a trip here is undoubtedly one of the best things to do in Tel Aviv!
#4 Chill in a Café
So while eating out at a fancy restaurant might be a stretch too far for us budget travellers, it's impossible to resist visiting at least of Tel Aviv's amazing street-side cafes, which are far more reasonably priced.
Visiting in the warmer months here means cafes and their customers spill out onto the streets at tables in the sun and, with their great people-watching abilities, chilling in a great cafe is definitely one of the best things to do in Tel Aviv.
And there's plenty to choose from!
Hipster central Tel Aviv means fresh juices, delicious coffee and yummy Middle Eastern food is in plentiful supply – hoorah!
#5 Find a Bargain at the Flea Market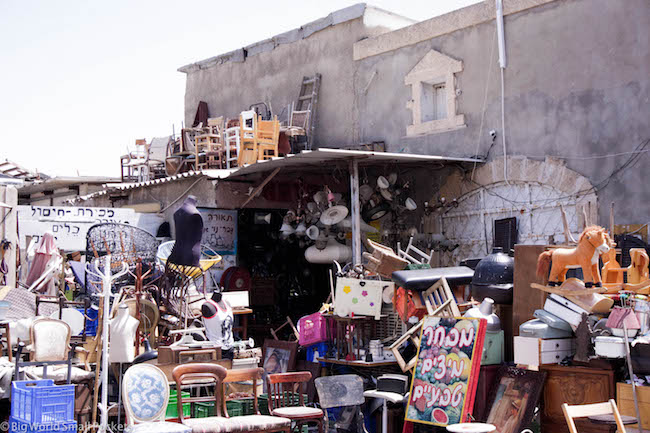 And where there's a hipster café, there's also bound to be a good vintage market, so why not fully get into the swing of this vibrant, young and trendy city by joining the weekend crowds at a great flea market.
The one situated in Old Jaffa is particularly famous, and even if you're not here to buy anything, wandering the streets, soaking up the atmosphere and snapping some of the fun and crazy stalls is a great way to spend an hour or two.
#6 Visit the Tel Aviv Museum of Art
The leading art museum in the country, the Tel Aviv Museum of Art is one of the must do things in this city, even though it's a fair way out of the centre.
Definitely worth the bus journey however, the crazy architectural design of this gallery gives a good hint into the richness of the collection inside and, despite the 50 NIS (New Israeli Shekel) entrance fee, this place is so huge that it works out quite reasonable for a very full half day excursion.
#7 Stroll the Streets of Old Jaffa
The ancient post of Jaffa actually used to be an independent micro-state with a rich trading history between Europe, Asia, Africa and beyond.
Recently restored, the old port area is now full of fun cafes and quirky shops piled into old warehouse buildings and the cobbled streets around give plenty of opportunities for some super seaside snaps.
On the way up to the main square of Old Jaffa, there's also a great lookout area, where views of the sweeping coastline are magnificent.
Don't miss St Peter's Church or the HaPisgah Gardens either.
Yes, strolling the area of Old Jaffa is definitely one of the best things to do in Tel Aviv.
#8 Snap Some Street Art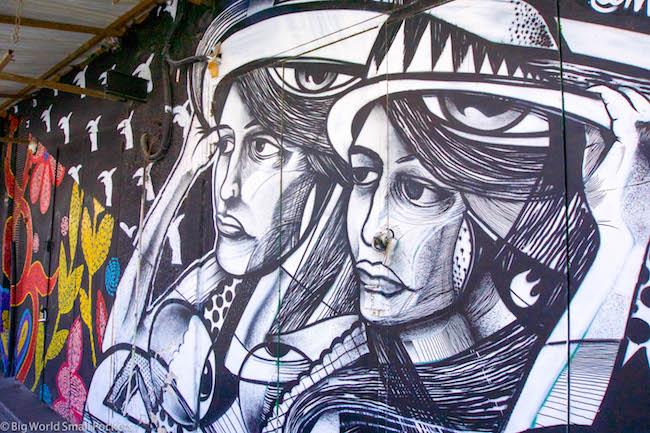 With more cool kids than you can shake a stick at, it's not surprising that Tel Aviv also boasts some very cool street art, with political satire and acute social observation going hand in hand.
In fact, you can even take a tour of the city's street art if your budget allows, otherwise enjoy just getting lost in the back alleys and shaded side streets of this highly atmospheric and layered city.
#9 Cycle the Beautiful Boardwalk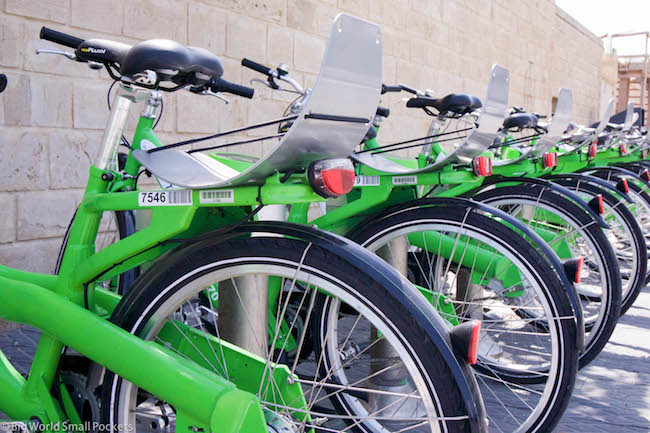 And if you're looking to be a bit active during your time in this city, then a perfect budget-friendly thing to do in Tel Aviv is to hire a bike and enjoy cycling the city.
Pretty flat with some well-marked cycle paths, it's a great way to take in the sea air and top of the list, is the gorgeous boardwalk area that follows the sweeping coastline of this city.
#10 Hoof down the Hummus!

And last but not least, one of the best things to do in Tel Aviv if you're on a budget is to eat as much hummus as possible… or maybe that's just me!
Tel Aviv is literally the hummus mecca of the world and there's even hummus bars here dedicated to the stuff!
Get it in your life asap people!
Tel Aviv Mini Travel Guide
Travel Insurance for Tel Aviv
World Nomads offers simple and flexible travel insurance. Buy at home or while travelling and claim online from anywhere in the world.
Alternatively, if you're a long-term traveller, digital nomad or frequent remote worker seeking travel health cover, check out Safetywing's Nomad Insurance policies.
Best Budget Accommodation in Tel Aviv
When it comes to the best backpackers in Tel Aviv, the title has to go to Abraham Hostel, the original kid on the block!
With a great location, epic roof terrace, free breakfast, free wifi, bar, guest kitchen, dorms and private rooms, these guys know how to do a hostel and do it well!
Read my full review here!
For something a little more comfortable, check out the Artplus Hotel, which offers amazing rates for a brilliantly located spot.
5 Tel Aviv Packing Essentials
#1 Israel and Palestine Lonely Planet – A great guidebook for the maps and background info on this layered and complex part of the world.
#2 Camera – I highly recommend the Sony A6000 mirrorless camera, which is small, compact and ideal for adventurous travellers.
#3 Walking Shoes – There's gonna be a lot of sightseeing in Tel Aviv, so good day shoes are a must. I love my New Balance trainers, which are city friendly and super comfy.
#4 Bikini – Hitting the beach in Tel Aviv is essential, so come prepared with a gorgeous bikini to keep up with all the other sun-kissed hipsters. I always love Rip Curl's great selection.
#5 Small Day Backpack – As with any city, lots of walking means having a backpack to house your camera, sunscreen, water, snacks and maps is a must and the Bobby Anti Theft Backpack is ideal for the job – I can guarantee it!
Travel Money in Tel Aviv
When it comes to paying for things in Tel Aviv, you want to ensure you're not being charged overseas transaction fees or getting poor exchange rates when using your card abroad, which is why I always take my Wise Card away with me wherever I travel.
The easy way to spend abroad with real exchange rates, no markups and no sneaky transaction fees, you can use your Wise card just like a debit card here… and it links easily with Google and Apple pay – sold!
Get your Wise card here.
PIN IT TO PINTEREST!
So there you have it, my list of the top 10 brilliant things to do in Tel Aviv.
Have you visited this unique city?
What was your favourite thing to do there?