Ever since I first learnt to scuba dive in Nicaragua, I've wanted to experience the fantastic underwater world of Zanzibar in East Africa.
Perhaps it's because that's where my instructor first learnt her trade, or perhaps I just loved the idea of scuba in the exotic waters off the African coast, but whatever the reason the fact remains, diving Zanzibar has been on my bucket list for a long, long time.
---
Related Posts
---
My diving Zanzibar experience was kindly sponsored by Buccaneer Diving but, as always, all views are my own.
This page contains affiliate links meaning Big World Small Pockets may receive a small commission on any purchases at no extra cost to you.
---
Grab Your Copy of How to Travel Africa for Less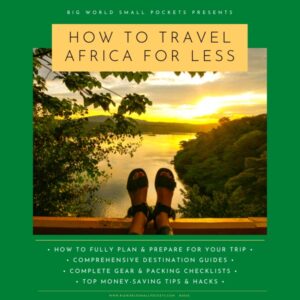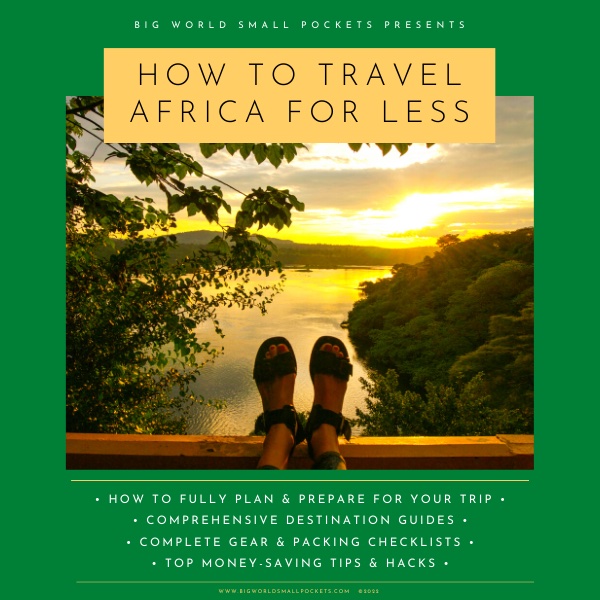 My ultimate guide to travelling Africa on a budget is now available, meaning you can finally get ALL my top tips for adventuring around all, or parts, of this amazing continent in one handy eBook, including…
Full Planning & Preparation Guides
Detailed Destination Info
Complete Packing & Gear Lists
Top Money-Saving Tips & Hacks
My Diving Choice
So, when I learnt that my overland Africa trip was going to include a stop on this island paradise, the first thing I did was research when and who to enjoy scuba diving in Zanzibar with.
And immediately I was struck by the fact one name kept coming up time and time again.
Buccaneer Dive Centre seemed to be the leading company with stacks of great reviews and plenty of experience under their belt.
But little did I realise at the time just how great these guys were.
Buccaneer Diving Zanzibar
The leading dive centre in East Africa, Buccaneer are a PADI 5 star IDC centre.
What this means, for those not in the know, is that this dive company are at the top of their game! In essence, they instruct the instructors!
As such, Buccaneer are the company you want to dive with in Zanzibar.
Paje Location
Outside of their PADI recognition, another great reason I'd encourage anyone to blow some Zanzibar bubbles with these guys is their location.
Situated on the east of the island along the beautiful beach of Paje, their setting is truly spectacular.
Compared to the north of island – the other main hub for underwater fun – the pace of things is much more chilled in Paje and the long white stretch of sand even more stunning!
(From friends who dived further north on Zanzibar too, I've heard that the coral is definitely better in the Paje area too, and the underwater world less crowded with tourists as well.)
With its classic Indian Ocean scenery – turquoise azure waters to die for – even before you get in the water in Paje you'll have fallen in love with the spot and, as such, I'd definitely advise allowing yourself at least 3 days to enjoy this incredible destination.
LOOKING FOR A BUDGET TOUR IN TANZANIA?
If you're interested in an unforgettable, well-priced tour in Tanzania with guides you can trust, then email me at [email protected] and I'll send you my top recommendations – simple!
Zanzibar Scuba Diving Review
Due to the huge tidal ranges in this eastern part of the island (the water here goes out almost 1.8km), diving has to be timed just right.
Our trip left in the afternoon, which in contrast to the early dive start time I'm accustomed to, meant I was delighted to have a bit of sleep in and then the chance to explore the beach before heading to the dive shop, located next to the excellent Ebb & Flow Apartments where I stayed.
My diving Zanzibar experience with Buccaneer included 2 dives, which was perfect, because you'll want at least this much time underwater to truly absorb the magic!
Each dive was 45 minutes long and between the 2 sites we had an excellent range of coral, fish and other marine life.
Safety Conscious
The Buccaneer experience started with a very thorough briefing, which made me feel very reassured especially since I hadn't dived since Australia's Ningaloo Reef 11 months before.
This level of safety consciousness continued throughout my whole experience with Buccaneer Diving. In fact, I'd probably call these guys the most professional and customer-focused company I've actually dived with!
For a start, the sheer of volume of staff and their very helpful service was second to none.
There was almost 1 staff member to each diver and they really couldn't do enough when it came to helping you set up your equipment and making sure you were safe and comfortable.
Buccaneer's equipment was also excellent – clean and well-maintained – with their boats new and well-kitted out too.
TRAVEL INSURANCE FOR TANZANIA
World Nomads offers simple and flexible travel insurance. Buy at home or while travelling and claim online from anywhere in the world.
Alternatively, if you're a long-term traveller, digital nomad or frequent remote worker seeking travel health cover, check out Safetywing's Nomad Insurance policies.
Marine Life
And when it came to what we saw, we were truly spoiled!
From seahorses to octopus, moray eels to blue-spotted rays the diversity of marine life was outstanding.
We also saw a huge range of tropical fish, with clown fish, parrot fish, trumpet fish, squirrel fish and box fish all getting involved in the action!
Add to this, the fact that the coral off the coast of Paje was probably the best I've ever seen and I can definitely confirm that scuba diving Zanzibar is a worthy bucket list contender.
So, if it isn't on your list yet, can I recommend you get it on there asap?!
And if it is already on your list, then make sure you breathe the best bubbles with Buccaneer. The whole experience really was second to none.