WELCOME TO PARADISE!
That's what a huge sign as you enter the town of Paje on the island of Zanzibar should say!
Yep, I've been to some stunning beaches in my time people, but this one takes the biscuit!
Well, it at least takes a top 4 biscuit!
I mean there's some stiff competition out there with Australia's Turquoise Bay, Nicaragua's Little Corn Island and Kenya's Diani Beach ranking pretty high as well!
But what all these serious beauties have in common is their stretches of white sand, swaying palm trees, gorgeous turquoise oceans and stunning sunsets.
So, if you're into any of these as much as me, I can highly recommend getting Paje, Zanzibar on your list!
Read on to discover more about this secluded paradise…
---
Related Posts
---
This page contains affiliate links meaning Big World Small Pockets may receive a small commission on any purchases at no extra cost to you.
---
Grab Your Copy of How to Travel Africa for Less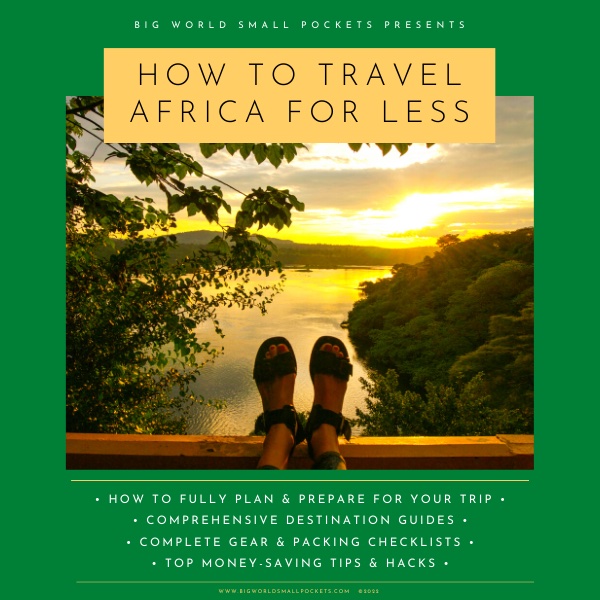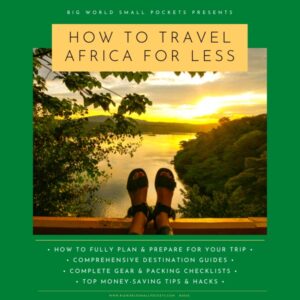 My ultimate guide to travelling Africa on a budget is now available, meaning you can finally get ALL my top tips for adventuring around all, or parts, of this amazing continent in one handy eBook, including…
Full Planning & Preparation Guides
Detailed Destination Info
Complete Packing & Gear Lists
Top Money-Saving Tips & Hacks
Where is Paje, Zanzibar?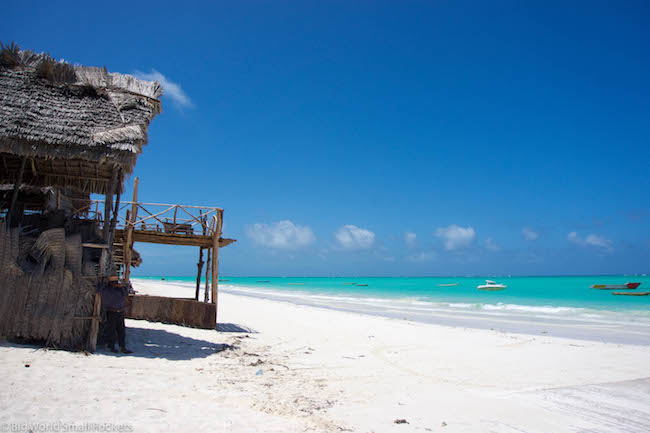 Located off the coast of Tanzania, Paje is situated on the island of Zanzibar, which can succinctly be summed up as Indian Ocean amazingness (yes, I'm using that word!)
Situated on the east coast of this fabulous island, Paje is essentially a huge, long strip of white sand bordered by a small village on one side and a collection of beachfront accommodation services and eateries, as well as turquoise waters on the other.
There's a huge tidal range here and often a good breeze, so Paje is fast becoming a mecca for water sports… but not yet!
Yes, right now, Paje is delightfully peaceful and quiet; and while it is on the map many tourists prefer the busier, more developed north beaches of Zanzibar.
I have friends that visited the north instead of the east of Zanzibar and after hearing their experience and seeing their photos, I'm so glad I chose Paje as my beach destination in Zanzibar… just saying!!
LOOKING FOR A BUDGET TOUR IN TANZANIA?
If you're interested in an unforgettable, well-priced tour in Tanzania with guides you can trust, then email me at [email protected] and I'll send you my top recommendations – simple!
Otherwise, check out these great Tanzania tours that include time in Zanzibar, or shoot Absolute Africa an email!
Yup, I'm currently offering my readers an exclusive discount on all Absolute Africa tours, meaning you can now travel even more in this amazing continent for even less!
Simply send this top African overland tour company an email to [email protected], quoting the discount code BWSP, and start planning your incredible trip with them today!
How to Get to Paje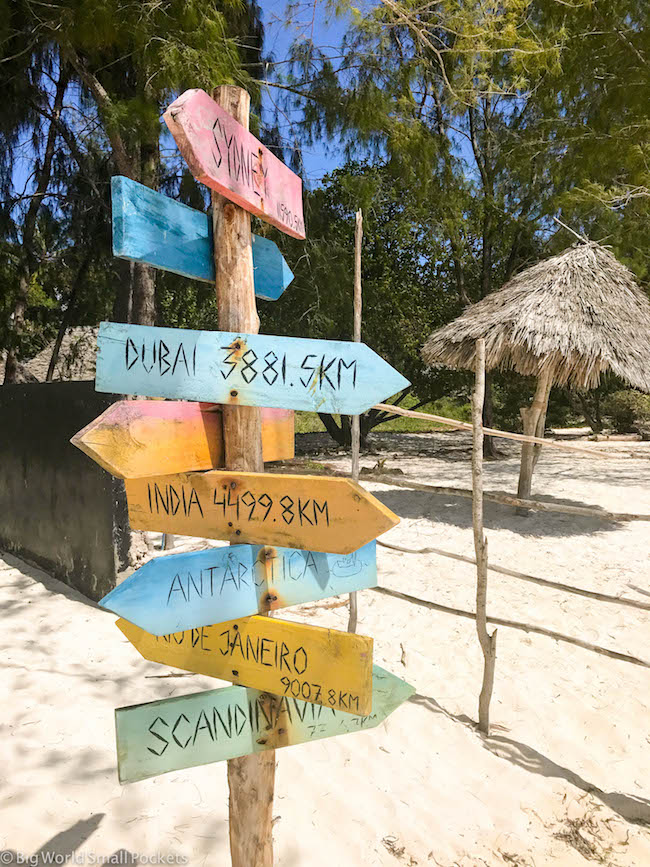 The first step to reach Paje is to get to Zanzibar in Tanzania itself.
This can be done via an expensive flight from various African or European destinations (check out Skyscanner for the best rates) or via a cheaper ferry option from Dar Es Salaam to the capital Stone Town.
CHECK OUT MY TOP 10 THINGS TO DO IN DAR ES SALAAM IF YOU'RE HEADING TO THIS CITY
From Stone Town, you can either get a private taxi – priced at around 25,000 Tanzanian Shillings (TZS) and taking 1 hour – or you can catch 2 local buses.
No surprises for guessing which option I batted for!
Here in Tanzania, the local buses are called dala dalas and this phrase is used to describe anything from a new-looking minivan to an old, open-air pick-up truck.
No surprises which sort of dala dala I got to Paje!
Yep it was a bumpy 2.5 ride, but at least it was fun and cheap – costing only 2000 TZS … and no doubt I still overpaid!
Actually, if you go for the dala dala option to get to Paje, you actually have to change vehicle just outside of Stone Town, but this is straightforward and there's always someone to wave the clueless tourist in the right direction!
Otherwise, ask for details at your accommodation in Stone Town.
I highly recommend the great hostel Lost & Found, which is located in the heart of Zanzibar's capital and has some very knowledgeable staff.
Where to Stay in Paje
Ebb and Flow Apartments is the perfect spot if you want to be close to the beach in Paje. They're also linked with the dive school, so you may be able to swing yourself a discount here.
TAKE A LOOK AT SOME PICS OF MY STAY IN THESE BEAUTIFUL APARTMENTS HERE.
If you're looking for somewhere a bit cheaper, you're more likely to be on fringes of the action, but New Teddy's Place, as well as Drifters, are both top budget accommodation spots I recommend in Paje, Zanzibar.
Things to Do in Paje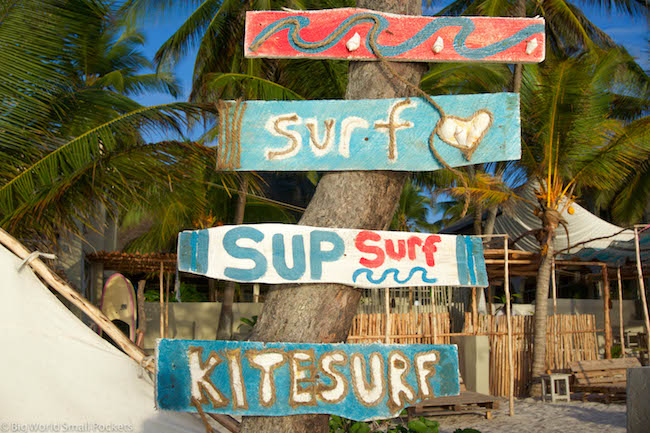 As I said before Paje is known for its water sports, most commonly its excellent scuba diving opportunities.
In fact, if you are looking to dive Zanzibar, Paje is absolutely the place to come.
The clear, warm waters are a scuba diver's heaven and I got to see turtles, starfish, trumpet fish, moray eels and octopus among a heap of other colourful marine creatures.
I completed my diving experience in Paje with Buccaneer Diving, who I can't recommend enough for their professionalism, safety and excellent customer care.
The leading dive centre in East Africa and with a 5 Star PADI rating, these guys are definitely the people to breath bubbles with in Zanzibar.

CHECK OUT MY ARTICLE ABOUT DIVING WITH BUCCANEER IN PAJE HERE.
As well as scuba diving, there's also good surfing opportunities and excellent kitesurfing opportunities in Paje.
In fact, this stretch of sand is quickly becoming something of a kitesurfing mecca!
As such, it's obvious this place is going to take off, so I definitely recommend getting in before the crowds!
DON'T HEAD TO PAJE WITHOUT THESE…
#1 Bikini or Swimsuit – How else are you going to enjoy the sun and sea?!
#2 Sunscreen & Sunhat – Things get hot here so do be prepared!
#3 Good Camera – An absolute must if you're looking to capture the incredible beauty of this beach. I love my mirrorless Sony A6000, which is light, compact and robust – ideal for Africa travel.
#4 Sarong – Whether it's covering your shoulders when you go into the village or making into a beach dress when you hit the sand, this is a great multi-purpose travel item for Zanzibar. 1 World Sarongs have a great collection if you're looking for some inspiration.
#5 Tanzania Lonely Planet – Incredibly useful for the maps and accommodation recommendations, the Tanzania Lonely Planet is a must-have for travelling in Zanzibar as well as elsewhere in the country.
#5 Insect Repellent – Malaria is a big risk in here in Zanzibar, so cover up at night and pack at least 30% DEET spray.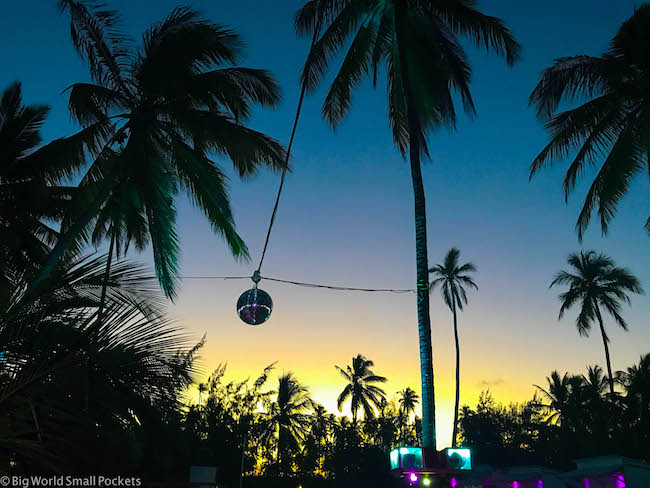 How Long to Spend in Paje?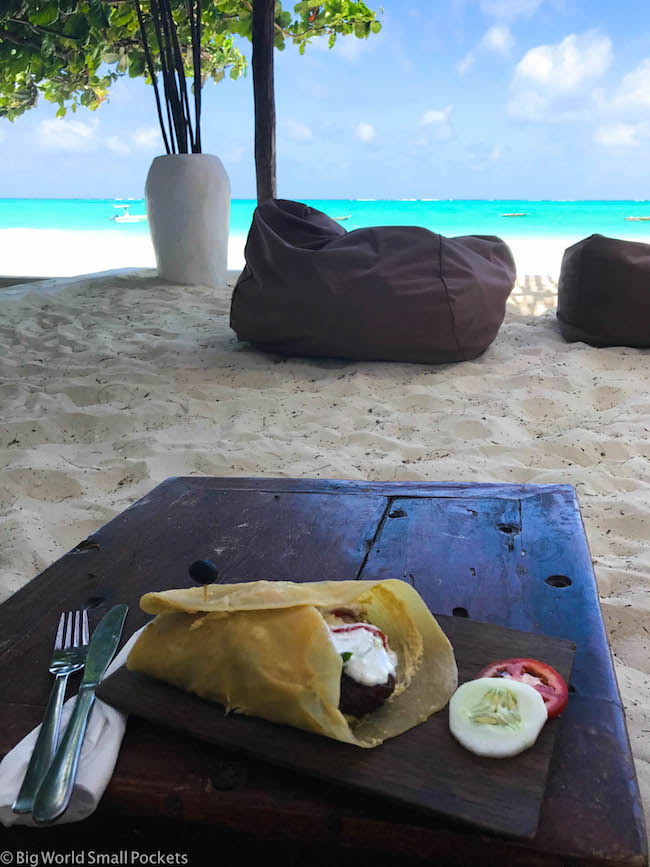 I would honestly suggest a 4 night minimum stay in Paje!
I mean you could easily spend a week here if you're a beach person or looking to learn to kitesurf.
I sadly only got to stay 2 nights here in Paje and felt really short-changed!
Don't underestimate the power of Paje's beauty people!
TRAVEL INSURANCE FOR TANZANIA
World Nomads offers simple and flexible travel insurance. Buy at home or while travelling and claim online from anywhere in the world.
Alternatively, if you're a long-term traveller, digital nomad or frequent remote worker seeking travel health cover, check out Safetywing's Nomad Insurance policies.
Eating and Drinking in Paje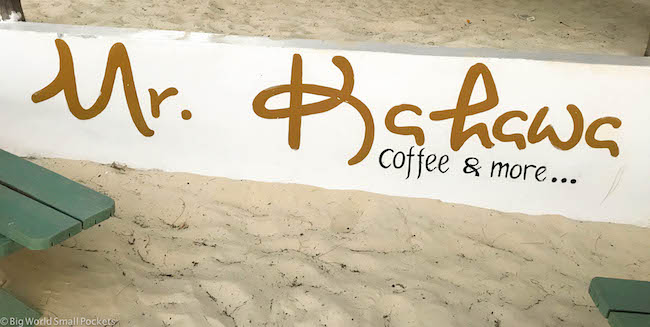 With a number of good local, as well as ex-pat eateries, Paje is well-stocked when it comes to keeping you fed and watered!
My 2 favourites were Mr Kahawa and B4.
Mr Kahawa is a stunning beachside (literally, as in your beachbag seat is on the sand!) café open for lunch and breakfast.
Not having had western food for a while when I got here, I was beyond delighted to enjoy a hummus & falafel wrap, a stunning green smoothie and the best coffee I've had outside of Australia – no exaggeration!
B4 is more of an evening joint open for dinner and disco fun!
Specialising in burgers, I had a yummy mozzarella veggie option here complete with some scrummy thick potato wedges.
After dinner, the beats get going and the good times roll in with the ocean.
If you're sticking to a super tight budget, then your best option will be to head into the local village of Paje for supplies and snacks.
Things to Know about Paje
While I would definitely consider Paje safe, you do have to be careful about walking along the beach at night.
This is especially true for solo women. My advice… DON'T.
There's also the usual collection of beach boys hustling the sandy strip in Paje, but they were all very friendly and harmless in my experience.
Zanzibar's population are predominantly practising Muslims, which means dress standards are conservative.
On the beach it's ok to wear bikinis and shorts, but if you head into the village I'd suggest exercising a bit more modesty.
You'll likely see local women collecting seaweed at low tide in Paje. One of the uses for this is to make soap, which is sold locally via a women's cooperative.
A good way to sustainably support the community here, this soap is fantastic, comes wrapped in a banana leaf and can be bought in local shops.
LIKE IT? PIN IT!
So that's my ultimate guide to Paje, Zanzibar people.
Have you got any more questions about this fantastic spot?
Anything I didn't cover?
Hit me up in the comments below and I'll do my best to fill you in.