Want to visit South Africa's main 2 destinations? Then here's the best time to visit Kruger National Park and Cape Town.
What a wild and wonderful country South Africa is – not only does it boast the epic city of Cape Town within its boundaries, but also the mighty safari destination of Kruger too.
In between, there's a whole heap of beaches and mountains… not to mention the 2 separate kingdoms of Eswatini, and Lesotho as well.
And what this really shows is just how huge and diverse this country is, how massively its geography and its climate vary.
While this is amazing news for travellers to South Africa of course, it also comes with its own set of problems because, being situated at opposite ends of the country, Kruger National Park and Cape Town have totally different climates.
This means combining them into a single trip, at a single time of year, can bring its own drawbacks.
Having visited both as part of single trips, as well as a combined one, I want to go you the complete lowdown on when the best time to visit Kruger and Cape Town is, with several different options to help you plan your perfect trip…
---
Related Posts
---
This page contains affiliate links meaning Big World Small Pockets may receive a small commission on any purchases at no extra cost to you.
---
Grab Your Copy of How to Travel Africa for Less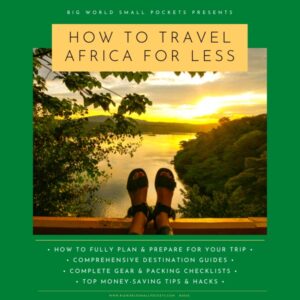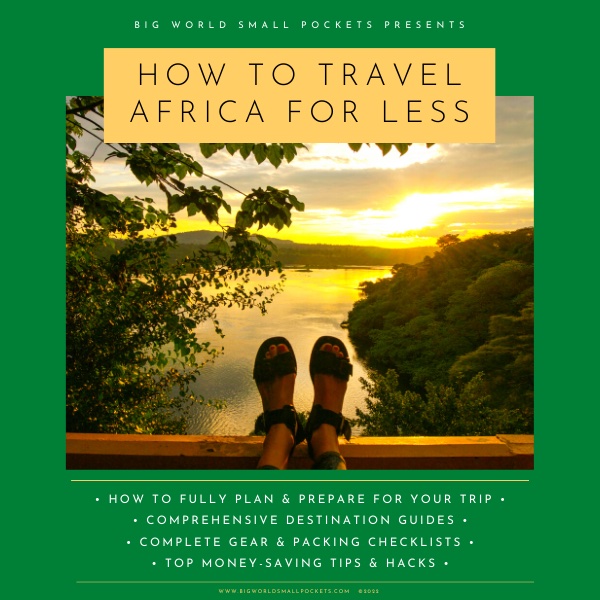 My ultimate guide to travelling Africa on a budget is now available, meaning you can finally get ALL my top tips for adventuring around all, or parts, of this amazing continent in one handy eBook, including…
Full Planning & Preparation Guides
Detailed Destination Info
Complete Packing & Gear Lists
Top Money-Saving Tips & Hacks
Cape Town Climate
Let's start with Cape Town.
Situated in the Western Cape, Cape Town enjoys almost a Mediterranean climate with warm, hot summers and wet, cool winters.
Lying pretty far south, it's also surrounded by ocean and, as such, can be a windy city at the best at times, with the wild Pacific and the enduring Indian Ocean both lapping at its shores (or near enough!)
Being in the Southern Hemisphere, Cape Town's summer occurs during the months of November through February.
Anytime up until April is still considered warm and pleasant here, as is October, with these months essentially forming the shoulder tourist season.
Outside of these months, it can certainly get pretty fresh in Cape Town and that really can put a dampener of some the activities you may want to enjoy while you are there.
As such, I would not recommend visiting this city during the peak winter months of June, July & August, when the cold would be too much for me and the rain too heavy – think temperatures that are sometimes as low as 8 degrees.
I know some people don't mind this kind of weather, but I think most would agree it's pretty suboptimal!
Best Time to Visit Cape Town
Because Cape Town really is a very outdoorsy city.
There's just so much beautiful nature and landscape to take in around the city that you really want to visit at a time when this is possible.
From enjoying the beaches of Camps Bay to checking out the Penguins at Boulder, from camping in the Cederberg Reserve to hiking Table Mountain, the vast majority of the best things to do in Cape Town involve getting outside.
For me personally, as a complete winterphobe, there's no way I'd like to be doing this in a Capetonian winter, when cold temperatures, rain and of course that pesky wind, can certainly limit your opportunities.
As such, for me, the best time to visit Cape Town is during the spring and summer months from November through February.
It's worth noting however that, even within this period, there are no guarantees.
November can still be wet and, what I would describe as, cool; while February can see some very strong winds and super-hot temperatures.
I've visited this city several times during the months of January, February & March and have to say I've always had luck with the weather at these times.
As somebody who doesn't mind the heat, this is definitely my preferred time to visit Cape Town.
If you aren't a fan of high temperatures however, then potentially the shoulder season months of April and October might suit you better, with May and September as second (less desirable) possibilities too.
Kruger National Park Climate
Located at the opposite end of the country, both in terms of west vs east and north vs south, Kruger National Park is located in the Eastern parts of the Mpumalanga and Limpopo provinces of South Africa, 450km north of Joburg.
Surrounded by the vast country landscapes, including hills and gorges, it's far from the coast and edges the Mozambique border, which means life here is hot and often humid, aka more tropical.
As such, it rarely gets cold up in Kruger – at least nothing like Cape Town – and the wind is not normally such an issue either.
Instead, the major distinguishing feature of the Kruger's climate is rainfall, as the weather up here is generally split into wet and dry seasons.
The rains come to this part of South Africa usually between the months of October and February, when the humidity can be stifling and temperatures soar.
Between May and September are the driest months of the year in Kruger National Park, but also the coldest – although, by most country's standards, it's a pretty mild winter with temperatures really only dropping at night.
During March, April and May, showers and thunderstorms aren't uncommon here, but conditions are getting drier and less humid.
Best Time to Visit Kruger National Park
Kruger is a hard one to call when it comes to the best time to visit, as both wet and dry seasons here have their advantages.
During the wet season, the landscape is in full bloom here, with lush bush all around and the green scenery making for some very beautiful views.
River are flowing, as are waterfalls and the place seems to come to life.
It's also worth noting that while October through February is officially known as the rainy season here, in true tropical style that often just involves a heavy downpour, or tropical thunderstorm, in the late afternoon or evening, with the rest of the day often boasting blue skies and strong sunny rays.
In fact, I visited Kruger during the month of February and this was exactly what I found it to be.
If you're into your landscape photography, for example, you may therefore find the "wet season" the best time to visit Kruger.
If wildlife is more your thing, then perhaps consider visiting during the dry season instead.
During July to September, most animals in Kruger are rearing their young, so your chances of checking out some cute baby animals are much higher at this time.
With dry conditions in full swing during these months of the year too, the landscape is much more barren, meaning animals can be easier to spot as well (versus during the lush, wet season, when the thick, green bush can easily hide them).
Best Overall Time to Visit Kruger & Cape Town
So, as you can probably already tell from what I've written so far, there's a very annoying situation presenting itself to us South African travellers…
Namely that when it's dry in Cape Town, it's wet in Kruger National Park.
And when the best wildlife spotting is happening in Kruger National Park, it's cold and wet in Cape Town.
The makes it very difficult to definitively say when the best time to visit Kruger and Cape Town together is!
Because of a) my fear of the cold and b) because I know I will be spending longer in Cape Town than in Kruger National Park and c) because getting outdoors to explore the landscape and hitting the beach around the city is very important to me, I've always visited South Africa during their summer – either in the months of Jan, Feb and March.
During this time it did rain in Kruger, but only in the late afternoon or evening as I mentioned, and not enough to disturb the enjoyment of my safari.
In fact, I still saw a lot of wildlife in Kruger during this wet season, including wild dogs, giraffes, elephants, lions, hyenas, antelope and tons of birds.
That said, it was pretty darn hot up there!
If you are less into the heat however, you may find the best time to visit Kruger and Cape Town is actually during the shoulder season in both locations, when prices may prove a bit lower too.
Definitely a win for those small pockets!
Generally, you can still expect mild conditions in Cape Town during March and April, and it will certainly be less humid in Kruger during these months too.
At this time of year you will still be able to get outside and explore the landscapes of Cape Town, whilst simultaneously having less chance of rain spoiling your Kruger plans and more chance of seeing wildlife as the bush slowly dries out and clears away.
Equally, you could consider the best time to visit Kruger and Cape Town as falling just before high season starts.
By that, I mean the months of September and October, when Cape Town is beginning to warm up and conditions in Kruger National Park aren't yet super humid and wet.
Overall, the time I would avoid are the months of June, July and August, when it is cold and wet in Cape Town and cooler in Kruger too. Yes there may be more baby animals around during these months, but the landscape of this massive National Park won't look nearly as pretty – it's dusty, dry landscape at that time of year not making for the best photos either!
Plus, it's summer across the northern hemisphere then, which means the cost of a flight to South Africa, when you could enjoy a great holiday closer to home for less make it a non-starter for me.
Mini Travel Guide to Cape Town
Best Hostel in Cape Town for Digital Nomads
And right by the Waterfront is the fabulous Atlantic Point Backpackers. A haven for budget travellers, I absolutely loved my time in this gorgeous spot with its chilled and personal vibe.
Ideal for female travellers, the women-only dorms here (ensuite) are a rarity in Cape Town and the healthy FREE breakfasts, good coffee and huge, clean guest kitchen and top security add to the super ambience.
Friendly staff here made me feel right at home and with a designated Whatsapp group to keep you in the loop with the daily hostel activities, it's imposssible not to make friends here!
The beautiful 'beach house' decor completely suits the perfect coastal location of this top Cape Town hostel and I absolutely loved their environmentally-conscious approach to running a hostel.
And what's more, the FREE wifi is lightning fast and they even have a designated co-working space on the premises!
As you can imagine, I was in my element here and will def be back!
Get 15% off your Atlantic Point Backpackers reservation with the promo code: BWSP15
Just enter it when booking via their website and then thank me later! 😉
5 Essential Packing Items for Cape Town
#1 Cape Town Lonely Planet – A great travel aide to this city with tons of historical info, maps and top tips, the Cape Town Lonely Planet will help you get the best from your time here.
#2 Metal Water Bottle – Cape Town tap water is drinkable – hoorah! Bring your metal water bottle so you can simply refill from the tap, helping the environment and your small pockets at the same time.
#3 Good Camera – Cape Town is one of those ultimate bucket list destinations and travelling here with a good camera will help you preserve the memories. I highly recommend the mirrorless Sony A6000. Light, compact and robust, it's been perfect for my Africa travel adventures.
#4 Sun Hat – Cape Town is hot and dry and often, windy as hell. When you're walking in the city, taking day trips or hiking some of the mountains here you'll be exposed to the sun for long periods of time, so making sure you pack a sunhat for adequate protection is key. I love this one from Hello Sunshine.
#5 Amazon Audible – Travel to Cape Town from just about anywhere takes a long time – no matter whether it's on a plane, bus or boat. Having something to listen to while you enjoy the journey therefore is a must! I love Amazon Audible, which is the best audiobook service around!
Best Budget Tours in Cape Town
If you're interested in an unforgettable, well-priced tour in South Africa with guides you can trust, or a self-drive trip organised by a great company, then email me at [email protected] and I'll send you my top recommendations – simple!
Alternatively, I'm currently offering my readers an exclusive discount on all Absolute Africa tours, meaning you can now travel even more in the amazing country of South Africa and across the whole region of Southern Africa for even less!
Simply send this top African overland tour company an email to [email protected], quoting the discount code BWSP, and start planning your incredible trip with them today!
Travel Insurance for South Africa
World Nomads offers simple and flexible travel insurance. Buy at home or while travelling and claim online from anywhere in the world.
Alternatively, if you're a long-term traveller, digital nomad or frequent remote worker seeking travel health cover, check out Safetywing's Nomad Insurance policies.
Travel Money for South Africa
When it comes to paying for things in South Africa, you want to ensure you're not being charged overseas transaction fees or getting poor exchange rates when using your card abroad, which is why I always take my Wise card away with me wherever I travel.
The easy way to spend abroad with real exchange rates, no markups and no sneaky transaction fees, you can use your Wise card just like a debit card here… and it links easily with Google and Apple pay – sold! Grab yours here.
PIN IT TO PINTEREST!
And there you have it, my full rundown of the best time to visit Kruger and Cape Town.
Can you tell how much I love this country?
Do you love it too?
Tell me why (and where your fav bits are) in the comments box below…