So you're looking to find a bargain when it comes to your South African safari experience hey?
Well good news, you've come to the right place!
Unfortunately, as you may not have realised, safaris do not generally make very budget-friendly trips, but South Africa is actually one of the cheapest countries to spot wildlife in across the whole continent.
Add to this my top money-saving tips, which I've gleaned over several visits to this part of the world, and I'm happy to say that after reading this article you really should be armed with all the knowledge you need to enjoy a great South Africa safari for less.
So what are we waiting for? Let's get started!
---
Related Posts
---
This page contains affiliate links meaning Big World Small Pockets may receive a small commission on any purchases at no extra cost to you.
---
Grab Your Copy of How to Travel Africa for Less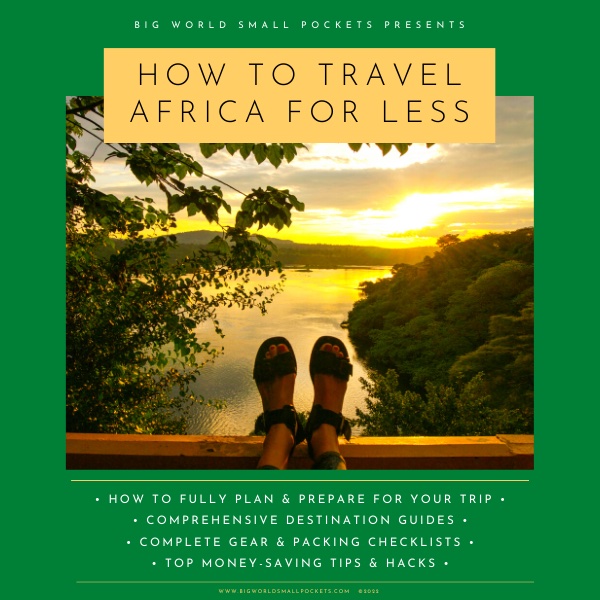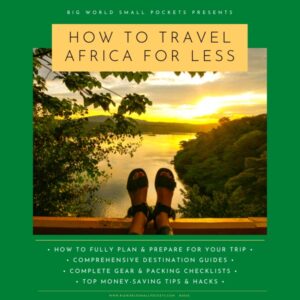 My ultimate guide to travelling Africa on a budget is now available, meaning you can finally get ALL my top tips for adventuring around all, or parts, of this amazing continent in one handy eBook, including…
Full Planning & Preparation Guides
Detailed Destination Info
Complete Packing & Gear Lists
Top Money-Saving Tips & Hacks
#1 Pay in Rand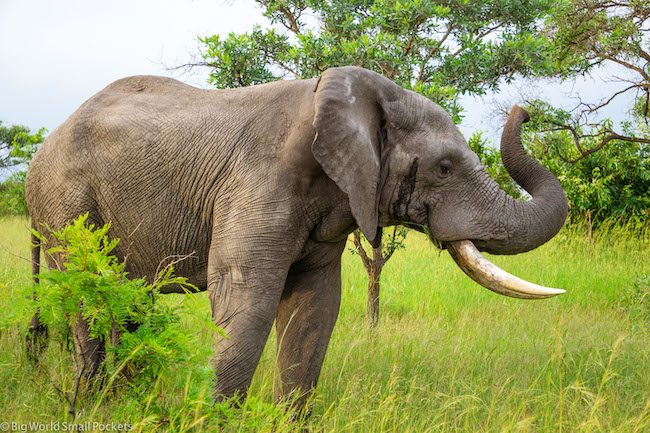 It's generally acknowledged that overall it's cheaper to safari in Southern Africa than it is in East Africa, and out of the all the countries in Southern Africa, it's South Africa itself that generally ranks as the most affordable.
One of the key reasons for this is that many safari tours operating in this country are run by local companies who, unlike in countries such as Kenya or Tanzania, quote their prices in South African Rand as opposed to USD.
Due to exchange rates between the Rand and many Western currencies (including USD, GBP, AUD and EUR), the price of a trip in Rand can be extremely favourable, and paying in this local currency can certainly save you a lot on your South African safari.
In some instances, I'd actually advise monitoring the exchange rate, because the worse the Rand is doing on the global markets (sorry my lovely South African friends), the more attractive the cost of a safari quoted in that currency will be for you.
As such, my first hack is to always check if you can pay in Rand for any South African safari, and then use secure online services like Wise (rather than regular banks) to again save on transaction and processing fees when you pay for your chosen trip.
LOOKING FOR A BUDGET TOUR OR SELF-DRIVE TRIP IN SOUTH AFRICA?
If you're interested in an unforgettable, well-priced tour in South Africa with guides you can trust, or a self-drive trip organised by a great company, then email me at [email protected] and I'll send you my top recommendations – simple!
Alternatively, I'm currently offering my readers an exclusive discount on all Absolute Africa tours, meaning you can now travel even more in this amazing continent for even less!
Simply send this top African overland tour company an email to [email protected], quoting the discount code BWSP, and start planning your incredible trip with them today!
#2 Range of Flight Options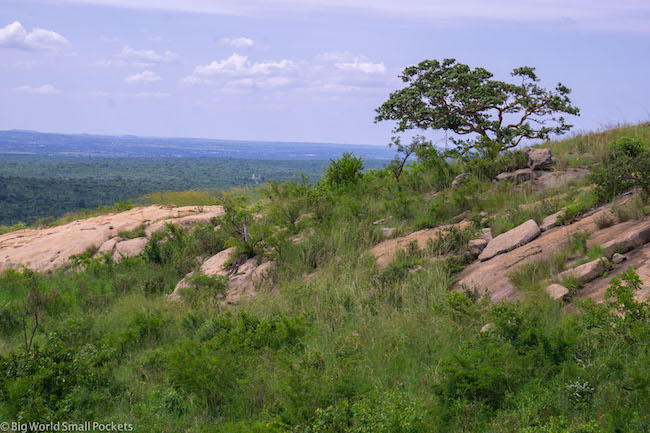 Another reason South African safaris offer some of the best value on the continent is because tourist infrastructure and service standards across this country are generally very high.
This means even if you are paying the same amount as you might do to safari in another country, it's likely the standards you'll receive in South Africa will be better. This is reflective of the fact that living standards are higher here than in many other destinations on the continent.
As a result of greater economic development, South Africa also has more competition when it comes to safari operators, which actually works to keep prices down, as does the fact that tourist demand here is high.
As a major tourism destination therefore, South Africa offers some of the best international connections on the continent, with a wealth of flights arriving from around the globe into its international airports.
Flights here tend to be cheaper too as a result and, given the demand, many deals can be found. As always, I use Skyscanner to find the best options.
It's worth noting too, that flights into Johannesburg are often cheaper than those into Cape Town, so considering flying internationally there if you want to source the cheapest tickets.
Check out my list of the best Johannesburg hostels if you need to stay in this city on a budget.
Otherwise, if you do need to visit Cape Town, you can then catch a domestic flight and the total cost may still be cheaper than flying direct to this city.
Check out my top Cape Town itinerary for some ideas about what to do in this amazing destination either before you start, or after you finish, your safari.
Or alternatively, you can drive, bus or train between Johannesburg and Cape Town and explore many of the other amazing things to do in South Africa along the way.
#3 Accessibility
And linking in with this, it's great to know that not only is South Africa easy to get to, but many of the parks here are very easy to access as well.
Yes South Africa safaris offer some of the most accessible conditions on the continent, which certainly helps to keep the cost of them down!
While of course there are many reserves in very remote parts of the country, especially in the north, there are also many excellent parks like Kruger and Addo that lie just a few hours drive from major cities along well maintained and signposted roads.
Comparing this to the remote and sometimes hard to access parks in Namibia and Botswana, for example, having so many options for safaris that you can drive to in a short amount of time, is another reason the costs stay lower in South Africa too.
As such, it goes without saying, that heading to an easily accessible park will definitely help you find a cheaper South Africa safari.
Malaria risks are also lower in many parts of South Africa compared to other Southern Africa countries.
Always consult a travel doctor before your visit to this part of the world, but generally, some health risks tend to be lower in South Africa, which again makes it feel more accessible and safer for many people… and cheaper too.
#4 Self-Drive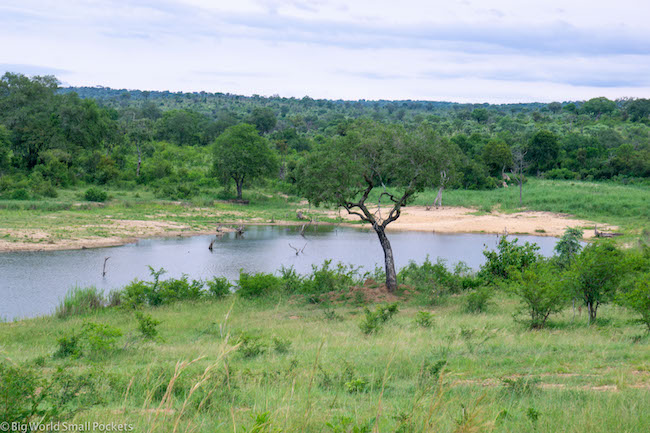 And coming in at number 4 on this list of hacks, it's one that can make a huge difference to the amount you pay for a safari.
And that's because South Africa is one of the few countries where you can actually drive yourself in a safari park.
Yup without the need to join a group or hire a guide, this is a huge way to keep the costs of your South Africa safari low.
Of course, you need to check which parks allow self-driving, and at what times of the day (i.e. dawn, afternoon or night game drives) but once you've established this, you're good to go!
Self-driving also makes it very cheap to get to safari parks, essentially doing away with any need for agencies, tours and guides at all.
Often people pick their rental car up at the airport on their arrival in South Africa and, having planned and booked their own itinerary, they then enjoy this amazing country and its wildlife at their own pace.
Of course, you need to be confident driving in foreign countries, as well as have the relevant licenses etc to achieve this, but once those things are sorted, you're good to go!
Just remember that in South Africa they drive on the left-hand side of the road – great if you're from the UK, Australia or New Zealand, but less easy if you're from mainland Europe or North America!
For more information, check out this article which contains lots of road safety advice for foreigners driving in South Africa.
#5 Camping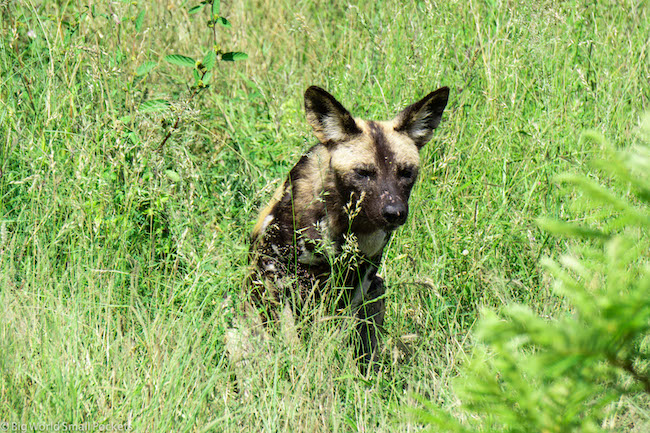 And, of course, driving around in your own vehicle, also allows you to take a bit more stuff with you too, including camping gear!
And what this means is that you can save even more money by camping in safari destinations, rather than paying for lodges, hotels or chalets.
All part of the South Africa safari experience if you ask me, you can't beat spending a night out under those big, star-laden skies, as the noises of this vast landscape and its animals echo around you.
If you are interested in camping, then check which parks offer these facilities, otherwise, if you do want to stick to lodges or chalets, often options you can find just outside the park gates (just a short drive away) are a lot cheaper than those you find with them.
Key camping components to bring with you include a tent, mattress, decent sleeping bag, silk liner and possibly a travel pillow.
Plus don't forget a headlamp, decent bug spray and good powerbank (so you can charge your phone and camera)!
Learn more in my complete safari gear list here.
#6 Government Run Parks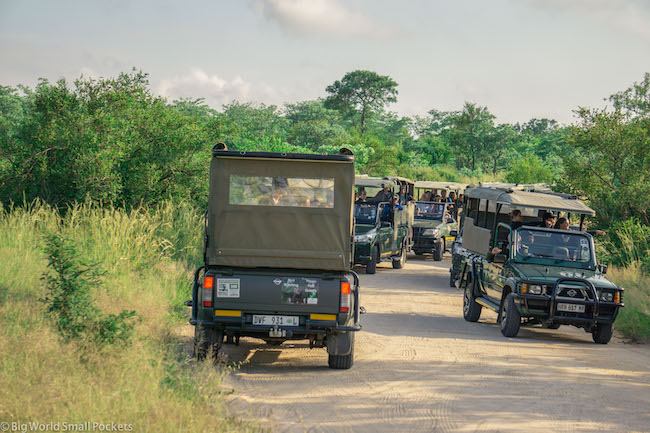 So now that we've covered how to get to and get around the various national parks on the cheap, my next travel hack for spending less on your South African safari is to talk about which parks to visit.
Because, FYI, there's a heck of a lot of them.
Generally, the more expensive options (complete with luxury lodges etc) tend to be the private reserves, which are just that – privately-owned stretches of land with safari businesses operating within them.
But wonderfully in South Africa, you've got a choice beyond this in the form of state-owned parks, which are administered by a central government body and which have much more reasonable entrance and accommodation fees, including camping options and simple chalets.
Check out the great South Africa National Parks website for loads of information about the reserves they administer, what you can do there and where you can stay.
You can easily book direct through the website too – perfect if you're organising your own trip.
Popular SANparks include:
Kruger National Park
Addo Elephant National Park
Agulhas National Park
Karoo National Park
Garden Route National Park
#7 Organise Independently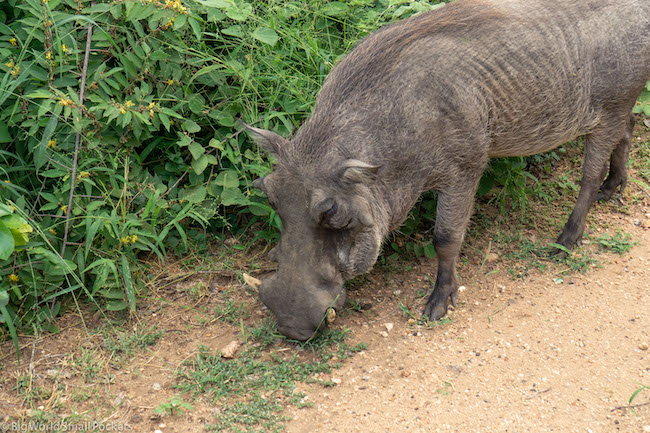 Which leads me nicely onto point #7, because while it might sound obvious, many people forget that the more of their South Africa safari (or any safari for that matter) they organise themselves, the less it's likely to cost them.
Quite simply, not paying an agency to do the legwork for you will significantly decrease the amount of commission you pay.
Researching and booking accommodation, car hire and safari entrances online is totally possible and reading blogs to help you plan your itinerary is a great free resource too.
This does take time of course, but if you've got it, it's worth it.
Alternatively, if you'd rather someone do the legwork for you, then use an online tour booking site, to find your perfect tour.
This will still be significantly cheaper than using a high street travel agency.
And after you've booked all your trip, don't forget to buy some travel insurance too.
I'd never dream of heading off on a safari trip without decent coverage and always recommend travel insurance from World Nomads, which I've used in South Africa and beyond.
If you have an accident or anything untoward happens when abroad, the cost of travel insurance becomes a very cheap way to deal with it!
Alternatively, if you don't want to travel independently, but still want to pick up a well-priced tour, then check out these great South Africa safari trips.
#8 Travel in Off-Season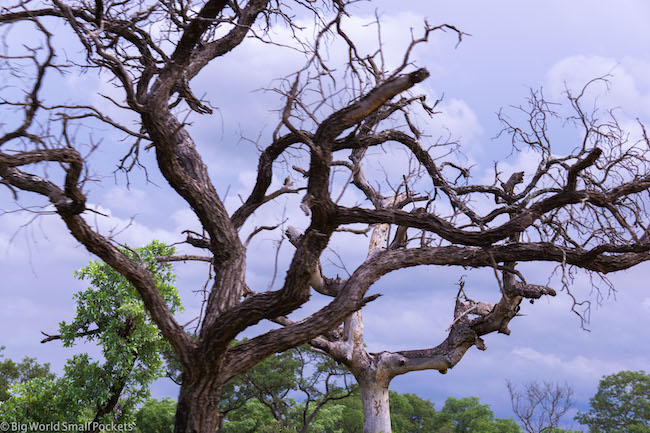 And last but not least, the final tip on my list of how to pay less for your South Africa safari is to travel in the off-season.
The can be a bit of a confusing issue in South Africa because this vast country spans a few different climates and terrains, but generally speaking, the low season here is acknowledged as being during the winter months of May through to October.
At this time, it's colder and wetter in the Cape Town region, but actually drier and pleasantly cooler in the Johannesburg area where Kruger National Park lies.
Kruger is South Africa's most popular national park and visiting here in the "off-season" can be great as the drier conditions mean less humidity and less vegetation, which equals more visible wildlife.
You can learn more about this in my article about the best time to visit Kruger and Cape Town, otherwise, it's worth knowing that any time outside of the South African school holidays are going to yield much cheaper prices for your safari.
Avoid school holidays like the plague… you have been warned!
PIN IT TO PINTEREST!
And there you have it, my 8 budget hacks when it comes to paying less for your South Africa safari.
Do you have any more tips to add to this list that could help other travellers?
If so, please drop them into the comments box below…