Located near the city of Siem Reap in the beautiful country of Cambodia, there's no question the Angkor Wat is one of the most incredible places to explore both within this country, the region of Southeast Asia or even, the world!
From amazing ruins through to its stunning jungle setting, not to mention the enormity of it and the important piece of heritage it charts, Angkor Wat is a feast for history buffs, culture vultures, UNESCO-fans or just plain bucket list tickers!
Yes, the jewel in this region's crown, there's no question most people have this huge temple complex on their list and for good reason – it's one of the planet's most incredible sights and it's situated in a county that's still very affordable to visit-– hoorah for budget travellers everywhere!
So take a look at these top Angkor Wat tours if you want to experience the best of this magical place as part of a trip you'll never forget…
---
Related Posts
---
This page contains affiliate links meaning Big World Small Pockets may receive a small commission on any purchases at no extra cost to you.
---
Introduction to These Top Angkor Wat Tours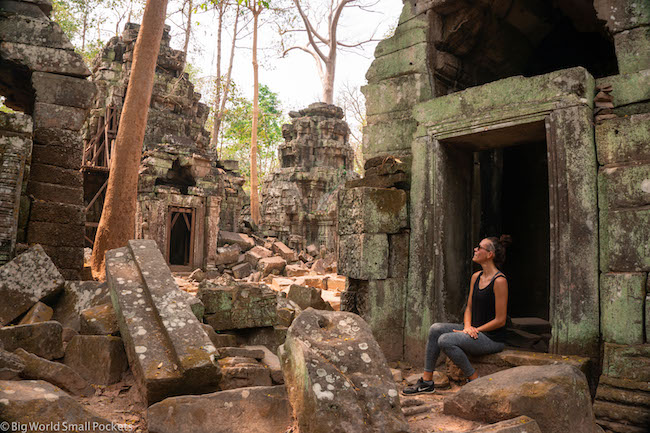 Thought to be the largest temple complex in the world, Angkor Wat is situated in the northwest of Cambodia and was built during the 12th century.
A huge, UNESCO-listed site of stone temples and ruins spread across some 162 hectares, Angkor Wat is a historical and religious site of the highest significance.
It is however, a visitor attraction, which means it has opening and closing times and is ticketed.
You cannot, for example, stay in Angkor Wat.
Instead, all accommodation and other tourism services, including Angkor Wat tours can be found in the nearby city of Siem Reap, which lies just 5km away.
Ranging in time between half-day and multiple day tours, and including activities such as tuk-tuk rides, cycling and walking around the temples, almost all these tours include a pick-up at your Siem Reap accommodation.
You can also tour Angkor Wat independently, using tuk-tuks to get there from Siem Reap, although just beware you won't get the knowledge of a guide if you do this.
Even if you can only afford a guide for a day, I do think it's worth splashing out on this, as it will allow you to learn more about what you're seeing and also get to some of the less-famous temples that only professional guides here will know about.
It's also useful to know that as all these tours will have you visiting temples in Angkor Wat, wearing long pants that cover the knee and shirts that cover the shoulders are mandatory. Learn more about what to pack for your Cambodia trip here.
No question, thin fabrics are the way to go here in the humidity!
You'll also need to buy entrance tickets to Angkor Wat separately, although this is almost done at the start of any tour when you enter Angkor Wat.
And with those intro notes out the way, here's my list of the top 7 tours for visiting Angkor Wat…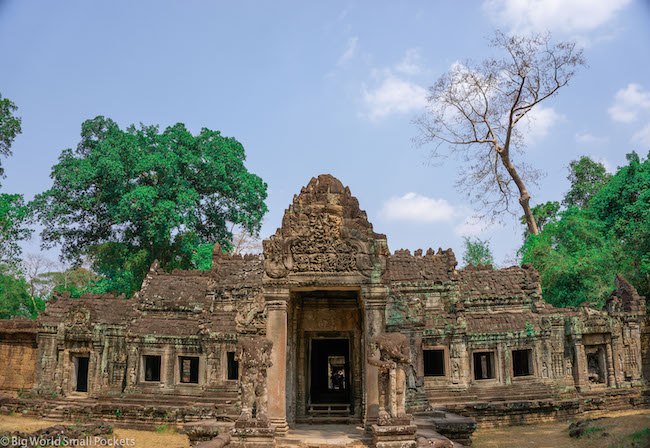 #1 Best for Those on Short Timeframe
This highly-rated one day tour gets incredible reviews and is a brilliant way to see as much of Angkor Wat in just one day.
Giving you 10 whole hours of sightseeing, including picking you up from your Siem Reap accommodation and dropping you back, this tour includes all the major temples of Angkor, as well as the ruins of Ta Prohm in the thick jungle and a stellar sunset experience at the iconic Pre Rup temple.
It also has an English guide included, which is a great way to learn about these incredible Kingdom of Angkor and you'll tour around in an air-conditioned vehicle – perfect in what can be sweltering conditions here.
#2 Best for Action Lovers
I actually experienced a day's cycling in Angor Wat and absolutely loved it!
Definitely rating (in my books at least) as one of the top ways to visit Angkor Wat, the best thing about cycling here is that you can visit loads of hidden temples that are off the beaten track and therefore have much thinner crowds.
Indeed some temples here can't be reached by vehicle and would take too long to walk to from the entrance, which basically means they are almost exclusively seen by those on a cycling tour!
Also leaving from Siem Reap – although you have to make your way to the tour provider's offices in town – this tour also covers the cost of the bike and helmet hire, along with an English-speaking guide, snacks and water and even a local lunch.
Covering almost 30k in distance, a cycling tour like this top-rated one is also a great way to take in the stunning jungle scenery in which Angkor Wat is set, allowing you to engage with the communities that live here too.
The tour ends at around 3pm, which is perfect if you have an evening bus or flight to catch from Siem Reap.
#3 Best Sunrise Tour
There's no question seeing the sun rise over Angkor Wat and the stunning tropical surrounds, is an absolute bucket-list-must if you visit these ruins.
And it's certainly something you won't forget in a hurry.
Even though the crowds can be really busy, having a guide with you is a great way to help manage the number of people and get the best camera shots, as these professionals know all about the best places to stand for photos and also the time you need to arrive there to be first in line.
And this top-rated sunrise tour is no different.
With a small group of maximum of 10 people and a professional English speaking guide, you'll also have access to an air-conditioned vehicle which will help you cover a lot of ground in this one day tour.
The fact that you'll start with sunrise, also means you'll be up early and have the whole day in front of you to explore the main temple as well as Ta Prohm, Angkor Thom City and Bayon Temple.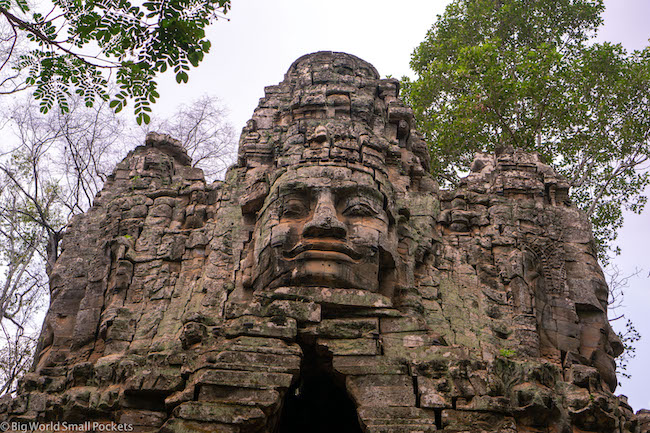 #4 Best Private Tour
There's no question that Angkor Wat is still amazing and awe-inspiring if you visit it with a group, but it can also be a crowded place with many guides offering their explanations simultaneously to large numbers of people.
As such, why not push the boat and enjoy a private tour here if you really want to get a first-class experience and learn as much as possible about this incredible UNESCO site.
This top option gets amazing reviews from hundreds of people and includes a personalised pick-up and private transportation.
Available in English, French, German or Spanish, this tour lasts 7 hours, during which you will cover the temples of Angkor Wat, Angkor Thom, Bayon and Ta Prohm.
You'll also be back in Siem Reap at lunchtime, which means you have the whole afternoon to recover from your busy morning by lying around your pool or unwinding with some retail therapy.
#5 Best 3 Day Tour
I've chosen this as one of the top Angkor Wat tours because it really covers it all!
With 3 days of guided time at Angkor Wat, you can certainly cover a huge amount of ground and learn a ton of info about this worldly treasure.
And the best thing is that, as a private tour with max 3 people, you get to set your own itinerary too.
Yes totally flexible (although your guide will have some suggestions), this tour allows you to set your own pace and see more of what you love – from local villages to authentic cuisine and of course, stunning temples.
Ticket costs are separate, but with a private guide and vehicle, as well as pick-up and drop-off capacity, this tour certainly offers very good value for money and, what I like most about this option, is the way it covers local Cambodian life both throughout history and in modern times.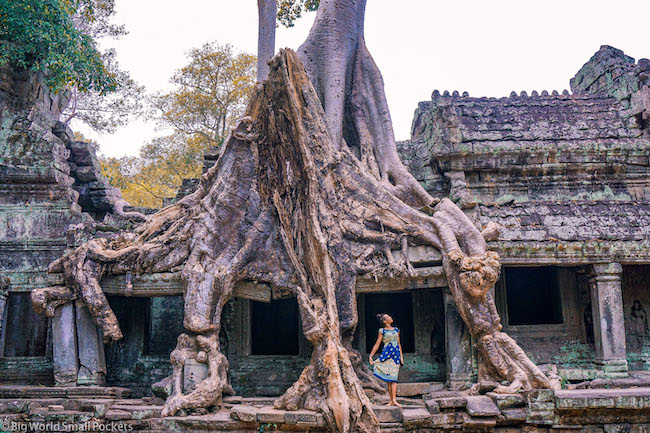 #6 Best for Those on a Budget
As a small group tour, this one day option offers incredible value for money.
In fact, it's so cheap, I could barely believe it!
And it obviously doesn't scrimp on quality either, because hundreds of people have rated this tour very highly.
With a max of 10 people in the group, this tour includes a hotel pick-up, a professional historian and English-speaking guide, air-conditioned minivan transport and free bottles of water.
Running from 8am until 4pm, this is also a full day Angkor Wat tour, that will have you visiting all the main temples here including Angkor Wat, Angkor Thom, Bayon and Ta Prohm.
An absolute bargain!
#7 Best Vespa Tour
And last but not least on this list of the top Angkor Wat tours, I decided to include something a bit different and very fun!
Did you know it's possible to enjoy a Vespa Tour in Angkor Wat?!
As with a cycling tour, but perhaps even more so, touring on Vespa allows you to see a lot of the Angkor Wat site in one day, especially as this tour is over 8 hours long.
Starting at sunrise, you'll get to tick this massive bucket list experience off your list before cruising on for breakfast, followed by touring the temples of Baksei Chamkrong, Angkor Thom, Bayon and Ta Prohm.
With a small group of max 7 people, professional Vespa drivers and guides ensure top-notch safety and this transport form offers you the ability to get away from the crowds and discover lots of hidden spots within the site that 4 wheeled vehicles simply can't access.
The tour price includes hotel pickup and drop-off in Siem Reap, along with the cost of breakfast, local snacks and drinks.
Bike, hire helmets and insurance are also part of the costs package, making this a steal and a really fun day out!
When to Visit Angkor Wat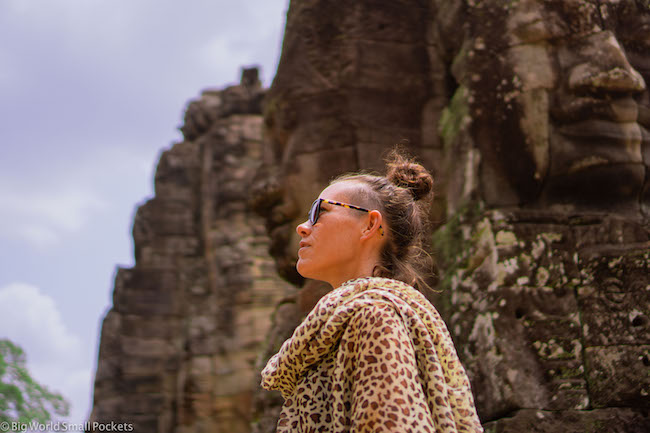 There's no question in my mind that the best time to visit Angkor Wat is during the shoulder season between October and November or March and April.
These times will guarantee you thinner crowds (which you'll definitely be relieved about), better prices, but still have some of the year's best weather.
How to Get To Angkor Wat
Angkor Wat is best accessed from the city of Siem Reap –-it's just a short tuk-tuk ride, cycle or bus ride away.
To get to Siem Reap you can travel by bus from other destinations in Cambodia, such as Phnom Pehn, or you can also easily cross from cities in Central Thailand, such as Bangkok.
Learn how I crossed overland from Bangkok to Siem Reap here.
If you're flying into either Bangkok or Phnom Penh, then check Skyscanner for the best prices of international, regional and domestic flights.
And for bus or train travel across Cambodia (and across southeast Asia too), check out 12Go where you can find all the timetables and tickets to book securely and safely.
How Long to Spend at Angkor Wat
I recommend a 3 day ticket.
Learn more in this article I wrote.
Where to Stay
It's best to stay in Siem Reap when you visit Angkor Wat.
Check out the top deals on accommodation in this city here.
Best Travel Insurance for Cambodia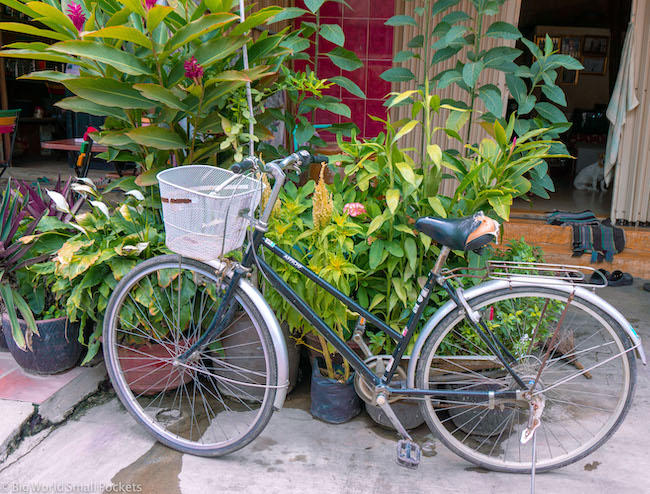 I wouldn't dream of travelling anywhere these days without proper coverage and always recommend travel insurance from World Nomads which I've used during my time in this country and across the world.
World Nomads are actually one of the few companies that will insure you for a huge range of outdoor activities as standard – essential for a country like Cambodia.
Alternatively, if you're a long-term traveller, digital nomad or frequent remote worker looking for travel insurance with Covid-19 cover, then look no further than Safetywing's great Nomad Insurance policies.
These guys will cover you at some seriously great prices, including if you have to quarantine!
5 Packing Essentials for Angkor Wat
#1 Good Camera – You will be pretty much snapping non-stop during your time in Cambodia and will need a good camera to do this gorgeous country justice.
I highly recommend the Sony A6000, which I use for all my travels and love, not least because it's light, compact and robust!
#2 Good Walking Shoes – There will be a lot of walking in and around the temples of Angkor Wat, it's as simple as that!
Make sure your feet are comfortable therefore with a pair of New Balance Trainers. Perfect for stylish city strolling as much as monastery mounting, I love mine!
#3 Good Guidebook – I'm still a massive fan of the Lonely Planet Guidebooks and do think their Cambodia edition is well put together and able to save you a lot of money if you want to learn about the history of this country, but not continually pay for a guide!
#4 Day Pack – Also crucial for sightseeing, a good daypack to carry water, snacks, camera, hat, shawls and other clothing layers is key when you visit Angkor Wat!
This one from Osprey is my pick.
#5 Travel Scarf – And finally, an amazing travel scarf is a great addition when visiting Cambodia as you can easily store all your valuables in it, hands-free, while you're out and about!
PIN IT TO PINTEREST!
And there you have it!
My list of the top 7 Angkor Wat tours in Cambodia that will show you the best of this incredible temple complex.
Are you planning a trip here?
What are your plans?
Tell me all in the comments box below…