If you're looking for a blo*dy brilliant beach holiday, then you've come to the right place!
Yes Mallorca's beach game is seriously strong, and I for one think it might be a hard destination to beat when it comes to balancing budget with beauty.
Because yes sure, the Maldives and Seychelles have got some killers but seriously, who can afford to go there?!
Enter Mallorca which is just a hop, skip and a jump from mainland Spain, incredibly well-connected and actually incredibly affordable when you get there too!
And yes, it's got some stunning stretches of sand to boot!
From quiet coves to wide white gems, there's also plenty of variety, so strap in for the wanderlust ride as I bring you my guide to the 9 best beaches in Mallorca!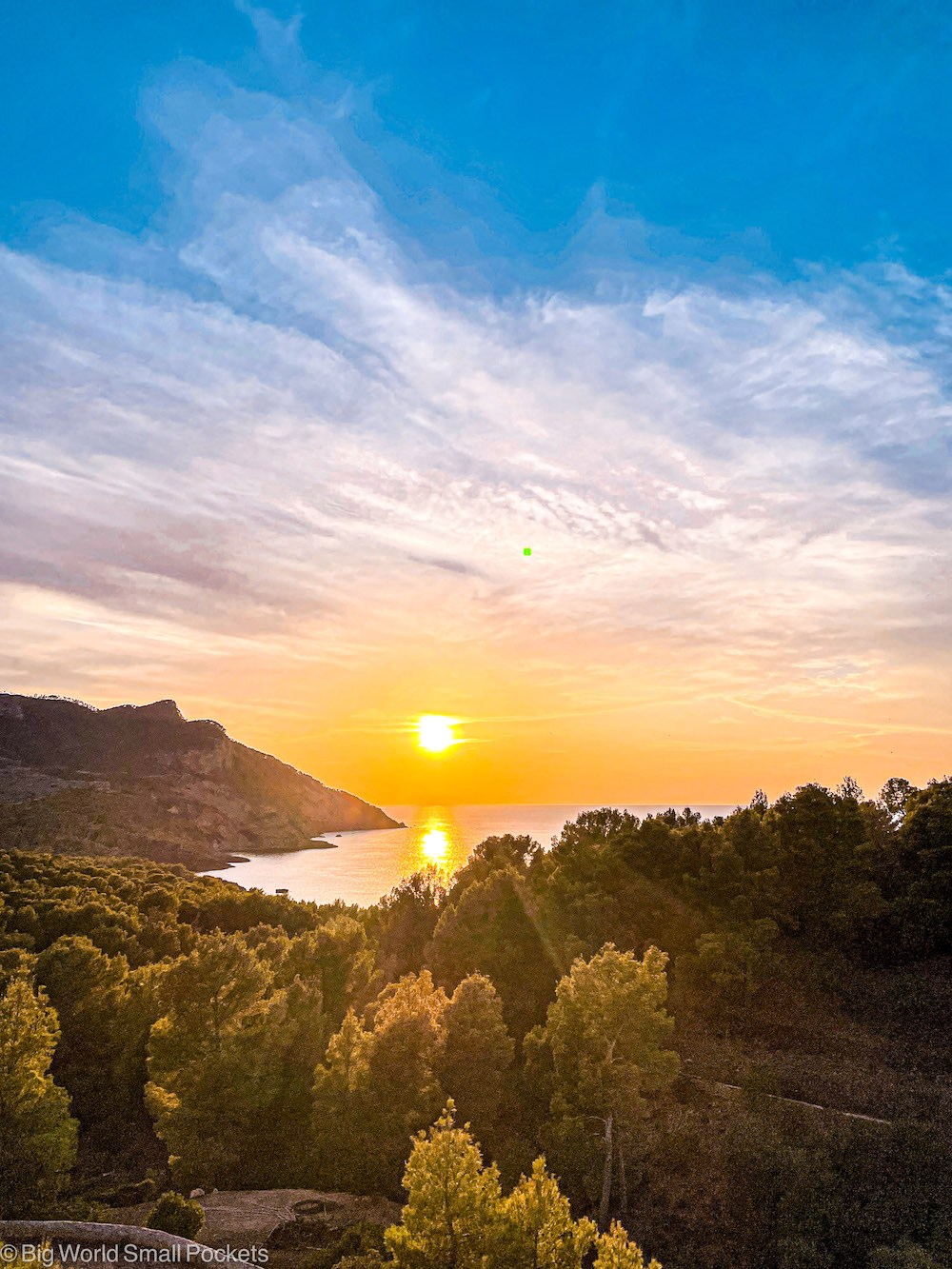 ---
Related Posts
---
This page contains affiliate links meaning Big World Small Pockets may receive a small commission on any purchases at no extra cost to you.
---
#1 Playa de Muro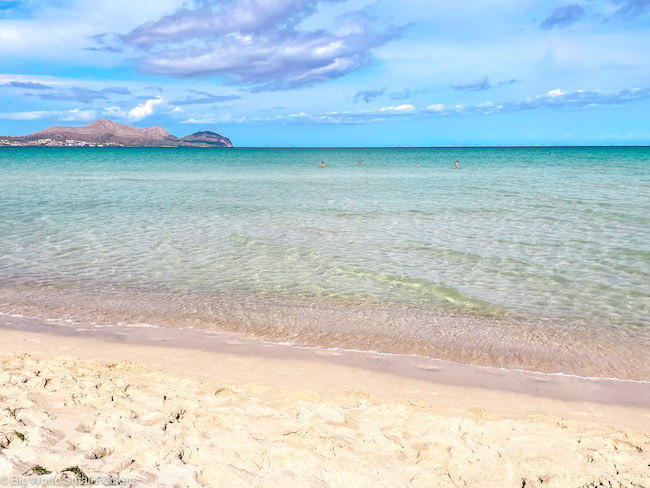 Now readers, there's few things I love more than a good sandy strip backed by turquoise waters and nothing but nature behind, which is why I've picked this gem as one of my top Mallorca beaches.
The natural curve of Playa de Muro, means you also get these glorious views both up and down the bay, which bend round the eye in a really pleasing way!
The shallow water here and sandy bottom means it's both safe, easy and wonderful to swim and the sand is some of the whitest I came across in Mallorca.
Situated in the northeast of the island, this beach is also really accessible and although it's situated between the 2 highly developed (and not my kinda thing) resorts of Alcudia and Can Picafort, it's further enough away from both to provide a very peaceful experience.
There's also no development behind, which I like, and instead it's backed by a natural park, meaning trees divide the sand and any car parks.
Just beware of the nudity and don't wander off too far into the forest – you may, slash will, get a shock!
#2 Calo del Moro
Not to be confused with number one on this list of the best Mallorcan beaches, although that can easily happen (and did, in fact, almost happen to me!), Calo del Moro is actually situated miles away on a different coast entirely.
Yes down in the south of the island, this absolute beauty is a gorgeous little cove beach, which is actually more common in this part of the island.
Boasting gorgeous coloured water and incredible sunset views, there's a small stretch of lovely sand here, but due to the popularity of the beach it does fill up quickly!
And when I say fill up, there can be queues!
I definitely advise getting here early therefore to ensure you can grab a spot!
Do also bear in mind that it's a bit of a walk to get here from the car park too, so maybe not ideal with kids.
#3 Sa Calobra
But if you're after a bit of an adventure to get to a beach, then Sa Calobra in the northeast of Mallorca is definitely one of the best beaches going.
In fact, the journey here is one of the best parts of enjoying some time at this unique spot, as there's an adrenaline-raising drive (or cycle) through a tunnel and around 12 hairpin bends to get here.
However, the views more than make up for the fear factor, as the mountainous scenery and canyon feel around is incredible.
Once you arrive at the beach you'll discover amazing clear water and some lovely stones to lay on and recover from the drive.
If you don't fancy the adventure to get here, then you can also take a boat or hike into Sa Calobra, but the road down (and the village you'll pass) really do make this one of the best overall beach experiences in Mallorca.
In fact, it's one of my top things to do on this island!
#4 Cala Deià
And sticking with the northern mountainous theme, we come to the next entry on my list of the best beaches in Mallorca and this one is Cala Deià.
Also located near a lovely little town (it might even be a village), Deià is a lovely historic spot filled with great places to eat and great streets to wander and snap.
It's also in the hiking heart of Mallorca, which means walking from elsewhere along the coast down to this gorgeous beach is totally possible.
Cala Deià is a small rocky affair, but all the more charming for it, and the backdrop of the Serra de Tramuntana makes it even more gorgeous.
If you do hike down here and want some refreshments then there are a few simple places to eat here that really top off of the local and authentic feels.
Oh and the fact that it rarely gets packed? …. Winning!
#5 Cala S'Amarador
Next up we have Cala S'Amarador, absolutely one of the best beaches in Mallorca if you're into truly stunning scenery.
Located in the Mondrago nature reserve, which is in the southeast of the island, the crystal clear waters here and large sandy area makes it a big hit!
Unsurprisingly, it does get crowded as a result, but really, it does have to be visited at least once during your time on the island.
Some brave souls also cliff jump here (please be careful, I'm not sanctioning it!) and facilities are good too with toilets and showers around, as well as paid parking, making this a great spot for families.
#6 Cala Varques
And just up the coast from Cala S'Amarador, we come to Cala Varques, another gem on the southeastern coast of the island and definitely one of Mallorca's best beaches.
The secret is out the bag unfortunately and this one does get super busy too, but, given how sandy it is and how clear the water is (making it therefore great for snorkelling), it really is no surprise!
The walk to get down to this beach is long (over half an hour and including a wall jump!), but certainly worth it, as this feels like a real journey of discovery (although maybe best avoided with kids!)
Even with this factor, this place still gets busy, so arrive early to secure a good spot and bring all snacks and water as there are no facilities down here.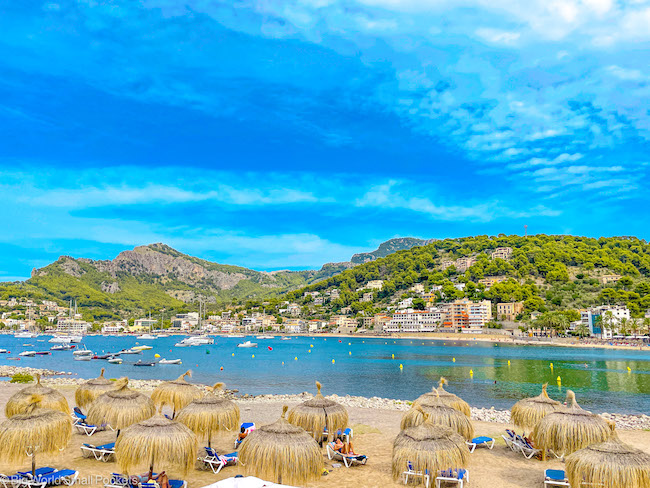 #7 Cala Formentor
Another Mallorca beach that involves an adventure to get to is Cala Formentor, but if you've read many posts on this blog, you'll understand I absolutely love a good adventure!
Situated on the Formentor peninsula, which juts out of the northeast of the island, there's a drive to get here, but you'll be rewarded by a 1km long stretch of gorgeous sand and amazing turquoise waters.
Family-friendly with loungers, sunshades, toilets, showers and a paid shady parking area, there's also water sports on offer and some restaurants where you can grab food too.
The adventure then really takes hold when you move beyond this beach, along the 20km peninsula to the lighthouse at the end, which is a windy and complicated drive with some stunning but alarming drops!
If you're not confident driving then there are buses along here and to the beach from Pollença.
Otherwise, strap in for the ride and enjoy!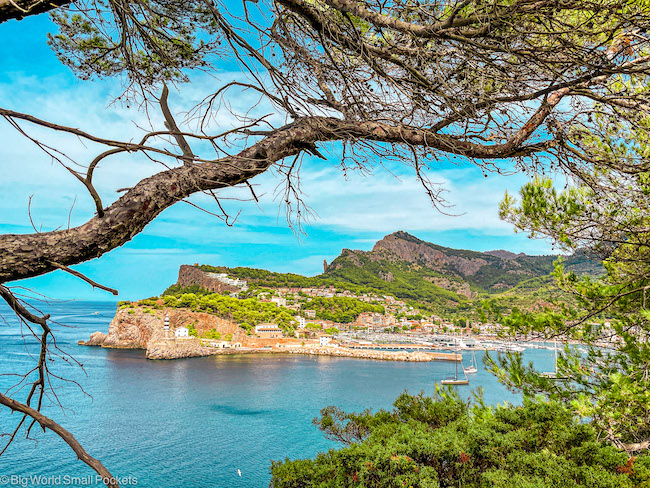 #8 Platja Tuent
And another gem in the northwest of the island (can you tell which was my fav part of Mallorca yet?!), Cala Tuent is again one of the island's top beaches in my opinion.
Remote and tranquil, this is a key place to head to if you want to escape the crowds and still have a mountainous backdrop.
Located close to Sa Calobra, this beach is pebbly and only 100m long, but the clean waters and lack of facilities make it a hit with locals dodging the tourist crowds.
Personally, I think they're onto something!
Bring all your snacks and water here, and don't forget your snorkel, mask and fins either!
Not one for kids and elderly, this delightful spot definitely makes it onto my list of best beaches in Mallorca for adults!
#9 Cala Portals Nous
And finally, for something totally different we come to Cala Portals Nous.
This is a far cry from the remote and cove-like beaches, or those set in a national park, that make up the rest of this list, but I thought it was important to include some diversity!
I also thought it was important to include a beach on this list that's close to the capital, Palma, which is easily accessible in terms of transport and for those who might only have a few days on the island.
Close to the ritzy harbour of Puerto Portals, this spot can be a bit reeshy!
That said, it does have loads of good facilities, some amazing restaurants and lots of lovely sand to relax on!
How to Get to Mallorca?
Palma holds Mallorca's only international airport and flights arrive regularly here from many European capitals, including several London airports.
Budget airlines offer the best deals (if you don't have any check-in luggage), otherwise you might be surprised by the affordability of regular airlines such as British Airways when you include checked luggage.
The best way to check is to use a comparison tool of course and, as always, I suggest Skyscanner for the job!
When to Visit Mallorca?
No question in my mind that the best time to visit Mallorca is between the months of April and October – this is when the warm weather will allow you to take full advantage of the island's best beaches.
How Long to Visit Mallorca For?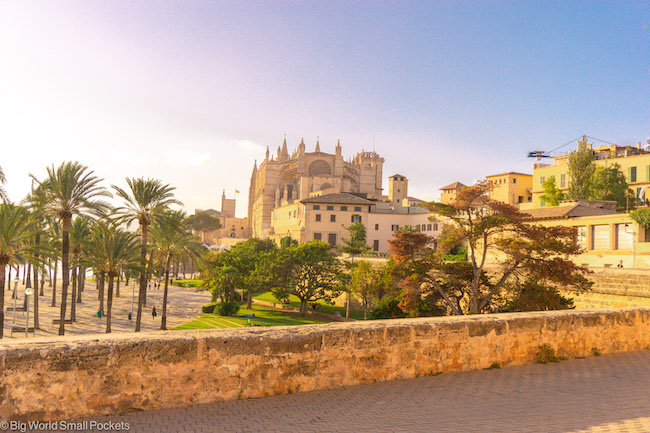 Most people visit Mallorca for 1-2 weeks.
With a fortnight up your sleeve you'll have plenty of opportunities to explore most of the island – perhaps moving and basing yourself in different locations to explore the different parts of the island more easily.
With just one week to visit this island, you can still see a lot, but may have to choose a certain region, i.e. the north, to avoid overstretching yourself.
How to Get Around Mallorca?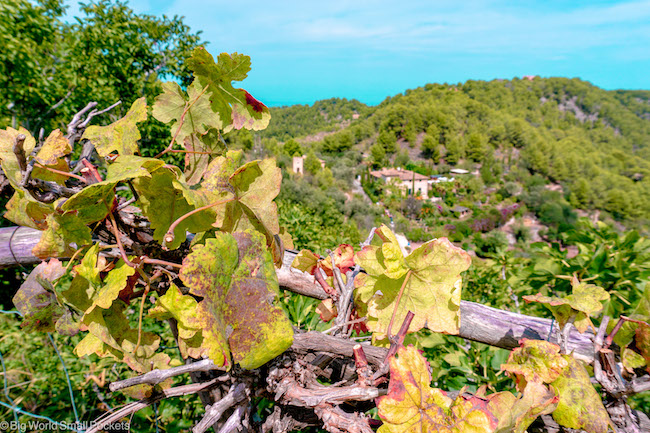 When it comes to getting around Mallorca, there are local bus options you can use – learn more here.
However, I really do think the best option for getting around Mallorca is to rent a car.
This will give you the freedom to explore all the hidden beaches and cute towns you wish to.
Check out Thrifty Car Hire for some great rates.
Packing Essentials for Mallorca's Beaches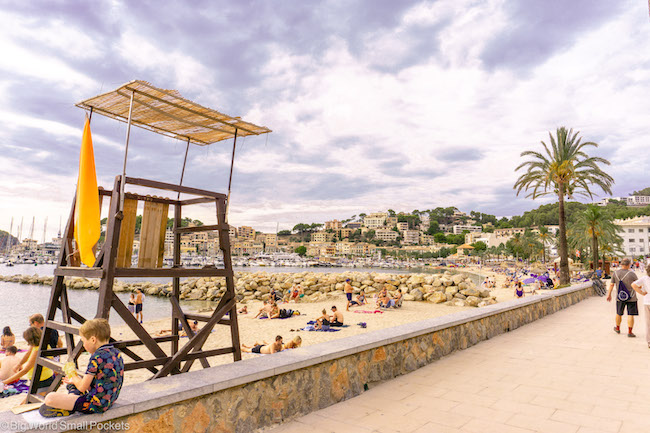 Travel Insurance for Mallorca
World Nomads offers simple and flexible travel insurance. Buy at home or while travelling and claim online from anywhere in the world.
Alternatively, if you're a long-term traveller, digital nomad or frequent remote worker seeking travel health cover, check out Safetywing's Nomad Insurance policies.
Where to Stay in Mallorca?
Ideal for those who don't huge pockets when exploring Mallorca, Palma (the capital) is also a top place to stay.
This is especially true if you want to keep costs down by not hiring a car – the airport is just a short taxi or bus ride away.
Palma is also great for those who want to soak in some of the island's top cultural and culinary spots, so here's my top 3 picks for places to stay in Palma…
Otherwise, if you want to be close to the capital, but stay near the sea, here's my recommended places to stay at the beaches nearby…
PIN IT TO PINTEREST!
So there you have it sun and sea lovers, my list of Mallorca's best beaches.
Have I convinced you to visit this magical island yet?
I hope so, because you won't regret it!
Tell me yes or no in the comments box below…