Cornwall, so near yet so far away at the same time, it's no surprise that this place was once a separate country!
When you holiday here, you can see and feel the subtle differences in the landscape and culture everywhere you go… and it's charming to say the least!
It's a lot like England, yet the contrasts are both subtle and delightful.
For starters: the local language has been preserved – you can see it transcribed on road signs, or hear it on the radio.
Residents call the county Kernow; the local flag of St Piran is black with a white cross; the Furry Dance is more popular than flossing; local legends revolve around Tommyknockers, giants and mermaids; it has its own national anthem 'Going Up Camborne Hill, Coming Down'; everybody knows the importance of historical figures like Michael An-Gof, Perkin Warbeck and Thomas Flamank; and don't forget about the ubiquitous chough.
Cornwall is also home to oddities like circular churchyards, stargazy pie, clid caps, an Italianate cliff-top open-air amphitheatre, Brown Willy, and the ever-present ruined tin mines and mills.
Yet Cornwall can also be enjoyed without dipping below the surface – there's much to enjoy without having to take an entrance exam on local culture!
It's no surprise then that this beautiful county continues to attract visitors all year round and natural attractions remain largely unspoiled or blighted by urban development – making it a must for lovers of a bit of peace and quiet!
---
Related Posts
---
This page contains affiliate links meaning Big World Small Pockets may receive a small commission on any purchases at no extra cost to you.
---
#1 Carn Brea
Travel along the A30 westwards past Redruth and you will see the gigantic hill known as Carn Brea.
On a clear day it is possible to see both the English Channel to the south and the Atlantic Ocean to the north from the summit.
A steady climb to the top reveals a long, level plateau strewn with gigantic rocks, an 18th-century former hunting lodge called Carn Brea Castle and a huge Celtic cross erected as a monument to a local mine owner.
It is the most important archaeological site in the Duchy with evidence of human activity on the hill dating back to the Neolithic age.
#2 Brown Willy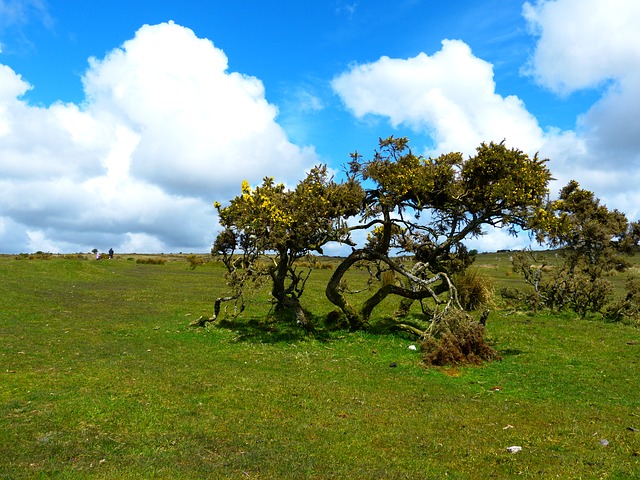 The highest point in Cornwall is the peak of Brown Willy on Bodmin Moor.
A striking, steep-sided hill at the heart of the moor, the summit stands at a modest 420 metres.
You can see the ocean and the Camel River Estuary from the top as well as the breathtaking, bold expanses of the moor.
The adjacent hill is Rough Tor – at 400m above sea level, it is the second highest point in the county.
Rough Tor is now a memorial to the men of the 43rd (Wessex) Division of the British Army that lost their lives during World War 2.
A walk across Bodmin Moor is an exhilarating experience and the perfect way to embrace Cornwall at its wild and rugged best.
THE BEST TRAVEL INSURANCE!
I wouldn't dream of going anywhere these days without coverage and always recommend travel insurance from World Nomads, which I've used time and time again on my travels.
I love this company's easy online claims process, as well as their great customer support and the fact that you can buy or extend your travel insurance with them even if you're enjoying your travels already.
#3 Helford Passage
Helford Passage and the Helford River make for excellent escapes into the Cornish wilds.
This is the spot for those of you who love canoeing, kayaking and boating, as a trip upriver gives you the feeling that you are on a voyage.
Your imagination can get the better of you as you summon up memories of films like The African Queen, Apocalypse Now or Fitzcarraldo.
It's The Lizard's version of the Amazon or Congo River with mysterious tributaries branching off, including the fabled Frenchman's Creek made infamous by author Daphne Du Maurier.
You can even take a National Trust walking route to the creek if you are visiting on foot, otherwise, boats and canoes can be hired in Helford Passage too.
5 PACKING ESSENTIALS FOR CORNWALL
#1 Camera – Cornwall is one of those quintessential English places and travelling here with a good camera will help you preserve the memories. I highly recommend the mirrorless Sony A6000. Light, compact and robust it's the perfect travel companion.
#2 Walking Shoes – There's going to be a lot of walking in Cornwall, so good day shoes are a must. I love my New Balance trainers, which are town-friendly, good for short distances and super comfy.
#3 England Lonely Planet – A great travel aide to this country with tons of historical info, the England Lonely Planet will help you get the best from your time here.
#4 Waterproof Coat – I visited the Cornwall in May, technically the start of summer and the high season, but of course, being England it was and wet! Having my North Face lightweight, windproof and waterproof jacket therefore saved my life!
#5 Amazon Audible – Travelling down to Cornwall can often mean a long journey, so having something to listen to while you enjoy the scenery is a must! I love Amazon Audible, which is the best audiobook service around!
#4 South West Coast Path
To get an excellent idea of how diverse Cornwall is, why not tackle the South West Coast Path in its entirety or in chunks.
The trail, as the name suggests, runs around the edge of the county and across the border into Devon and beyond.
As it snakes its way it passes through deep woodlands, around river estuaries, through towns and villages, along clifftops, past remnants of the tin mining industry (specifically at Botallack, St Agnes and Carleon Cove), and over sandy beaches and lush dune systems.
Pack some sturdy yet comfortable walking shoes, a map and a flask of water and you're ready to tackle one of the best national trails in England.
To walk the Cornish leg of the trail would take a seasoned walker about three weeks!
A particular stretch that doesn't get the column inches in travel blogs usually, but is well worth your time and effort, is the South Coast section between Dodman Point and Caerhays Castle on the Roseland Peninsula.
The path here traverses around the tops of the cliffs high above the English Channel, before taking you through lush woodlands and shady glades.
On the National Trust managed Dodman Point you may encounter Shetland ponies; often they'll be on the heather-clad slopes staying cool in the upward thermals off the sea.
The South West Coast Path is full of wonders where you can get to know the county and feel transported a million miles away from home.
Check out this rough guide and get inspired to pull on your walking boots!
#5 Rural Cottages
Cornwall has long been a holiday destination and it will remain so for as long as it retains its mysterious élan and astonishing beauty.
To get the very best experience, many visitors rent a holiday cottage from a local company such as Stay in Cornwall.
Hiring a holiday home means you have the freedom to make the place your own and enjoy a secluded location deep within natural Cornwall – it's honestly a superb, flexible alternative to staying at a hotel.
And there you have it, the 5 best natural attractions to discover in Cornwall.
Have you visited this gorgeous part of the UK?
Let me know what you got up to there in the comments below…