A budget-friendly gem in Southeast Asia, that's been well-loved by backpackers for decades, it's not surprising that so many of us still head to Cambodia to enjoy its beautiful islands, interesting history and amazing UNESCO site of Angkor Wat.
From snorkelling to kayaking, temple hopping to night market eating, Cambodia packs a lot in for a small country and its welcoming people and warm climate only add to the appeal.
A bucket list classic of a destination you simply can't miss, if you're looking to join the crowds like I did (!) and head to this Southeast Asian gem, here's my list of the 10 best things to do in Cambodia.
Guaranteed to you visiting and experiencing all the highlights of this nation, this really is the only checklist you need for your travels here.
So let's jump in…
---
Related Posts
---
This page contains affiliate links meaning Big World Small Pockets may receive a small commission on any purchases at no extra cost to you.
---
#1 Watch Sunrise at Angkor Wat
Ok straight in at number 1 on this list of the best things to do in Cambodia, it's the big daddy of them all – Angkor Wat!
Cambodia's most famous sight and a source of immense national pride, Angkor Wat is a huge temple complex that really does take some beating when it comes to temple complexes!
Until I came to Cambodia, I thought (in my ignorance) that Angkor Wat was just one temple, or perhaps a small collection at best, but it soon became clear to me that it was so much more!
An enormous protected site filled with temple after temple that seem to litter the jungle landscape like ants, it's fair to say that, like most people, this place blew me away.
You can get 1 or 3 day passes to this complex and, given the size of Angkor Wat, I definitely recommend the latter so you have enough time to walk, cycle and tuk-tuk around as many temples as possible.
Taking a 3 day ticket will also allow you to experience both a sunset and sunrise at the site, with the morning sun appearing behind the main temple through a mist of humidity, definitely being a highlight among the things to do in Cambodia.
Don't expect to have the place to yourself at sunrise, but come prepared for the crowds (armed with a few sly tips) and this is still a magical experience!
Learn everything you need to know, including top anti-crowd advice in my post about how to experience the best Angkor Wat sunrise.
I also took this amazing cycle tour with TakeMeTour in Angkor Wat and couldn't recommend it enough.
Otherwise, check out my list of 7 other top Angkor Wat tours here.
Angkor Wat is accessed from the Cambodian city of Seam Reap, where I recommend solo backpackers stay at Onederz Hostel and couples, or those wanting a bit more privacy, head to the Ibis Siem Reap.
For all the Angkor Wat ticket info you need, check out this post I wrote.
#2 Grab a Massage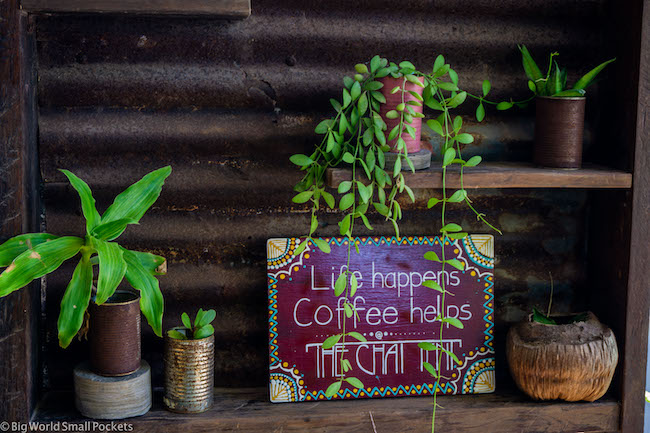 I've got to be honest, Southeast Asia is not my favourite region for the food, the climate or the nature, but it is my favourite region to get a massage in!
If you're well-accustomed to the brilliant brutality of a Thai massage, then you'll likely be similarly delighted with the Cambodian offering!
In all major tourist destinations in this country, you can grab an affordable and amazing massage for next to nothing, but I think the best I had was in the southern town of Kampot at the social enterprise space of Banteay Srey Project.
If you're heading onto Vietnam after Cambodia, then why not save your massage in this town for a final treat before you make the border crossing from Kampot to Ho Chi Minh, the capital of Vietnam.
#3 Learn about Cambodia's Shocking History
It might sound like a fairly strange thing to do in a country as a tourist, but learning about Cambodia's shocking recent history is crucial to understanding this country, its people and its sense of standing in the world.
Part of what many called "dark tourism", a trip to Cambodia's Killing Fields and its S-21 prison are both accessible via a day trip from the capital and are well worth visiting.
Shocking, harrowing, scary and sad, there's no question this is not a day of light entertainment, but like when I visited Auschwitz in Poland or the Genocide Memorial in Armenia, I do believe that it's important as a traveller to pay witness to tragic historical events of the worst kind, in order to help ensure they never happen again.
If you're staying overnight in Phnom Penh, then I recommend budget travellers bed down at the excellent Feliz Hostel.
Onederz Hostel in this city is also a good option.
Although not as spacious, Onederz provide $8 USD shared tuk-tuk day trips to both the Killing Fields and S-21 prison – a great option for solo travellers.
Otherwise, check out this bestselling hop-on hop-off joint tour if you want to book in advance, or have the option of an afternoon visit as well.
#4 Chill on Koh Rong Sanloem
Maybe I've peaked too soon, or maybe this will just wet your appetite for more but, either way, one of the absolute best things to do in Cambodia, in fact probably the highlight of my time there, was chilling on the tiny island of Koh Rong Sanloem.
Helps that I'm a sucker for the beach at the best of times!
Only accessible via a crazy boat ride from the Cambodian coastal city of Sikhounville (which you should avoid spending any time in FYI!), Koh Rong Sanloem is a tiny gem in Cambodia's waters.
The smaller sister of nearby Koh Rong island, Sanloem is definitely more relaxed and has an unflinching no-shoes, salty-hair, hammock-swinging mode of existence.
There are several beaches / areas around the island to choose from, but the less manicured M'Pai Bay suited me down to the ground.
Here I spent 5 blissful days at the great Hornbill Guesthouse.
Most people end up spending way longer there than they planned on Koh Rong Sanloem, which is just another reason this island paradise is probably worth scheduling for the end of your time in Cambodia!
Whatever you do, just don't miss it!
#5 Take a Cooking Class
Not as famous as Thai or Vietnamese cuisine, Cambodian cuisine nevertheless taps into a lot of the same influences and, for most people, is a major reason they travel to this part of the world.
As such, taking a cooking class is absolutely one of the top things to do in Cambodia and, with so many options across so many destinations, it's more about finding a day in a place where you want a more relaxed schedule, than heading anywhere specific if you want to enjoy one.
That said, check out this highly recommended hands-on Cambodian cooking class from Siem Reap for more ideas.
Kampot and Battambang are also both good cooking class destinations, and conveniently they are also super places to visit at a more relaxed pace, where you enjoy activities that aren't based around big sightseeing box ticks!
#6 Check the Bats at Battambang
It doesn't sound much but trust me, it's a pretty cool spectacle when you see thousands upon thousands, perhaps even millions, of bats exit a famous cave mouth at a former mass grave / now turned temple complex, just outside the city of Battambang.
Grab a tuk-tuk driver and a few friends to make the journey out here for sunset, where you can hike up to the top monastery / cave / former mass grave and then pull up a pew for your sunset bat viewing with a beer in hand.
Free to watch, this is a pretty mind-blowing sightand certainly makes a short trip to Battambang worthwhile.
Plus, you can also ride a bamboo train in this town too – I know, double whammy!
I recommend a stay of at least a 1 night in Battambang and the great little hostel called Pomme is the perfect choice.
The lovely guys that run the place will give you all the info you need about the bats and the bamboo train… what more can you ask for!
#7 Cycle through Kampot
And along with Battambang, Kampot is another less frequently visited destination, which makes the perfect place to chill for a few days and enjoy some gentle travel activities.
Top of my list is cycling in and around this city, but kayaking on the river here is just as enjoyable… as is taking a yoga class.
There's also hiking to enjoy in the nearby Bokor Hilltop Station, or why not enjoy a sunset cruise on the river too?
Otherwise, Kampot town centre boasts lots of nice cafes (Simple Things was my favourite) and some cool clothing and vintage shops as well – a clear indicator of how this place is a popular ex-pat resident hangout.
Don't miss the pepper farms or the colonial French architecture around Kampot either – they all add to the charm.
Definitely one of the top things to do in Cambodia, relaxing in the peaceful setting of Kampot is a must and a stay at Ganesha EcoLodge makes the perfect accompaniment!
#8 Island Hop Near Kep
And just down the road from Kampot is the coastal destination of Kep.
Either you can hire scooters and day trip here to enjoy seafood yumminess (if that's your thing), or you can actually come here by bus with a plan to stay – either in the town itself or one of the islands.
Koh Tonsay (Rabbit Island) tends to be a favourite just off the coast of Kep, so head here and hit it up local-style in a wooden hut on the beach to get away from it all and enjoy the solitude.
#9 Eat at a Night Market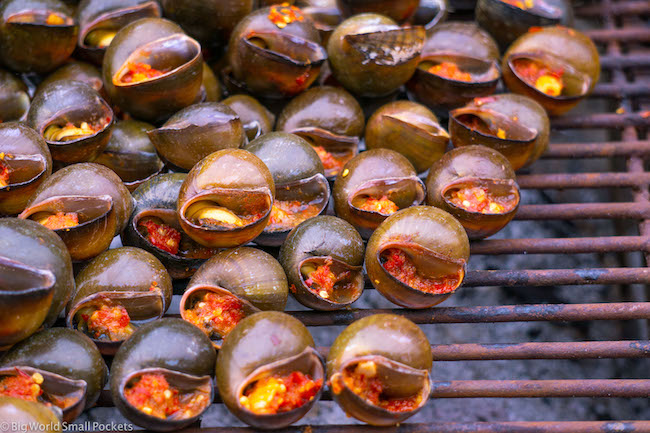 So because we're in Southeast Asia, there's no question eating and night marketing are absolute musts on any itinerary in this area.
And Cambodia is no exception, with nightly food markets here a large part of local culture and a huge traveller drawcard.
The major difference that you might see in this country however is the amount of insects and creepy crawlies at food markets, with everything from scorpions to snails on offer – yum… or not!
Disclaimer – vegetarians may struggle in Cambodia (voice of experience).
Cheap, delicious and plentiful, eating traditional Cambodian food at a night market is definitely one of the best things to do in this country and it honestly doesn't matter where in the country you are, or how small the town is, you'll always find one!
That said, one of the best ones I found was in Siem Reap.
Learn more about it, as well as my list of the other best things to do in this great city, here.
#10 Kayak on the Mekong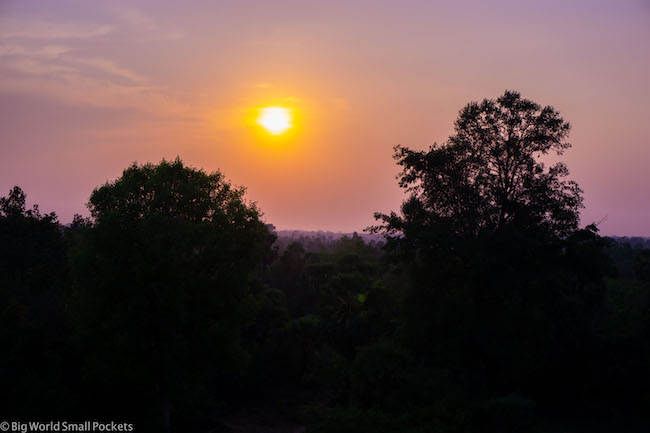 And last but not least, this is sadly something I didn't get to try during my time in Cambodia, but have it from several friends on good authority, that kayaking on the Mekong is well worth it.
Very popular from the eastern town of Kratie, it's a little bit of a detour to get out here (unless you're headed to Laos after), but is worth it for the lack of tourists and the chance to spot the extremely shy, but totally unique, Irrawaddy dolphins.
If you are heading to this town, then why not continue onto Laos after, by heading up the Mekong to explore the apparently amazing Four Thousand Islands near Si Phan Don.
Sound like a great adventure?
It will be!
Cambodia Mini Travel Guide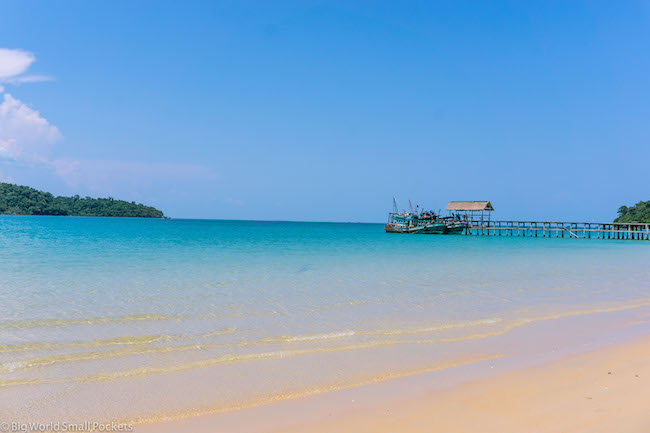 When to Visit Cambodia?
The best time to visit Cambodia is during the dry and cooler season between November and April.
Once you start getting into May, the humidity really starts building and after that, the rains definitely don't make the country as fun to travel in.
How Long to Spend There?
I think 2 weeks is the perfect amount of time to spend in Cambodia.
You'll have enough days to see lots of the main attractions, including the 10 on this list, with a few days to chill and relax at the end.
How to Travel to (and Around) Cambodia?
If you're arriving into Cambodia from further afield, then it's likely you'll arrive into the country's main international airport, which is situated in Phnom Penh.
As always, I use Skyscanner to get the best deals on flights.
Alternatively, if you're in a neighbouring country such as Thailand, Laos or Vietnam, you can use buses to arrive into Cambodia.
To book bus tickets across the border into Cambodia, as well as for travel within the country, I highly recommend the secure and easy to use 12Go, who I relied on heavily throughout my time here!
Secure, easy and with lots of options, 12Go is definitely the best and most convenient way to grab your bus tickets in this country.
Travel Insurance for Cambodia
World Nomads offers simple and flexible travel insurance. Buy at home or while travelling and claim online from anywhere in the world.
Alternatively, if you're a long-term traveller, digital nomad or frequent remote worker seeking travel health cover, check out Safetywing's Nomad Insurance policies.
5 Packing Essentials for Cambodia
#1 Lonely Planet Guidebook – The Cambodia Lonely Planet is excellent and very helpful for any trip to this part of the world with lots of top tips and useful information including good places to eat.
#2 Birkenstocks – A good pair of sandals are king in Cambodia and I love my Arizona Birkenstocks which are perfect for keeping my feet cool, supported and for kicking on and off easily when you visit temples or hit the beach. Literally wore them all day every day in Cambodia!
#3 European & British Power Adapters – Cambodia use a mix of power outlets, but generally opts for a mix of European and British ones, so make sure you come prepared with a Skross world adapter.
#4 Camera and Lens – I love my Sony A6000 mirrorless, which was ideal for capturing this crazy and beautiful country.
#5 Sarong – A great multi-purpose travel item that can be brilliantly used in Cambodia as a beach towel / dress , a pillow / blanket on bus rides and for covering shoulders when you visit temples. A good sarong is a Southeast Asia travel must-have in my book.
Travel Money in Cambodia
When it comes to paying for things in Cambodia, you want to ensure you're not being charged overseas transaction fees or getting poor exchange rates when using your card abroad, which is why I always take my Wise card away with me wherever I travel.
The easy way to spend abroad with real exchange rates, no markups and no sneaky transaction fees, you can use your Wise card just like a debit card here… and it links easily with Google and Apple pay – sold! Grab yours here.
SAVE THIS TO PINTEREST!
And so there you have it, the 10 best things to do in Cambodia.
Have you travelled to this Southeast Asian country?
Do you have any favourite destinations or activities to add to the above?
If so, please help other travellers out, by leaving your thoughts in the comments below…