The magical blue city in the north of Morocco, the secret of Chefchaouen is definitely out – especially compared to when I first visited 13 years ago!
But this doesn't make it any less wonderful as a result.
No, quite amazingly given its compact size, the crumbling charm of this UNESCO-listed medina was no less mesmerising on my last visit than when I first set eyes on it back in 2007, so get ready to add it to your Morocco travel list today!
And, to increase you wanderlust further, check out my best snaps of this city below, along with my list of 13 best things to do in Chefchaouen…
---
Related Posts
---
This page contains affiliate links meaning Big World Small Pockets may receive a small commission on any purchases at no extra cost to you.
---
Grab Your Copy of How to Travel Africa for Less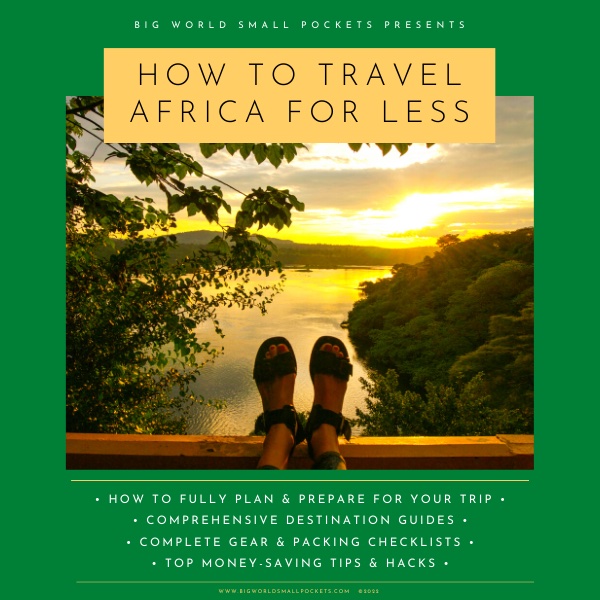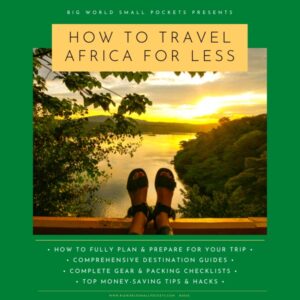 My ultimate guide to travelling Africa on a budget is now available, meaning you can finally get ALL my top tips for adventuring around all, or parts, of this amazing continent in one handy eBook, including…
Full Planning & Preparation Guides
Detailed Destination Info
Complete Packing & Gear Lists
Top Money-Saving Tips & Hacks
Split into a new and an old town, Chefchaouen, like many cities in Morocco, is a tale of 2 sides.
The New Town is now where most locals live and work, while the Old Town is the heartland of all things touristy, including accommodation and attractions.
For more details about travelling to Chefchaouen, including the best time of year to visit, how long to go for and where to stay, then scroll down to the bottom of this article, for my full travel guide.
In the meantime, here's my list of the 13 best things to do in this magical location…
#1 Get Lost in the Picturesque Streets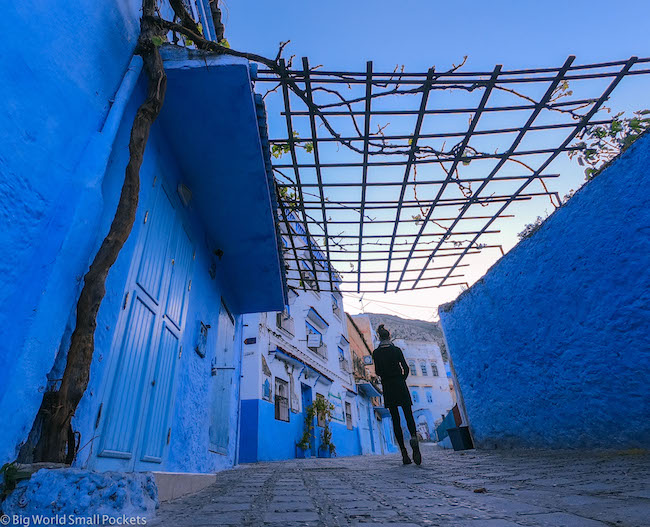 Honestly in a town as pretty and photogenic as Chefchaouen, there's no question one of the best things to do in this UNESCO World Heritage Site is just wander and take it all in.
Now that might sound like a fairly straightforward task, but unless you've been in an old Moroccan medina before, you'll know that's way easier said than done!
The tiny, winding and largely unnamed streets of Chefchaouen's medina are just an invitation for you to get lost in… whether you plan on it or not!
As such, don't even bother trying to pick up a map, or direct yourself using it – instead ambling around at a relaxed pace, allowing plenty of time to not have a clue where you are, is way more enjoyable!
Sooner or later you'll find yourself at the edge of the old walled city, where you'll suddenly be spat out into what feels like the real world again!
Don't miss the river area on the eastern edge of the city if you can help – this is a lovely place to sit and take it all, as you sip fresh orange juice and watch local women washing their clothes in the traditional way.
#2 Sample a Cooking Class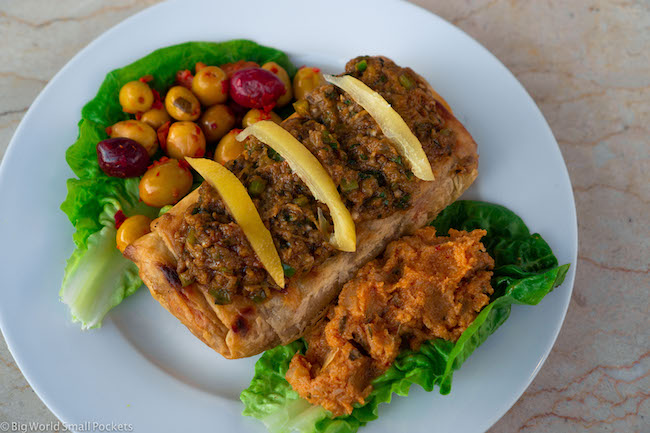 But once you've had your fill of wandering, you may want to do something a bit more structured and this is where enjoying a cooking class comes in as one of the best things to do in Chefchaouen.
Personally, I absolutely love the food in this country and Chefchaouen, with influences from both the Mediterranean as well as Berber and Arabic cultures, has some of the best food around.
If visiting a local home, learning how to cook traditional foods and then enjoy eating them sounds good to you, book your 4 hour cooking experience here.
#3 Shop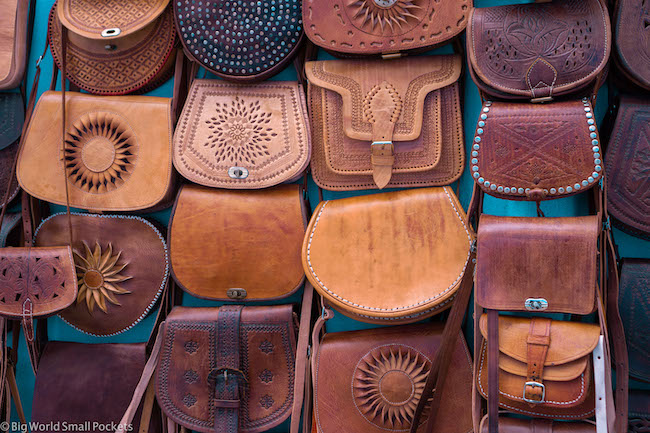 And after all that cooking you may want to treat yourself with some retail therapy and thankfully Chefchaouen can definitely deliver on that front too!
Despite its touristy credentials, you can still get some great prices on local handicrafts in this town – including amazing rugs, fabrics and leather goods.
So don't miss out believing you can find cheaper elsewhere.
Far less hectic than shopping in Fez or Marrakesh, I definitely found some of the best items and prices in Chefchaoeun.
#4 Visit the Kasbah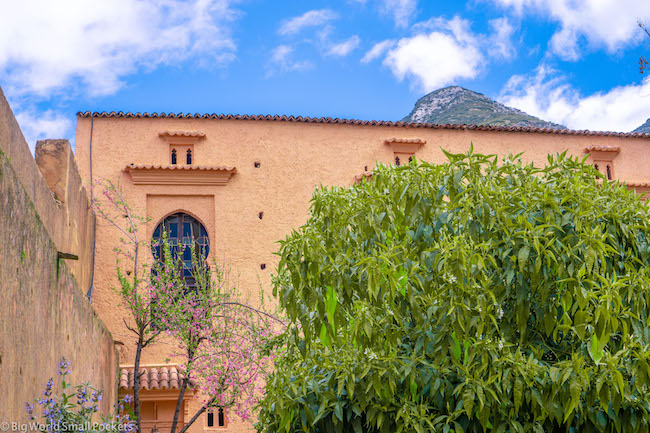 But now for something a little more historic.
The Kasbah in the centre of Chefchaouen's historic medina is the centrepiece in this town and its peaceful gardens make a pleasant place to stroll away from the hustle and bustle of the square.
In general, kasbahs were once ancient walled communities, normally comprising of several houses and traders, but now most are just used as museums or public gardens and the one in Chefchaouen is no different.
Entrance prices are 10 Dirham for Moroccan visitors and 60 Dirham for foreign visitors.
#5 Climb to the Spanish Mosque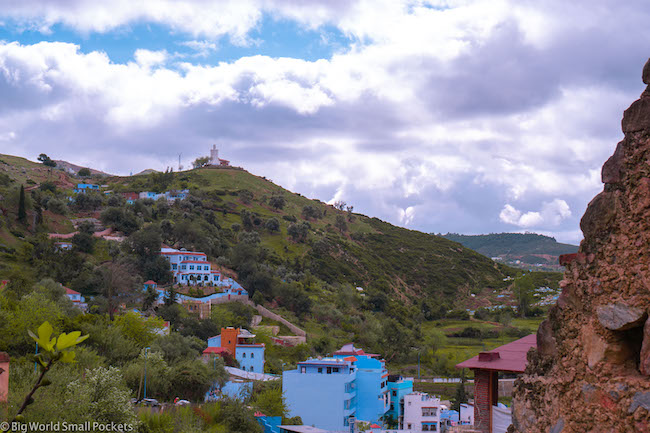 And the other major historic icon in this town is the so-called Spanish Mosque, which actually stands outside the old walled city of Chefchaouen.
Walk up to a rooftop in this town, or to walls at the edge, and you can easily see this religious monument, perched on a hill by itself, to the east.
A great sunset watching spot, the hike here takes around 45 minutes and follows a clear trail that leads from the river outside the eastern gate of the medina.
It is uphill however, so do make sure you allow plenty of time and that you bring water, as well as a jumper, for when the sun goes down!
#6 Head to the Walls for Sunset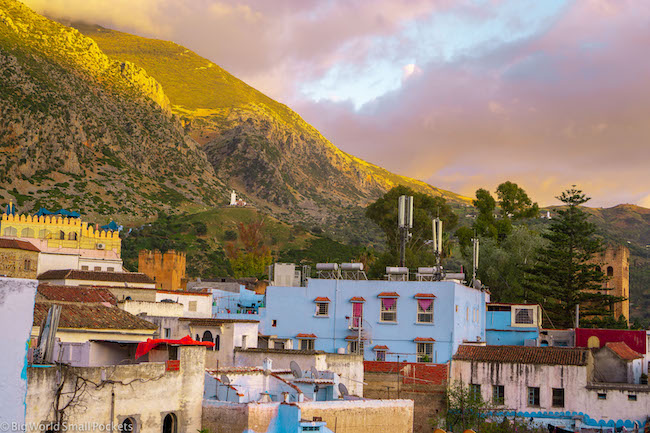 While the Spanish Mosque is lovely at sunset, if you want to steer away from the crowds, my advice is to head up to the walls on the western edge of the city instead.
From here you can get incredible views as the sun disappears over the surrounding countryside and best of all, there's unlikely to be another soul blocking your view!
#7 Chill with a Tea!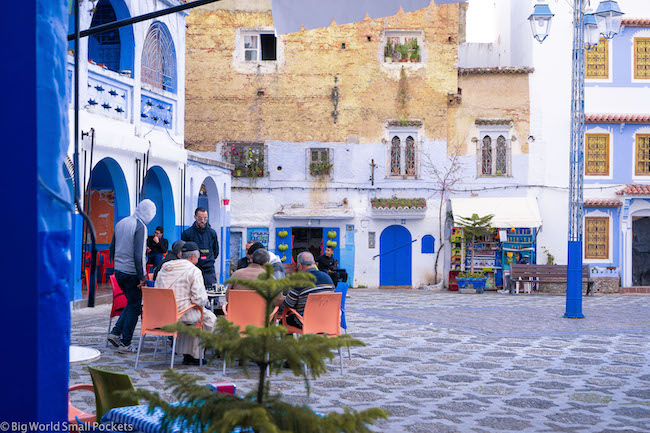 Back down in town however, and back to the more relaxed activities, there's no question one of the best things to do in Chefchouen is to chill amidst its charm.
Simply pull up a pew outside any of the local cafes, take a fresh orange juice, or a mint tea, and simply watch the world pass you by.
This is a great introduction to Moroccan culture, even more so if you head down to the New Town, where most local residents actually live and work and you can get some authentic people-watching away from the tourist crowds.
#8 Take in the Rooftop Views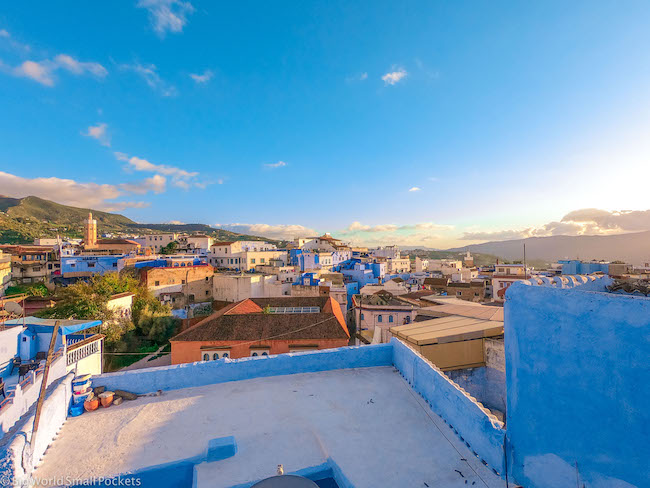 If you do prefer to stay in the medina however, then chilling on a rooftop can be the perfect escape from the busy vibes of the streets and the heat of the day.
Most accommodation spots have their own, as do many cafes, so always make sure you select yours accordingly!
A key architectural feature in this country, there's nothing I love more than a good rooftop view in Morocco.
#9 Follow the Heritage Signs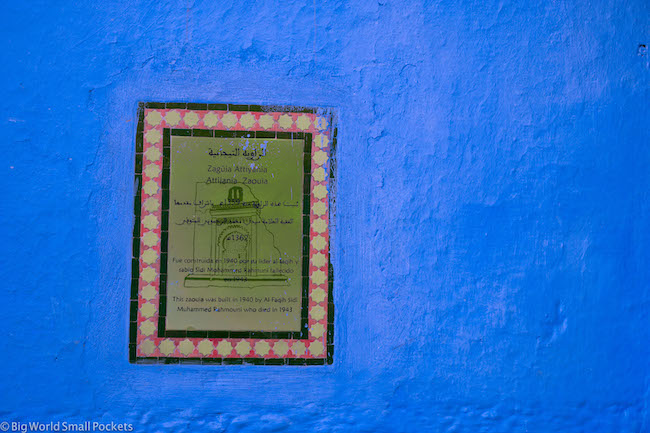 Back on the ground however, you'll notice many heritage signs that have been nailed to the walls around the UNESCO medina fo Chefchaouen.
If you don't want to pay for a guide here, or can't be bothered to read your guidebook, these can be a super way to learn about the history of this town, how it developed and why it's painted blue!
#10 Soak in a Hammam
Following these signs will also lead you to some great local attractions, which ooze authenticity.
And one such example is a local hammam.
Much like a Turkish Bath, you can choose, in Morocco, whether you head for a very traditional experience or one slightly more geared towards tourists.
If Chefchaouen there's both, depending on your tastes and budget.
For a more genuine insight, I recommend Hammam El Balad.
For something a bit more geared to tourists and pricey, head to Lina Riad and Spa.
#11 Hike to Jebel El-Kalaa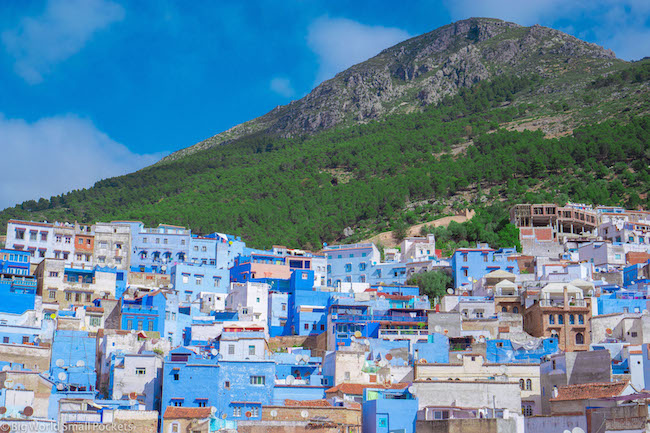 Perhaps I should have put this item before the hammam, because once you're scrubbed clean, hiking up a mountain probably won't appeal that much!
If you do fancy it, before or after however, this is a day hike you can enjoy directly from Chefchaouen without having to take buses elsewhere first.
Directions are given in the Lonely Planet guidebook, otherwise ask at your hotel reception for details… it's too much to try and explain it all here.
Just be prepared, this is a tough and long hike, so dress and pack accordingly.
Hire a local guide if it makes you feel more comfortable – you're way more likely to get lost if you only use maps.me on your phone.
#12 Day Trip to the National Park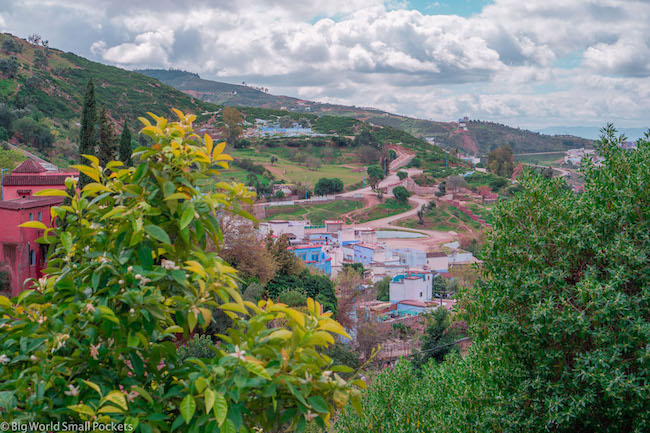 For something a bit more structured however, then you can also head to either the Akchour Waterfalls or Talassemtane National Park… or both.
Making a great day trip out of the city, this can either be arranged through a local guide or, to the waterfalls at least, by public bus.
Advisable in warmer months, when you can enjoy the lovely scenery a lot more, making this day trip is definitely one of the best things to do in Chefchaoeun if you have a few days on your hands.
#13 Get Your Insta On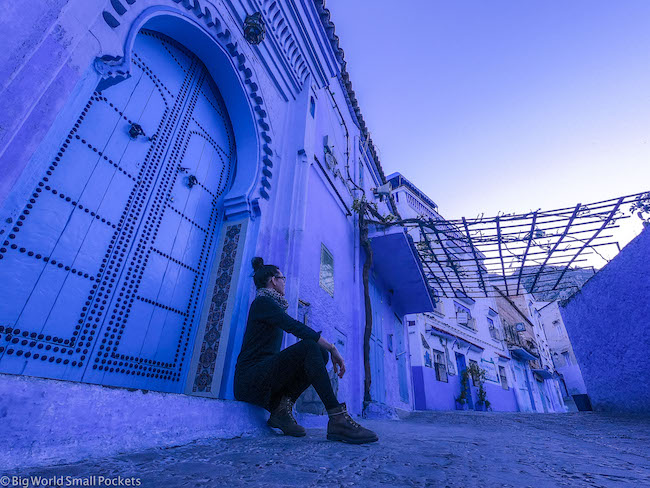 And finally, and sadly inevitably, I'm listing one of the best things to do in Chefchaouen as get your Insta on.
Now whether that's at the Akchour Waterfalls, the Spanish Mosque at sunset or the winding alleys of the medina in the day, the choice is yours, but seriously, this place is so insta-famous, I couldn't make this list and ignore it.
If you want tips from someone whose been there and done it, I'd advise hitting the medina in the early morning if you want to snap it at its best.
This place doesn't really get going until 10am, so you can dodge the crowds (and capture the early morning light) by be out there around 8am.
I also advise finding Place El Haouta, which I personally thought had some of the prettiest places in Chefchaoeun and also the least crowds – win win!
Chefchaouen Mini Travel Guide
How to Get There?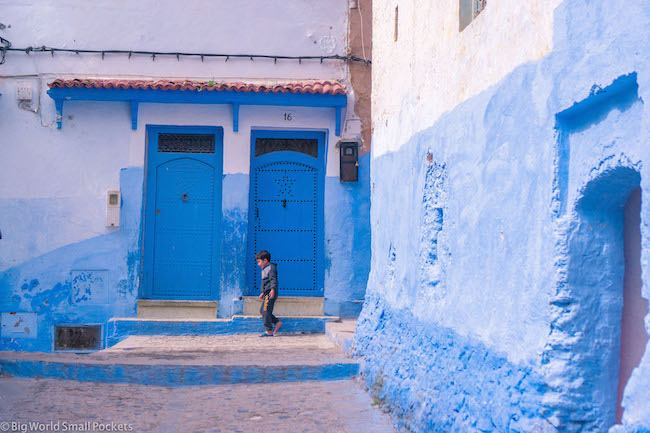 Visiting Chefchaouen is absolutely one of my top things to do in Morocco, so here's how to get there.
Chefchaouen is located in the north of Morocco.
Although considered to be broadly in the Mediterranean region of the county, this small town actually sits at over 500m above sea level in the Rif Mountains.
As such, getting here independently is never super quick and will take you at least a few hours from all the nearest cities.
That said, none of the journeys are difficult, and that's especially true if you are arriving from either from the city of Tangier to the west or Fez to the south, as most people do.
Buses from both these destinations run frequently – learn more in my post specifically about how to get to Chefchaouen.
If you're looking to get to Chefchaouen from further away destinations, like Agadir, then you'll need to make your way to either Casablanca or Fez first and then change onto services that head to Chefchaouen.
The other option, if you're further away, is to use domestic or international flights.
The nearest airport is in Tangier, so if you're looking to head straight to Chefchaouen on your arrival into Morocco, check out Skyscanner for the best deals.
Alternatively, you can get ferries from Spain to different destinations along the Mediterranean coast of Morocco – learn more in this post I wrote.
If you don't want to travel independently to Chaouen, you can always take a tour.
Great guided day trips from Tangier and Fez, like this one, are very popular.
When to Visit Chefchaouen?
Because it's situated both at elevation and in the north of the country, Chefchaouen experiences a Mediterranean climate i.e. hot, dry summers and cool, wetter winters.
So don't expect desert-like temperatures and conditions when you come here!
In the winter, you'll definitely need many layers to keep warm – especially as the stone buildings aren't the best at keeping the heat in,
Even in Spring and Autumn, fresh days here can involve wearing a jacket.
Summer days bring lovely sunny and hot weather to Chefchaouen in the day, but even then, nights can be a little cool, so do bring a good sweater.
Learn more about what to pack for your trip to Chefchaouen in the last section of this article.
How Long to Spend in Chefchaouen?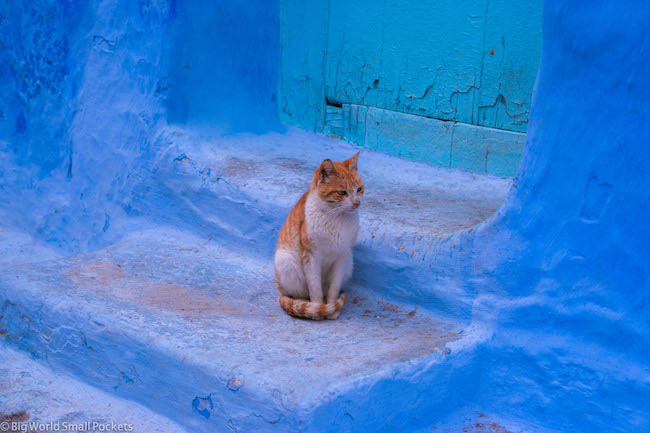 Split into the new and the old town, Chefchaouen is quite a small city in Morocco.
And that definitely gets even smaller when you concentrate on the old, historic medina as most travellers will during their time here.
As such, you can easily get a good feel for this charming location in just 1 day.
That means, as a minimum, I would allow for a 2 night stay here – 1 for your travel day and 1 to explore the town.
If you want to get out and explore the surrounding natural landscape, care of some hikes and day trips, then allow a stay of 3-4 nights in Chefchaouen.
Where to Stay?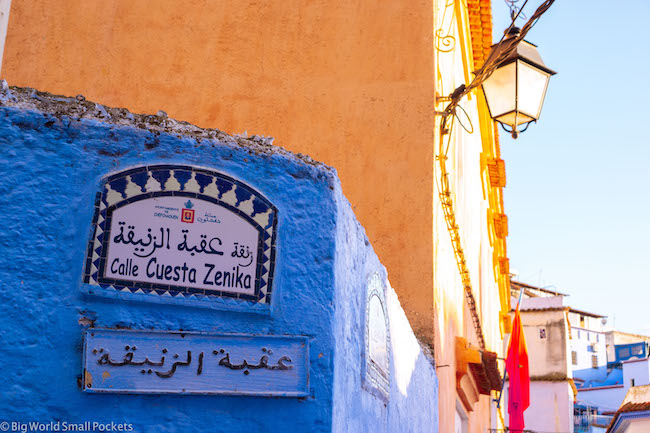 I stayed in Casa Amina when I last visited Chefchaouen and really enjoyed it.
The location and small, homely feel of this budget hostel were brilliant and because all private rooms have shared bathrooms here, the prices are brilliant.
Right in the heart of the medina, with some wonderful rooftop views, great wifi connection and plenty of mint tea on offer, I highly recommend this as the best place to stay in Chefchaouen on a budget.
Book your room at Casa Amina for the best rates here.
Where to Eat?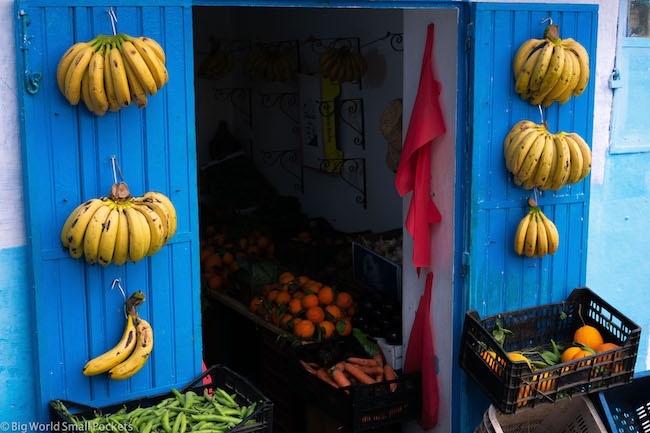 There's loads of places to eat in Chefchaouen, most serving a mix between international and Moroccan food.
The places directly surrounding the square in the Medina tend to be lower in quality and higher in price, so I would avoid there if I were you.
Instead, head to Veranda Cafe for breakfast and juice with amazing views!
For lunch check out Hamsa, which is just away from the Kasbah, and for dinner it's all about Clock Cafe.
This place has a lovely rooftop terrace for sunset views and some great cultural stuff on each evening.
All of the above are veggie-friendly too.
Safety in Chefchaouen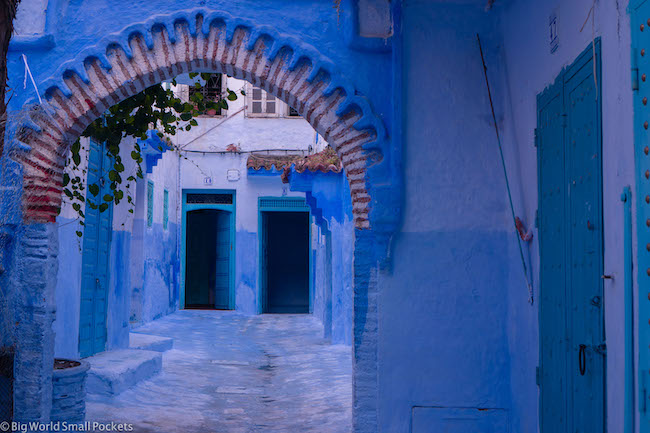 I travelled to Chefchaouen as a solo female and felt very safe the whole time.
I did dress conservatively, with arms, legs and chest covered (which was totally fine as it was a little chilly anyway), but didn't need to cover my head.
Leggings and a tunic over the top were fine.
World Nomads offers simple and flexible travel insurance. Buy at home or while travelling and claim online from anywhere in the world.
Alternatively, if you're a long-term traveller, digital nomad or frequent remote worker seeking travel health cover, check out Safetywing's Nomad Insurance policies.
5 Essential Packing Items for Morocco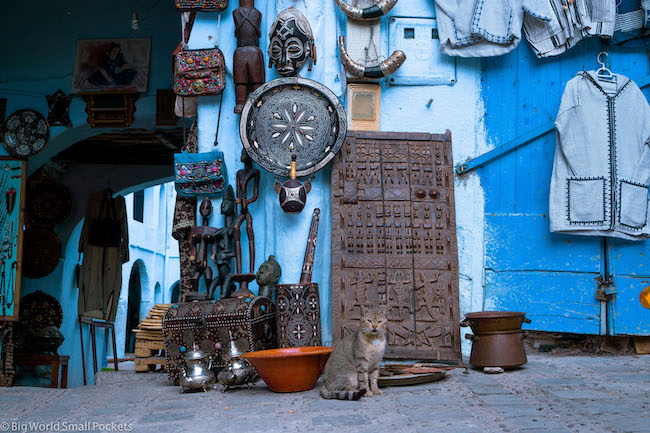 I found having a guidebook in Morocco very useful and highly recommend the Morocco Lonely Planet, which has loads of great information and useful tips.
I do also recommend taking a French phrasebook with you to Morocco. Either that, or an Moroccan Arabic Phrasebook will come in very handy.
I'd definitely advise some good walking shoes like these if you're heading to Chefchouen – sandals won't cut it on the cobbled streets I'm afraid!
A headlamp is a must for me when I travel in Africa. My Black Diamond Storm hasn't let me down yet!
You'll want a good camera to photograph all the amazing parts of this Moroccan town and I think the Sony A6000 is perfect for the job. Learn why I rated it my best camera for travel in Africa here.
PIN IT TO PINTEREST!
So that's my list of the best things to do in Chefchaouen, Morocco.
Have you visited this beautiful town?
What was your favourite thing to do there?
Tell me all in the comments box below…