A top transport hub both within Germany and further afield, Frankfurt is a great launching point if you want to explore some of the key parts of Western Europe.
With western Germany, eastern France, the Netherlands, Luxembourg, Belgium and even Switzerland not far away, Frankfurt is a key access point for many of these fantastic destinations.
Frankfurt also has a busy airport and is well connected by train and bus – yet another reason many people begin or end their travel adventures in Europe here.
While not a well-known tourist destination in its own right, Frankfurt is worth at least a night or 2 of your itinerary thanks to its historical centra and beautiful riverside setting.
And, as such, I'm bringing you my pick of the best Airbnbs in this city – a great way your stay here on a budget.
So here it is, my list of the top 10 Frankfurt Airbnb's…
---
Related Posts
---
This page contains affiliate links meaning Big World Small Pockets may receive a small commission on any purchases at no extra cost to you.
---
#1 Best for Those on a Budget
Being an expensive city, the best way to stay for a budget when it comes to Airbnbs here is to opt for a private room in a shared apartment.
And, when it comes to private rooms in the city centre, it doesn't get better than this.
With rave reviews, a superhost and an incredible location, this clean and spacious private room offers solo or a pair of travellers a great place to stay on the cheap.
Comfortably furnished, with U-Bahn and S-Bahn stations right outside the front door, there's excellent wifi and a good kitchen on offer here for you to use too.
The room is clean and stylish and previous guests comment frequently about the friendliness of the host, Chris, who can definitely give you some great tips about how to enjoy his city to the fullest.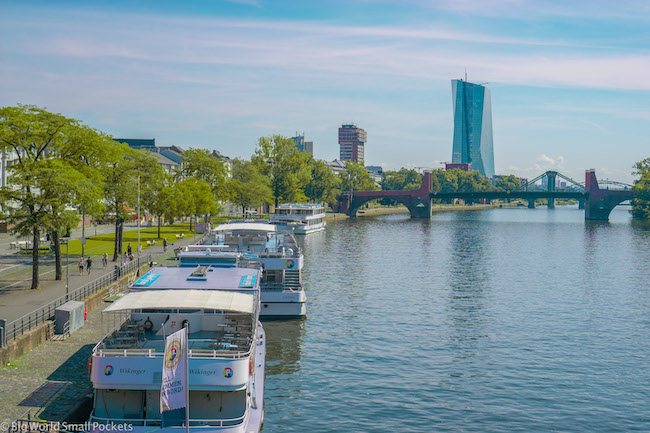 #2 Best for Families
This absolutely gorgeous Airbnb is ideal for families of up to 4 and is a real gem in the Frankfurt Airbnb market.
With childrens' book and toys, as well as a high chair provided, sleeping arrangements are across both single and double beds in 2 bedrooms.
Located just 10 minutes to downtown, local restaurants and pubs can be reached via a 5 minute walk.
A beautifully decorated and cosy property, the natural and modern design elements here are stunning and there's plenty of room for everyone to spread out.
Great reviews certainly attest to this being a top Frankfurt Airbnb.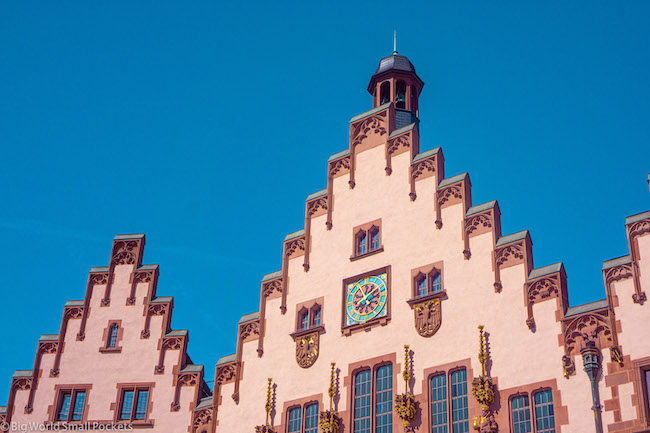 #3 Best for Couples
A beautifully furnished apartment in the centre of Frankfurt, this stylish space is ideal for couple's looking for a city retreat.
The artistic flair and large bed in this central property make it perfect for couples who want a cosy and comfortable space.
The fully equipped kitchen, room-darkening shades, hairdryer, wifi and balcony, where you can enjoy fresh coffee in the morning, add to the appeal and with the centre of the city on the doorstep, this is certainly one of the top Frankfurt Airbnbs.
#4 Best for Groups
Sleeping up to 5 guests across 2 bedrooms, this 60m² property offers a king bed, queen bed and sofa bed to accommodate guests.
It's incredibly well-located in the centre of Frankfurt, not far from the river, and boasts cable TV, wifi, room-darkening shades, a washing machine and a well-appointed kitchen.
There's also access to a balcony, which gives great city views, and free on-street parking very nearby too.
Previous guests praise the cleanliness as well as the spaciousness of the apartment and its location.
All in all, this is a great Frankfurt Airbnb for those travelling as a group and looking to experience the best this city has to offer including bars, restaurants and cultural attractions.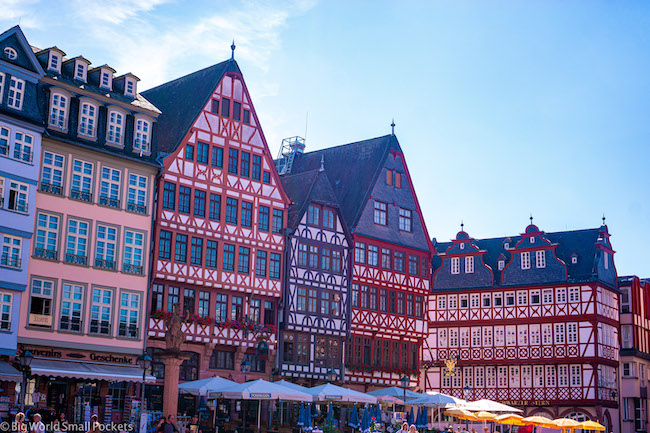 #5 Best for Central Location
An entire serviced apartment, located directly between River Main and ECB in central Frankfurt, the location of this property couldn't be better, making it ideal for business and leisure travellers alike.
A fully equipped, high-quality kitchen, with partitioned living and sleeping areas, as well as air-con, heating, workspace, wifi, cable TV and large beds, make this a great place to base yourself either for a short or long term stay.
This place is part of a chain of Airbnb apartments, so can feel a little clinical, but it really does provide everything that most travellers to Frankfurt might need in an easy and accessible way.
#6 Best for Quiet Stay
For those looking to be a little out of Frankfurt's centre and enjoy a slightly quieter stay, this is the best Frankfurt Airbnb for you.
Set a quiet residential area of Frankfurt, called Alt Sachsenhausen, this is a popular local neighbourhood with many great restaurants.
Offering both easy and efficient access to the city, and its airport, via public transport, this apartment offers up to 2 guests a bedroom, bathroom and living area.
Owned by accredited superhosts, who speak brilliant English, this place can sleep up to 2 guests and has separate living and bedrooms, as well as good wifi, an indoor fireplace and kitchen.
Great reviews frequently comment on the cleanliness, modern and stylish décor of this great Frankfurt Airbnb, as well as its top location.
#7 Best for History Buffs
Although I don't normally mention private rooms in my lists of top Airbnbs in destinations, I have gone for this one, because it is one of the only ones available in Frankfurt that is set within a historic building AND it gets rave reviews!
The room is large and quiet, with a sub-divided living and sleeping space and the wonderful owner is an Airbnb superhost.
In addition, the apartment building is so quintessential, I really couldn't not choose this as one of the top Frankfurt Airbnbs.
There's wifi and a kitchen you can access too and this property is incredibly well-located in a very nice street.
Boasting great access to the city, its public transport network is available just minutes away from this property too.
#8 Best for Luxury
Sleeping up to 2 guests and located in the city centre, this 50m² apartment with bedroom, bathroom, kitchen and cosy living room is just a street away from one of Frankfurt's most iconic structures – the Eiserner Steg bridge
Cable TV, wifi, heating, a desk, a bath, a well-equipped kitchen and a gym onsite within the apartment building, all make this one of Frankfurt's top Airbnbs; as does the modern and stylish furnishings, which boast some great design touches.
Reviews on this place from previous guests frequently cite the wonderful reception from host, Susan, the cleanliness and comfortableness of the property and the homely and cosy feel of the apartment.
If you want a luxury stay in the heart of Frankfurt, this is the Airbnb for you!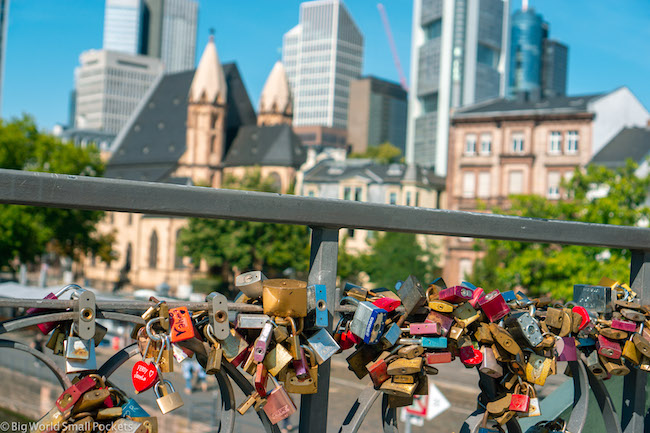 #9 Best for Long Term Stays
Perfectly suited to long-terms stays, indeed this is how the property markets itself, this top Airbnb is situated just outside Frankfurt in the lovely town of Bad Vilbel.
Despite the name(!), previous guests rate this little hub for its quiet feels, pretty ambience and access to both the city and surrounding countryside.
The town is also a cultural hub, with an old water castle, theatre, cinema, art space and many festivals. There's also great restaurants here too.
Sleeping up to 4 guests, this top Airbnb has 1 bedroom, 1 bathroom, as well as a kitchen, dining room and studio.
Well suited for those who need to work while staying here, there's super-fast wifi, a desk, and a webcam, as well as free onsite parking.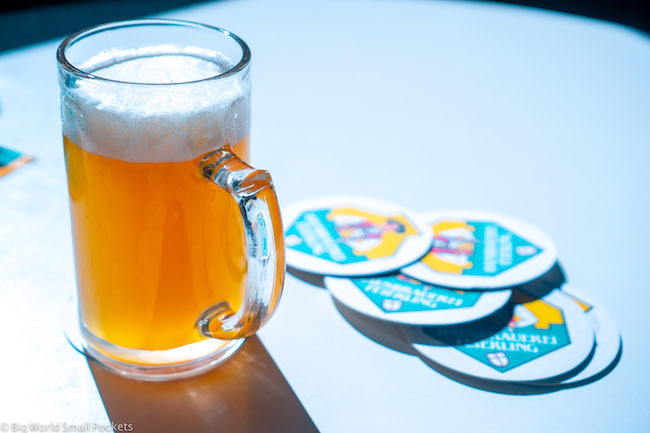 #10 Best Frankfurt Airbnb for Airport Access
Perfectly located just 8km from Frankfurt airport and 6km from the city of Frankfurt, this cute and tiny house Airbnb has everything you might need if you're transiting into and out of the city via air.
With superhosts and excellent reviews, which praise its cleanliness, modern decor and useful location, this compact, studio apartment also has access to a garden and onsite parking.
There's wifi, a fully equipped kitchen, washing machine and air-conditioning too, which definitely makes this the best Frankfurt Airbnb near to the airport.
PIN IT TO PINTEREST!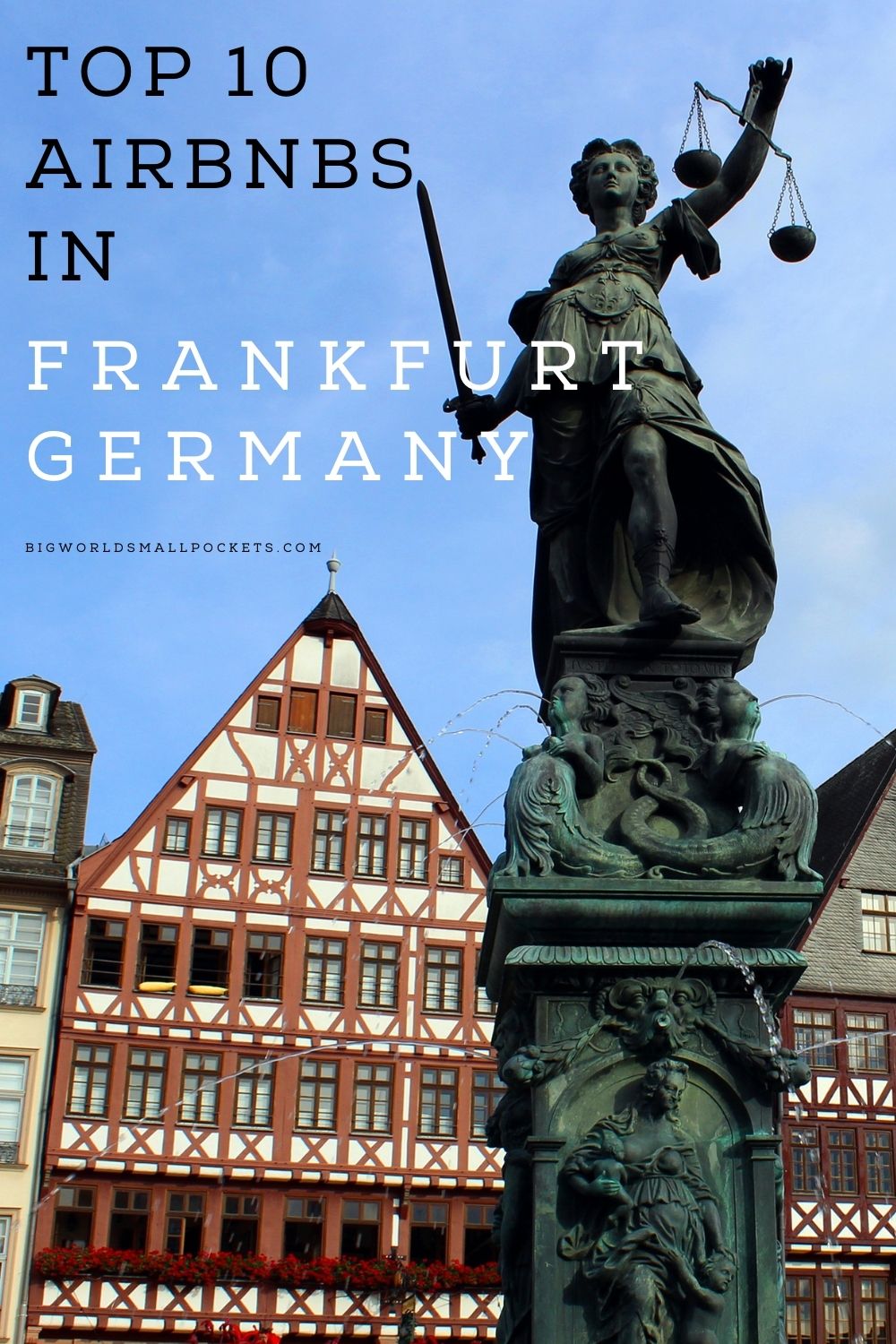 And there is it travellers!
My list of the top 10 Frankfurt Airbnbs in this flagship German city.
I hope you've found this list helpful for your trip to this hub destination and that you enjoy a wonderful trip in this part of Western Europe!