If you've read any other posts from my travels in Portugal, you'll know that I absolutely loved my time in the country.
And a key part of this was the sheer diversity of experiences that visiting this part of the Iberian peninsula has in store for travellers.
And Porto is no exception!
A historic city, set on the banks of the Douro River, in just a few hours you can easily find yourself in some drastically different landscapes – from white sand beaches with crashing Atlantic waves through to lush valleys laden with vineyards and even mountains topped with ancient villages and dramatic national parks that offer outdoor adventures a-go-go, it really is all on your doorstep when you visit Porto.
Which is exactly why you need to ensure you take some time to get beyond this amazing city and explore some of its fabulous surrounds too.
And here, to give you some top inspiration, is my list of the top 8 Porto day trips you can't miss…
---
Related Posts
---
This page contains affiliate links meaning Big World Small Pockets may receive a small commission on any purchases at no extra cost to you.
---
#1 Visit Braga and Guimarães
Visiting some of the standout historic towns in the north of Portugal is definitely one of the best Porto day trips.
And top of this list are the towns of Braga and Guimarães, which can be combined into a great day out from Porto full of historical and religious grandeur.
Both towns are key in the national narratives of Portugal – Guimarães is often thought of as the birthplace of the country, while Braga is considered the religious capital of the nation.
It's perhaps no surprise therefore that in Braga, the main attractions are the amazing gothic Se de Braga Cathedral and the Bom Jesus do Monte – a beautiful baroque hilltop church that stands 5km from the centre.
In Guimarães, it's all about wandering the pretty Medieval town itself – checking out the ancient castle, the bustling plazas and the Gothic monastery, as well as riding the cable car up to Penha Hill for the views.
If you have your own vehicle, you can easily head out of Porto and explore both these towns as part of a top day trip.
Otherwise, you can also catch a train to these towns from the Sao Bento station in Porto – although you may struggle to explore both in one day if you opt for public transport.
Alternatively, if you want to squeeze both these destinations into a single day out and don't have a car, then I highly recommend this brilliant day tour from Porto.
#2 Cycle the Coast
This is definitely one of my best Porto day trips, not least because it includes a lot of my favourite things – an active element, a lot of coastline and plenty of stops for drinks!
Yes did you know that Porto actually has some great cycling day trips?
Heading out of the city on 2 wheels will quickly connect you with a traffic-free trail that will lead you along the beautiful coastline that sits so near to this city.
If you're short on time, then heading out of Porto and along the coast to the south of this city will bring to the magical Capela do Senhor da Pedra – a tiny monastery set right on the sand.
Carry on this past this for deserted Atlantic beaches, where wild waves crash onto white sandy shores.
In the opposite direction, the northern Porto coastline can also be covered if you have a full day for cycling i.e. you get up and out earlier than I managed!
Here there can be more traffic, but brave the cars and you'll discover Castelo do Queijo and Fort Leça de Palmeira which are both well worth checking out.
When it comes to bike hire in Porto, I recommend Porto Rent a Bike, who I used and found were both reasonably-priced and helpful.
From their office by the Luis I Bridge, it's quick and easy to get onto the cycle trails and their handy maps act as the perfect guide for this great Porto day trip!
#3 Explore Fátima and Coimbra
Back to the more culturally-aligned Porto day trips, this gem is a feast for those who are big into their churches and universities.
But this isn't just any old church or university, because Fatima and Coimbra are home to one of the biggest pilgrimage sites in Portugal and one of the oldest universities in Portugal.
Wander the Cathedral and cobbled streets of these ancient towns (one of which dates back to the 13th century) and explore historic palaces and learn the stories of the miracles that took place here.
Again, this is a great day trip from Porto if you have your own vehicle, otherwise, this top-rated day trip is the perfect option for those who want a stress-free option.
#4 Enjoy Vineyard Visits in the Douro Valley
Back to the nature vibes now, this is an absolute must when it comes to top Porto day trips, as it combines several aspects this region of Portugal is famous for.
From beautiful landscapes and traditional culture, through to riverboat rides and of course, some amazing vineyard visits and port tastings, there's no question the Douro Valley offers a slice of northern Portugal at its best.
DIY this day trip by driving the few hours into the Douro Valley from Porto, calling at several of the top small vineyards as you go, including my favourite of Quinta de Santa Eufémia.
Most vineyard visits include a tour of the port-making process, as well as several tastings, which incur a small fee. You can then purchase bottles of your favourites!
On your way through the Douro Valley, don't miss stopping at the Régua Dam Lock on your way to the village of Pinhão, and the town of Lamego with its beautiful Santuário de Nossa Senhora dos Remédios.
If you don't want to drive and instead enjoy a few more tastings, then this great Porto day trip to the Douro Valley, which includes tastings at 3 different vineyards, plus lunch, is a great option.
Learn more about how to visit the Douro Valley in this post I wrote all about getting to and around the region from Porto.
#5 Discover the World's Longest Suspension Bridge
If you're feeling a bit fuzzy-headed after your day trip from Porto to the Douro Valley, then what better way to shake it off than with this adrenaline-raising activity?!
About an hour away from Porto, the 516 Arouca Bridge (in the town of Arouca), claims to be the world's longest pedestrian suspension bridge in the world.
About half a kilometre long, and hanging almost 200m above the fast-flowing Pavia River below, this is certainly not one for the faint-hearted!
But it is one for those who love a bucket list challenge, or an adrenaline rush, because as you walk the 10 minutes across this suspension bridge, the structure beneath your feet wobbles and you're treated to some pretty elevated and intense views!
Tickets can be purchased for the bridge online here, or else check out this top day trip to the 516 Arouca Bridge from Porto, which includes some stunning drive time through the wonderful landscape in this part of northern Portugal too.
#6 Kayak & Trek in Peneda-Gerês National Park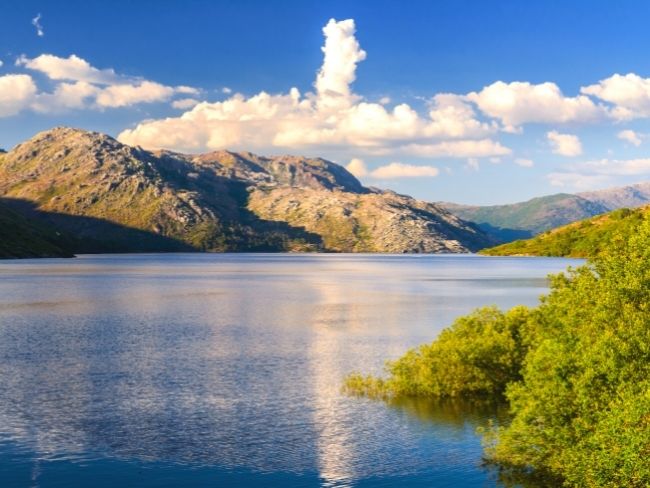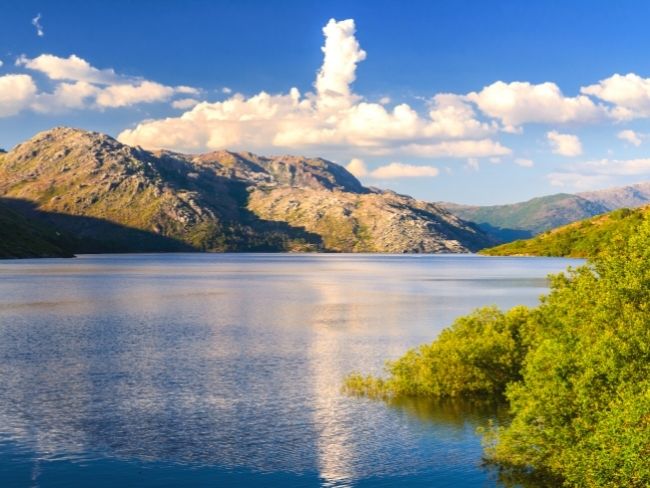 And from one area of natural beauty to another, there's no question a day trip to the gorgeous Peneda-Gerês National Park is another great option if you want to escape Porto and get some great country air.
Home to some super kayaking opportunities, as well as plenty of waterfalls you can discover on foot care of some lovely hiking trails, this is one of Portugal's oldest preserved areas and was designated a nature reserve in 1971.
With amazing blue waters and some incredible lookouts, there's also opportunities to swim in natural pools here and as well as explore local traditional villages.
Again, you'll need your own set of wheels to explore this region to the full, so if you don't have a rental car, this top-rated day trip from Porto to Peneda-Gerês might be just the answer!
#7 Get off the Beaten Track with a 4×4 Mountain Tour
And for even more nature time, why not consider this great 4×4 day trip from Porto to the surrounding mountains?
Taking around 4 hours, this great guided excursion will take you to the elevated areas around Porto for amazing views over the city and a slice of more traditional Portuguese culture in the mountain villages here.
You'll also pass Roman ruins and old windmills, but really you're here for the 4×4 wild and bumpy adventure – thankfully protective gear is included!
#8 Head to Santiago de Compostela… in Spain!
And last but not least on this list of the top 8 day trips from Porto we come to a long but epic option, albeit it one that will take you out of this country!
Yes amazingly, this excursion actually transports you to nearby Spain as you get to savour the famous pilgrimage site of Santiago de Compostela.
The alleged burial site of the biblical apostle St. James, this town is most renowned as the end of the amazing long trek known as The Camino.
Definitely one of the top walks in Spain, this month-long trail has been a pilgrimage for centuries and ends at this powerful site which is filled with Christian mythological and a very famous monastery.
A UNESCO World Heritage site, the old part of Santiago de Compostela is based around the main central plaza, which is flanked on one side by the famous Cathedral and from where many ancient, winding streets, filled with historic buildings, fan out.
A pretty extensive distance, from Porto, if you want to head out to Santiago de Compostela, I highly recommend taking a tour so that you don't have to worry about the driving and can simply concentrate on the sightseeing.
The great reviewed tour is a top pick…
When to Visit Porto?
No question in my mind that the best time to visit Porto is during the months of April through June, plus September and October.
This is when the warm weather will allow you to take full advantage of the city's charm, but you won't be wilting in the summer heat.
I've visited Porto across all these recommended months and found the climate ideal for sightseeing, as well as hitting the nearby beach!
That being said, you will find Porto has something of a micro-climate, where seafog can often roll in the morning!
Don't despair however, in the warmer months the sun usually burns it off by late morning.
How to Travel to Porto?
If you're coming from an international destination, particularly one further away, it's likely you'll be flying into Porto care of the city's international airport.
As always, I suggest Skyscanner for bagging the best flight deals.
Otherwise, you can also use buses or trains to travel to Porto from elsewhere in Portugal, such as Lisbon, or neighbouring European countries, such as Spain.
Coach or rail travel may prove more cost-effective for getting to Porto if you're already nearby and will certainly be better for your carbon footprint.
I highly recommend Trainline for booking train and bus journeys to Porto, as they make it easy, quick and simple to compare hundreds of rail and coach journeys to the city from across the Iberian region.
How to Get Around Porto?
A small city, the centre of Porto is easy to walk around – except for the huge number of hills that will certainly give your calves and cardio system a good workout!
4 tram lines in Porto can also be used if you're feeling a bit lazy!
Best Places to Stay in Porto
5 Packing Essentials for Porto
Travel Insurance for Porto
World Nomads offers simple and flexible travel insurance. Buy at home or while travelling and claim online from anywhere in the world.
Alternatively, if you're a long-term traveller, digital nomad or frequent remote worker seeking travel health cover, check out Safetywing's Nomad Insurance policies.
Where to Travel After Porto?
If you still have time for more travelling after Porto (and lucky you if so!), then you may want to head to other parts of Portugal or Spain.
Check out these articles for some inspiration…
PIN IT TO PINTEREST!
So there you have it folks, my list of the top 8 Porto day trips.
I hope I've inspired you to visit this city and its amazing surroundings.
And tell me, do you have a fave Porto day trip that didn't make the list?
If so, I'd love to hear about it, so please drop your recs into the comments below…