Ahh the beautiful Portuguese cities of Lisbon and Porto make me go all weak at the knees!
Situated in the middle and north of the country respectively, there's no question these are 2 of Portugal's top tourist destinations, filled as they are with glorious historical sites, charming shops, some great day trips and delicious food galore!
Yes Lisbon and Porto are 2 tourist hotspots, but they're hotspots for a reason, mostly that they are both fabulous!
Capital of the country, Lisbon is a young and vibrant city, filled with digital nomads and culture vultures looking to pick up a ceramic bargain, enjoy a beer in a buzzing plaza, take in a dreamy view from one of the many elevated lookouts or sample the city's great nightlife.
In contrast, Porto is a little less glamourless, but still boasts a huge amount of authentic charm and colourful historic buildings amongst its hilly cobbled streets and huge metallic bridges. It's also got some great port tasting opps and superb tile facades, which make it an iconic must-visit place in western Europe.
So if I've convinced you to check out both these destinations during your time in Portugal (and I hope so!), then read on to discover how to travel from Lisbon to Porto (or visa-versa) using a rental car, bus, train or even plane…
---
Related Posts
---
This page contains affiliate links meaning Big World Small Pockets may receive a small commission on any purchases at no extra cost to you.
---
Lisbon to Porto: The Basics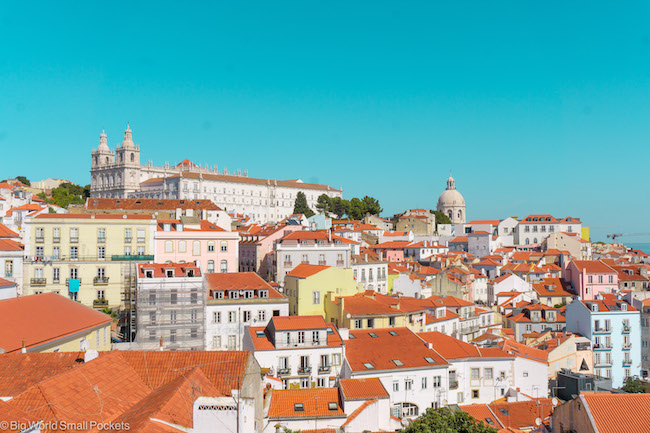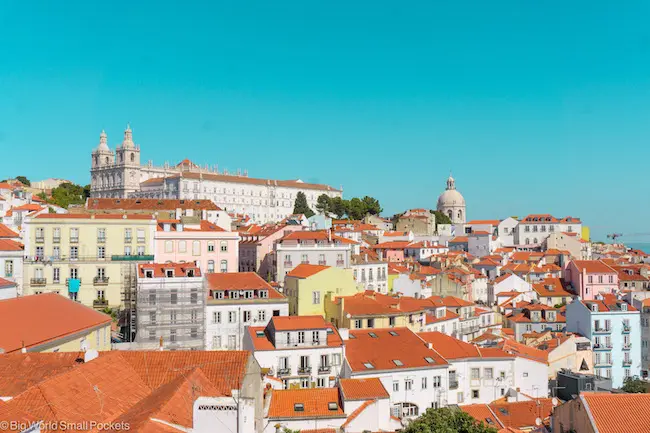 To start off, I want to give you a vague idea of distance, so that you can start to visualise the journey between these cities.
Largely speaking, it's around 320km to travel between Lisbon and Porto and there are several different ways you can make this journey depending on your budget, timeframe and travel style.
For the purposes of this article, I'm going to discuss travelling from Lisbon to Porto i.e. in the direction of south to north, but please do bear in mind, you can absolutely travel in the other direction too!
All this information will still apply if you are travelling from Porto to Lisbon, you'll just have to follow it in reverse!
I often get asked which city people should visit first, but my answer is always the same, it honestly doesn't matter.
Make your itinerary for visiting them both based on your bucket list preferences and where your international arrival / departure points are.
If you're flying in and out of Portugal (or training / busing elsewhere afterwards), then checking prices of onward journeys from each city may help sway your decision as to which city you finish in.
In essence, both directions work, it's just about finding which is best for you…
Lisbon to Porto By Train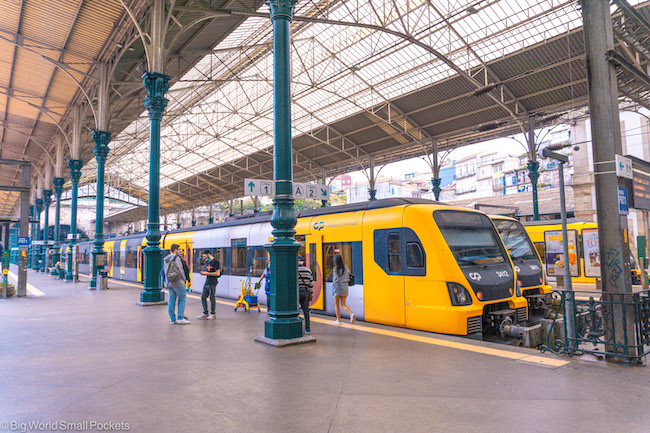 Travelling from Lisbon to Porto using the Portuguese railway network CP is fairly easy and straightforward.
With direct services between the 2 cities and around 14 trains a day, the quickest of these – the Alfa Pendulars high-speed services – take just under 3 hours, while the slightly longer Intercidades trains – Intercity options – take just under 3 hours.
One of the top benefits of catching the train from Lisbon to Porto therefore is the frequency and speed of the service.
The levels of comfort are also good, plus the fact that moving across the region by rail also allows you to see more of the Portuguese landscape by staring out the window!
So if this sounds appealing, let's dig into the Lisbon to Porto train journey details…
Service & Station Info
So as I mentioned, there are 14 rail services daily that make the journey between Lisbon and Porto, either via high-speed or slightly slower intercity trains.
The vast majority leave from Lisbon Santa Apolonia station, but also make a stop at Lisbon Oriente, in the east of the city, so you can pick up services here too if that's more convenient.
All trains then arrive into Porto Campanhã station, which is a little outside the historic centre of Porto where you're likely to be staying.
That said, all train tickets from Lisbon include a free transfer by suburban train to the famous tiled Porto São Bento station, which is likely to be much close to your accommodation in Porto's Old Town.
Suburban trains between these 2 stations run every 5-15 minutes and only take around 4 minutes, so you can see the journey is pretty simple!
The earliest direct train departs from Lisbon around 6:30am and gets you into Porto just before 10am. The latest option departs Lisbon around 10pm and arrives around 1am into Porto.
Prices start from as little as €10 on the cheaper Intercity train options, but these are normally sale fares that need to be booked in advance.
Outside of these, you can pick up tickets for Intercity services between Lisbon and Porto for around €25 or high-speed Alfa Pendular services for about €35.
In my experience, Portuguese trains are very good with clean, comfy seats, as well as bike storage spaces and room for pushchairs or luggage. They also tend to include air-conditioning, free wifi and power sockets.
As with most services in Portugal, railway staff are used to tourists and speak excellent English so, if you get lost or confused, it's generally pretty easy to have your questions answered!
Train services running between Lisbon and Porto have toilets… although, as is often the case with trains in Europe, it pays to come prepared with your own paper, wipes and antibacterial hand gel just in case there's not any of these things!
The great news is that the train between Lisbon and Porto is electric, which means it has a very low carbon footprint. If you are trying to travel in a more sustainable way, this means the train is a great way to go.
Given the fact that it's also pleasant, stress-free and relatively good value makes it even more appealing!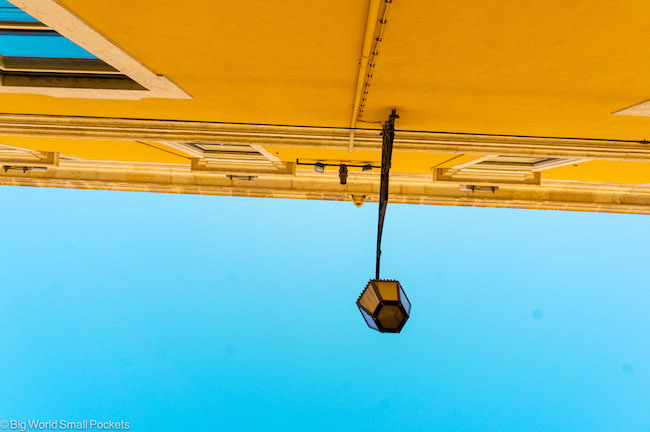 Buying Train Tickets
So now that we've covered the basics about travelling from Lisbon to Porto by train, it's time to cover how to buy tickets for this service.
As is commonly the case when booking trains in Europe, there's essentially 2 options for this journey – booking through the Portuguese railway site or booking through an international one.
Very often, I find the national sites of European train operators, like CP, clucky to use, hard to decipher and difficult to pay in foreign currencies or with international cards.
Which is why I always book my European train journeys using Trainline.
Comparing services is made super easy by Trainline, which handily has everything translated into English.
Often the prices here are just as cheap and their easy booking service allows you to pay using international cards and even change the currency to view converted prices.
Trainline also has a great app, which allows you to not only book tickets on the move, but also store your e-tickets (doing away with the need to print anything out or waste time at the station), plus their handy journey planner is ideal for letting you know if your train is on time or late!
Basically, Trainline makes life so easy for international travellers that using this app is well worth the €1-2 booking fee in my opinion.
You can also book tickets 180 days ahead of your journey, which is the longest lead-up time of any train booking website I've found.
Book your Lisbon to Porto trains at Trainline here.
Seat Reservations & Refund Options
As a budget traveller, I always opt for a standard ticket i.e. 2nd class, as these carriages are more comfortable enough.
When booking with Trainline, standard seats are the norm, but you can often specify if you'd like to be forward-facing, have a window seat or be near a table / power socket. Because I often like to work on trains, I find this especially helpful!
Sometimes, you can also specify if you'd like some form of flexible or refundable fare.
For obvious reasons, flexible and refundable fares are more expensive, but do give you the option to change or cancel if you're travel plans change.
Otherwise, if you're pretty sure your plans are getting to go according to, well, plan(!), then I'd opt for the lowest price possible – usually non-refundable and non-exchangeable fares.
If you want to go first-class and treat yourself then do! These seats are normally about €10 more.
Luggage & Bikes
When it comes to practical information for this train journey, you'll be pleased to know that there's no restrictions on luggage.
As long as you can carry your bags onto the train, there's usually ample rack space at either of the carriages, as well as above the seats for smaller bags.
As I've mentioned earlier, Portuguese trains do have room for bikes to be taken onboard, but cycle spaces are limited and need to be booked in advance.
If you need to arrange luggage storage in either Lisbon or Porto, I highly recommend LuggageHero – a great left luggage app I've used across Europe myself.
Boarding the Train
As with the vast majority of trains in Europe, there's no need to check-in for trains in Portugal.
Simply enter the station and review the boards for the platform your departing train will leave from.
Then just find the platform, board the train and sit in your reserved or a free seat in the correct carriage class if your ticket is unreserved.
Ensure you then have your tickets (or e-tickets) to hand for when a conductor or inspector passes by, and use the Trainline app to track your journey and see when you correct departure station is coming up.
Lisbon to Porto by Bus
Slightly longer than the train, but significantly cheaper, if you're travelling from Lisbon to Porto on budget, then you may want to consider making this journey by bus.
Yes, we're talking here about prices as low as €3 in some cases, which makes using a coach service an absolute bargain for this journey, especially as services are direct.
The main operators on this route are Flixbus, Alsa and Gipsyy and all of these services leave from Lisbon Oriente in the east of the city and arrive into Porto Garagem Atlantico station, which is about a 10 minute walk from the city's historic centre.
Flixbus offers wifi and power sockets, while Gipsyy also boasts aircon and bike storage. Alsa just has toilets!
There are hourly buses running between these 2 cities (sometimes more than 1 an hour) which also makes them very easy to catch!
The first departs Lisbon around 6:30am and the last around 8pm. Journeys times are between 3 hour 15 mins and 4 and a half hours.
Even though services are plentiful, I still recommend booking your Lisbon to Porto bus at least a few days in advance to ensure you can get tickets for the service that suits your itinerary the best.
And the best way to book your Lisbon to Porto bus is to again check out Trainline, who will give you an e-ticket that the driver simply scans before letting you board.
As with all buses in Portugal, you put any large luggage in the under bus storage yourself and then find your reserved seat.
Lisbon to Porto by Air
There are around 10 direct flights daily between Lisbon and Porto, which only take around an hour because the distance is so small.
All flights are operated by the national Portuguese air carrier TAP.
Starting from as little as €30 when booked in advance, flying between the 2 cities is not expensive, but is not good for your carbon footprint either!
When you factor in the time it takes to get to the airports (located outside the respective city centres), plus the pre-departure check-in time, you might actually find it ends up taking you longer to catch a flight than take the train!
That said, if you do still want to look into flying from Lisbon to Porto, then I'd recommend Skyscanner to get the best deals on airline tickets.
Lisbon to Porto by Car
And finally, the last way you may consider travelling from Lisbon to Porto is via 4 wheels.
This either involves you renting a car and driving the distance yourself, or trying out a carpooling service like BlaBlaCar.
If you want to rent a vehicle then check out Thrifty Car Hire for some of the best deals in Portugal – pick up and drop off is at Lisbon airport.
If you choose to go along the national E-1 motorway, the journey will take you just over 3 hours.
The pros to renting a car are the flexibility and the ability to make stops of your choice on the way.
Road tripping in Portugal is really fun and, if you're keen to see more of the country and get off the beaten track, which I highly recommend, hiring a car and driving off the highway will allow you to see a lot more too.
You can also build in extra stops this way too, including the beautiful town of Óbidos, the amazing Batalha Monastery, the lagoon city of Aveiro and even the famous port region of the Douro Valley as you travel from Lisbon to Porto.
Driving is actually the way I travelled between these 2 cities during my first trip to Portugal and I really loved taking a couple of days to make the journey and explore all the great spots I mentioned above.
Do bear in mind however the cons to renting a car, which include the expense, the organisation and having to drive in a foreign country! This can be a very stressful experience, at least it is for me!
Rental a vehicle is probably only a better option than the train if there's a group of you to help cover the costs of the hire, the fuel and any parking.
Carpooling is great for budget travellers as you share lifts with others driving the same way and get to meet locals too. Just use common sense and exercise caution here.
Tips for Your Time in Lisbon and Porto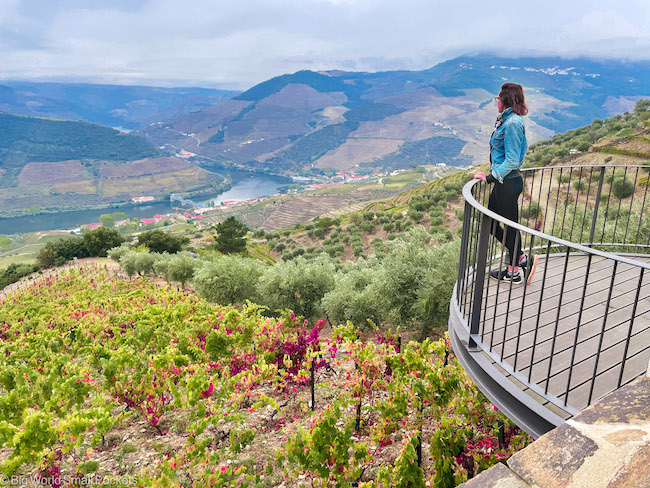 If you want to learn more about Lisbon then check out this article I wrote about how to spend the perfect 3 days in this increasingly popular city, which includes details on where to stay, as well as the best places to hang, eat, sightsee and enjoy.
When it comes to Porto travel inspiration, check out these posts I wrote after my recent trip there…
Travel Insurance for Portugal
World Nomads offers simple and flexible travel insurance. Buy at home or while travelling and claim online from anywhere in the world.
Alternatively, if you're a long-term traveller, digital nomad or frequent remote worker seeking travel health cover, check out Safetywing's Nomad Insurance policies.
Travel Money in Portugal
The easy way to spend abroad with real exchange rates, no markups and no sneaky transaction fees, I always travel to Portugal with my Wise card.
It works just like a debit card… and it links easily with Google and Apple pay – sold! Grab yours here.
PIN IT TO PINTEREST!
And there it is, my guide for everything you need to know about how to travel from Lisbon to Porto.
Have you made this journey?
Which method of transport did you use?
Please leave any information about your journey that may help fellow travellers in the comments box below….