Is it my favourite Portuguese city? It probably is!
Yes just beating Lisbon to the top spot, you'll find out why I made this controversial decision by reading this amazing 2 day Porto itinerary I put together.
In it, I detail why I ended up preferring Portugal's second city and how I can help you to do the same.
A more authentic, lowkey and unassuming city, Porto is also filled with great coastal and countryside landscapes which make for amazing day trips!
It's also cheaper and has Portugal's famous wine-growing region right on its doorstep too… I mean what's not to love?!
So if you're looking for an alternative to Lisbon, where every woman and her dog seems to be going at the moment, then I can highly recommend heading slightly north to sample this top Porto itinerary…
---
Related Posts
---
This page contains affiliate links meaning Big World Small Pockets may receive a small commission on any purchases at no extra cost to you.
---
How to Travel to Porto?
I wanted to kick off this itinerary with a bit of info about how to get to Porto; after all, it's a good idea that if you want to enjoy 2 days in this city, you know how to get there first!
If you're coming from an international destination, particularly one further away, it's likely you'll be flying into Porto care of the city's international airport.
If you need an airport transfer, check out this secure option.
As always, I suggest Skyscanner for bagging the best flight deals.
Otherwise, you can also use buses or trains to travel to Porto from elsewhere in Portugal, such as Lisbon, or neighbouring European countries, such as Spain.
Coach or rail travel may prove more cost-effective for getting to Porto if you're already nearby and will certainly be better for your carbon footprint.
I highly recommend Trainline for booking train and bus journeys to Porto, as they make it easy, quick and simple to compare hundreds of rail and coach journeys to the city from across the Iberian region and beyond.
When to Visit Porto?
Next up, it's also a good idea to think about when you might want to visit Porto.
No question in my mind that the best time to enjoy this 2 day itinerary is during the months of April through June, plus September and October.
This is when the warm weather will allow you to take full advantage of the city's charm, but you won't be wilting in the summer heat.
I've visited Porto across all these recommended months and found the climate ideal for sightseeing as well as hitting the nearby coast.
That being said, you will find Porto has something of a micro-climate, where sea fog can often roll in the morning!
Don't despair however, in the warmer months the sun usually burns it off by late morning.
Day 1 in Porto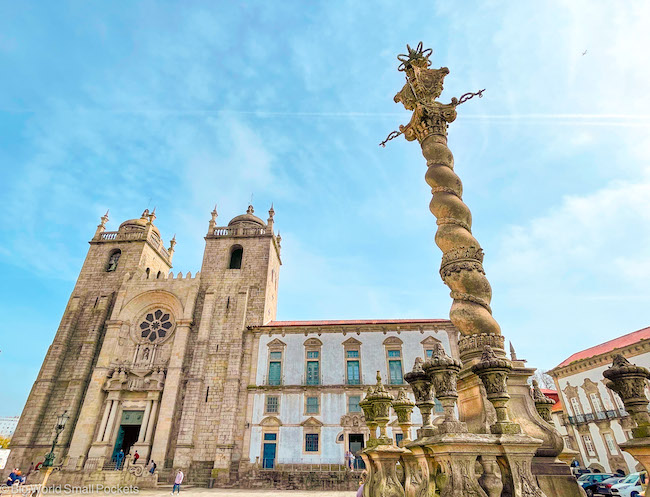 And with that out the way, it's time to get cracking with this amazing 2 day Porto itinerary… and yes it's amazing!
So on the first day of your Porto itinerary, it makes sense to spend your time exploring all the nooks and crannies of this fabulous city and really getting under its skin.
Always the best way to get acquainted with a city in my opinion, I highly recommend hopping on a tour in the morning to get a feel for this place with a great guide to fill you in on the history and development of Porto over the centuries.
Check out this free walking tour if you're looking for a, well, free option, or this paid historic centre walking tour if you want a smaller and more intimate group.
Otherwise, this top-rated electric bike is another great option for those looking for a more relaxed activity, or these 2 hour or 3 hour guided segway tours are also brilliantly reviewed and great crowd-pleasers!
Whichever option you go for, don't miss the beautiful tiles of the São Bento train station and the churches of Igreja do Carmo and Igreja de Santo Ildefonso.
The beautiful winding streets and colourful houses of Barrio Ribuera are another must-visit spot and the famous insta-spot of Livraria Lello bookshop is worth checking out early to try and avoid the queues!
Make sure you climb Clergies Tower too, step inside the Porto Cathedral and visit the traditional market as well for your foodie fix – great traditional delis can also be found along Rua da Formasa.
You'll soon realise that like a lot of Portugal, Porto is pretty freaking hilly and no doubt all that exploring will have worked you up an appetite!
For a tourist-friendly lunch, head along to the river to one of the alfresco cafes clustered along the promenade here, otherwise, if you want to do as the locals do, head to Gazela.
Providing their own iconic twist on the hot dog, this Porto institution serves up baguettes filled with cheese and sausages that are grilled with plenty of oil, cut up and then served in all their high cholesterol glory!
Sit inside, up at the bar, for the full authentic experience and then wash your "snack" down with a SuperBock stout!
In the afternoon, it's time to undertake some fun Porto activities and I highly recommend this Pastel de Nata cooking class for something to get your hands and teeth stuck into!
Otherwise, for those looking for a sedate afternoon, a river cruise on the Douro which runs through Porto is the perfect answer.
Check out these 3 top-rated options for availability:
And to round off the great first day of your Porto itinerary, it's time to take in a stellar sunset.
Most people head for the Miradouro da Ribeira and nearby Jardim do Morro park to enjoy it, but for the best snaps and views that take in both the cities of Porto, Gaia and the full width of the river, personally, I don't think you can beat the Luís I Bridge – just watch out for trams!
After this, it's time for dinner (Porto has loads of great options) and perhaps a dose of culture with a live Fado show, like this one.
Day 2 in Porto
On day 2 of your Porto itinerary, it's time to explore beyond the city centre including the other side of the river in the city of Gaia and the nearby coastline here too.
If the weather is good and you're feeling up for some outdoor time, then I highly recommend hiring a bike in Porto and using it to explore beyond the city centre to the beautiful and wild beaches that lie on the outskirts.
Pick up your wheels from Porto Rent a Bike, who I used and found were both reasonably priced and helpful, and then head out of Porto along the traffic-free cycle trail that connects you with the coast.
Continue on along the trail, which runs south of this city, to the magical Capela do Senhor da Pedra – a tiny monastery set right on the sand – and beyond for deserted Atlantic beaches, where wild waves crash onto white sandy shores.
There's plenty of little cafes along here where you can stop and grab a drink, or why not head back to Porto in the afternoon and enjoy some time in Gaia.
Gaia is the satellite city that lies on the other side of the Douro River from Porto and is famous for its wine tasting and cellars. You'll pass it as you cycle back to the city centre on your bike, which makes it the perfect stop-off in my opinion!
This guided wine tasting tour might be the answer, or else there's some great opps for independent port cellars that host tasting sessions too.
It's always worth calling ahead to see if the cellars can accommodate you on the day, but many will have room, especially if you're visiting here in the shoulder season during the spring or autumn months.
I enjoyed quite a lot of port tastings when I was in this city – quel surprise! – and my pick has to be the lovely Vasques De Carvalho in Gaia – I'm sure you won't be disappointed either!
After you're done tasting, stroll the riverfront of Gaia as you head back to return to your bike.
Alive with café, street sellers and independent shops, this is a busy hub with locals and tourists alike often out enjoying the atmosphere and sunshine.
And while you're here, don't miss the chance to step inside the bizarre Casa Portuguesa do Pastel de Bacalhau.
Here you can see staff actually producing the most famous Portuguese dessert – Pastel de Nata – as well as enjoy the rather mad but brilliant soundtrack of a man playing an organ-like instrument on a level above the shop floor. The internal decor is pretty amazing too – a great, unique find!
Finish your 2 day Porto itinerary with more food and drinks… obviously!
There's plenty of lovely spots for petiscos (Portuguese tapas) in the thin cobbled alleys of the historic centre in Porto, or else you could sample a craft beer place or one of the city's great rooftop bars – there's tons to choose from.
More Time for Your Porto Itinerary?
And with more time for your Porto itinerary, I highly recommend heading to the Douro Valley for a day or 2.
Portugal's famous wine-growing region, this beautiful countryside area, filled with red-roofed villages and sloping vineyards, offers the perfect city break and is just a couple of hours' drive away from Porto.
Head here for a day of wine tasting, or else find a place to stay and experience 2 days filled with historic sights and a chance to really get off the beaten track.
If you don't have your own vehicle, then check out these great guided Douro Valley tours that run from Porto:
How to Get Around Porto?
The small city centre of Porto is easy to walk around – except for the huge amount of hills that will certainly give your calves and cardio system a good workout!
4 tram lines in Porto can also be used if you're feeling a bit lazy!
Best Affordable Places to Stay in Porto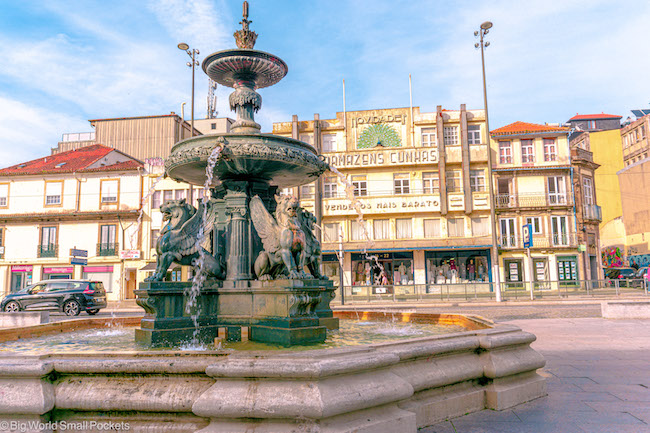 5 Packing Essentials for Porto
Travel Insurance for Porto
World Nomads offers simple and flexible travel insurance. Buy at home or while travelling and claim online from anywhere in the world.
Alternatively, if you're a long-term traveller, digital nomad or frequent remote worker seeking travel health cover, check out Safetywing's Nomad Insurance policies.
Where To Travel After Porto?
If you still have time for more travelling after Porto (and lucky you if so!), then you may want to head to other parts of Portugal or Spain.
Check out these articles for some inspiration…
PIN IT TO PINTEREST!
So there you have it folks, my amazing 2 day Porto itinerary.
I hope I've inspired you to visit this city!
And tell me, do you have a fave thing to do in Porto that didn't make the list?
If so, I'd love to hear about it, so please drop your recs into the comments below…