It's as if fate knew I was going to write this piece…
This week I've met 2 new Italians (friends of friends who live in London too) and when I asked them both to name their favourite part of their home country, both said (without a moment's hesitation I might add), Sicily.
Ummmm hello! Even the Italians say Sicily is their favourite part of their beloved motherland!
Who can honestly argue with that?
Well, I won't even try because, as I'm only too keen to point throughout this article, I'm an absolutely massive fan of this beautiful island too.
From the strong sun and sea breeze that carry with them the subtle scents of North Africa, through to that turquoise shimmering water that couldn't be more tempting after a morning hike or city sightsee, Sicily basks at the very edge of southern Europe in her own kind of glory.
Resplendent in ruins, with just about every empire having left their mark on her, Sicily nevertheless reclines, relaxed and unruffled, in her own brand of spellbinding charm.
From the throbbing streets of vibrant Palermo to the rocky coves that make her coastline, the ancient hilltop towns that seem almost to sway under the heat to the fish couscous dishes that steam out of her restaurants, Sicily brings together so many elements from the worlds around her, but loses none of her own unique identity in the process.
She is a Mediterranean jewel to be explored, a road tripped to be remembered and a flavour-filled feast to be savoured, and all with the sort of casual wild abandon that perhaps only the Italians know how to pull off!
But to give you at least a little bit of a stepping stone start, here is the perfect 1 week Sicily itinerary that will give you a good flavour of what this island can offer.. and will no doubt leave you (like me) wanting more!
---
Related Posts
---
This page contains affiliate links meaning Big World Small Pockets may receive a small commission on any purchases at no extra cost to you.
---
An Intro to this Sicily Itinerary
So yes, before you haters have time to hate, I'm quite aware that 1 week is no way near enough time to do Sicily any of the justice it deserves!
But look, I don't make up the annual leave rules right!
I'm simply making the best out of the time most people have to travel Sicily which, by and large, tends to be a week.
But I also want to desperately point out that 1 week is definitely not enough to see all of Sicily, or really even half of it, which is why I'm having to whittle this itinerary down to a single area – the best part of the island in my opinion.
After all, isn't that what you've come here for? The expert lowdown?
Well let me give you my best shot…
In Sicily, most travellers tend to head for either the east or the west coast – in general, I'd say Italians head to the west and other Europeans tend to go for the east.
The most intrepid also delve into the centre and south of the island (aware there are some seriously stunning spots to discover here too), but generally speaking, this is only people who have more than a week to visit Sicily and have already seen the flagship sights and attractions, which pretty much all lie in the east or west.
But, which side to go for on your first trip?
The east or the west?
(Quick caveat here, you cannot do both in a week – the travel times are too great and it makes no logitisical sense.)
Well, you could be like every other foreign tourist with his bucket, spade and binoculars and head for the east of Sicily and join the throngs ticking Catania, Etna, Syracuse and Taormina off their list OR…. you could do as the Italians do (and goodness knows they've probably got a better idea) and head west!
So yes, in essence, that was a long-winded and roundabout way of saying that this 1 week Sicily itinerary will focus on the west of the island.
Why?
Because I think it's better!
Day 1-2: Palermo
Stay:
Hotel: Palermo Inn Boutique
Apartment: Porta Carini
Guesthouse: Battisti 18 Vintage Rooms
Hostel: A Casa di Amici Boutique Hostel
And so with the justifications out of the way, it's time to dive into this perfect 1 week Sicily itinerary and we're kicking things off in the island's glorious capital – the one the only Palermo.
I have to be honest here and confess I knew nothing about this city before I arrived late at night from London. But after quickly getting a shared taxi from the airport to the city centre, checking into my guesthouse, dumping my bags and heading straight out to meet a friend… I had a freaking amazing time!
Yes for the uninitiated, it pays to know that this city is big on the food and the fun!
During the summer months, the streets of the historic capital buzz into life, although not in a horrible, shouty, drunk kinda way, but more in a stroll, chatty, relaxed fun, everyone out on the street enjoying themselves kinda way… it's delightful!
The next day I hopped on a free walking tour and snapped the bejeesus out of every church, old street, wrought-iron balcony, market and street sellers here – it was amazing!
Afternoons in Palermo are then best spent enjoying things at a more relaxed pace – either at the nearby beach of Mondello, where you can also explore the town and eat a shed-load of seafood, or by enjoying an organised half day trip to the amazing Norman Cathedral in Monreale.
If you have more time in Palmero, then do these both things, as well as wander up onto the roof of the city Cathedral, float through the amazing markets and generally soak in the top notch vibe… you won't regret a second!
Learn more in this list of the top 13 things to do in Palermo.
Day 3: Cefalù
Stay:
Hotel: Artemis Hotel
Apartment: La Rose dei Venti
Guesthouse: Retro Rooms
On day 3 of your 1 week Sicily itinerary, I suggest staying another night in Palmero (it beats having to check out and move all your gear) and hopping on a train to enjoy the beautiful coastal and historic city of Cefalù.
Just over an hour away from the capital, this lovely spot is easy to reach by rail and I suggest booking your tickets in advance (and in English) through Trainline… it just makes life a lot easier!
Once you've arrived in Cefalù, I'd spend the morning wandering the lovely old streets of the Old Town here – which is about a 10 minute walk from the New Town and the train station.
Don't miss the famous cathedral, the old public baths or the chance to enjoy a lovely alfresco lunch with a view of the sea, before hitting the beach in the afternoon.
Lying right on the edge of the Old Town, the sand / small stones here are pretty nice and you can watch locals pier jump and take in the sweeping scenic views as you settle into Sicily life!
After a full day, it's then time to return to Palermo, ready for an early start in the morning.
I know lots of people love Cefalù, but I've decided to only include it as a day trip here because I honestly think Palermo is a better place to base yourself.
Day 4: Segesta, Erice & Trapani
Stay:
Hotel: Room Mate Andrea
Apartment: Gaura Apartments
Guesthouse: Guesthouse Garibaldi
Hostel: Hostelleria
And then, after all that fun, it's time to leave Palmero and start heading west!
And the first place to head for is Trapani.
If you're not travelling with a rental car, then you can easily take a bus from Palmero to Trapani in a couple of hours.
Check out Busbud for all the info and to book your tickets.
Otherwise, if you do have a rental car (sensible move my friends), I'd definitely recommend stopping at the ancient temple and amphitheatre you'll find at Segesta on the way.
One of the top historic sights in Sicily (and that's saying a lot because there's a truckload), Segesta is amazing, so allow at least an hour to explore here.
Adult tickets cost 8€ and can be purchased at the entrance.
After Segesta, I'd suggest heading on to the hilltop city of Erice, which sits above Trapani – another historic must-see when you're in this part of the island.
Dating back to the time of the Greeks, the buildings have changed since that time but still conjure up the sense of a bygone era, not least thanks to the walls that surround the town, as well as the castle and towers that survey the landscape below for potential intruders!
After Erice, I recommend a quick dash to Marsala for a look at the salt pans and a spot of wine tasting, before driving on to Trapani to spend the night.
For those without a car, check out these top Trapani day tours that include Erice and Marsala.
Day 5: Favignana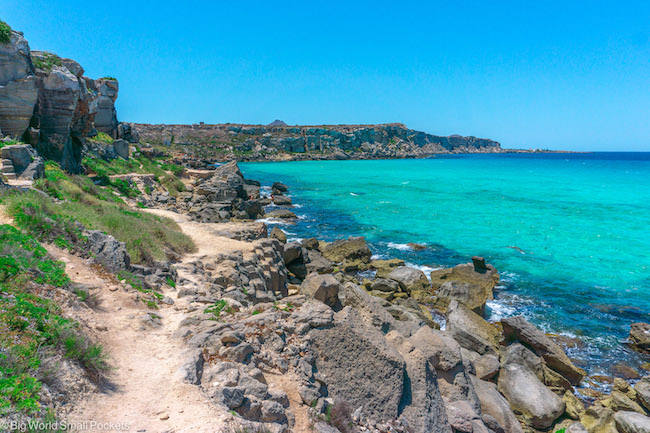 Oh my my my, have I got a treat in store for you on day 5 of this 1 week Sicily itinerary!
Yes, the time has arrived to take a day trip from Trapani to the amazing island of Favignana, which is about an hour away by ferry.
Have breakfast in Trapani and wander down through the Old Town as you make your way to the port where ferries depart regularly.
Tickets can easily be booked on the morning of your departure and it's best to book a return there and then for the best price.
Sail over to this tiny dot of paradise and then hire bikes when you arrive at the Favignana port for 5€, before spending the rest of the day exploring the beautiful coves trails, beaches cafes and hamlets of this car-free island.
Honestly, it's an absolute mega-treat!
Don't miss heading to Cala Azzurra for your final sea swim and mind-blowing clear water, before heading to the island's cute little town (by the Port) for a spot of delicious early dinner.
Return your bikes at the port by 6pm and wait for your ferry back to Trapani.
Learn all about travelling from Trapani to Favignana, plus what to do on this island here.
Day 6-7: San Vito lo Capo & Surrounds
Stay:
Hotel: Room & Breakfast Cala Azzurra
Apartment: Makani Apartments
Guesthouse: B&B Jasmine
Oh no, dear friends, the end of this Sicily itinerary is in sight, but don't fear, you've still got 2 absolutely banging days left and there's not a moment to lose in ensuring they are totally brilliant!
On day 6, I suggest you head from Trapani (either by bus – book using Busbud – or car) up to San Vito lo Capo, with forms the north-westerly peninsula of Sicily – yup 'the pointy bit you can see on the map' in technical terms!
This lovely town offers the most beautiful beach in this part of Sicily, with a wide stretch of clean sand and a delightfully safe, shallow swimming spot.
It's busy, of course, with sunshade and beds lining the shore, but it's not over-crowded and neither is it over-resortified (yes, made that word up, but you know what I mean) or tacky.
In short, San Vito is definitely a holiday spot, but thankfully hasn't yet been overrun.
You can stay directly in San Vito, although you'll probably pay a little more, so my advice is to stay in one of the lovely local towns nearby to get the real Sicily feel and still have the lovely beach within easy reach.
Castelluzzo is my pick of these local towns, not least because it's quiet, cute and an easy 15 minute bus ride, or car journey, from the beach at San Vito.
I also really like the San Vito area because of the amazing Zingaro Nature Reserve located here, which you absolutely should not miss on either day 6 or 7 of this Sicily itinerary.
Pack a good day bag filled with water, snacks and beach gear, strap on your walking shoes and set out to explore the beautiful coves, caves and scenery of this coastal protected park for your final delightful day here.
And there you have it, my ideal 1 week Sicily itinerary.
It definitely fits a lot in, but a huge part of enjoying Sicily is unwinding and going with the flow and there's plenty of time for that in this week too!
Mini Travel Guide to Sicily
When to Visit Sicily?
The best time to visit Sicily is during the spring months of May and June or the autumn months of September and October.
Check out the full article I wrote about when to visit Sicily here for more info.
How to Get to Sicily?
Flying to either Palmero or Catania is the best way to get to Sicily from across Europe.
Check out Skyscanner for the best deals as they include budget airlines in their searches.
Otherwise, you can also take a ferry or train across the Messina Strait to Sicily from mainland Italy.
Trains run direct from Rome and Naples and take between 9 and 11 hours. You can easily book tickets via Trainline. The train goes on a ferry, but this is included in your ticket price.
Alternatively, you can cross, via ferry, from various mainland Italian ports to various Sicilian island ports.
Check out all the options and book tickets via Direct Ferries here.
How Long to Spend There?
As you now know, you'll need at least a week to get to grips with Sicily and, even then, will likely have to choose either the west or east of the island to enjoy.
With 2 weeks you can explore both sides of the island and, with longer, you can start digging into the more remote southern and central parts of this charming Italian destination.
How to Get Around?
Hiring a car is the best way to get around Sicily. Find a great deal here.
Otherwise, if you don't want to drive, I recommend staying in one of the main cities and using the buses and trains that run frequently from there. I've constructed the above itinerary with public transport in mind too.
You can easily book train tickets in Sicily via Trainline.
And Busbud also works well for, well, buses!
For transfers from the airport to your accommodation check out WelcomePickUps – a great option as Uber is not available in Sicily.
Travel Insurance for Sicily
World Nomads offers simple and flexible travel insurance. Buy at home or while travelling and claim online from anywhere in the world.
Alternatively, if you're a long-term traveller, digital nomad or frequent remote worker seeking travel health cover, check out Safetywing's Nomad Insurance policies.
Travel Money in Sicily
When it comes to getting paying for things in Sicily, you want to ensure you're not being charged overseas transaction fees or getting poor exchange rates when using your card abroad, which is why I took my Wise Card away with me to this island.
The easy way to spend abroad with real exchange rates, no markups, no sneaky transaction fees and a free Euros account, you can use your Wise card just like a debit card in Italy… and it links easily with Google and Apple pay – sold! Get yours here.
SAVE THIS TO PINTEREST!
And there you have it – my ideal itinerary for 1 week in Sicily.
Have you been to this fab Italian island?
How long did you spend there and what did you do?
Tell me all in the comments box below…