The roaring capital of Sicily is a feast for all those who lay eyes on her… both literally and metaphorically!
Indeed it's hard not to be blown away (and have your waistline seriously expanded) during a trip to this vibrant and authentic city, which definitely ranks among my favourite places on the island.
With a real local, slightly gritty feel to it, Palermo is exactly the kind of city I love – markets spring to life daily, streets fill with chattering friends in the evening and historic treasures lie scattered around like lost objects.
Chaotic and charming all at once, Palermo is very much an Italian city with a twist – and certainly outstrips Sicily's other main city, Catania, in my opinion.
So if you're heading to Sicily soon and wondering where to begin and perhaps end your adventures there, it really is harder to get better than the capital.
And here, to inspire you further is my list of the top 13 things to do in Palermo…
---
Related Posts
---
This page contains affiliate links meaning Big World Small Pockets may receive a small commission on any purchases at no extra cost to you.
---
#1 Stroll the Old Town
Palermo's beautiful old town lies at the heart of this lively city and strolling it should absolutely not be missed during your time in the capital.
Founded by the Phoenicians, who also founded Beirut (perhaps this is why the Sicilian city reminds me of the Lebanese capital), Palermo is over 2700 years old – making it one of the most historic centres in Europe (it is often ranked in the top 30).
It's changed as a city over the proceeding years of course – it's actually one of the most conquered cities in the world – but is still filled with Baroque, Byzantine and neoclassical architectural gems that make it one of the most fascinating Italian metropolises in my opinion.
Strolling the streets here, taking it all in independently, is definitely one of the best things to do in Palermo but, if you're looking for a guide to explain more about the story of this culturally and historically eclectic city, check out these top rated options…
#2 Visit all the Churches (ok just some!)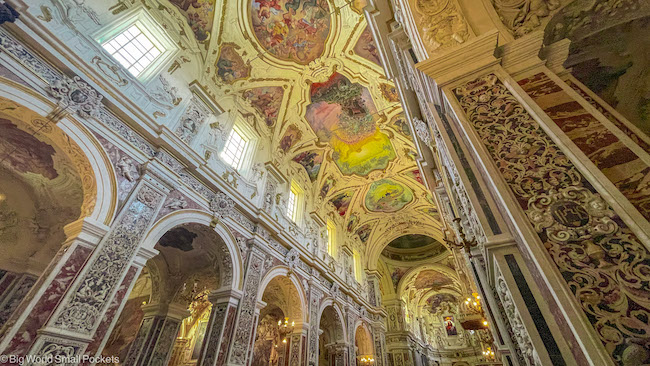 And during your time wandering through central Palermo, you can't miss the chance to stop in at a few of this city's most beautiful churches.
You don't have to be religious to appreciate these treasures – the architecture and decoration of them alone (particularly some of the ceilings) makes them worth the visit.
I'll save the Palermo Cathedral until #3 of this list, but the other top churches you need to check out in Palermo include:
Palatine Chapel – an ancient chapel inside the Palazzo dei Normanni, known for its amazing Byzantine mosaics and paintings.
Santa Maria dell'Ammiraglio – known as La Martorana, this domed Arab-Norman church is also famous for its Byzantine mosaics.
Chiesa di San Giuseppe dei Padri Teatini – a beautiful Baroque church, step inside here (for free) to admire the amazing frescoes.
Church of St Cataldo – a Norman church with interesting Arab architectural influences, including a mosaic floor and red domed roof.
San Domenico – another Baroque church with a stunning marble interior and some impressive tombs.
#3 Climb the Cathedral
But probably the most famous church in the city – and one thing you have to do in Palermo is visit the cathedral.
First erected in 1185, this beautiful cathedral was built on the site of a former mosque by the Normans – you only need to look at the tower with clock face to see the remains of the minaret structure!
The cathedral is huge and while its exterior is ornately decorated, inside it's actually quite simple – apparently the interior didn't matter so much when the city was trying to outdo the nearby cathedral in Monreale!
Entrance to the nave of cathedral is free but, in my opinion, it's well worth the 7€ to access the other areas of the cathedral including the crypts, tombs, treasury and, best of all, the terraces, which give you access to parts of the cathedral roof.
Definitely head out here for the view it gives over Palermo, but avoid Sunday when access is limited.
And if you're looking for the best view of the cathedral for your photos, then I strongly suggest you head for Via Orologio.
Otherwise, if you want to explore the cathedral with a guide, this top-rated market and monument walking tour in Palmero includes the cathedral entrance and the services of an expert, local historian.
Just make sure you are dressed properly – shorts, skirts and tank tops are not allowed inside the cathedral.
#4 Hit up the Markets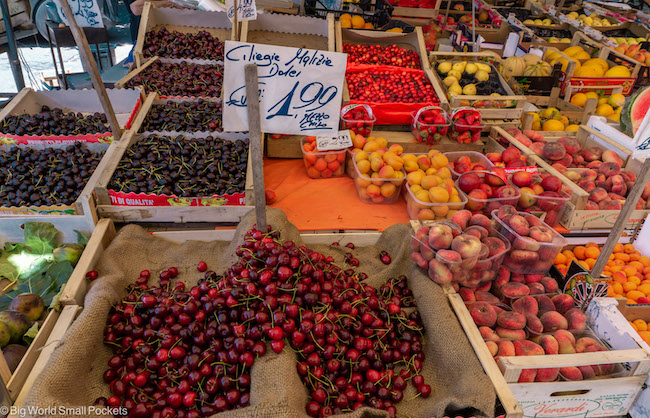 So now we're moving on from the architectural gems of Palermo to another of the things this city is famous for – namely the incredible food on offer!
And the place to sample the best of it is, of course, in one of Palermo's local markets.
Luckily you have 3 to choose from in this city and being located fairly close together, none should be missed!
The Capo, Vucciria and Ballarò market all have the air of an Arabic souk about them – hardly surprising when North Africa is so close by – and all 3 bubble with life, an amazing array of produce and a whole host of theatrical characters selling their wears.
Capo and Ballaro are only open in the mornings, but Vucciria transforms itself in the evening into a drinks street market, where loads of people gather to party and people watch!
The name of this market means messy and stems from the French for butcher – in essence, this messy meat market certainly lives up to its name!
If you want to party in Palermo, this is the spot to head for.
#5 Sample the Street Food!
And while we're talking about food and the wonderful markets in this city, I can't not mention the amazing street cuisine this capital is famous for.
Without a shadow of a doubt, sampling a lot of it is absolutely one of the best things to do in Palermo!
Less famous for its fine dining and more renowned for its incredible, affordable street snacks – the street food here somehow sums up Palermo's vibe for me; it is, after all, historically a working, rather than wealthy, city.
Top Palermo street food picks that you must try include…
Panelle – a kind of chickpea fritter
Pane con le milza – a spleen sandwich that apparently extends from the Jewish population in this city
Arancini – a fried rice ball
Croquette – fried potato balls
Brioche – a sweet bun filled with gelato (I'm not joking, this is essentially an ice cream sandwich!)
Cannoli – sweet pastry tubes filled with cream (see pic above)
There's more stands, shops, cafes and stalls than you can imagine when it comes to buying your street food in Sicily, but one place you can't miss is the local fav of Nni Franco U Vastiddaru.
An amazing spot where you simply pull up a plastic chair, amongst an outdoor table filled with locals, this lowkey sandwich shop stays open (and buzzing) well into the night.
And if you like a good panini, it's the spot to head for… although good luck choosing from the incredibly extensive menu! Even vegetarians are catered for.
If you're looking for some more top Palermo food advice, then this street food and market tour in Palermo comes highly recommended.
Oh, and when it comes to snacks in Sicily – arancino is the Catanian way to pronounce this snack, whilst in Palmero it's arancina. Don't get it wrong!
#6 Head to the Royal Palace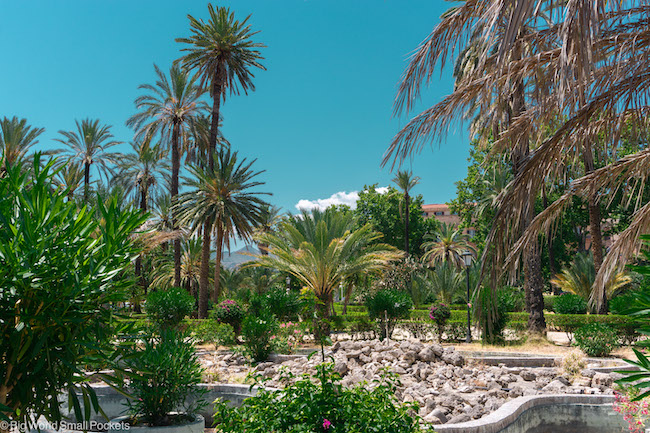 But back to the sightseeing now – we'll you've got to burn off those snacks somehow! – and we'll kick off next with a visit to the Royal Palace – definitely a top hitter on this list of the best things to do in Palmero.
Known as the Palazzo dei Normanni (Norman Palace) or the Royal Palace of Palermo, this is the oldest royal residence in Europe.
Once the home of royalty, it is now the seat of the Sicilian regional assembly – a position its held since 1946.
Don't miss the Cappella Palatina if you do visit here – it is contained within the palace and was mentioned in #2 on this list.
#7 Learn about the Haunted Teatro Massimo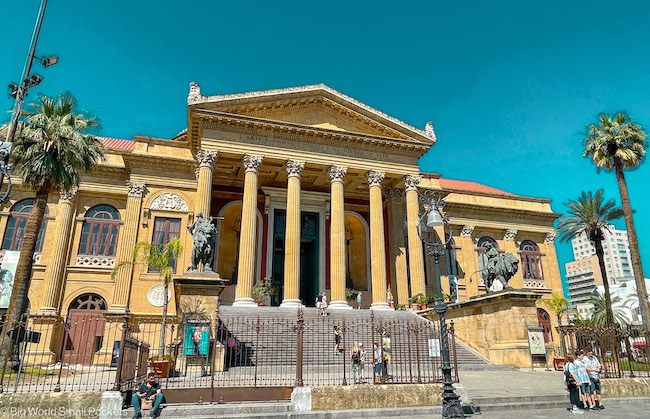 From palaces to theatres, we now move to another top thing to do in Palermo – spend some time exploring, learning about and even stepping inside, the city's beautiful theatre.
Did you know that Palermo's theatre is actually the third largest in Europe (after Paris and Vienna) and tours of the inside (even if you don't want to see a show) can be enjoyed for 8€.
Don't miss the chance to take a tour of the roof terrace either (extra fee) and to learn about the haunted history of this glorious performance house too!
#8 Marvel at the Baroque Facades of Quattro Canti
Now this had to be my favourite part of Palmero.
The centre of the Old Town, Quattro Canti is the historic district and its crowned by Piazza Vigliena – another stunning Baroque square. (Yes I know, we've been heavy on the Baroque in this article, but that's Palermo for you!)
The piazza layout is octagonal and boasts 4 incredible facades that segment a main intersection.
Each quarter represents a different season and marvelling up at them – and trying not to get run over by a scooter, car, bike, or tour group in the process – is quite the thing to do!
But these beautiful street scenes are so intricate – not to mention tall – it's impossible not to crane your neck up to look at them!
My tip is just to make sure you stand to the side of the street when you do so… in order to avoid the traffic!
#9 Discover the Fountain of Shame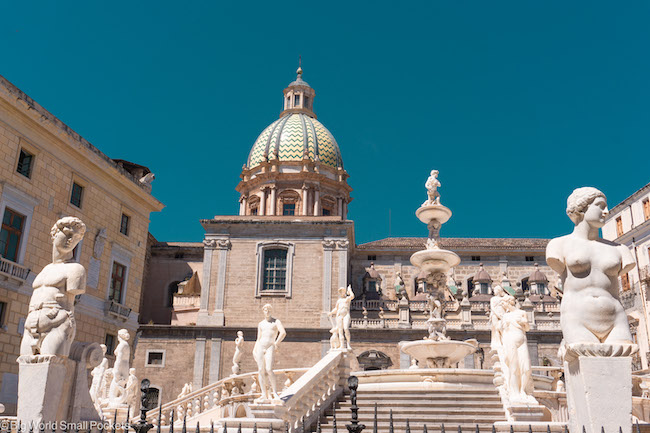 And just around the corner from Piazza Vigliena is the ornate and grand Piazza Pretoria – another must see spot in Palermo.
Known as the Square of Shame, the Fountain of Shame that takes up the majority of the space here is another incredibly beautiful sight in Palermo – at least it is now.
Back in the day, the range of mythical sculptures, all of which are butt naked – used to face directly onto a convent – meaning this was what the nuns saw every time they looked out their window!
Apparently that is where the "shame" title came from!
#10 Take a Cooking Class
Ok, so after a few cultural entries on this list of the best things do in Palermo – we're now back to the eating side of things… well it's all about balance right?!
And not just eating, but cooking too, because one of the things you totally have to try in this city is a cooking class with locals.
If you want to learn all about what makes Sicilian food unique, and pick up the insider tips on how to recreate it, then this top-rated half day cooking class is a winner.
After meeting the chef leading the class in the morning and you'll go to the famous Capo market to buy the fresh food and then set about recreating some delicious Sicilian delicacies.
4 courses later, you then get to sit down and eat what you've prepared with a lovely glass of local wine!
Sounds dreamy to you?
Me too!
#11 Half Day Trip to Monreale
But now we move to some sights outside of Palermo and some of the best day trips you can take from this city.
First up is a half day trip to the famous cathedral that lies just outside the capital – yes, it's the one the Palermo cathedral was built to rival.
One of the greatest examples of Norman architecture (or so I'm told!), this huge (it's 102m long and 40m wide) religious building became UNESCO-listed in 2015.
Gold inside (it's quite the spectacle), although the opulence (as is often the case in Italy) can be off-putting.
You can certainly drive out here if you have a car, otherwise, there's a 2€ bus that runs from Palermo for those who prefer public transport, or several half day group trips that will take you out here either in the morning or afternoon if you're keen to do a tour…
#12 Bus to the Beach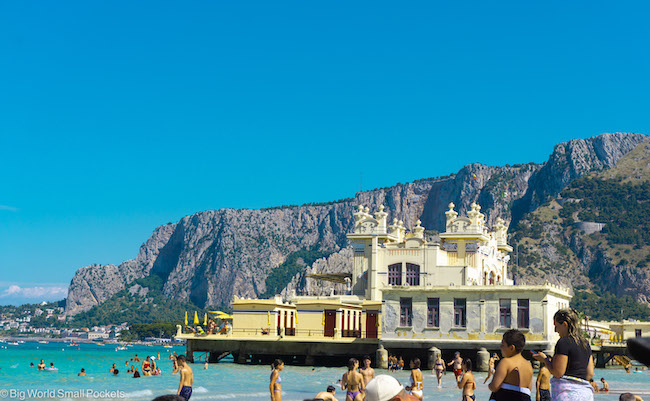 And if you do head to Monreale in the morning, then the perfect way to spend the afternoon – at least in my opinion – is on a nearby beach.
And what better option than Mondello.
One of the best beaches in Sicily, this coastal strip has some lovely sand (not a given on this island FY) and some delightful clear and shallow water that is ideal for swimming.
Quiet it is not – you'll have to squeeze your towels in around the locals here in summer months – but it's definitely the best beach near Palermo and definitely worth a visit if you're staying in the city and looking to cool down a little.
#13 Day Trip to Cefalù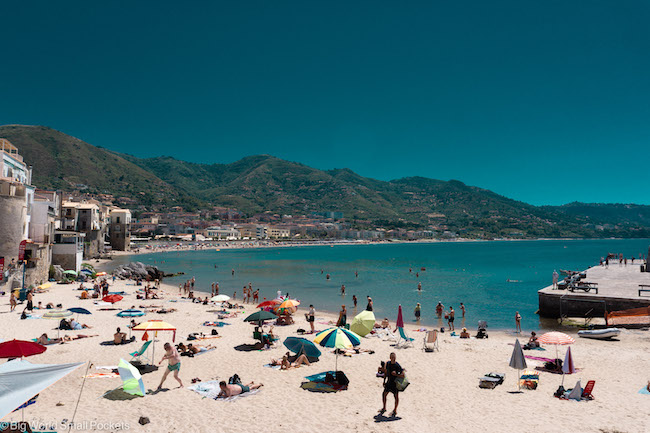 And last but not least on this list of the top things to do in Palermo it's another day trip option that actually offers another beach and another Old Town!
This makes it the perfect day trip from Palermo in my opinion – sightseeing in the morning and chilling in the afternoon!
The other added benefit to this day trip is that it's easy to enjoy using public transport, so if you don't have access to a rental vehicle while you're in Sicily, no problem!
Simply head to Palmero train station (located in the city centre) and then hop on a train to Cefalù – just an hour away.
As always in Italy, I use Trainline to check timetables and book trains in English – perfect! – and then once you arrive in Cefalu, simply wander from the station to the Old Town which is about 10-15 minutes away.
Here you can marvel at the Cathedral (surprise, surprise it's UNESCO-listed), check out the Old Public Baths and generally soak up the cobbled charm of it all.
After a spot of lunch – c'mon, rude not to in Italy – I suggest heading to the beach just a few minutes away, where you can watch locals pier jump and take in the sweeping views of the curve of the bay.
Head back to Palermo, gelato in hand, for the perfect round-off to a great day trip!
Sicily Travel Guide
When to Visit Palermo?
The best time to visit Palermo is during the spring months of May and June or the autumn months of September and October.
Check out the full article I wrote about when to visit Sicily here for more info.
How to Get to Palermo?
Flying to Palmero is the best way to get to this city from across Europe.
Check out Skyscanner for the best deals, as they include budget airlines in their searches.
Otherwise, you can also take a ferry or train across the Messina Strait from mainland Italy and get to Palermo from there.
Trains run direct from Rome and Naples and take between 9 and 11 hours. You can easily book tickets via Trainline. The train goes on a ferry, but this is included in your ticket price.
Alternatively, you can cross, via ferry only, from various mainland Italian ports to various Sicilian island ports, including to Trapani – from where you can get a bus to Palermo.
Check out all the options and book tickets via Direct Ferries here.
How Long to Spend in Palermo?
I'd recommend a stay of at least 3 nights in Palermo – more if you want to enjoy several day trips from the city.
How to Get Around from Palermo?
Hiring a car is the best way to get around Sicily from Palermo. Find a great deal here.
Otherwise, if you don't want to drive, I recommend staying in one of the main cities and using the buses and trains that run frequently from there.
You can easily book train tickets from Palermo to other Sicilian destinations via Trainline.
And Busbud also works well for, well, buses!
For transfers from the airport to your accommodation in Palermo check out WelcomePickUps – a great option because Uber is not available in Sicily.
Travel Insurance for Sicily
World Nomads offers simple and flexible travel insurance. Buy at home or while travelling and claim online from anywhere in the world.
Alternatively, if you're a long-term traveller, digital nomad or frequent remote worker seeking travel health cover, check out Safetywing's Nomad Insurance policies.
Travel Money in Sicily
When it comes to paying for things in Sicily, you want to ensure you're not being charged overseas transaction fees or getting poor exchange rates when using your card abroad, which is why I took my Wise Card away with me to this island.
The easy way to spend abroad with real exchange rates, no markups, no sneaky transaction fees and a free Euros account, you can use your Wise card just like a debit card in Italy… and it links easily with Google and Apple pay – sold! Get yours here.
SAVE THIS TO PINTEREST!
And there you have it, my list of the top 13 things to do in Palermo.
I hope I've inspired you to visit this amazing city and that you'll love it as much as me when you're there.
Honestly it's up there with my fav European capitals!
Enjoyyyy!