Honestly, I'm not trying to start this article on a downbeat note, but, spoiler alert, most people don't head to Sicily for the beaches.
But wait, that's not because the beaches here aren't fabulous, but rather because this Italian gem of an island – the largest in the Mediterranean don't y'know – offers so much, that the beaches are just one reason, amongst a whole host of others to head here!
With gorgeous towns and vibrant cities, along with active volcanoes and ancient ruins, there's so much to enjoy in Sicily (and don't even get me started on the food!), that the beaches alone aren't this island's main sales attraction…. but, that does not mean they aren't incredibly beautiful.
For Sicily certainly has some coastal treasures to offer – not to mention some insanely clear water to match! – and to show you just how fabulous they are, here's my list of the best 10 beaches on Sicily.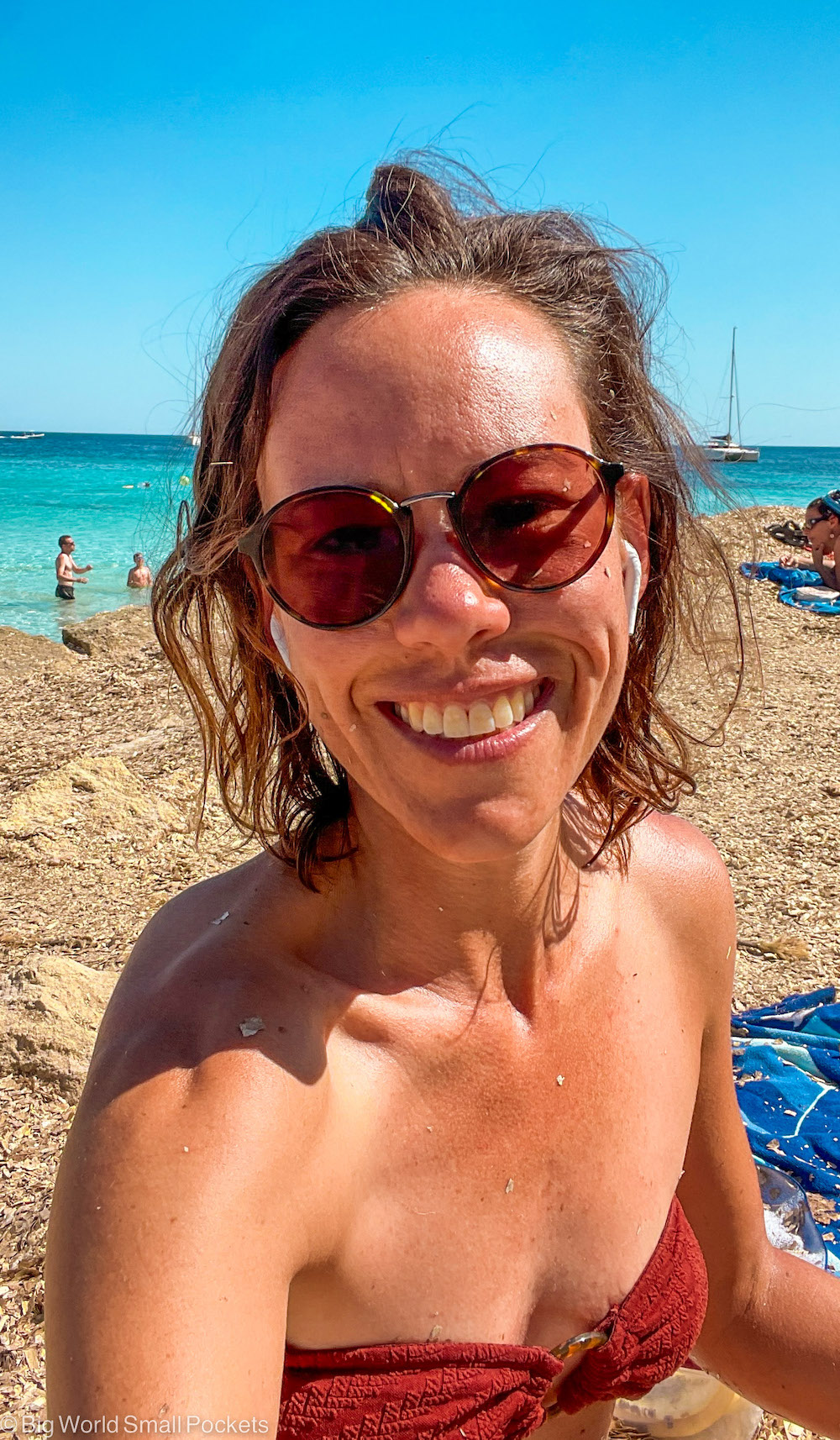 ---
Related Posts
---
This page contains affiliate links meaning Big World Small Pockets may receive a small commission on any purchases at no extra cost to you.
---
#1 San Vito lo Capo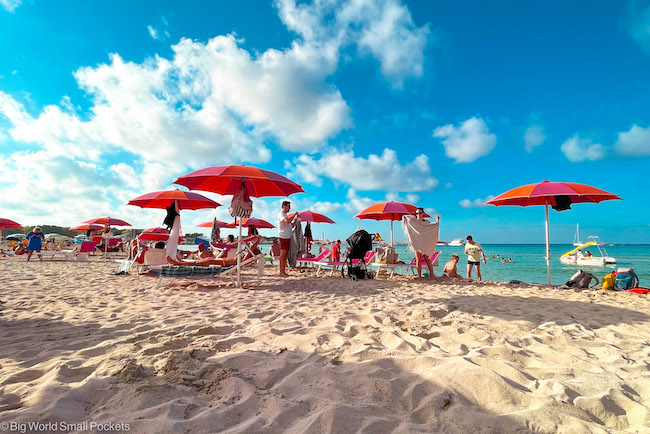 Coming in at number 1, it's probably my favourite beach in Sicily and that is the sandy beauty of San Vito lo Capo.
Certainly not a secret – the hordes in the summer months are testimony to that! – but the wide white strip of sand here and the glistening, gorgeous waters provide perfect safe swimming, which absolutely makes this a top Sicily beach.
The town of San Vito is also very attractive and despite being a tourism hotspot it doesn't feel spoilt at all.
Heading here in the months of June or September are the best times to avoid the crowds, as well as the fierce summer heat, and at these times of year, the town and beach are still wonderfully vibrant.
Renting loungers and a sunshade are best (and cost around 25€ for the day) and after enjoying a day of luxury sunbathing, there's plenty of great food and drink options to find in the streets behind the beach.
You can day trip to San Vito from Palermo, although my recommendation would be to stay here a few nights – either in the town itself or in one of the nearby villages – Castelluzzo is my pick.
Learn all about how to travel from Palmero to San Vito in this article I wrote.
#2 Calamosche, Vendicari Reserve
Next up on this list of the best Sicily beaches, we move to the southeast of the island below the flagship town of Syracuse.
Situated at the start of the fabulous Vendicari Reserve – a protected area of coastline – this beach is wonderfully free from development and, save from an agriturismo restaurant on the shoreline, you'll need to bring all your supplies with you.
A great low-key option, that remains relatively crowd-free (even in the busy summer months), it's probably the 2km dirt track walk down to the beach that keeps most away!
You can drive to the top of the trail and pay to park your car here, or else cycle from the town of Avola (which takes around an hour) and head down to theis 200m stretch of sand that offers calm and clear waters… perfect for a cooling swim!
#3 Scogliera Cala Azzurra, Favignana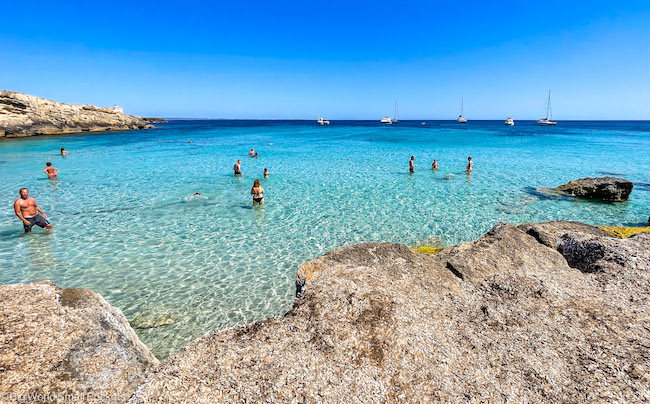 But now it's time to turn to some of Sicily's outlying islands – many of which make amazing day trips from the main island.
And my favourite among these options has to be the dreamy, car-free option of Favignana.
Accessed by ferry in under an hour from the port of Trapani, I suggest you hire bikes for 5€ when you arrive at the island's port and then set about cycling to the many coves and top swimming spots here which all offer insanely blue water for swimming.
Most of the beaches on Favignana are either stony or rocky, but the amazing Scogliera Cala Azzurra is the sandy option that makes the perfect finale!
A small strip of white sand makes this one of the most amazing beaches I've ever been to (yes it's magnificent) and the great feel of the island around only adds to the charm.
Learn all about how to travel from Trapani to Favignana in this article I wrote.
#4 Scala dei Turchi, Agrigento
Down in the south of Sicily, Scala dei Turchi is definitely one of the island's most iconic beaches.
With a name that means stairs of the turks – probably because, historically, the ships of marauding Turks found shelter in this bay – this huge limestone cliff has been eroded by the sea, salt and coastal wind and transformed into an ocean-facing structure with a huge set of steps.
Bright white, which contrasts amazingly against the blue water, walk along the sandy beach to see the steps towering above you or, if you're brave enough, climb them for some epic photos.
The south of Sicily tends to be quieter on tourist numbers too, and this spot makes the perfect stopover enroute to see the Valley of the Temples in Agrigento.
#5 Spiaggia Libera, Mondello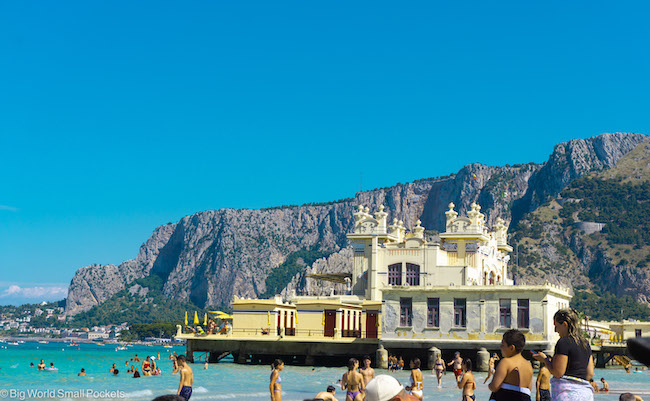 And talking of beaches in Sicily that are handily situated close to the other attractions, the wonderful strip of sand at Mondello makes the perfect seaside escape from the buzzing city of Palmero.
There's no doubt Palmero needs to be on your Sicily itinerary, but in the warmer months, a morning of sightseeing here in the heat can do even the most ardent history-seeker in!
As such, the lovely sandy Spiaggia Libera makes for the perfect relaxing afternoon excursion.
Buses do run here from the city – but do take over an hour – so this is definitely one best suited to those with a hire car.
Mondello – the town nearby this beach – actually lies in the direction of the airport from the capital, so if you're looking for a last dip on your way out of Sicily, as I was, then this place is the perfect spot to take in the last rays and sea swim before you head on your flight home.
Paid parking is available in the streets behind the beach and there's also lots of restaurants and bars that line this popular strip too.
Bring your towel and join the crowds trying to find a spot on the sand, for something this beach definitely isn't, is quiet!
#6 Cala Marinella, Zingaro Reserve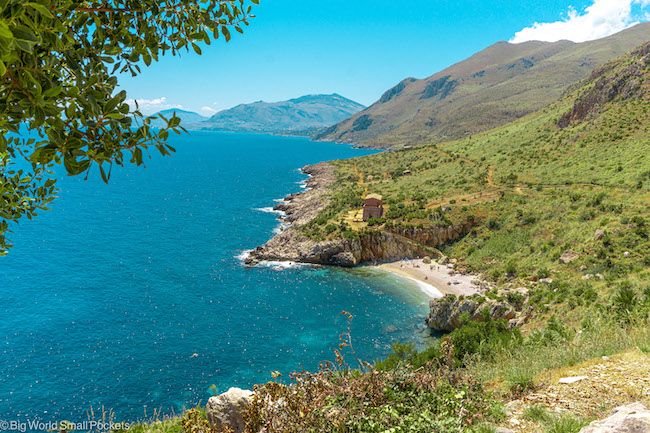 And now we continue our journey west as we head further out of Palmero, back towards San Vito.
In between them lies the amazing natural reserve of Zingaro – which can be accessed by car from either San Vito or the town of Scopello, although I recommend the former.
And that's because all the best beaches in this part of Sicily lie closer to the San Vito end of the reserve in my opinion.
The drive from San Vito to the Zingaro entrance takes around 20 minutes and free parking is available on the side of the road leading to either park entrance.
5€ entrance tickets can be bought at either entrance booth and paid for either using card or cash.
You'll then be given a map that will show you the highlights of the reserve including the walking trails and the 7 beaches that lie within it.
Because this reserve is car-free, it means the 7 beaches here can only be accessed by walking.
However, this makes them all the more beautiful in my opinion.
And my top pick is the 3rd beach along – Cala Marinella.
You'll have to visit at low tide here to get any sand – as the tide soon covers the tiny cove – but at any time jumping into the clear blue sea here is priceless!
#7 Cala Dell'Uzzo, Zingaro Reserve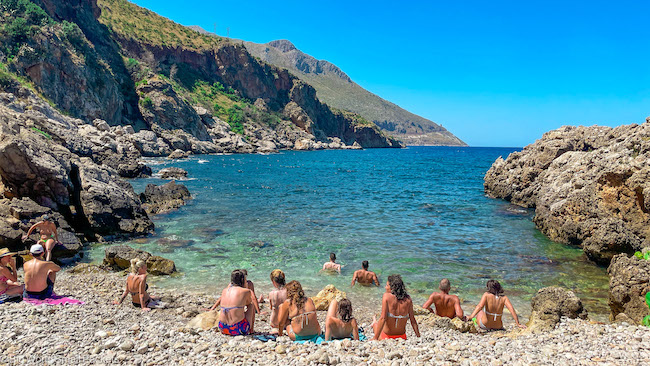 And next up on this list of the best beaches in Sicily is another gem in the Zingaro Reserve – yes I honestly couldn't get enough of this place!
This beach is closer to the San Vito entrance (it's the second beach along), which means if the tide is up at Cala Marinella, this is the spot to head to if you want to lie on the sand.
Ok, well not sand, it's actually formed from lots of tiny stones, but you really can't describe this beach as stony because the minuscule, white stones make it feel pretty close to sand.
A great option if you've walked a lot in the reserve and are making your way back to your car, a swim in the shallow water here is gorgeous and the views of the bay from the above are magic too.
Just a note that, if you're hiking in this reserve, you need to bring trainers (they won't let you in with sandals or flip-flops), as well as all the snacks and water you'll need for the day.
There's no facilities in this reserve – another reason I loved it – and all that walking in the heat sure is thirsty work!
#8 Isola Bella, Taormina
And now we head to a rather less off-the-beaten-track number and that's because this top Sicily beach – Isola Bella – sits very close to the popular tourist town of Taormina.
Over in the east of Sicily, this is actually a small rocky island (as the name suggests) and so not one for those who don't like pebbly beaches.
But the unique nature of it makes it a top pick of mine – after all, who doesn't love walking out to an island followed by a snorkel when you get there!
No denying the crowds are thick in this part of Sicily, especially in the summer months, but wait for the day trippers to leave and you'll likely have a much quieter sunset experience, complete with golden light bouncing off the cliff face and an Aperol from one of the boardwalk cafes around the bay.
#9 Spiaggia di Cefalù, Cefalù
It's now time for number 9 of the best beaches on Sicily as we head back westwards to the fabulous historic town of Cefalù.
Easy to access from Palmero by train – book your tickets using Trainline – you can either day trip to this town from Sicily's capital (as I did), or choose to stay the night if you have a bit more time on your hands.
Either way, I first suggest checking out the old town of Cefalù when you arrive here – the Cathedral is a must-see and an alfresco lunch in the cobbled streets is all part of the experience here – before you head to the beach for the afternoon.
Not white sand, but nevertheless nice enough to lie on, the sweeping view of the bay you get from Cefalu's beach is marvellous and there's a cute bar built into the rockface here where you can grab a drink to enjoy after taking a dip or watching the locals jump off the end of the pier.
If you want a quieter option, then the beach at Lascari (the train stop before Cefalù) is a great alternative!
#10 Spiaggia Bianca, Lipari
And last but not least, we come to the amazing sandy beach of Spiaggia Bianca – definitely one for the adventurers among you!
And that's because it involves either a flight, a ferry or a hydrofoil journey to get there!
Yes the tiny island of Lipari, where you'll find this beach, is one of the Aeolian Islands, which are accessible from either Palermo or Catania.
Situated off the northeast coast of Sicily, this is the perfect place to spend a couple of days if you have longer for your Sicilian itinerary.
The best beach on Lipari (which is no secret as a result!), this gorgeous 350m long strip of white sand is definitely worth it however thanks to the lovely water and south-facing views over Olbia Bay.
Rent a lounger and enjoy the safe swimming in shallow waters and beach bar vibes – the perfect way to enjoy this island.
Sicily Travel Guide
When to Visit Sicily?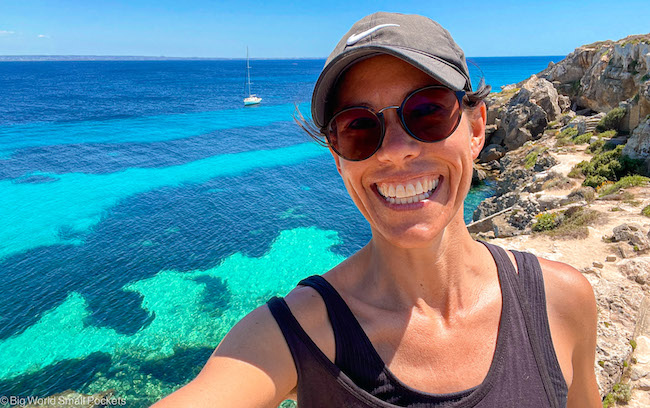 I think the best months to visit Sicily are either April and May or September and October.
Found out more in the article I wrote all about the best time to visit Sicily.
How Long to Spend on Sicily?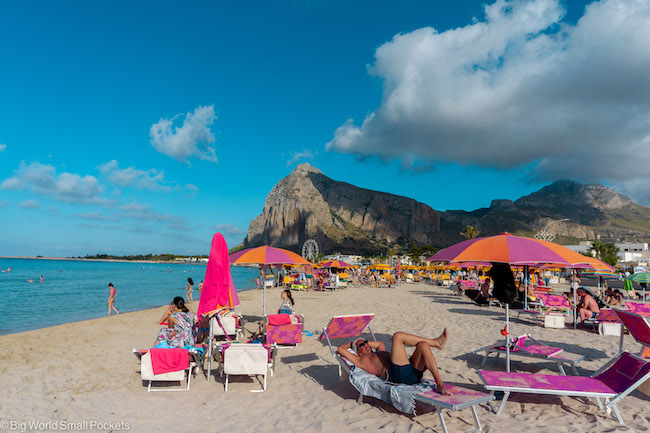 I'd suggest at least a week to visit Sicily.
With 7 days you'll get a good amount of time to explore either the west (Palermo, Cefalu, Trapani and San Vito lo Capo) or the east (Catania, Etna, Syracuse and Taormina).
If you want to explore both the east and west, then allow 2 weeks and if you want to see beyond these coastlines and discover some of the less-visited centre and south of the island, then I'd recommend a month!
How to Get to Sicily?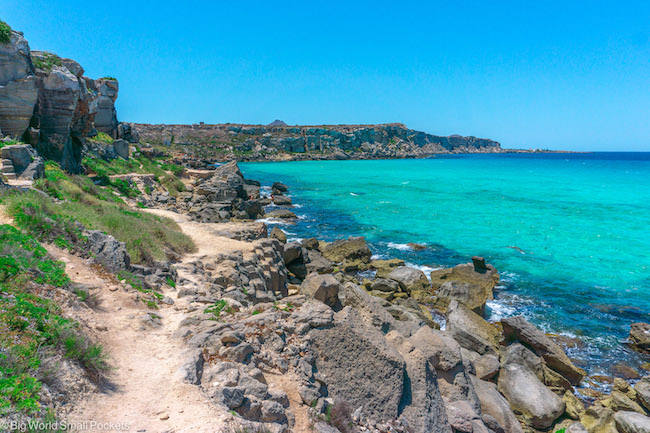 Flying to either Palmero or Catania is the best way to get to Sicily from across Europe.
Check out Skyscanner for the best deals as they include budget airlines in their searches.
Otherwise, you can also take a ferry or train across the Messina Strait to Sicily from mainland Italy.
Trains run direct from Rome and Naples and take between 9 and 11 hours. The train goes on a ferry, but this is included in your ticket.
You can easily book your journey via Trainline.
Alternatively, you can cross to Sicily via ferry from various mainland ports to various island ports.
Check out all the options and book tickets via Direct Ferries here.
Where to Stay in Sicily?
Check out this whole article I wrote about where to stay in Sicily.
It will give you a full rundown on the best towns and cities to stay in, as well as recommended accommodation options there too!
How to Get Around Sicily?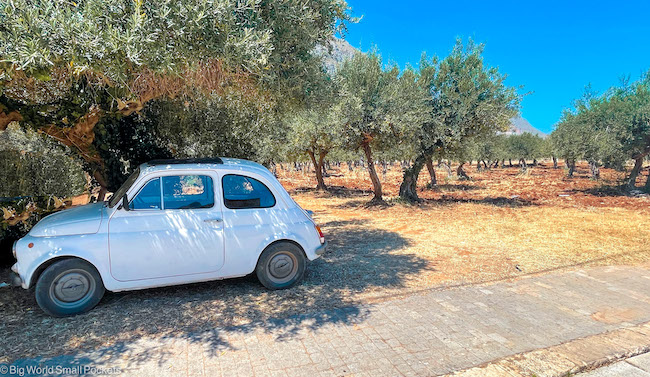 Hiring a car is the best way to get around Sicily. Find a great deal here.
Otherwise, if you don't want to drive, I recommend staying in one of the main cities and using the buses and trains that run frequently from there to around the island.
I use Omio to find the best routes, times and prices for overland travel.
For transfers from the airport to your accommodation in Sicily, check out WelcomePickUps – a great option as Uber is not available on this island.
Travel Insurance for Sicily
World Nomads offers simple and flexible travel insurance. Buy at home or while travelling and claim online from anywhere in the world.
Alternatively, if you're a long-term traveller, digital nomad or frequent remote worker seeking travel health cover, check out Safetywing's Nomad Insurance policies.
Travel Money in Sicily
When it comes to getting paying for things in Sicily, you want to ensure you're not being charged overseas transaction fees, or getting poor exchange rates when using your card abroad, which is why I always take my Wise Card away with me.
The easy way to spend abroad with real exchange rates, no markups, no sneaky transaction fees and a free Euros account, you can use your Wise card just like a debit card in Italy… and it links easily with Google and Apple pay – sold! Get yours here.
SAVE THIS TO PINTEREST!
And there it is, my list of the top 10 beaches in Sicily.
Do you have a fav here?
One that didn't make it onto the list?
Please drop it into the comments below and join the conversation…