One of Malaga's top attractions, the Alcazaba is a must-see spot during your time in this fabulous Andalusian city.
Rising above the historic centre, this ancient fortress (which dates back to the first century), has withstood the test of time to defend the city across multiple invaders and empires throughout its chequered history.
Bringing you all the info about how to visit this iconic structure, including opening times, ticket prices, how to get there and why you should go, I'll also bring you a slice of history too, which really does mean this is the only guide you'll need if you want to hit up this top attraction.
So let's get cracking with my complete guide to visiting the Alcazaba in Malaga, Spain…
---
Related Posts
---
This page contains affiliate links meaning Big World Small Pockets may receive a small commission on any purchases at no extra cost to you.
---
Why Visit the Alcazaba in Malaga?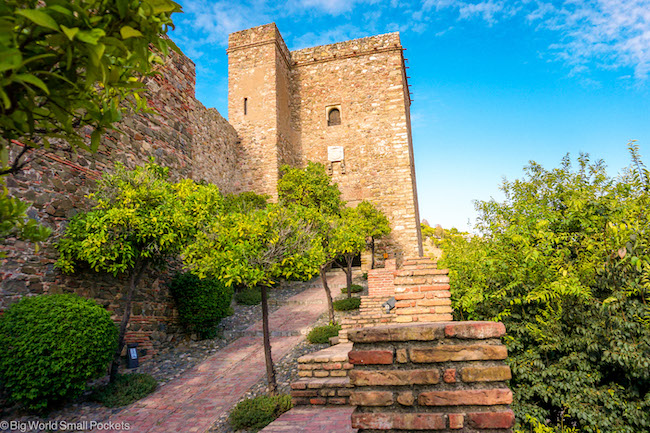 Quite simply, you need to visit the Alcazaba in Malaga because it's one of the city's top attractions.
Even if you only have 1 day to wander the streets of this gorgeous Andalusian city, then the Alcazaba should be a firm fixture on your itinerary.
Charting some of the key moments in Malaga's history, and offering some wonderful views over the city and Mediterranean Sea – not to mention the ability to stroll and marvel at this ancient structure itself – just take my word for it that you won't want to miss this gem!
Alcazaba History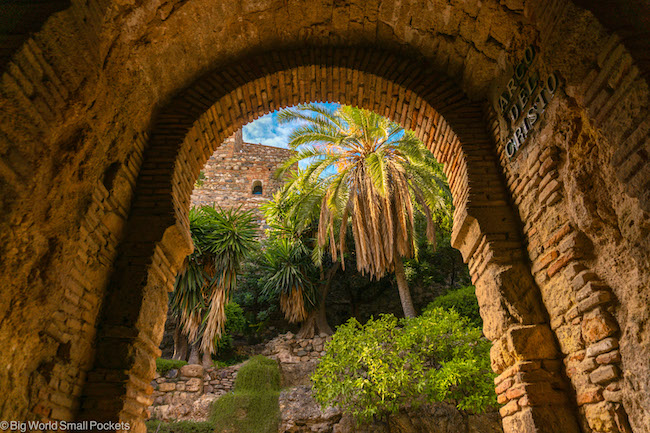 A fortress built between 1057 and 1063 by the Moorish rulers, Malaga's Alcazaba was intended as both a defence structure to protect the city and as a place for its leaders to enjoy life… and what a place to put a palace!
Situated on an elevated piece of ground above the city (a city which has retained the same name throughout history), the Alcazaba also offered its inhabitants excellent views over the sea and surrounding countryside, making it a key vantage point to spot any potential invaders.
Using materials from the Roman Theatre below (which was actually only rediscovered in 1951), the Alcazaba was later captured by the rulers of the Nasrid Empire – yes the same crew who built the Alhambra in Granada – who converted it into an even more beautiful place for the ruling elite to live and enjoy.
Later the Alcazaba was joined to the neighbouring Gibralfaro Castle and today you can visit both under 1 combined ticket – although access to them is via separate means.
The best-preserved alcazaba (which means Citadel in Arabic) in Spain today, this epic spot in Malaga is famous for being home to a 3 month long siege, during which its 110 towers came in very handy!
Now the Alcazaba is a more set of ruins but, having been well-preserved and cared for, it can still be enjoyed by visitors to Malaga and is a great and affordable tourist attraction.
How to Get There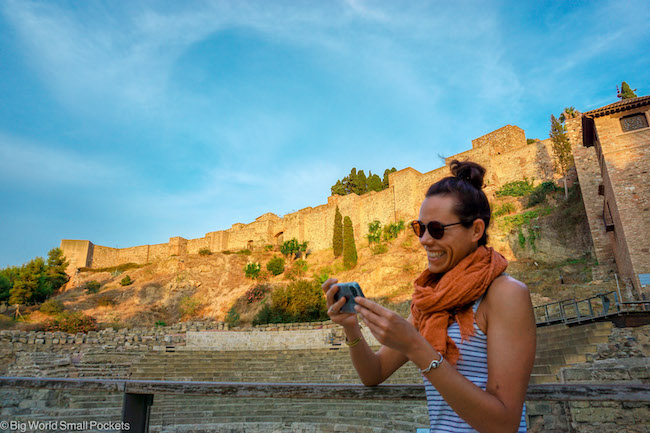 The Alcazaba can easily be reached on foot from Malaga's historic centre.
Access is off Plaza de la Aduana and from here you begin climbing up to the entrance to the structure.
Before you reach there – about halfway up the short hill – you'll come to the ticket office.
Opening Times + When to Visit
During the winter months (November through March), the Alcazaba is open from 9am in the morning until 6pm in the evening. Last entrances are at 5:15pm.
In the summer months (April through October), it opens at 9am and closes at 8pm, with last entrances allowed at 7:15pm.
So, yes it's worth noting entry closes half an hour before the gates do, so don't turn up too late (like I did on my first attempt!) and still expect to get inside – you won't be able to!
In general, I advise visiting the Alcazaba in Malaga either first thing in the morning when the views will be the clearest, or late in the afternoon when you can enjoy stunning golden hour colours from its fab lookouts.
In general, I'd allow 90 minutes to explore the whole site.
The only other thing to bear in mind is if you want to visit the Gibralfaro Castle too, inwhich case you should also allow 90 minutes to explore this attraction aswell.
Combining both the Castle and the Alcazaba under one ticket (which you can do) means you should allow 3 hours total for your visit.
If you're visiting late in the day, work backwards from the closing time and go from there…
Buying Tickets
As I mentioned above, tickets to the Alcazaba in Malaga can be bought at the entrance.
Here there are handy automated machines with instructions in several languages (including English) to make things easier.
You can pay either with cash or card and there's usually an attendant around to help you out if you get stuck.
A single entry ticket to the Alcazaba costs just 3.50€, but if you want to buy a combined ticket with the Gibralfaro Castle (a good idea if you plan to visit both) the cost is 5.50€.
There's also discounts for groups, students and those eligible for reduced rates include retired people or those with disabilities.
Otherwise, if you want to visit for free, then head to the Alcazaba after 2pm on a Sunday, when entrance here (and to Gibralfaro) are free – hoorah!
Tours vs Independent Visits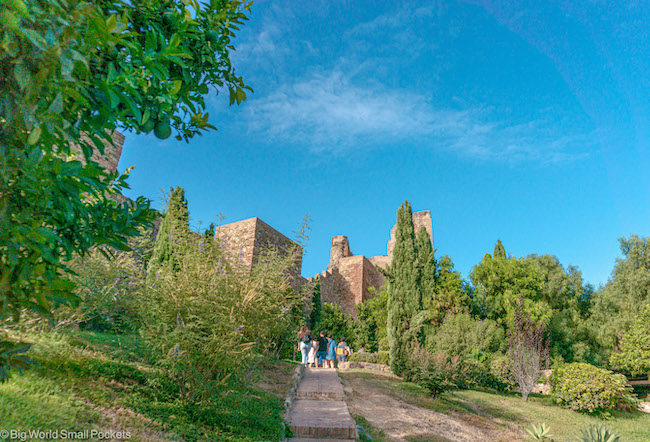 You can easily visit the Alcazaba in Malaga independently like I did – simply walk there by way of the city centre, buy your ticket at the entrance and enjoy!
However, if you want to learn more about the history of this structure and the role it has played in the life of the city, then it's definitely best to take a guided tour.
Check out this top-rated option…
What to Do There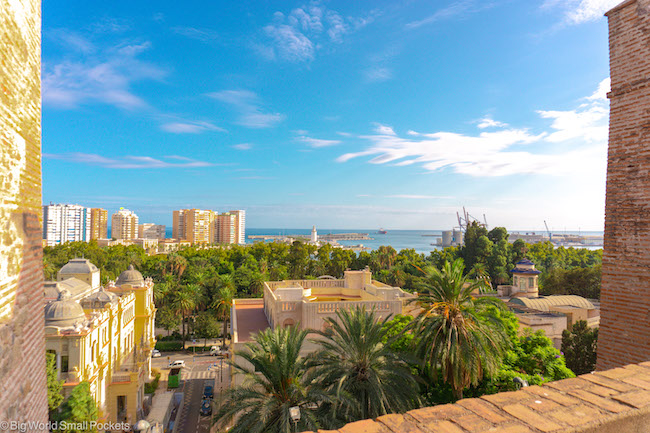 Honestly, the main thing to do when you visit the Alcazaba in Malaga is just to soak it all in – the history, the ambience, the information and the views.
You can actually walk up through and amongst the ruins here (meaning it's a bit like a living museum) and there's plenty of photo opps too, so don't forget to take some great snaps while you're here – especially from the top which affords amazing views over the city and the Mediterranean beyond.
Things to Know Before Your Visit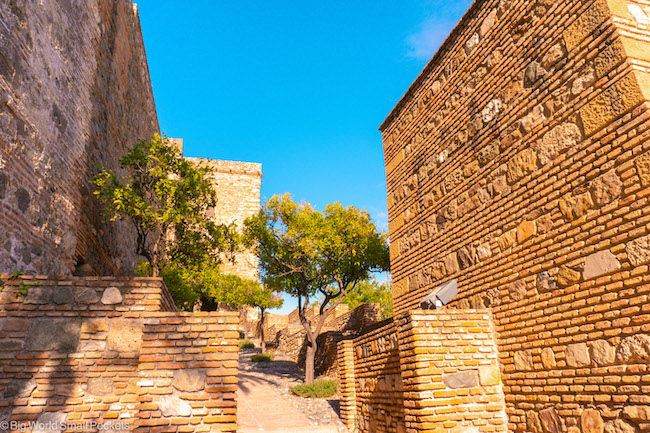 Facilities are thin on the ground at the Alcazaba, so go to the toilet before you arrive!
You may also want to bring some water and snacks with you to enjoy at the top,
There is a small café onsite, but for budget travellers, bringing your own nibbles is the key!
It's also worth noting there's lots of walking to do in the Alcazaba and to get here you'll have to climb a fairly steep hill, so sensible footwear is a really good idea!
There's also not much shade, so a sunhat for protection and sunglasses is certainly a good idea in the summer months.
A good daypack you can carry all your gear in – camera, guidebook, water, snacks, sunhat etc – and keep your hands free, is another top item to bring.
And you'll want to bring cash or a card to pay for the entrance ticket as well.
How to Get to Malaga?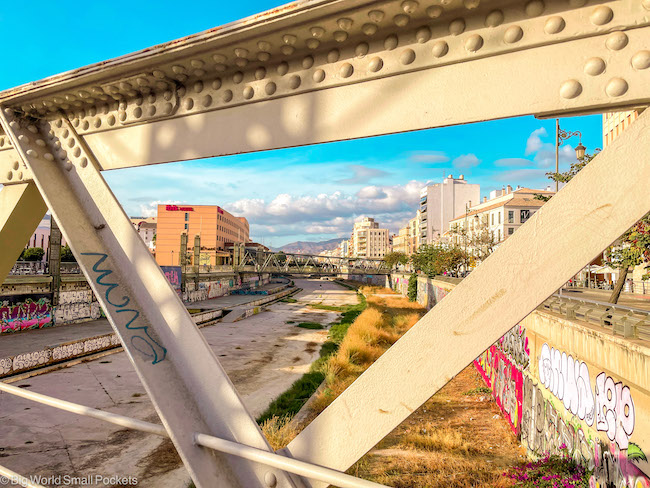 Malaga has both a bus and train station, with regular arrivals from around Andalusia and Spain.
The train station is near to the bus station and both are easily accessible from the city centre – Uber is the cheapest option here.
I highly recommend Trainline for booking all your train and bus journeys to Malaga, as they make it easy, quick and simple to compare hundreds of rail and coach journeys to the city from across Spain.
If you're coming from Granada to Malaga, then check out my full post about how best to make this journey.
Otherwise, there's also an international airport in Malaga with regular flights from around Spain as well as from destinations across Europe, including many popular budget airlines routes. As always, I suggest Skyscanner for bagging the best flight deals.
From the airport, it's easy to catch a local train or bus to Malaga's city centre.
Alternatively, if you want to rent a vehicle and drive to Malaga, then check out Thrifty Car Hire for some of the best deals in Spain generally.
Alternatively, Wiber Car Rental (who are based in Malaga specifically) offer some great prices too – I used them in Mallorca and found them a great company!
When to Visit Malaga?
No question in my mind that the best time to visit Malaga (and Andalusia in general) is during the months of April through June, plus September and October.
This is when the warm weather will allow you to take full advantage of the city's beauty at its best, but you won't be wilting in the summer heat, which regularly sees temperatures rising to 40 degrees+.
I've visited Malaga in September and October and found the climate ideal for sightseeing as well as for hitting the beach!
How Long to Spend in Malaga?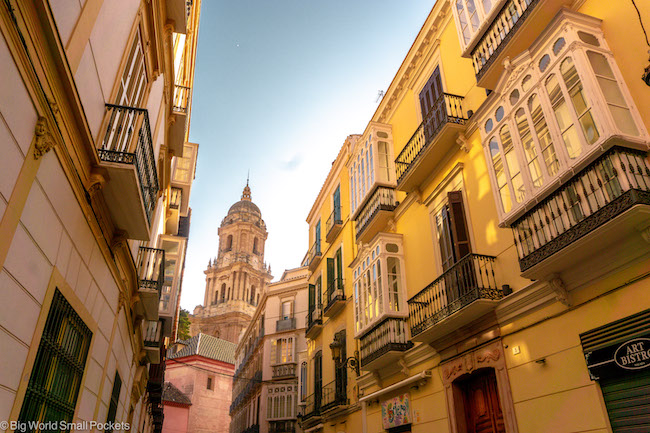 Most people visit Malaga for 3-5 nights.
It's a small city and you can certainly cover many of the sights in this time, plus enjoy some great day trips too.
Where to Stay in Malaga?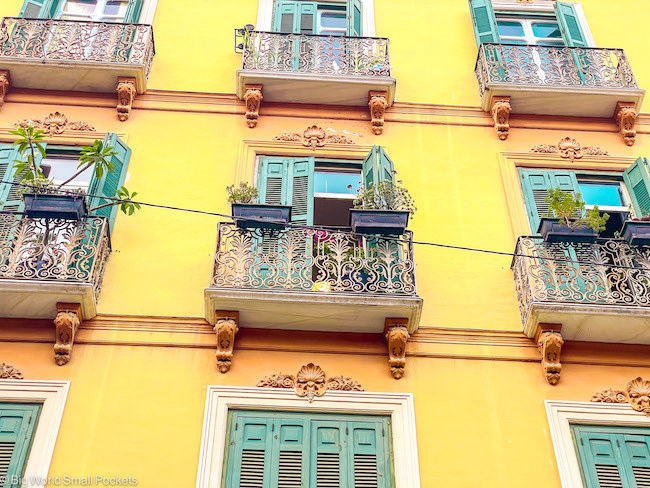 Check out these top Malaga accommodation options that are really affordable…
Otherwise, here's my list of the top 10 Airbnbs in Malaga.
5 Packing Essentials for Malaga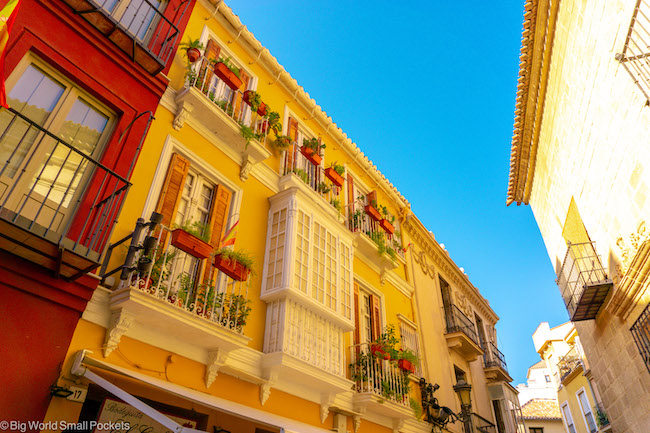 Travel Insurance for Spain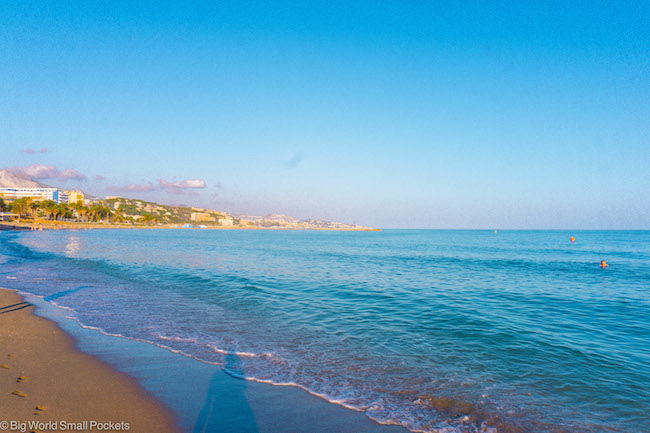 World Nomads offers simple and flexible travel insurance. Buy at home or while travelling and claim online from anywhere in the world.
Alternatively, if you're a long-term traveller, digital nomad or frequent remote worker seeking travel health cover, check out Safetywing's Nomad Insurance policies.
Where to Travel After Malaga?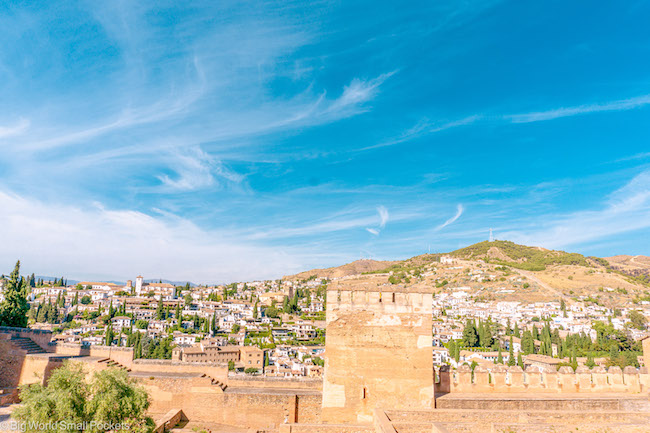 If you still have time for more travelling after Malaga (and lucky you if so!) then you may want to head to Ronda, Granada, Cordoba or Seville – all top destinations within Andalusia that can easily be reached either by driving or public transport.
Check out these articles for some inspiration…
PIN IT TO PINTEREST!
So there you have it folks, my complete guide to visiting the Alcazaba in Malaga, Spain.
Tell me, are you planning to visit this top attraction?
Got any other plans for Malaga?
Just drop them into the comments below if so, I'd love to hear more…