Malaga is such a gem of a city if you're looking for a slice of sun, sea, history and Spanish charm.
And let's, be honest… who isn't up for a bit of that?!
One of the cheapest spots in Spain (win for budget travellers!), Andalusia is great for those wanting to dive into the fascinating history and culture of this region, not to mention the great food and hours of sunshine!
And a superb place to start your adventure in this region is the city of Malaga.
A buzzing place with a really vibrant and youthful feel, there's an international airport here too, which makes it easy to access as well.
So if you're keen to spend a few days in this gorgeous coastal city, here's my list of the top 10 Airbnbs in Malaga that provide some of the best accommodation options going…
---
Related Posts
---
This page contains affiliate links meaning Big World Small Pockets may receive a small commission on any purchases at no extra cost to you.
---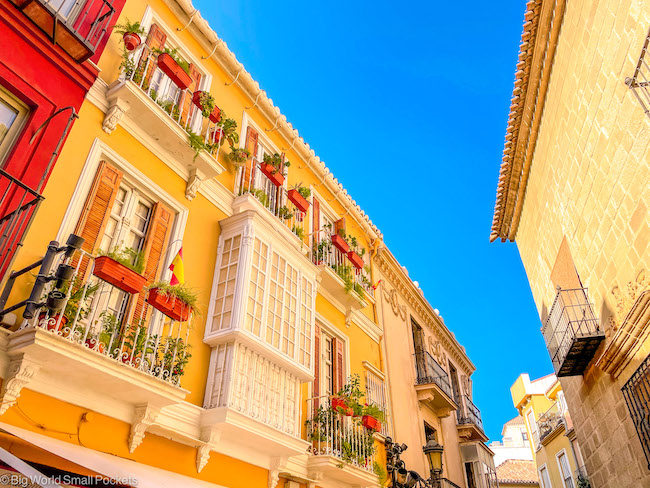 #1 Best for Those on a Budget
Yes, this great airbnb really is called Chloe!
With space for 3 people up for grabs (care of a double bed and a sofa bed), this spot is an absolute bargain!
Nice and spacious, with a gorgeous little private balcony, this is a great option for a short stay, especially as it's really close to Malaga's train station.
Room-darkening shades, aircon and good wifi all make this a very comfortable stay too and, with shared access to a bathroom and a fully equipped kitchen available to use, the welcoming hosts here make this a top Malaga airbnb when it comes to those looking for an absolute bargain!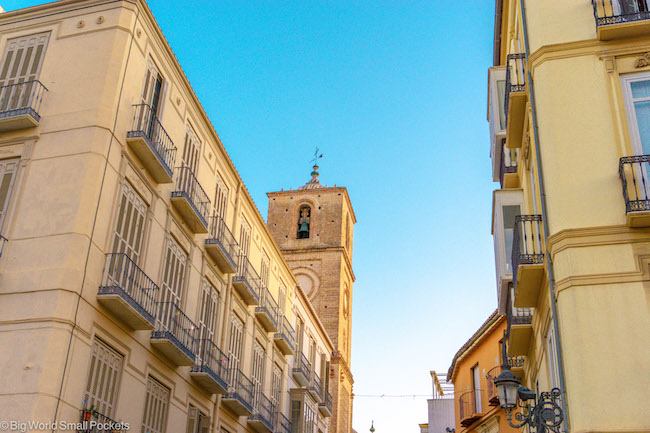 #2 Best for Families
Exclusive & Bright Family Apartment
Hosting 9 guests across 4 bedrooms, 2 with double bedrooms and 2 with single beds / bunk beds, this place is perfect for families, or multiple families, with children.
The high chair, cot, travel cot, aircon and room-darkening shades add to the family friendly nature of this spot and a fully equipped kitchen and central location also boast the appeal.
With excellent ratings for cleanliness and comfort, the great reviews for this place regularly praise its modern décor and great hosts – just bear in mind there's no lift and 55 steps to get to the apartment, but otherwise, this is a great Malaga Airbnb!
#3 Best for Couples
Romantic Studio with Swimming Pool
But from families to romantic settings, now we move onto the best Airbnb in Malaga for couples.
A cute studio apartment in the heart of the historic centre here, this place regularly gets rave reviews thanks to its bright modern décor, cute romantic feel and comfy bed!
There's also a communal rooftop swimming pool you'll have access to if you stay here, as well as free on-street parking, a Bluetooth sound system, HDTV and a kitchenette complete with coffeemaker and wine glasses.
Perfect for those who really want to explore the best of Malaga on foot, this is a lovely space to head back to in the evening and relax, before you head out for dinner at one of the many nearby restaurants.
#4 Best for Groups
With the capacity to sleep 16 people, it's pretty amazing that this excellent Malaga Airbnb for groups is located within the heart of the historic city centre and offers very affordable rates.
With beds split over 5 bedrooms, with a combination of double beds and single beds, there's also 2 sofa beds in the living room meaning a lot of flexibility in this large and modern apartment.
With a private balcony space, as well as 2 living rooms, 2 bathrooms, a garage space for 1 vehicle, a fully equipped large kitchen and a Smart TV, it's probably the location of this property that sells it the most.
Located in a pedestrianised and iconic street in the heart of historic Malaga, you can walk everywhere from this apartment, including the Picasso Museum in just 3 minutes and the port / beach area in just 5 mins.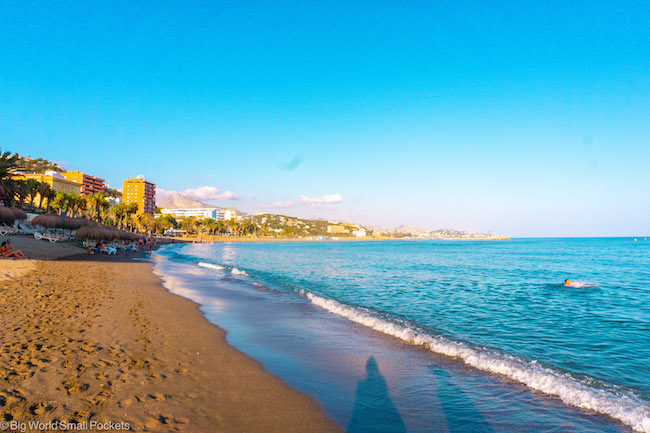 #5 Best for those Who Want to Be Near the Beach
Central Spot Ideal for Families and Friends
With wifi, aircon, a fully-equipped kitchen, plus a private balcony, this top Malaga Airbnb is ideal for those who want to be near the beach and soak up some super sea views.
Situated close to Malaga's historic centre, as well as its pier one and harbour area, the Pompidou Museum and, of course, La Malagueta beach, this 4 bedroom apartment for up to 7 people boasts 2 bathrooms, a washing machine and a lift.
Spacious throughout, the living room provides the perfect indoor space to relax and the décor feels modern, light and airy.
Top reviews praise the cleanliness of the property, as well as the great communication with the host and value for money it offers.
#6 Best for Long Term Stay
And now we move on to the best Airbnb in Malaga for long term stays and a great option for those who are wanting to stay at least a few weeks in this city.
I've gone with a fairly affordable option here, as I know budget is definitely a long-term consideration, as well as the need for outdoor space – it's certainly crucial when I stay anywhere for a while.
And both these factors, as well as the great location and the fact this place is a new duplex, make this a fantastic option.
Set in the heart of historic Malaga, this property boasts 2 bathrooms, a modern fully equipped kitchen, aircon, an elevator, wifi, and 2 living rooms.
It also has a balcony and a terrace, is set across 2 floors, with a dedicated workspace and free parking on the premises makes this peaceful spot an absolute winner!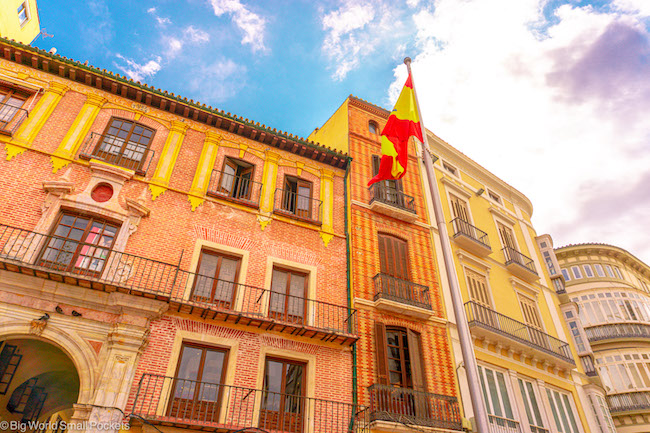 #7 Best for a Splurge
Situated in the centre of Malaga, near to the historic streets of the city and the coast, this beautiful 2 bed apartment is part-boutique hotel and part-luxury residence.
With spacious and sunny rooms throughout, including a living / dining room and a separate kitchen, this 93sqm spot has been styled by renowned Spanish design brand Ana Locking, and includes king-size beds, a shower with sauna functions and a Nespresso coffee maker.
Indeed, all the amenities you could want are here, along with aircon, wifi, washing machine and a lift, but it's the style and light nature of this place, plus the incredible location, that really seal the deal.
Definitely one of the best Airbnbs in Malaga!
#8 Best for Cathedral Views
Apartment in Plaza de las Flores
So while in Malaga, you can't miss the cathedral and other architectural gems of this historic city and this great apartment is the perfect place to enjoy them from.
Boasting a great city skyline view, easily visible from the delightful private balcony space, this 1 bed apartment (which sleeps up to 4), has some sensational views of Plaza de las Flores and the Malaga Cathedral, both of which are just a stone's throw away!
Newly renovated in a luxury style, this apartment boasts high ceilings and south-facing rooms with aircon, wifi, lift access and a full kitchen.
The reviews unsurprisingly praise the incredible location of this property, as well the excellent cleanliness standards and comfy furnishings.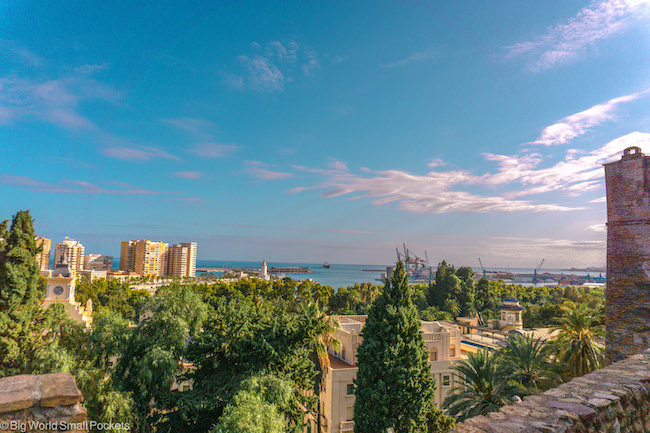 #9 Best for Free Parking
If you're road-tripping your way around Andalusia or Spain more broadly, then free parking will definitely come in handy when you're looking for a Malaga Airbnb!
Enter this top-rated property, which is also situated very close to the city centre as well as all the attractions, restaurants and bars you need to enjoy your time here.
Sleeping up to 4 guests, with 1 double bedroom, there's aircon, wifi, a washing machine, TV, Netflix, Amazon Prime, lift access and a full kitchen in this property.
Parking for a car is available free of charge on the street below, and the place is decorated and equipped to a good standard with a modern, minimal "scandi" style.
#10 Most Unique Malaga Airbnb
A loft apartment in the centre of Malaga, this protected building dates back to 1860 and is now beautifully furnished in an elegant and comfortable urban style.
Retaining many of the original architectural features, it is however the huge windows south-facing windows that really make this place, allowing lots of wonderful light to flood the apartment and guests to enjoy views of the city streets, including Malaga's famous Holy Week procession.
A studio space, the property can accommodate 3 people across a sofa bed plus double bed and also boasts a kitchen space as well as aircon and wifi.
There's no lift unfortunately, but reviews praise the great location and hosts, as well as the comfort of the apartment.
How to Get to Malaga?
Malaga has both a bus and train station, with regular arrivals from around Andalusia and Spain.
The train station is near to the bus station and both are easily accessible from the city centre – Uber is the cheapest option here.
I highly recommend Trainline for booking train and bus journeys to Malaga, as they make it easy, quick and simple to compare hundreds of rail and coach journeys to the city from across Spain.
If you're coming from Granada to Malaga, check out my full post about how best to make this journey here.
There's also an international airport in Malaga with regular flights from around Spain, as well as destinations across Europe, including with budget airlines.
As always, I suggest Skyscanner for bagging the best flight deals.
From the airport, it's then easy to catch a local train or bus to the city centre.
Alternatively, if you want to rent a vehicle and drive to or around Malaga, then check out Thrifty Car Hire for some of the best deals in Spain generally.
Otherwise Wiber Car Rental (who are based in Malaga specifically) offer some great prices too.
When to Visit Malaga?
No question in my mind that the best time to visit Malaga (and Andalusia in general) is during the months of April through June, plus September and October.
This is when the warm weather will allow you to take full advantage of the city's beauty at its best, but you won't be wilting in the summer heat, which regularly sees temperatures rising to 40+ degrees.
I've visited Malaga in September and October and found the climate ideal for sightseeing as well as hitting the beach!
How Long to Visit Malaga For?
Most people visit Malaga for 3-5 nights.
It's a small city and you can certainly cover many of the sights in this time, plus enjoy some day trips too.
Where to Stay in Malaga Beyond Airbnbs?
Check out these top Malaga accommodation options that are really affordable if you don't fancy an Airbnb…
5 Packing Essentials for Malaga
Travel Insurance for Spain
World Nomads offers simple and flexible travel insurance. Buy at home or while travelling and claim online from anywhere in the world.
Alternatively, if you're a long-term traveller, digital nomad or frequent remote worker seeking travel health cover, check out Safetywing's Nomad Insurance policies.
Where to Travel After Malaga?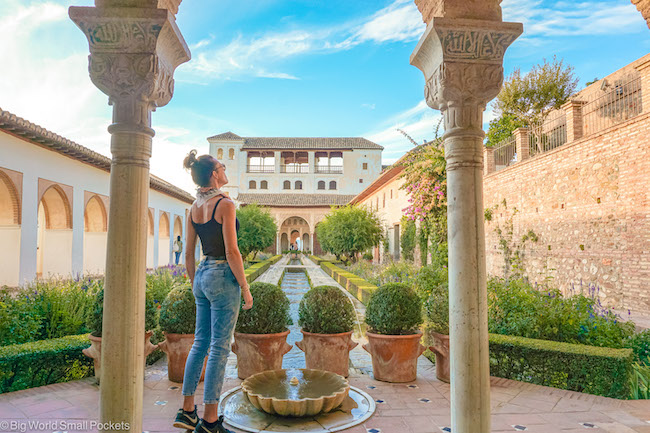 If you still have time for more travelling after Malaga (and lucky you if so!) then you may want to head to Ronda, Granada, Cordoba or Seville – all top destinations within Andalusia that can easily be reached either by car or on public transport.
Check out these articles for some inspiration…
PIN IT TO PINTEREST!
So there you have it folks, my top list of the top 10 Malaga Airbnbs.
Tell me, which is your fav on this list?
Or do you have another top Malaga Airbnb rec that didn't make the list?
Just drop it into the comments below if so…