There's no denying, when it comes to the best British strips of sand, it's hard to beat the amazing beaches of the Gower Peninsula in Wales.
In fact, I'm going to put myself out there and say it's almost impossible to top this ancient coastal outcrop.
Full of dramatic green countryside, where giant cliffs fall down to golden sand bays and the great ocean laps beyond, the sense of drama in this part of the country is palpable on every level.
It is indeed a land of legends, myths and magic.
Thankfully, one of the best things to come out of 2020 and the pandemo chaos for me, has been the opportunity to explore my homeland of Great Britain more and there's no doubt in my mind, Wales absolutely topped the bill.
Spending a week in the south of this country, during the sunniest seven days in September I ever remember, was nothing short of dreamy as I camped, hiked, swam and lapped up the ocean air until my travel spirit was so fully charged it didn't know what to do with itself.
So, in case you needed any more reasons that your next trip should definitely be to Wales, here's my list of the best 9 Gower beaches to give you a flavour of just how magical this land can be…
---
Related Posts
---
This page contains affiliate links meaning Big World Small Pockets may receive a small commission on any purchases at no extra cost to you.
---
#1 Langland Bay
Best for People Watching
Coming in at number 1 on this list of the best Gower beaches is an absolute people-watching favourite – Langland Bay – which I have learnt since my visit, is the place to both see and be seen!
That makes it sound like an awful place, but it's absolutely not – it's just a real hub of aspirational action with some lovely cafes, a beautiful big stretch of sand and plenty of beach huts, plus families, skaters, surfers, groups of friends and walkers all doing their thing.
All in all, Langland is full of life and an all-round hit!
Its good-sized car park and public toilet facilities also make it both easy and accessible.
#2 Caswell Bay
Best for Families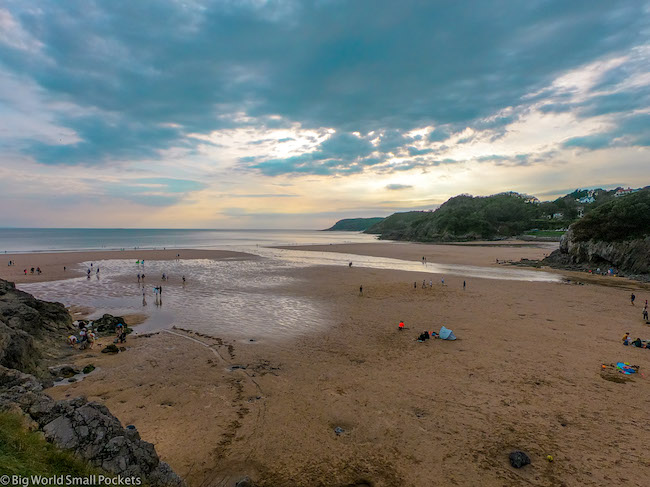 And just around the headland from Langland Beach is another local favourite centre of action, Caswell Bay.
You can actually walk from Langland, all the way on a well-paved coastal trail, to Caswell Beach.
It's the perfect accompaniment to your Gower Beach experience and, if you're lucky, you'll see seals bobbing about in the water here too, as I did.
Once at Caswell, you'll find a good café, car park and toilet facilities, which makes this a top choice for families.
The beach here is really large at low tide and there's plenty of space to spread out on the sand or hide away around the corner in some of the rocky areas.
Safe swimming in the summer months, along with a brilliant surf school that offers lessons to those with disabilities, round off this feel-good favourite.
If things get too cramped here, then you can always continue the coastal path – in the opposite direction to Langland – and you'll hit the much quieter bays of Brandy Cove and Pwll Du Bay.
#3 Three Cliffs Bay
Best for Outdoor Action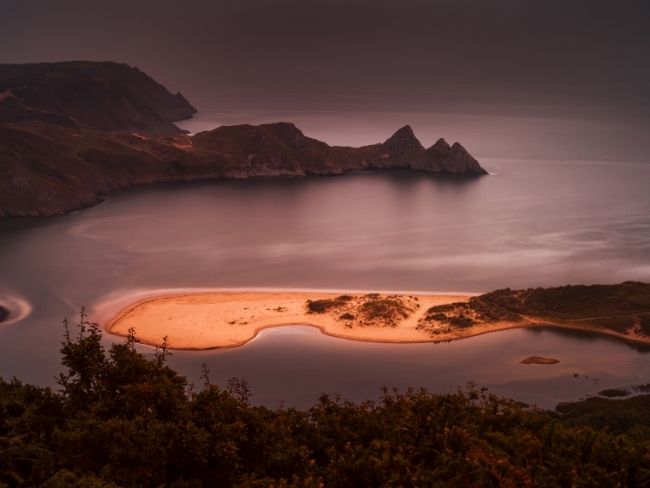 Three Cliffs Bay is undoubtedly one of the best Gower beaches.
Packing in a stunning outlook with some good hiking opportunities, some magical scenes during very high tides and a ton of dramatic coastline, this is a favourite for those who like their strip of sand served with a bit of action!
The rivers here, along with Pennard Castle which lies beyond the sweeping sand dunes, only adds to Three Cliffs' impressive nature, and the nearby Gower Heritage Centre means there's plenty to get into.
The walk from the car park to the beach itself is long, so do be warned about this, but it's certainly worth the adventure and actually, one of my top Gower walks!
Please also be careful not to swim at high tide here however, when there are some very dangerous rip currents.
#4 Oxwich Bay & Tor Beach
Best for Dog Walkers
Surrounded by a lovely nature reserve and cloaked in history, including an amazing 6th century Church, Oxwich is a classic on the Gower beach trail and should not be missed.
The dunes are impressive – the sand stretches for miles here (literally) – and the waters are calm and safe for swimming, SUP-ing or kayaking.
It's also normally a bit quiet down at Oxwich too – always a good thing in my eyes!
#5 Llangennith
Best for Surf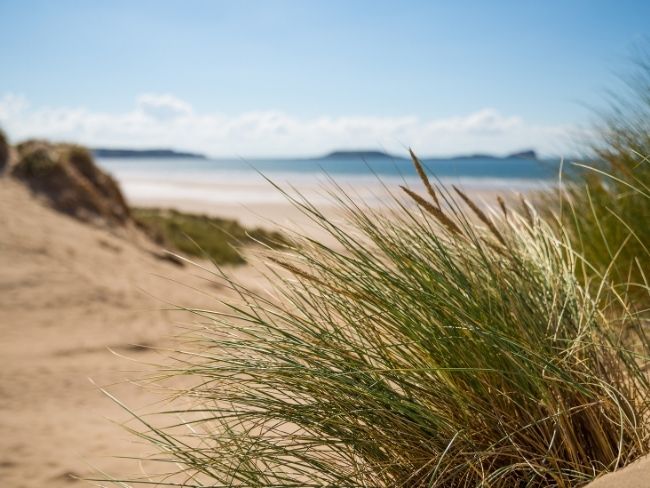 Technically, Llangennith is part of Rhossili Beach, except this bay is so huge that, at the other end away from the car park towards the dunes, it turns into a bay with a different name.
You can either walk along Rhossili's sand to get here, or extend your day and increase your view stakes, with a walk over the cliffs above Rhossili and then descend down into Llangennith.
Or, of course, you can drive, with parking situated behind the dunes, just a short stroll from the beach.
The village here is an attraction in itself (with the great King's Head pub being a highlight), but this surf mecca certainly draws the biggest crowds for the waves and is a must-visit on this list of the best Gower beaches.
#6 Mewslade Bay
Best for Getting Away from the Crowds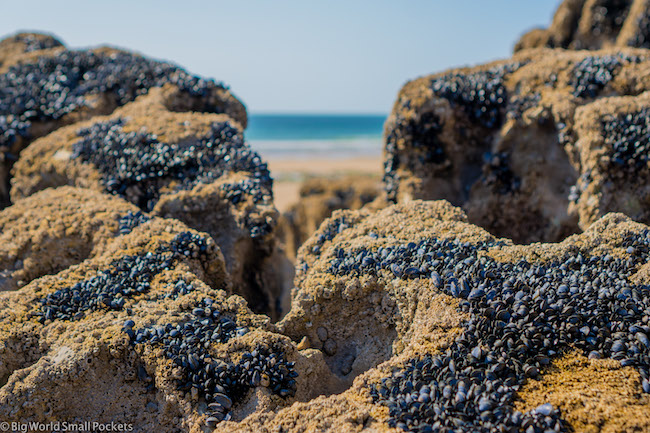 Directly below the place where I stayed when I visited the Gower (the wonderful Pitton Cross campsite by the way), Mewslade Bay is a gem if you're looking to get away from the crowds.
Set beneath soaring cliffs, with small inlets make for some wonderfully secluded spots and plenty of empty corners waiting to be discovered, this is absolutely one of the best Gower beaches.
Ideal to visit at low tide (where there's more beach to walk along) the scrabble to get down here across fields and through a small break in the cliffs is definitely worth the effort!
If you're looking to get away from the crowds and the families, this is your best option!
#7 Falls Bay
Best for Hikers
And then, just along from Mewslade Bay, is the paradisical Falls Bay.
You can get to this gem via the coastal path from Mewslade Bay, which takes you along the cliffs – at some point, very close to the edge – for some seriously dramatic views.
FYI, this is also a great place to come for sunset!
There's nowhere to really park close by if you want to hit up this top Gower beach, which means it definitely keeps the numbers down and is perfect for those who don't mind the good stroll out from Rhossili.
#8 Port Eynon
Best for Fish and Chips
No trip to the British seaside would be complete without some delicious fish and chips to complete the experience – or just chips with lashings of vinegar if you're vegetarian like me!
And there's only one Gower beach to go get them in my opinion, and that's Port Eynon.
Located between Rhossili and Oxwich, this is a hive of activity, with gift shops, cafes and ice-cream sellers a go-go.
With good toilet and parking facilities, it's a hit with the families too.
And the top-level campsite right by the beach here also makes it a firm fav.
If you're looking a for a quiet spot, then nearby Horton may be the perfect answer.
#9 Rhossili Bay
Best for the Bucket List
And now we come to the last of these top 9 Gower beaches – the real jewel in the crown as far as most people are concerned and an absolute bucket list ticker.
Often named the best beach in the UK, there's no doubt it's a highlight in this part of the world and, if you come to South Wales, you shouldn't miss it.
Park in the nearby National Trust car park and marvel at the iconic Worm's Head, before hitting the huge stretch of sand at this glorious spot.
Cafes and toilets, as well as a National Trust shop, are available at the top of the beach, so pack a picnic and enjoy a day on this vast sandy stretch you won't forget in a while.
How to Get to the Gower
There's no doubt the best way to get to the Gower is to drive.
Hiring a car from wherever you're departing in the UK is a good option, or you can get to Swansea via bus or train and hire a car from there, like I did.
Thrifty Car Hire offer some great deals and are very reputable.
Having a car to explore the beaches of the Gower Peninsula is really key, especially if you're not keen on hiking, because public transport here is very limited.
Learn more in these top 12 tips I wrote about hiring a car in the UK on a budget.
If you do want to use public transport, there is a bus that services the Gower from Swansea.
It leaves Swansea main bus station regularly in the summer (well, every couple hours, which is regular out here!) and will take you all the way to Rhossili, stopping at most towns and villages on the way.
It cost about £5 to make this journey one way.
You can also use this bus to get back from Rhossili to towns further up the main road (A4118) in the Gower or you can try the "Gower Explorer" bus service in the summer months too.
Where to Stay in the Gower
In my opinion, it really is all about camping when you visit the Gower – at least in the summer months, which is really when you should visit here to ensure the best chances of good weather.
I much prefer the area in the southern Gower (around Rhossili) as it's quieter and less commercial.
Here I thoroughly recommend Pitton Cross campsite where I stayed.
Otherwise, check out my list of the other best Gower campsites here.
Alternatively, if you want something a bit more comfortable, check out this gorgeous bed and breakfast spot, which is situated right near some of the Gower's most spectacular beaches. It has a host of beautiful rooms and gets rave reviews thanks to the amazing staff and stunning location.
What to Pack for the Gower
#1 Walking Shoes
You can't come to the Gower and not enjoy some walks, clifftop views and bracing sea air. So you must have walking shoes! I highly recommend these lightweight and comfortable Hedgehog ones from North Face, which are perfect for the job.
#2 Waterproof, Windproof Jacket
Look, as paradisical as I've made the Gower sound (and it is), it also is Wales! And that green around isn't green for nothing! It's green because it rains a lot. A lot of the year. So bring a good waterproof and windproof jacket no matter what month you're coming, ok?!
#3 Swimwear & Towel
You can't go to all these amazing Gower beaches I've mentioned and not bring swimwear. In fact, you need swimwear. And a towel. For the swimming. And the sunbathing. Obviously.
#4 Camera
Having an excellent camera to snap the Gower in all her glory and preserve the memories is an absolute given if you're travelling down this way. I love my Sony A6000, which never leaves my side.
I also enjoyed having a GoPro when I was here to capture all the water action.
#5 Portable Power Bank
There's no denying it, power can be an issue down in the Gower if you're camping. Even if you have a powered site, remembering to charge stuff up, leaving it out overnight, or during the day and constantly rotating electricals can be tiresome.
My solution: Come armed with 2 fully charged Anker power banks, so you can fire up your phone, camera or other devices whenever and wherever you need. Even while you're down at the beach!
PIN IT TO PINTEREST!
So there you have it, my list of the top 9 Gower beaches.
Have I missed out your favourite?
Please join the conversation in the comments box below…